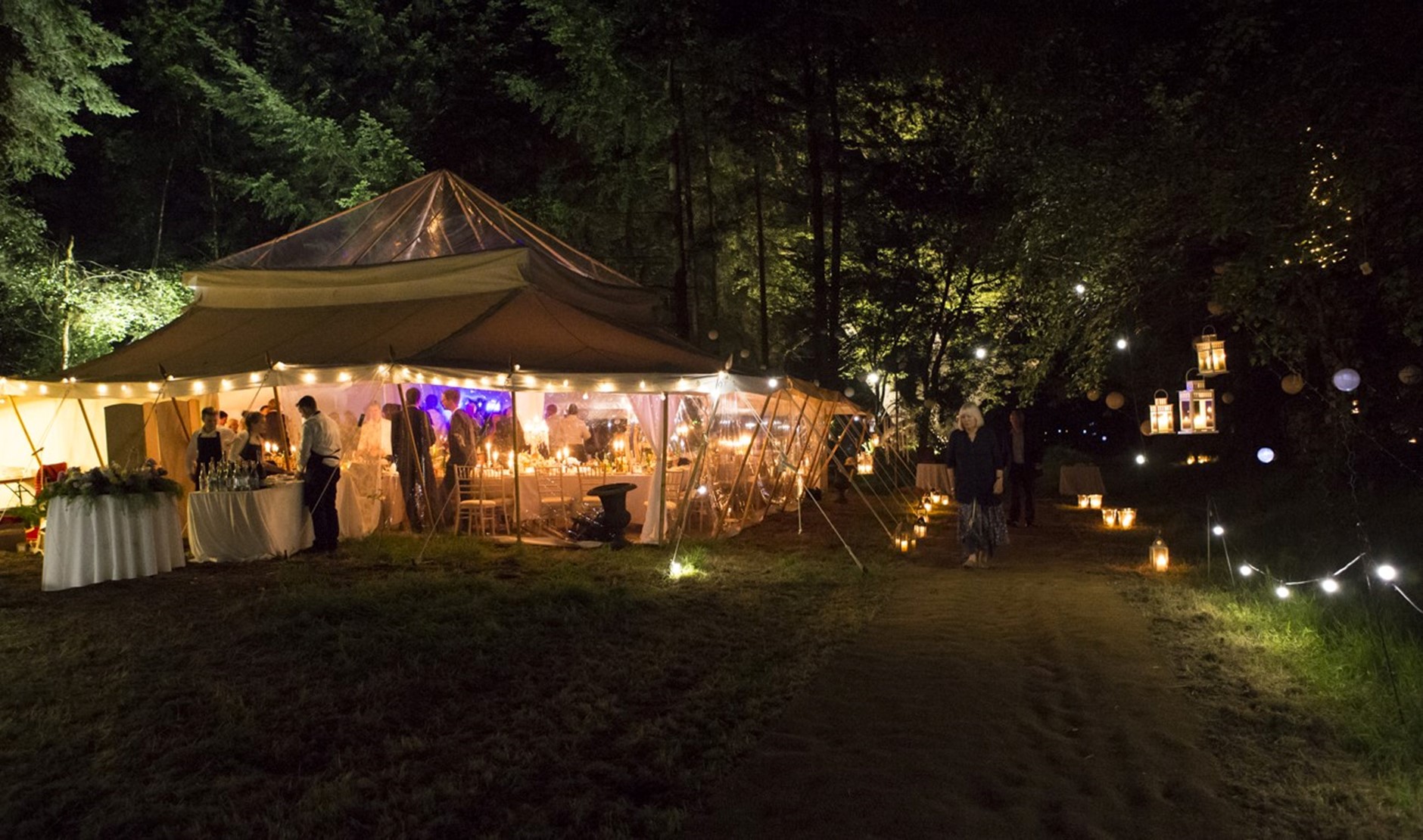 Green Farm – Event Planning, Food, Power & Tree Care
Heritage Fine Foods has been supplying Green Farm for around 10 – 12 years.  In addition to the events planning company, they also offer food, power and tree care services.  Emma caught up with Will Corke to talk all things 'Green Farm'.
Contact Green Farm
Green Farm Events
The Green, Urchfont
Devizes
Wiltshire
SN10 4RB
Green Farm are a young, vibrant company based in Wiltshire, dedicated to providing the highest quality products and services. With many years of experience delivering events, covering everything from planning through to catering and power Green Farm Events will make sure that your special day goes smoothly. Green Farm are also RFS Certified in Arboriculture & NPTC certification and offer all aspects of tree care through their Green Farm Tree Care business. 
Events 
Let Green Farm Events help you with the planning and organisation of your special day to make it perfect! Green Farm have a large portfolio of suppliers they can recommend and if you wish liaise with on your behalf. Let us help you with the planning and organisation of your event.
Event Catering 
Full event catering for private parties and weddings to festival style catering. Green Farm offer a bespoke catering service with each event tailor-made to specific requirements. Their reputation is built on our friendly, polite and professional staff who will happily do all they can to ensure your event catering is a resounding success! 
 Event power and exterior decorative lighting. 
We specialise in the planning and provision of power to events, ranging from a small garden party to a large wedding or festival. Our specialised equipment is also for hire. 
From crown thinning to planting & stump grinding our service is second to none.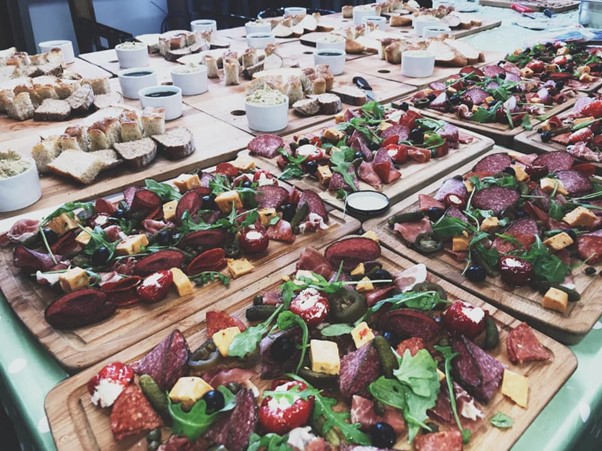 What do you love about your job? 
Every day is different I love chatting with clients and couples about their party plans and making their ideas and party plans become a reality. 
I have always loved to bbq and now have the chance to bring my favourite ideas and recipes to you! 
Why should people book you? What makes you stand out from other providers?   
We place an emphasis on the traditional values of service and quality of food. Our aim is to provide the best possible food at a sensible cost. We take enormous pride in our work and nothing is too much trouble. We use quality ingredients and source as much food as we can locally. Our chefs make our food from scratch in our kitchens here at Green Farm. 
Where do you get your inspiration from for your menus? 
I am a member of Facebook groups for barbecuing/smoking like one called Country Wood Smoke UK which have really great recipe suggestions, tips and ideas. I also watch a few things on Netflix like Chef's Table to get inspiration. I really enjoy watching Rick Stein on his travels and draw inspiration from the many different types and styles of cooking he explores across the world, we have created Mexican and deep south bbq menus using some of his ideas as inspiration. 
What are your favourite ingredients to work with and what is your approach in terms of your menu? 
Anything fresh and seasonal; vegetables, meat, fish and even wood and charcoal for our BBQs is as local as it can be! Where possible we always try and incorporate seasonal produce into our menus be it for a small bbq party, large wedding or festival. 
What are the best events you have catered at/for, and why? 
Festivals and festival style weddings are the best because they encompass what we are about as a company. Bringing the festival style feel to your event and street food is our forte. We should have been at Glastonbury in 2020 catering for a glamping site of over a 1000 festival-goers…….role on 2022!!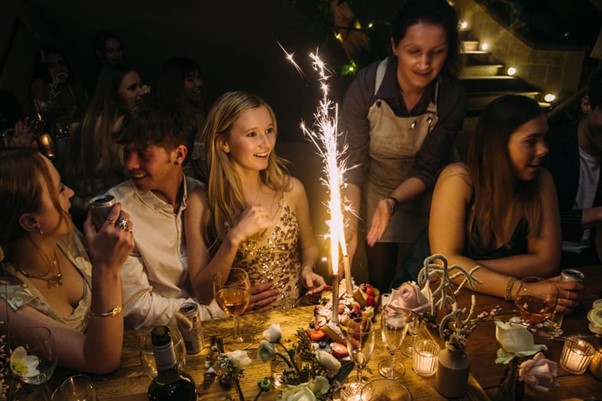 What do you do to relax when you get home from a day/evening catering? 
Taking our sprockers out for a walk around our beautiful local wood Oakfrith…..I really enjoy getting out there every day to appreciate the changing of the seasons. 
Which chefs are you inspired and influenced by? 
A number of chefs and their recipe books inspire me; Marcus Bawdon who runs one of the Facebook groups I follow (CountryWoodSmoke – UK BBQ – CWS) and he also writes barbecue recipe books. Rich Harris's "Fire and Smoke" book and Grillstock by Jon Finch and Ben Merrington are all great for inspiration.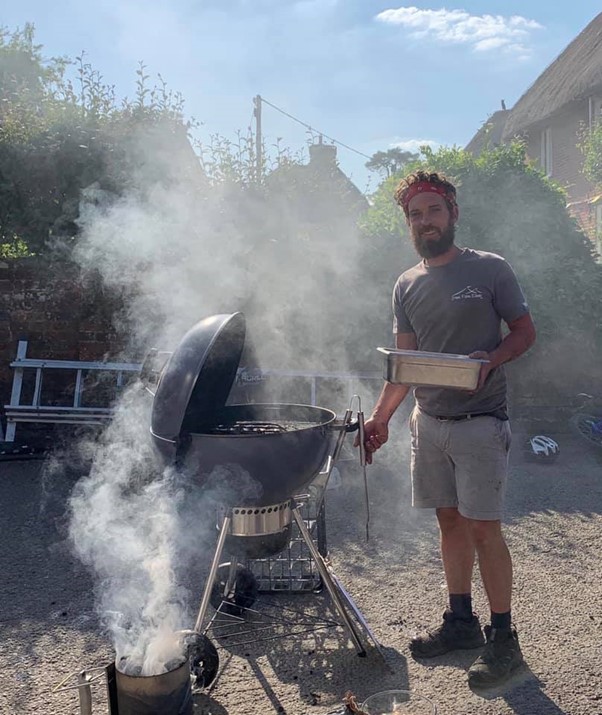 What do you like eating with your family? 
I am very lucky not to have any fussy eaters in my family who love to try anything new, a Summer bbq with a variety of low 'n' slow meat, fresh fish and some interesting seasonal vegetables (tender stem broccoli grilled over the coals served with gochujang, lemon and toasted sesame seeds is a game changer!) this has got to be my favourite! 
That said we I also love a roast dinner and we even did our Christmas turkey on the bbq this year! 
What's your guilty food pleasure? 
Naked noodles, Haribo tangfastics. 
 If you had to eat one meal for the rest of your life what would it be? 
A bbq described above. 
 What do you like about Heritage Fine Foods? 
We have a great relationship with Heritage which we have built up over the years, their buyers always seem to relish the challenge when we ask them to source some obscure vegetable, spice or ingredient that we need. 
Their customer service is fantastic and the fact that we can order pretty much anything for next day delivery is amazing!!