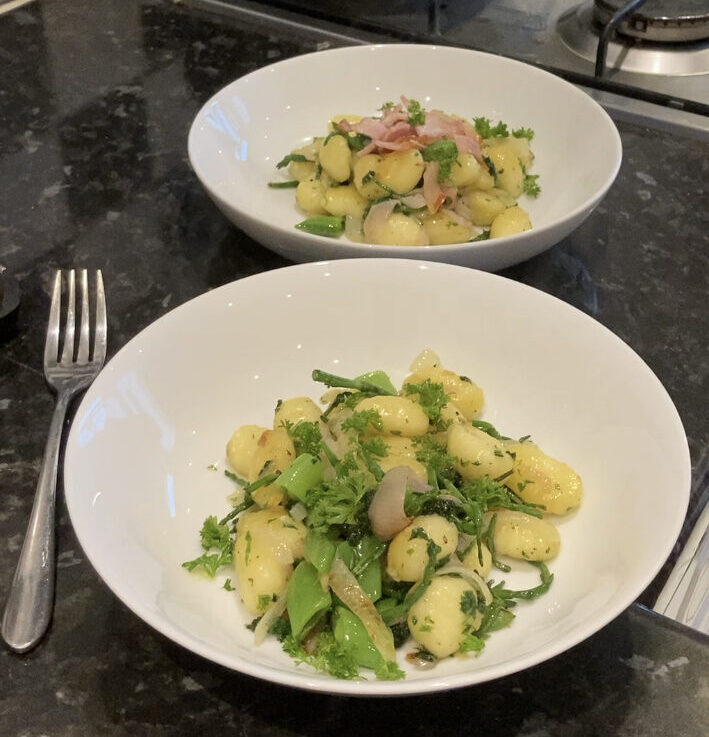 Gnocchi with parsley, butter & samphire with smoked bacon
Remove bacon to make this suitable for vegetarians
This dish makes a lovely light lunch, you can change it up with added bacon bits or other veggies you have e.g chopped asparagus, frozen peas, long stem broccoli etc.  Experiment with it and have fun.  You can either use pre-bought gnocchi or make your own (we've included the recipe at the end). As cooked by Emma (watch this space for a video!) Find out more about the health benefits of samphire.
Pack of ready-made gnocchi
100g salted butter
6 shallots, finely sliced (or use a large onion)
3 garlic cloves, minced or finely chopped
2 slices of smoked bacon, chopped optional
100g Samphire
100g sugar snap peas, chopped (or you can use frozen peas)
Handful fresh parsley, chopped
Salt and pepper
If you are adding bacon, fry this and put to the side and chop into small pieces (you can then choose to sprinkle over the top of your dish or if everyone is having add into the pan at the end).
Gently heat the butter in a large heavy-based wide pan, add the shallots and garlic, and gently soften for 5-6 mins. Add the ready-made gnocchi and cook for 2 minutes. (If making your own gnocchi, do not add at this point, add right at the end).
Add the sugar snap peas and samphire and cook for 4-6 mins more.
Add most of the parsley (and the fresh gnocchi if you have made it yourself). Gently toss everything together and season. Serve immediately, scattered with the rest of the parsley and bacon bits, if using.
If you want you can make your own gnocchi but this will take around 45 minutes to prepare and cook. See the recipe below.
Making gnocchi from scratch…
900g floury potatoes, roughly the same size or halved if large, unpeeled
50g salted butter
1 medium egg, beaten
225-280g plain white flour
Method
To make the gnocchi, cook the potatoes in boiling water for 40-50 mins until very tender, then drain well. Peel away the skin and press through a sieve or a potato ricer into a bowl.
While the potatoes are still warm, add 1 tsp salt, the butter, egg and half the flour. Lightly mix together and turn out onto a floured board. Gradually knead in enough of the remaining flour to make a smooth, soft but slightly sticky dough.
Roll out the dough into sausages, 2.5cm in diameter. Cut into roughly 2cm pieces and put on a floured tea towel to prevent the gnocchi from sticking together.
Bring a large pan of water to the boil. Drop the gnocchi into the water in batches and allow to cook for 2-3 mins until they float to the surface. Remove with a slotted spoon and keep hot while you cook the rest.