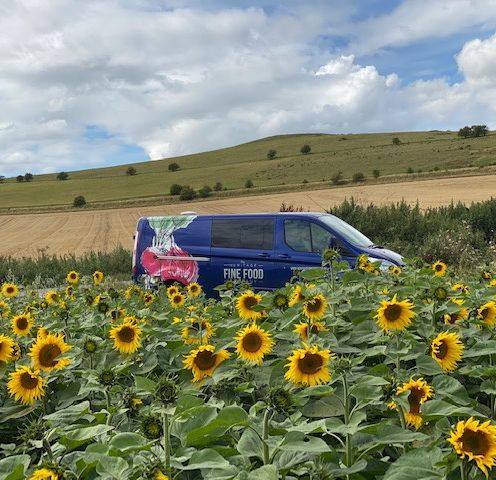 Fine Food Company extends home delivery into Bristol and Bath areas
With more and more people turning to online food delivery services, The Heritage Fine Food Company has extended its delivery areas into Bristol and Bath offering new customers the chance to experience restaurant quality produce at competitive prices, direct to their door.
With over 40 years in the sector, Heritage are a BRC certified fruit and vegetable wholesaler based in the heart of Wiltshire who also supply restaurants, pubs, schools and other catering operations across the South West region.
With a close relationship with local farmers and suppliers, customers can benefit from an abundant supply of seasonal and appealing produce that they may not always be able to access in a supermarket.  In recent months produce has been extended further to include fish, meat and other groceries and a drive-thru facility has also been set up.
During the height of the pandemic Heritage became a lifeline and an integral part of the community and people's life's, the company combines the modern-day convenience of online ordering with the friendly, at-your-door service of days gone by which has, since lockdown, proved vital for those not wanting or able to venture out to the supermarket.
Ken Mortimer, Managing Director noted, "During the pandemic, our home delivery service ignited beyond our expectations and our customers have loved the quality and variety of food that normally only a catering establishment would be able to access, we have made the decision to extend this service for new customers in Bristol and Bath to experience the fresh, local produce we offer, something we are really passionate about".
Kay Mortimer, Operations Director added "We pride ourselves in first-class customer service and it has been heartwarming to see our online community grow day by day and share the food being made, the excitement when people receive their boxes with their free gift or produce they've never tried before is a joy. There are so many benefits to becoming a customer with Heritage, buying from us helps local farmers and growers, cuts food miles and is value for money".
If you are a local business please get in touch with us to find out how we can help you with your requirements.
Current postcodes covered: BA11, BA12, BA13, BA14, BA15, OX12, PO1, PO2, PO3, PO4 PO5, PO6, PO7, PO12, PO13, PO14, PO15, PO16, PO17, RG14, RG17, RG18, RG19, RG20, SN1, SN2, SN3, SN4, SN5, SN6, SN7, SN8, SN9, SN10, SN11, SN12, SN13, SN14, SN15, SN16, SN25, SN26, SO14, SO15, SO16, SO17, SO18, SO19, SO20, SO21, SO22, SO23, SO24, SO40, SO41, SO42, SO45, SO50, SO51, SO52, SO53, SP2, SP3, SP4, SP5 1, SP5 2, SP5 3, SP5 5, SP7, SP8 SP9.
New postcodes covered: BA1, BA2, BA3, BA4, BA5, BA6, BA7, BA8, BA9, BA10, BA21, BA22-7, BA22-8,  BS1, BS2, BS3, BS4, BS5, BS6, BS7, BS8, BS9, BS13, BS14, BS15, BS16, BS25, BS26, BS27, BS28, BS30, BS31, BS39, BS40, BS41, BS48-3.