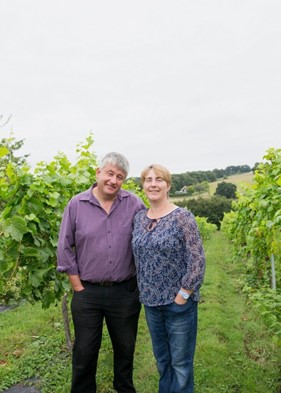 From Corporate coffee drinking to Country Life English Wine making
So a few weeks before harvesting Emma headed down to Littleton Pannell, just south of Devizes to meet with Paul Langham of A'Beckett's Vineyard to talk all things wine. The video gives a flavour of what goes on at the vineyard.  Want a real taste of award-winning English Wine? We have 6 varieties available online in our local tipples section, you will not be disappointed.
Back in 1999, Paul Langham (pictured left with his wife Lynn) decided that the corporate world was not where he wanted to be anymore.  One Saturday in June 1999, while enjoying drinking a glass of wine with his wife Lynn they decided it was something they could do themselves.
Lynn did lots of research and found an 11-acre fruit farm in Littleton Panell, a few miles south of Devizes, Wiltshire.  With soils made up of greensand lying over chalk; a well-drained site between 55 and 60 metres above sea level that benefits from being sheltered from the prevailing westerly winds made it a perfect location for growing vines.
Neither had any experience of farming or winemaking so they spent time researching and read a lot and asked many questions from fellow vineyards and also linked up with a vineyard consultant.  They also joined the United Kingdom Vineyards Association and the regional Wessex Vineyards Association. Paul has since joining served as a Regional Chairman and also as National Chairman from 2012 to 2015.
In April 2001 they planted 5,000 vines and harvested their first vintage of English Wine in 2003.  Since then, they have gone on to produce a range of award-winning red, rosé, white and sparkling wines along with cider and apple juice from their heritage orchard.  A'Beckett's is one of the few English vineyards growing Auxerrois, a variety more commonly found in Alsace.   To support the vines they've used just under 50,000 metres of wire, 1,500 posts, wire tensioners and post anchors to ensure rows do not fall over.
White Grapes
Chardonnay*- Classic French variety using ENTAV 96 clone on SO4 rootstock.
Pinot Auxerrois*– A distant relative of Chardonnay used in the Alsace Region of France.
Reichensteiner*- A German Grape developed in the late 1930s, known for its heavy cropping abilities.
Sevyal Blanc*- A French grape developed in the 1920s and at one time France had over 1300 hectares, though this has reduced in recent years. A consistent variety that can be used for still and sparkling wine production.
Red Grapes
Pinot Noir*- One of the classic varieties grown throughout the world for red wine production and also for sparkling wine production especially Champagne.
* These varieties can also be used in the making of sparkling wine. Paul and Lynn did a little replanting in the spring of 2006 & 2008 to fill in a few gaps. Lynn is also keen to have a variety that will produce a sweet or pudding wine.
In addition to producing wine, apple juice and cider they love hosting events such as hen parties and other groups and offer wine tasting (unfortunately no events are currently taking place during the pandemic).  You can also lease vines, renting 10, 25 or 50 vines for a year with a single fee plus the cost of wine produced for those vines.
If you'd like to know more about a'Beckett's, we recently visited the vineyard and had a chat with Paul and talked about all things wine – see the video on our YouTube channel.