French Cuisine – Main Course
In the second of our French Cuisine series, we share some of our favourite main course recipes.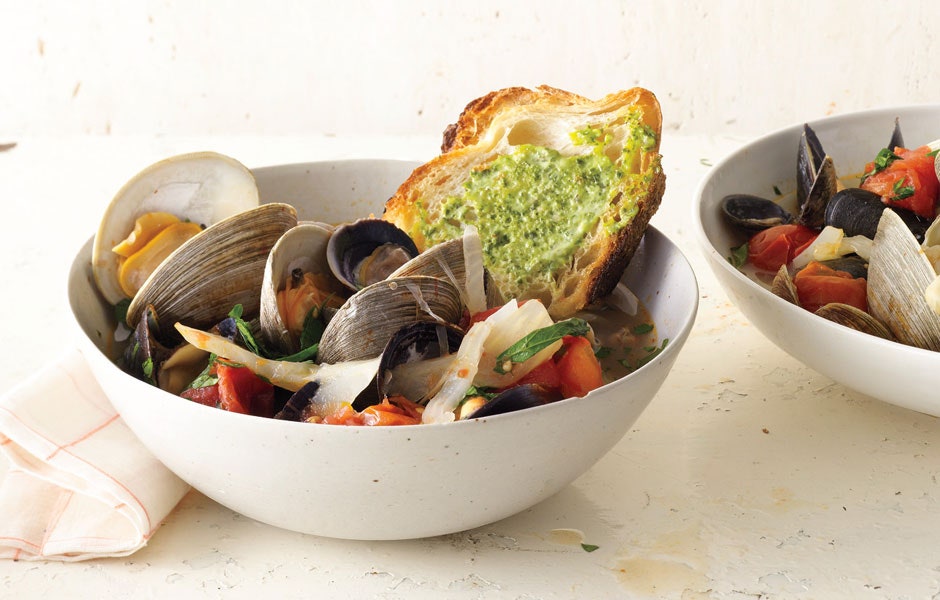 Summer Tomato Bouillabaisse with Basil Rouille
1 garlic cloves, divided
Large handful of fresh basil leaves
3 tbsp mayonnaise
5 tbsp extra-virgin olive oil, divided
2 anchovy fillets in oil, drained
1 tbsp fresh lemon juice
150g cherry tomatoes
1 small fennel bulb, trimmed, halved, thinly sliced
Sea salt and freshly ground black pepper
240ml dry white wine
230ml bottle clam juice
1.3kg mixed shellfish, (such as littleneck clams, cockles, mussels), scrubbed
Large handful chopped fresh flat-leaf parsley
Crusty bread, sliced for serving
Method
Mince or finely grate 2 garlic cloves and transfer to a blender. Add basil, mayonnaise, 3 tablespoons oil, anchovies, and lemon juice. Purée until smooth. Transfer basil rouille to a small bowl, cover, and chill.
Heat remaining 2 tablespoons oil in a large heavy pot over medium-high heat. Add tomatoes and fennel; season with salt and pepper and cook, stirring occasionally, until tomatoes burst, about 10 minutes.
Slice the remaining 2 garlic cloves and add to pot. Cook, stirring often, until garlic becomes fragrant, about 1 minute. Pour in wine and cook, stirring often, until almost absorbed, about 1 minute. Add clam juice and about 950ml water and bring to a boil. Add shellfish and cook, covered, until opened (discard any that do not open), about 3 minutes. Stir in parsley. Spread basil rouille on bread and serve alongside.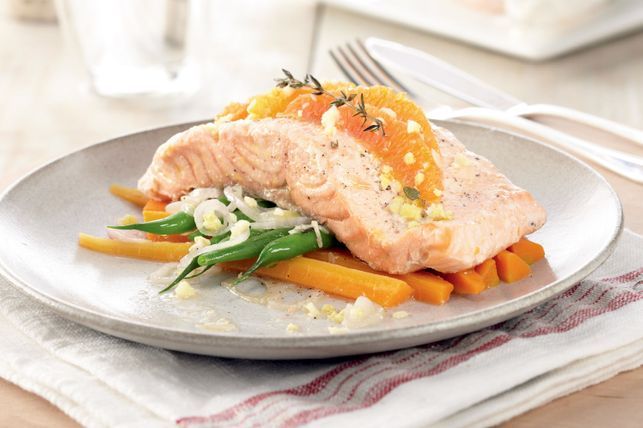 Healthy and nutritious, steam salmon fillets in paper parcels and serve with freshly steamed veggies.
Source: Taste
2 salmon fillets, skinned and boned
120g green beans, ends trimmed
6 baby carrots, peeled, cut in half
1 shallot, thinly sliced
1 orange, segments only
1 tsp fresh ginger, chopped fine
100ml white wine
2 sprigs fresh thyme
Cracked black pepper
Method
Preheat the oven to 200C and place a sheet pan in the oven to preheat.
Take 2 sheets of baking paper which are about 36cm by 50cm and fold them each in half to form two 36cm by 25cm rectangles.
Cut each rectangle into a half heart shape with the centre of the heart being the fold.
Open the paper hearts up and lay half of the carrots tightly together on the right side of each paper heart.
Divide the beans and lay across the carrots at right angles.
Sprinkle the shallots evenly between the two hearts over and around the other vegetables and sprinkle the vegetables lightly with fresh cracked black pepper.
Season each salmon fillet with fresh cracked black pepper. Place a salmon fillet on top of each vegetable base and lay the orange segments on each salmon fillet.
Mix the ginger with the white wine and pour over each piece of salmon, being careful to keep the liquid next to vegetables and fish. Place a sprig of thyme over each piece of fish.
Fold the left panel of each heart over the fish to form the half heart shape and starting from the top of each parcel, tightly fold the paper overlapping each fold so that there is an airtight seal.
Place the two paper packages onto the preheated sheet pan and place the pan in the oven.
Bake for 12 minutes. (The paper may puff up while baking)
Remove the parcels from the oven and let them sit at room temperature for 3 minutes. Carefully cut open the paper parcels being careful of the steam, and transfer the vegetables to individual serving plates.
Place each piece of salmon over the vegetables and spoon some of the cooking liquid from the bags over and around the fish and serve immediately.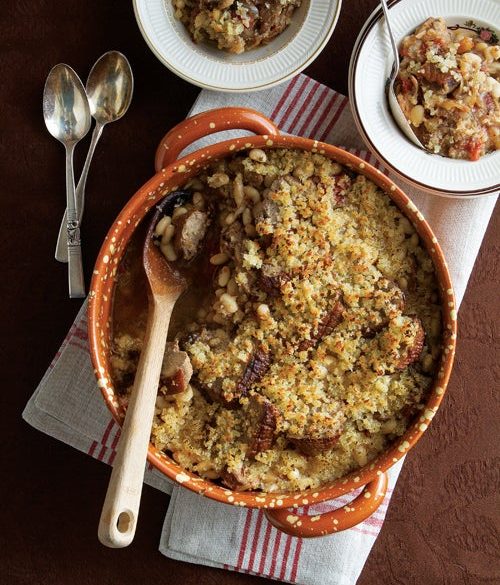 450g dried butter beans
10 tbsp duck fat or olive oil
16 garlic cloves, smashed
2 onions, chopped
2 carrots, chopped
2 large ham hocks
450g pork shoulder, cut into cubes
225g pancetta, cubed
4 sprigs oregano
4 sprigs thyme
3 bay leaves
225g whole peeled tinned tomatoes
240ml in white wine
480ml chicken stock
4 confit duck legs optional
450g pork sausage
130g breadcrumbs
Method
Soak the butter beans in a large bowl in 1.7 litres of water overnight. Heat 2 tbsp. duck fat in a large pot over medium-high heat. Add half the garlic, onions, and carrots and cook until lightly browned for about 10 minutes. Add ham hocks along with the butter beans and their water and boil. Reduce heat and simmer beans until tender, about 1 1⁄2 hours.
Transfer ham hocks to a plate; let cool. Pull off meat; discard skin, bone, and gristle. Chop meat; add to beans. Set aside.
Heat 2 tbsp. duck fat in a Dutch oven over medium-high heat. Add pork and brown for 8 minutes. Add pancetta; cook for 5 minutes. Add remaining garlic, onions, and carrots; cook until lightly browned, about 10 minutes. Tie together oregano, thyme, and bay leaves with twine; add to pan with tomatoes; cook until liquid thickens, 8–10 minutes. Add wine; reduce by half. Add broth; boil. Reduce heat to medium-low; cook, uncovered, until liquid has thickened, about 1 hour. Discard herbs; set Dutch oven aside.
Meanwhile, sear duck legs in 2 tbsp. duck fat in a large frying pan over medium-high heat for 8 minutes; transfer to a plate. Brown sausages in the fat, about 8 minutes. Cut sausages into 1⁄2″ slices. Pull duck meat off bones. Discard fat and bones. Stir duck and sausages into pork stew.
Heat oven to 150C. Mix beans and pork stew in a casserole dish. Cover with bread crumbs; drizzle with remaining duck fat. Bake, uncovered, for 3 hours. Raise oven temperature to 220˚; cook cassoulet until crust is golden, about 5 minutes.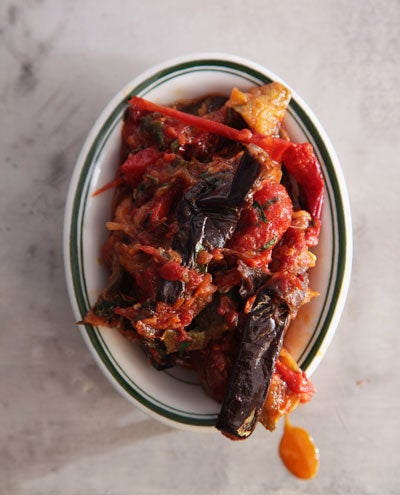 Sautéing dried herbes de Provence in olive oil for this vegetable dish awakens their fragrance. You can substitute fresh tomatoes for canned, when in season.
Source: Saveur
8 tbsp extra-virgin olive oil
1 tbsp dried Herbes dr Provence
6 garlic cloves, smashed and peeled
2 large yellow onions, quartered
1 bay leaf
2 medium courgette, cut into 2″ pieces
1 medium aubergine, cut into 2″ pieces
1 red bell pepper, stemmed, seeded & quartered
1 yellow bell pepper, stemmed, seeded & quartered
10 tinned peeled tomatoes, drained
Sea salt and freshly ground black pepper, to taste
1 tbsp chopped fresh basil leaves
1 tbsp chopped fresh flat-leaf parsley
Method
Heat oven to 180˚C. Heat oil in a Dutch oven over medium heat. Add herbes de Provence, garlic, onions, and bay leaf; cover and cook, stirring occasionally, until soft and fragrant, about 10 minutes.
Increase heat to high; stir in the courgette, aubergine, peppers, and tomatoes and season with salt and pepper. Uncover pot, transfer to the oven, and bake, stirring occasionally, until vegetables are tender and lightly browned, about 1 1⁄2 hours.
Stir in basil and parsley, transfer ratatouille to a serving bowl, and serve warm or at room temperature.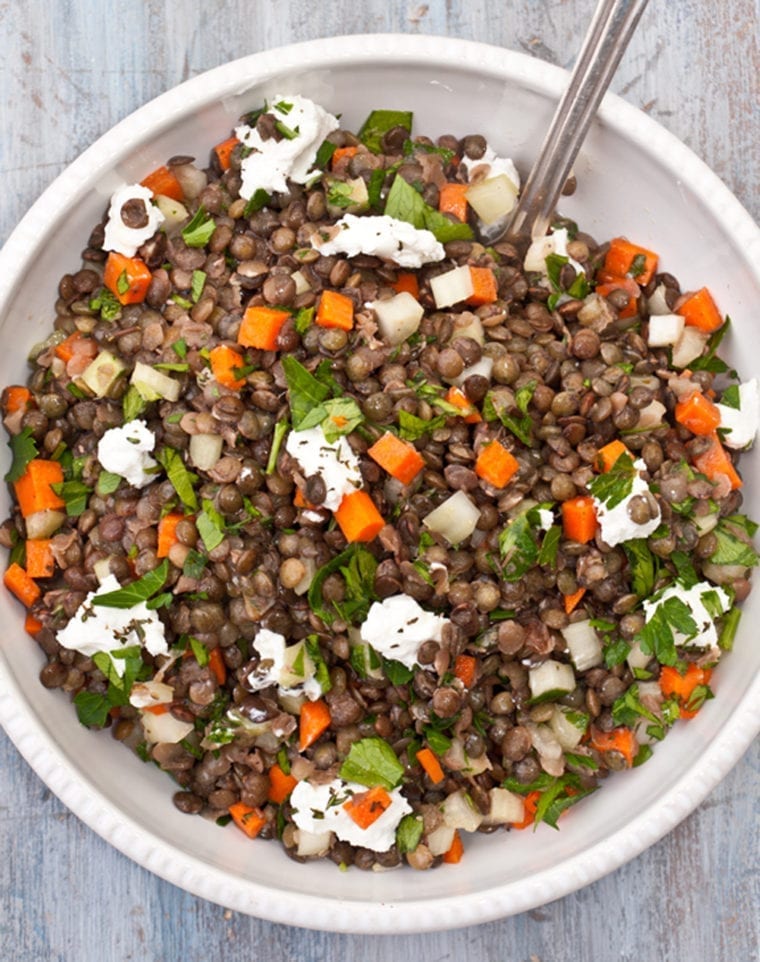 French Lentil Salad with Goats Cheese
This hearty lentil salad is perfect for a light dinner or a wholesome on-the-go lunch.
Source: Once upon a chef
190g French green lentils, common brown or green lentils
700ml chicken stock
1 bay leaf
1 large carrot, finely diced
2 celery sticks, finely diced
1 tsp finely chopped fresh thyme, or 1/2 tsp dried
3 tbsp chopped fresh parsley
1 garlic clove, minced
1 tsp Dijon mustard
1 tsp honey
1/2 tsp salt
1/4 tsp ground black pepper
2 tbsp freshly squeezed lemon juice
60ml extra virgin olive oil
85g goats cheese
Method
Before cooking the lentils, make sure you rinse them well and pick over them to remove any small rocks or debris. Combine lentils, chicken stock and bay leaf in a medium saucepan. Bring to a boil, then turn heat down and simmer until lentils are tender, 25-30 minutes for French green lentils or 20-25 minutes for common brown or green lentils. Remove bay leaf, strain and let cool for about 10 mins.
In a large bowl, combine all remaining ingredients except goat cheese. Add cooled lentils and toss to combine. Taste and adjust seasoning if necessary. Transfer salad to serving dish, crumble goat cheese over top and serve.