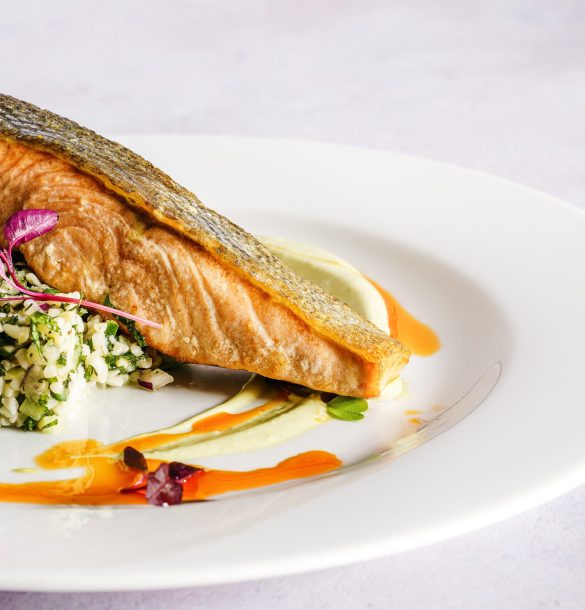 Add some fresh fish to your next order and try one of the 5 recipes we've put together and if you're looking to try the tuna supremes, we have a whole blog dedicated to the 'King of the Sea'.
We also have 20% off all meat and fish on our Heritage at Home website using code MF20 (offer ends Sunday 24th July)  Please note this code does not work on our 5adaybox website and cannot be used in conjunction with any other offer
Fancy a fish supper ready in under half an hour? Mix up your midweek meal with our satisfyingly spicy chorizo and cod stew. It's actually a fantastic light summer dish which goes great with some iced wine eaten in your back garden!
Source: BBC Good Food, find the recipe here
Super healthy Salmon Burgers
At only 292 calories these are delicious, light and healthy and a change from the norm.
Source: BBC Good Food, find the recipe here
Chard-wrapped Fish with Lemon
This recipe is perfectly adapted to adding whatever you have around, spreading it on fish, and wrapping it in chard before simmering it in a lemony, coriander sauce. Delicious!
Source: Epicurious, find the recipe here
Sea bass with sizzled ginger, chilli and spring onions
A perfect dinner party pleaser, the aromas released while cooking this dish will have everyone licking their lips in anticipation.
Source: BBC Good Food, find the recipe here
Baked Trout with Lemon, Pepper and Garlic
The trout is flavoured with olive oil, salt and cracked black pepper, freshly minced garlic and fresh lemon.  Healthy, low-carb, and gluten-free recipe, packed with healthy omega 3 fatty acids.  Easy and quick dinner – only 30 minutes from start to finish!
Source: Julia's Album, find the recipe here