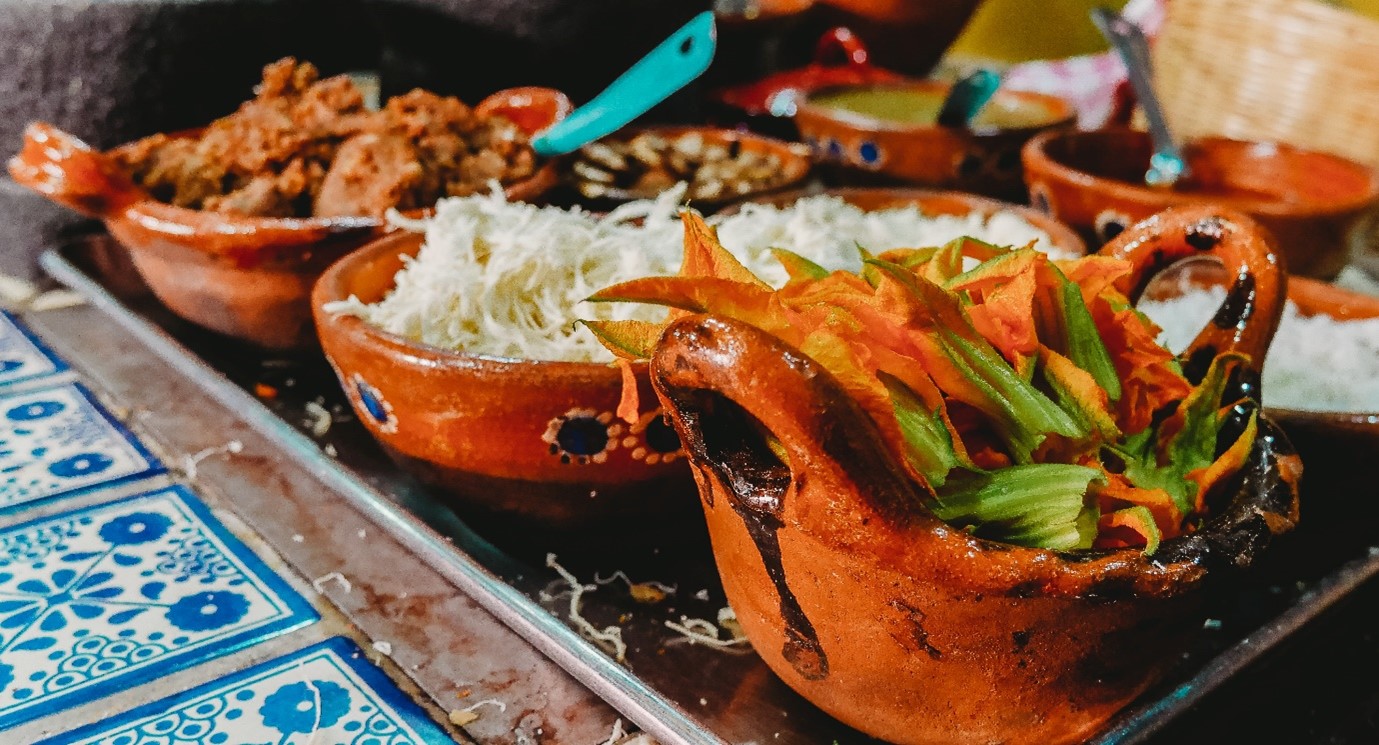 This week we are celebrating Mexican food.  Authentic Mexican food is vibrant, colourful, delicious, fresh and fun and uses an amazing array of chillies, both fresh and dried.  Many ingredients are readily available such as tomatoes, limes, coriander, red onion, avocado and corn with speciality ingredients becoming more readily available.
The history of Mexican food is a long and diverse one. It is believed that authentic Mexican food might have originated from the Mayan Indians. They were traditionally nomadic hunters and gatherers and corn tortillas with bean paste were a common food item.
In the mid-1300s, The Aztec Empire was flourishing and though the Mayan food staples were still in use, chilli peppers, honey, salt and chocolate found its way into their cooking too. Some of the wild game, such as turkey and duck had now also become domesticated.
In 1521 Spain invaded Mexico which had the most influence on Mexican cuisine. They introduced new livestock such as sheep, pigs and cows as well as introducing dairy products, garlic and many different herbs, wheat and spices. It was at this time that the Mexican people saw the incorporation of many other cuisines including Caribbean, South American, French, West African and Portuguese.
Mexico's six regions vary considerably in terms of cuisine due to key differences in geography, climate and ethnic makeup. For example, the north of Mexico is known for its beef, goat and ostrich production. In the Yucatan, food tends to be sweeter and less spicy and achiote is the most common seasoning, whereas the Oaxacan region is known for its savoury tamales and mole sauces. Popular dishes of Central Mexico include carnitas (braised or roasted pork) and pozole (a pre-Columbian meat stew.) Southeastern Mexico cooking has a Caribbean influence due to its geography and is known both for its fish dishes and spicy vegetable and chicken dishes.
This week is also El Día de Los Muertos or Day of the Dead.  This is one of the most important and colourful celebrations in Mexico. Far from a sad or scary occasion, Muertos is a festive family commemoration of loved ones. As with any party, food plays a major role.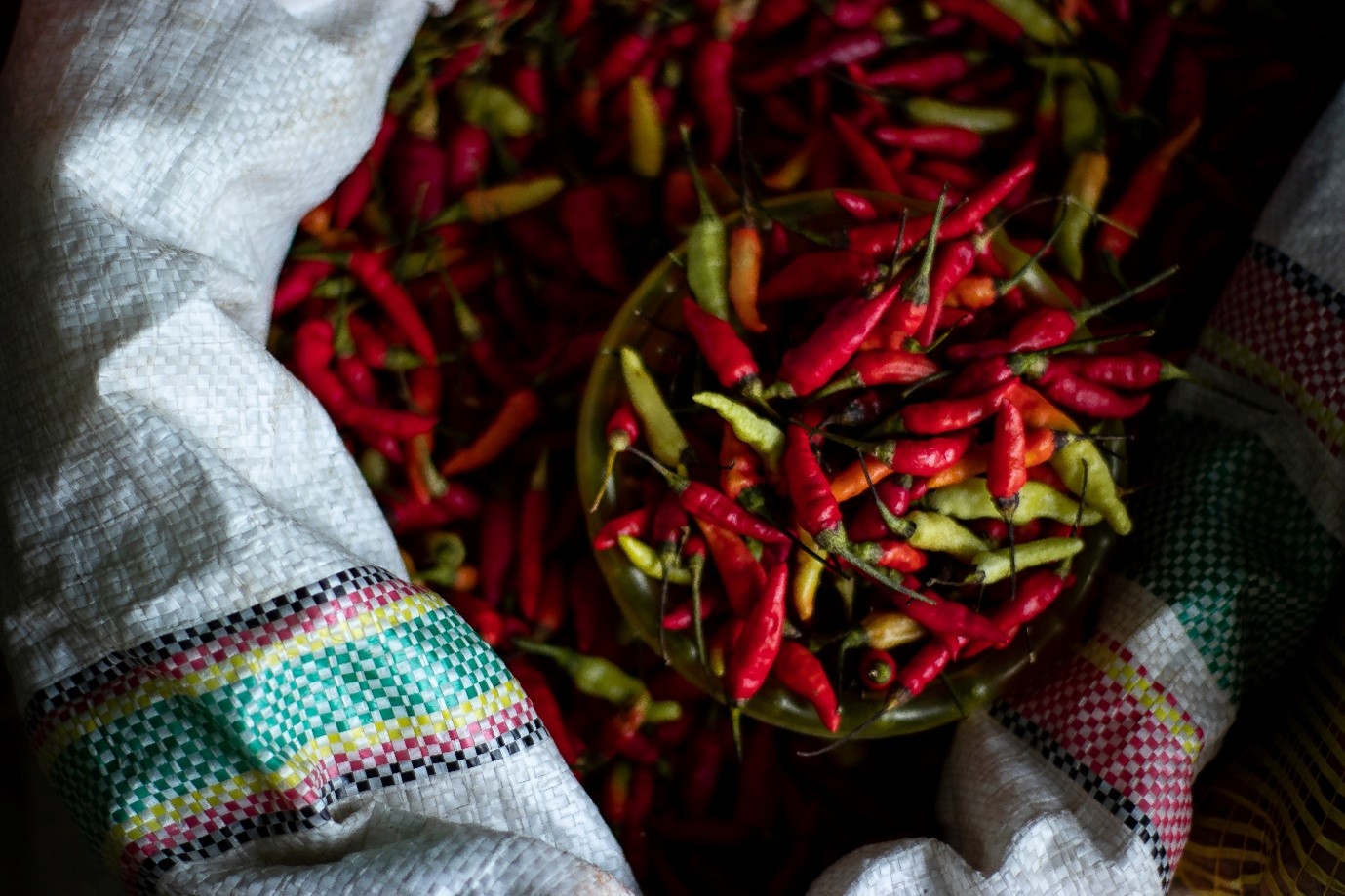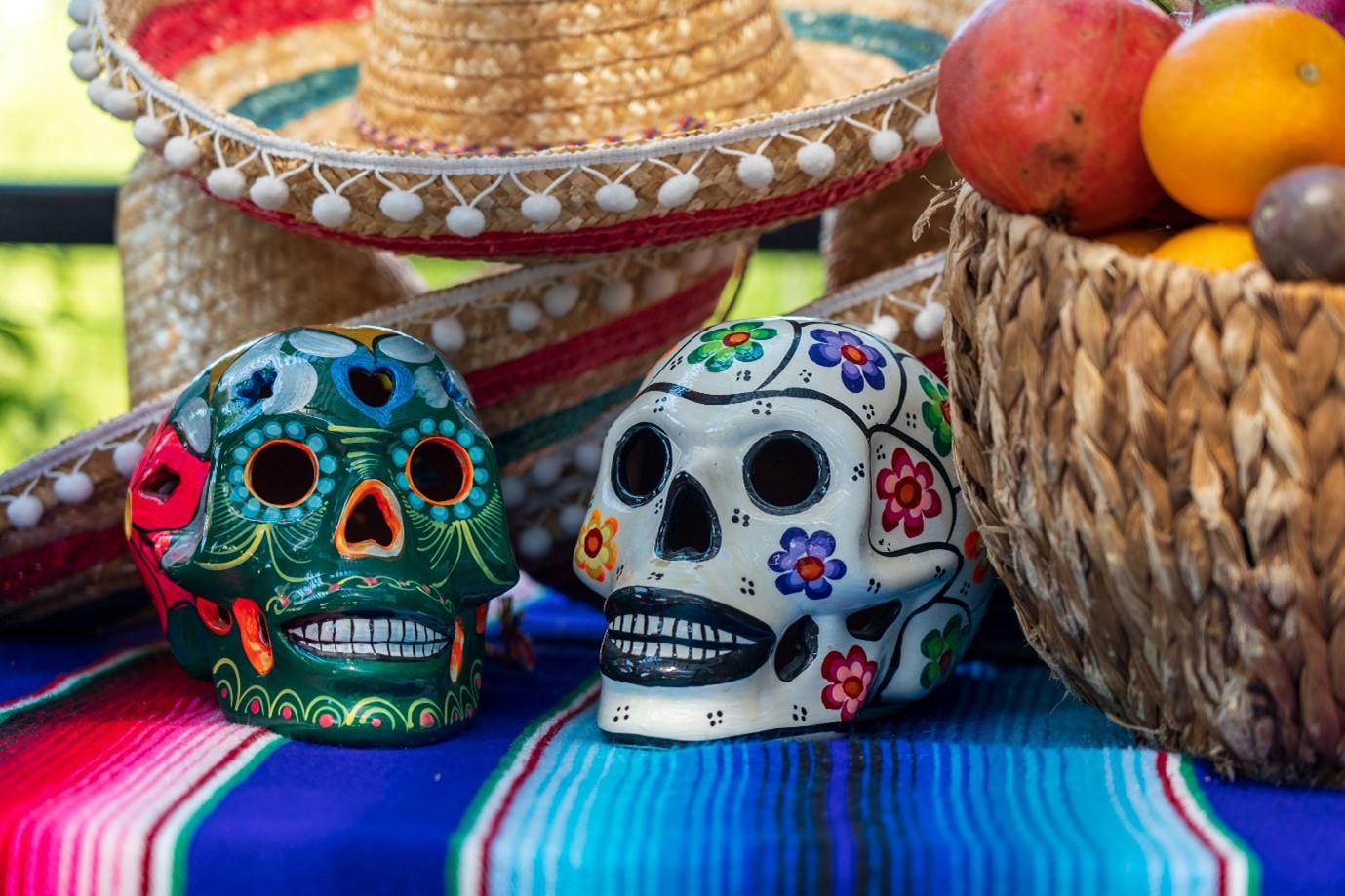 Observed each year on November 1st and 2nd, the Day of the Dead combines elements of a harvest festival along with mystical and religious beliefs. Fruits and crops of the season often have multiple meanings when eaten at this time, or when placed on altars prepared by each family to welcome the spirits of their beloved deceased.
It's also Nachos day on the 6th November in the US (International day was celebrated on the 21st October) – It's hard to imagine a world without Nachos but prior to 1943 the crunchy and tasty snacks were non-existent. Thanks to a late-night visit to a restaurant in a Mexican border town from a group of soldiers wives and an absent chef, a worker created the dish by cutting up pieces of tortilla and serving them with cheese –  Nacho creator Ignacio Anaya died in 1975, and a plaque was installed in the town where he had first served them.
Here are some of our favourite recipes inspired by Mexican cuisine. Head over to our Pinterest board for more recipes and don't forget to share your favourites over on our Facebook page this week.
For starters: Sweet Potato & Black Bean Nachos
This crowd-pleaser of a dish proves you don't need a basketful of expensive ingredients or a complicated recipe to eat well. Our sweet potato nachos recipe feeds four people for just £5.16.
Nutrition Facts per serving: Kcals: 642| Total fat: 27.4g | Carbs: 71.9g | Protein: 18.6g | Salt: 1.5g
Source: Delicious Magazine
750g sweet potatoes, sliced into 5mm rounds
1 tbsp olive oil
1 red onion, finely sliced
2 tbsp red wine vinegar
400g tin black beans drained and rinsed
200g ready-made tomato salsa
75g tortilla chips
100g grated cheddar
1 large ripe avocado, chopped
Finely grated zest and juice 1 lime
Handful fresh coriander
Method
Heat the oven to 220°C/200°C fan/gas 7. Toss the sweet potatoes in the oil on a roasting tray, season with salt and a grinding of black pepper, then bake for 30 minutes until caramelised and tender.
Meanwhile, mix the red onion with the vinegar and a pinch of salt in a glass or ceramic bowl. Set aside to quick-pickle for 25 minutes.
Heat the grill to high. Top the sweet potatoes with the black beans and tomato salsa. Crush the tortilla chips in a bowl and mix with the grated cheese, then sprinkle over the potatoes. Grill for 6-8 minutes until everything looks golden and bubbling.
Toss the chopped avocado with the lime zest and juice, then scatter over the nachos with the fresh coriander and pickled red onion. Serve straight away.
For Main Course: Tex Mex Enchiladas
Here's a comforting enchiladas recipe to simplify weeknight dinner planning; this bubbling bake is bursting with flavour.  Serve with guacamole, refried beans, corn, grilled courgettes or a black bean and corn salad.
Nutrition Facts per serving: Kcals: 494| Total fat: 24.2g| Carbs: 42.5g | Protein: 32.5g | Salt: 1.5g
Recipe and Image Source: Delicious Magazine
Splash of olive oil
450g British free-range pork mince
450g British beef mince (5% fat)
2 onions, sliced
1 1/2 tbsp cumin seeds, roughly crushed
1-3 tbsp chipotle paste
1 x 800g tinned chopped tomatoes
3 medium red peppers, sliced
To Serve
150g sour cream
4 large tortilla wraps
1-2 handfuls grated mature cheddar cheese
Method
Heat the oil in a deep, heavy-based frying pan (with a lid) over medium-high heat. Brown the mince, in 2 batches, stirring regularly until golden and crisp (around 7 minutes per batch). Remove the mince with a slotted spoon and set aside.
Turn the heat to medium and add the onions to the pan, stirring with a wooden spoon to dissolve any brown bits from the base. Cover and cook for 5 minutes, stirring now and again.
Add the cumin, cook for a minute, then add the chipotle paste, tomatoes and 175ml water. Stir well, bring to the boil, then simmer, uncovered, for 15 minutes. Return the mince to the pan, put the peppers on top, then cover with the lid. Cook for 10 minutes more until the peppers are tender, then season and stir the peppers into the sauce.
When ready to serve, heat the oven to 180°C/160°C fan/gas 4. Divide half the mince sauce equally among the 4 tortillas, roll up, then arrange in a baking dish (use one that just fits the wraps). Mix the soured cream with 1 tbsp cold water, then spoon over the top and scatter with the cheese (see tips). Bake for 20 minutes until golden and the cheese has melted.
There's nothing quite like freshly fried Homemade Churros. These churros are flaky and warm and practically melts in your mouth! And they are deliciously easy to make at home!
Nutrition Facts per serving: Kcals: 185 | Total fat: 9.6g | Carbs: 22.4g | Protein: 2g | Salt: 0.2g
Recipe and image source: BBC Good Food
50g butter, melted
1/2 tsp vanilla extract
250g plain flour, from a new bag (essential for absorbing the liquid)
1 tsp baking powder
1 litre sunflower oil
A few chunks of bread
For the sauce
200g dark chocolate not too bitter, broken into chunks
100ml double cream
100ml whole milk
3 tbsp golden syrup
1/2 tsp vanilla extract
For the cinnamon sugar
100g caster sugar
2 tsp cinnamon
Method
Measure 300ml boiling water into a jug and add the melted butter and vanilla extract. Sift the flour and baking powder into a big mixing bowl with a big pinch of salt. Make a well in the centre, then pour in the contents of the jug and very quickly beat into the flour with a wooden spoon until lump-free. Rest for 10-15 mins while you make the sauce.
Put all the sauce ingredients into a pan and gently melt together, stirring occasionally until you have a smooth shiny sauce. Keep warm on low heat.
Fill a large deep saucepan one-third full of oil. Heat until a cube of bread browns in 45 seconds to 1 min. Cover a tray with kitchen paper and mix the caster sugar and cinnamon together.
Fit a star nozzle to a piping bag – 1.5-2cm wide is a good size. Fill with the rested dough, then pipe 2-3 strips directly into the pan, snipping off each dough strip with a pair of kitchen scissors. Fry until golden brown and crisp.
Be very careful here – if air bubbles form in the churros they can explode, especially if the oil overheats or you use old flour. kitchen and protect yourself by wearing long sleeves and eye protection, and keeping your face away from the pan.
Once the churros are crisp and golden brown, remove them from the oil with a slotted spoon and drain on the kitchen paper-lined tray.
Carry on cooking the rest of the dough in batches, sprinkling the cooked churros with some cinnamon sugar as you go. When you've cooked all the churros, toss with any remaining cinnamon sugar and serve with the chocolate sauce, for dipping.