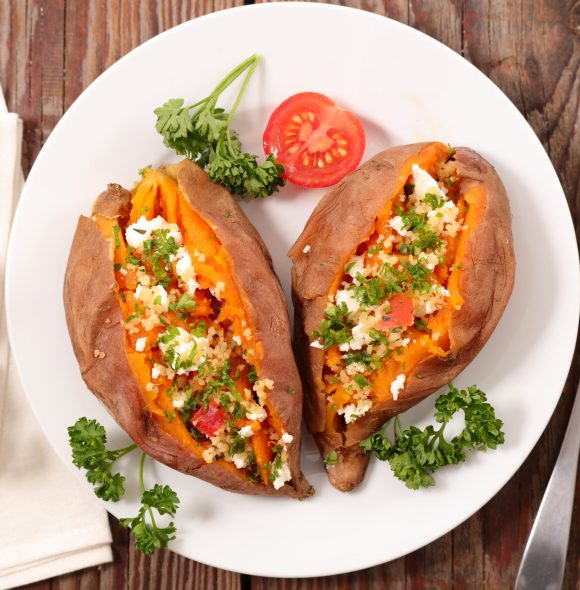 Loaded Sweet Potatoes – Eat Healthy For Less
This vegetarian recipe is a great family meal packed with goodness! Including 3 of your 5-a-day, this meal is easy, healthy and delicious!
The recipe includes sweet potatoes, (a 'superfood' and are low in saturated fat and a great source of dietary fibre, vitamin A & B6), and black beans (which are a good source of protein, calcium and antioxidants).
[With Couscous] Nutritional Information (per serving): Calories 401 (with couscous); Protein 11.9g; Carbohydrate 61.5g; Total Fat 13.1g; Saturated Fat 3g; Dietary Fibre 13.1g; Sodium 527.5mg.
Image & Recipe source: Good Housekeeping 
400g tin of black beans, rinsed and drained
50g crumbled feta
2 peppers (any colour)
3 tbsp olive oil
Small bunch of fresh parsley
Salt
Optional extra (included in cost per serving)
Method
Preheat oven to 220C/ 200C fan/ gas 7.
To roast your peppers – line a large flat baking tray with greaseproof paper. Halve the peppers and put them onto the baking tray cut-side down. Roast for 30-35 minutes until skin is shrivelled and lightly blistered. Remove from the oven and allow to cool before dicing.
With a small knife, poke sweet potatoes all over; arrange in a large microwave-safe baking dish. Microwave on High for 12 to 15 minutes or until easily pierced with a knife. (Alternatively, place in a preheated oven for around 60 minutes or until easily pierced with a knife. Cooking times may vary depending on the size of potatoes).
In a bowl, combine the black beans, roasted peppers, feta, olive oil, parsley and salt and mix together.
Once the potatoes are cooked, slice them in half lengthways and fluff up the middles with a fork.
Add the black bean mixture to the top of the potatoes halves, packing to fit. Place filled potatoes back into the oven for 10-15 minutes or until beans are hot.
Meanwhile, if having couscous, put the couscous into a heatproof bowl and pour over 200ml kettle-hot water or boiling vegetable stock.
Cover with cling film or a lid and leave for 5-10 minutes until the couscous is soft.
Fluff the couscous up with a fork, drizzling with a little olive oil and season with salt and pepper.
Serve on the side with the loaded sweet potatoes.