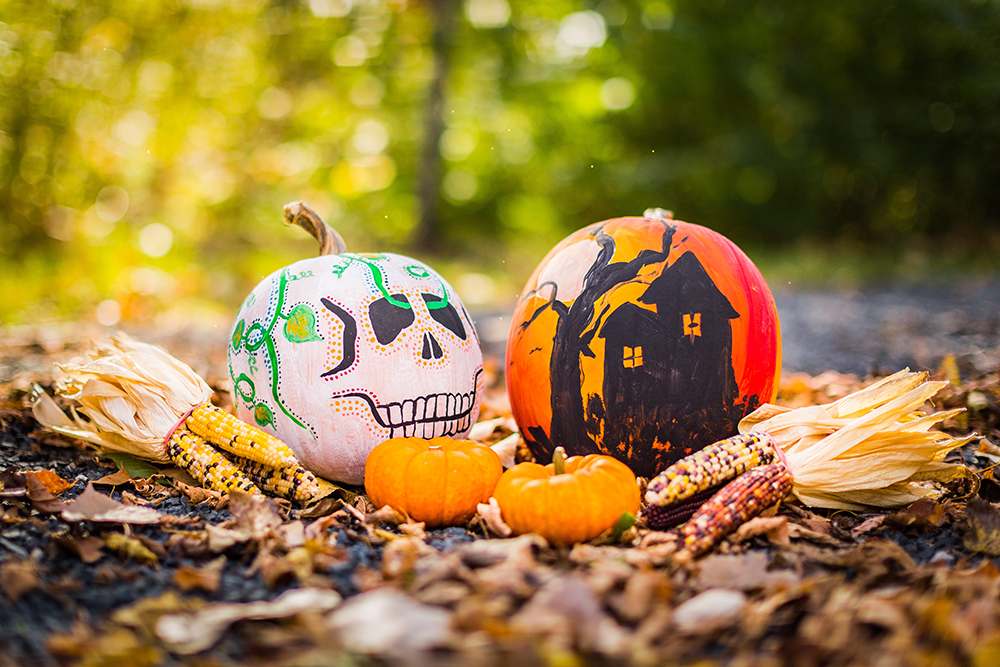 Dia

 de los 

Muertos

  (

Day of the Dead

)
The Day of the Dead (Día de los Muertos) is a holiday celebrated on the 1st and 2nd of November. It originated and is mostly observed in Mexico but also in other places, especially by people of Mexican heritage elsewhere. 
Whereas Halloween is a dark night of terror and mischief, Day of the Dead festivities unfold over two days in an explosion of colour and life-affirming joy with the point to demonstrate love and respect for deceased family members. In towns and cities throughout Mexico, people don funky makeup and costumes, hold parades and parties, sing and dance, and make offerings to lost loved ones.
Food of the dead 
The festival combines elements of a harvest festival along with mystical and religious beliefs. Fruits and crops of the season often have multiple meanings when eaten at this time, or when placed on altars prepared by each family to welcome the spirits of their beloved deceased. 
Here, some of the most common foods made during Dia de los Muertos.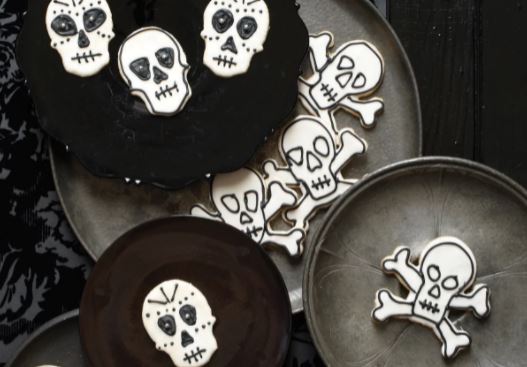 Although a skull is the traditional Day of the Dead motif, you can stamp these cookies into any festive shape, from pumpkins and witches to cats and ghosts.  In Mexico, chocolate and sugar skulls are placed on altars dedicated to the dead during the holiday. These buttery skull-shaped cookies aren't as elaborate as a sugar skull, but they're much tastier. 
Source: Food and Wine
227g unsalted butter, softened

 

200g granulated sugar

 

2 large egg yolks

 

1 teaspoon pure vanilla extract

 

1/2 teaspoon salt

 

340g all-purpose flour, plus more for rolling

 
Glaze and Icing 
2 large egg whites

 

2 teaspoons fresh lemon juice

 

375g icing sugar, sifted

 

Food colouring

 
Method
In the bowl of a standing electric mixer fitted with the paddle, beat the butter with the sugar at medium speed until fluffy, about 2 minutes. Beat in the egg yolks, vanilla and salt, then beat in the flour at low speed. Divide the dough in thirds and pat into disks. Wrap each disk in plastic and refrigerate until chilled, about 30 minutes. 
Preheat the oven to 180° and line 3 baking sheets with parchment paper. On a lightly floured work surface, roll out one disk of dough inch thick. Using a 3-inch cookie cutter, stamp out cookies as close together as possible and transfer them to a baking sheet 1-inch apart. Bake the cookies in the centre of the oven until lightly browned, 18 to 20 minutes. Let cool slightly, then transfer the cookies to a rack to cool completely. Repeat with the remaining disks of dough. Gather and reroll all of the dough scraps; stamp out and bake more cookies. 
In a medium bowl, whisk the egg whites until frothy. Add the lemon juice and confectioners' sugar and whisk until smooth. Pour some of the icing into several small bowls and stir in food colouring; cover the bowls with plastic wrap. Add a few drops of water to the white icing to thin it slightly so it will glaze the cookies evenly. Using a pastry brush, coat all of the cookies with the white glaze. Let the glaze dry completely. Transfer the coloured icings to piping bags fitted with tiny tips (or to sturdy, small, resealable plastic bags with a tiny bit of a corner snipped off) and pipe designs over the cookies. Let the icing dry completely before serving.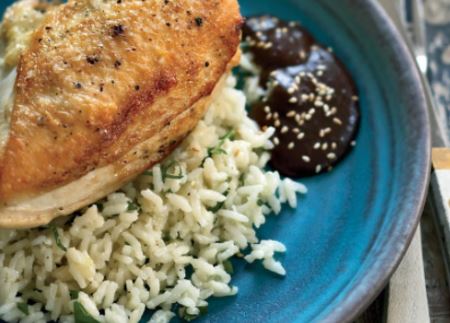 Pan roasted chicken breasts with mole negro
Mole negro is a complexly flavoured, dark-as-night, chile-and-chocolate sauce. It's a classic Dia de los Muertos food. Here, it's served with crisp-skinned chicken breasts. 
Source: Food and Wine
225g black mole paste 

240ml chicken stock
Salt and freshly ground pepper
2 tablespoons vegetable oil

 

4 bone-in chicken breast halves (with skin)

 

Toasted sesame seeds (for garnish)

 
Method
Preheat the oven to 200. In a saucepan, whisk the mole paste with the stock. Boil the mole sauce over high heat, whisking occasionally, until reduced, 25 minutes. Season with salt and pepper. 
In an ovenproof skillet, heat the oil until shimmering. Season the chicken breasts with salt and pepper and add them to the skillet, skin side down. Cook over moderately high heat until browned and crisp, 4 minutes. Turn the chicken and cook for 3 minutes. Transfer the skillet to the oven and roast the chicken for 20 minutes, until just cooked through. Let the chicken rest in the skillet for 5 minutes, then transfer to plates. Spoon the mole sauce alongside, garnish with sesame seeds and serve.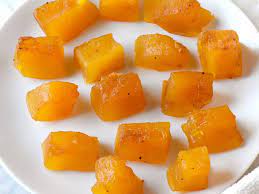 Chill: 2 hours or overnight
In the same way that pumpkins are traditional Halloween staples here., they are also commonplace during Dia de los Muertos festivities—especially candied. 
Source: Food and Wine
4 tablespoons unsalted butter

 

600g diced ( 1/2 inch) sugar pumpkin or butternut squash

 

67g sugar

 

10 tablesppons maple syrup

 

1 tablespoon minced fresh ginger

 

1/2 teaspoon cinnamon

 
Method
Melt the butter in a large heavy skillet. Add the pumpkin and cook over moderately low heat, stirring occasionally, until tender, about 20 minutes. Stir in the sugar until dissolved. Stir in the maple syrup, ginger and cinnamon and remove from the heat. Let cool and refrigerate until chilled, at least 2 hours or overnight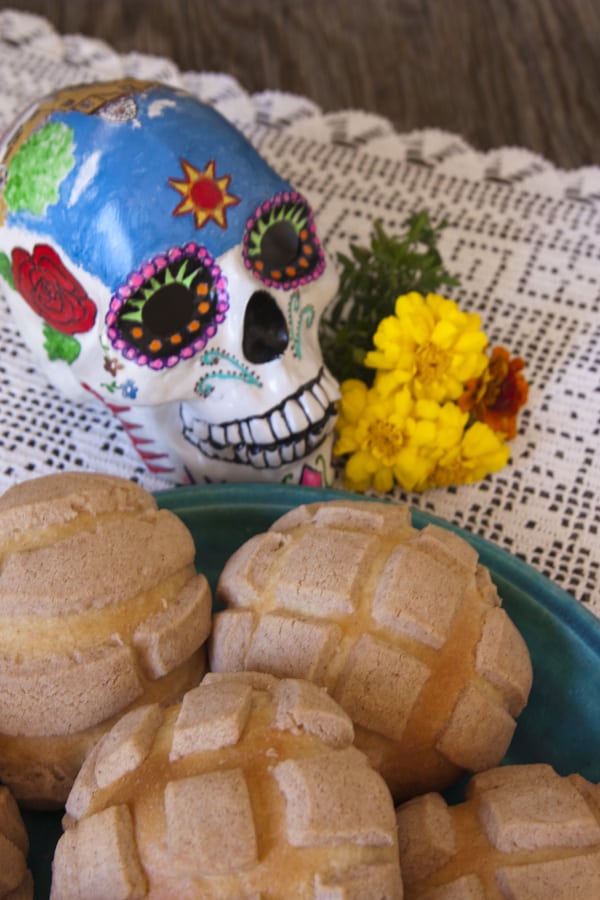 Cook time: 20 mins / Resting 1 hr 45 mins
Conchas (shells) are a Mexican pastry that is famous for its shape of a shell. The pastry contains a sugar shell pattern on the top.  It is also referred to as "pan de huevo". 
Source: My Bueno cookbook
1 packet active dry yeast

 

120ml warm water

 

120ml warm evaporated milk

 

67g sugar

 

76g butter, melted

 

1 egg

 

1 teaspoon salt

 

544g all-purpose flour

 

½ teaspoon ground cinnamon

113g butter, softened

 

134g sugar

 

120g all-purpose flour

 

2 teaspoons ground cinnamon

 

1 teaspoon vanilla extract

 
Method
In a large bowl stir together yeast and the warm water. Let stand for 10 minutes. Stir in evaporated milk, the 67g sugar, the 76g melted butter, egg, and salt. Stir in 272g of the flour. Gradually stir in another 272g flour and the ½ teaspoon cinnamon to make a dough. 
Turn the dough onto a lightly floured surface. Knead for 3 to 5 minutes or until smooth and elastic. Shape into a ball. Transfer dough to a large greased bowl; turn to coat surface of the dough. Cover and let rise in a warm place until double in size (1 to 1 ¼ hour). 
Meanwhile, for topping, in a medium bowl beat the 113g softened butter with an electric mixer on medium speed for 30 seconds. Add the 134g sugar, beating until well mixed. Stir in the 120g flour, the teaspoons cinnamon, and the vanilla. 
Punch down the dough. Cover and let stand for 10 minutes. Divide dough into 12 portions. Shape each portion into a smooth ball. Place balls about 3 inches apart on baking sheets lined with parchment paper. Press down on balls slightly. Divide topping into 12 balls; pat each ball flat. Place one round of topping on each dough ball. 
Using a sharp paring knife or concha cutter, cut grooves on a scallop shell. Cover rolls and let rise in a warm place until nearly double in size (about 45 minutes). 
Meanwhile, preheat oven to 190C Bake rolls for 18 to 20 minutes or until light golden brown. Remove from baking sheets. Cool on wire racks. Serve warm or cool.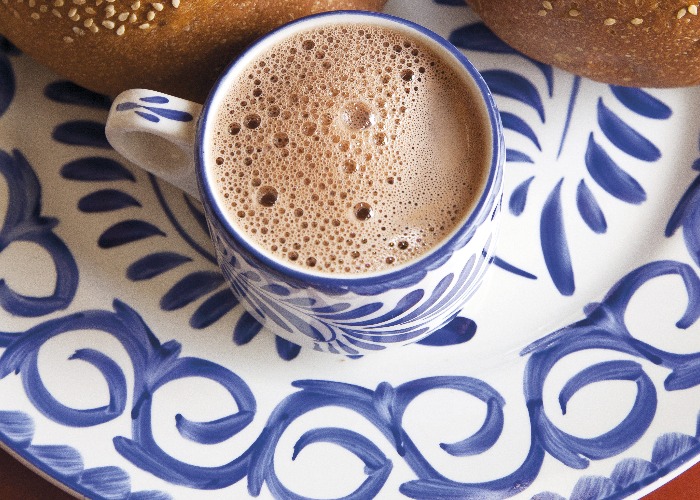 In Mexico, hot chocolate is much less sweet and often spiked with spices. Here, it's made with pre-spiced Oaxacan chocolate and cinnamon. 
Source: Food and Drink
950ml whole milk

 

284g tablets of Oaxacan or Mexican chocolate, chopped

 

Ground cinnamon, for dusting

 
Method
In a microwave-safe cup, heat the milk at high power for 5 minutes, until boiling. 
Add the chopped chocolate to a heatproof jug. Pour the boiling milk over the chocolate and let stand for 1 minute. Mix the milk with the chocolate by rolling a whisk  between the palms of your hands, until the hot chocolate is smooth and slightly frothy, about 3 minutes. Pour the hot chocolate into mugs, dust with cinnamon and serve.