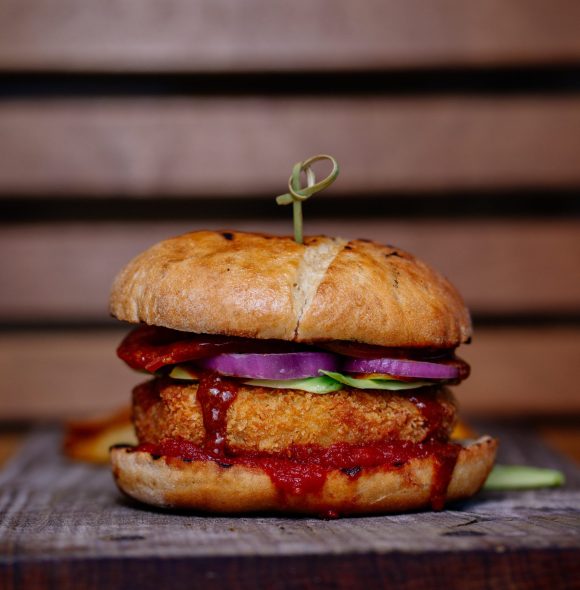 Sweet Potato Burgers – Eat Healthy For Less
A vegetarian's dream, this mile-high burger is stuffed with paprika-spiced sweet potato patties, avocado, lettuce, tomatoes. Cost per serving is just £2.34.
Nutritional Information (per serving): Calories 667 kcals; Protein 18.3g; Carbohydrate 83.8g; Total Fat 24.8g; Saturated Fat 4.6g; Dietary Fibre 17.9g; Salt 1.3g.
By clicking on the link a cart will automatically fill up with the ingredients required. Please note that there are more items than required for this recipe due to multi packs etc.
500g sweet potatoes, scrubbed
1 red onion, thinly sliced
2 limes, juiced
spray oil
3 garlic cloves, finely chopped
Thumb-sized piece ginger, finely chopped
1 tsp ground cumin
1 tsp smoked paprika
400g tin kidney beans, drained and rinsed
4 burger buns, halved and toasted
2 tbsp low-fat mayonnaise
2 avocados, sliced
Beef tomato, sliced
2 Little Gems, chopped
Method
Heat the oven to 200C/fan 180C/gas 6. Prick the sweet potatoes all over, put onto a baking tray and roast for 45 minutes-1 hour or until completely tender. Use a spoon to scoop out the soft flesh and tip into a bowl. Finely chop the skins then tip into the same bowl.
Put the red onion in a bowl and add a pinch of salt and the juice of one of the limes. Use clean hands to really squeeze and massage the salt and lime juice into the red onion slices to help them soften.
Heat a little spray oil in a non-stick pan and cook the garlic and ginger for 2-3 minutes or until smelling fragrant. Tip in the cumin, paprika and kidney beans, and toss over the heat for 1 minute. Tip into a food processor and pulse until chunky but starting to clump, then tip into the bowl with the sweet potato and plenty of seasoning, and mix well. Use clean hands to form into four patties, put onto a plate and chill for 20 minutes.
Heat more spray oil in a large non-stick frying pan and cook the burgers for 3-4 minutes on each side or until golden, then put into the oven for 10 minutes until warmed through.
Spread the buns with ½ tbsp of the mayo, then top with a burger. Add some slices of avocado, a few tomato slices and some lettuce. Top with a few of the pickled onions and put on the lids. Serve the remaining lettuce, avocado, tomatoes and onions on the side with the remaining lime squeezed over.