You don't always want to be eating stews in the autumn and winter, sometimes a seasonal salad hits the spot. Try some of these tasty, healthy suggestions and tuck in.  These warm and cold dishes include ingredients such as beetroot, pear, oranges, fennel, pomegranate, feta and more.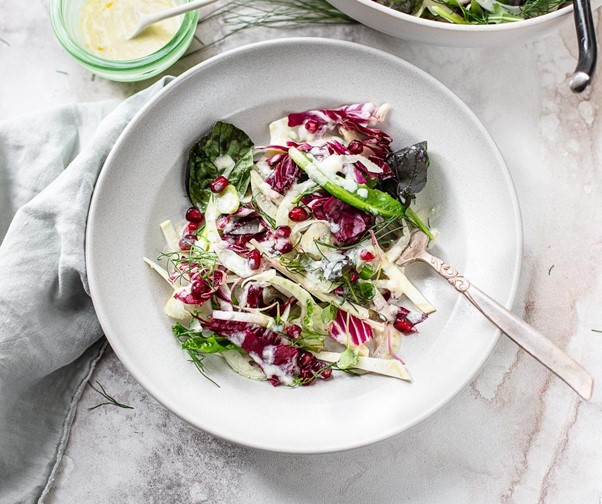 Fennel and Pomegranate Salad
Leave out the anchovy to make this vegetarian.
A pretty cooler weather salad with fresh shaved fennel, pomegranate seeds and celery root with a creamy lemon dressing which will take you through the cold days with freshness, crunch and natural sweetness.  Not a fan of anchovy or want to keep this vegetarian? Just omit the anchovy and add a pinch or two more salt…
Nutritional Information
Kcal 157 | Fat 10g | Saturates 1g | Carbs 17g | Sugars 4g | Fibre 4g | Protein 3g | Salt 0.3g
Recipe inspiration: Family Style Food
For the salad
1 brunch heart of romaine leaves, washed, dried and torn into bite-sized pieces
80g mixed baby greens or spinach
1 small head of radicchio, sliced into ribbons
1 small celeriac, peeled and cut into matchsticks
1/2 red onion, thinly sliced
1 fennel bulb, stems trimmed and feathery fronds reserved for garnish
82g fresh pomegranate seeds
Lemon anchovy dressing
Grated zest and juice from 1 lemon
1 tsp white wine or rice vinegar
1/2 tsp fine sea salt
1 fat garlic clove, finely chopped
1 anchovy fillet, rinsed and finely chopped
60g creme fraiche
60ml extra-virgin olive oil
Method
To make the dressing, put the lemon zest, juice, vinegar, salt, garlic and anchovy in a blender or mini food processor, or mix together in a small bowl.
Add crème fraiche and olive oil and blend/process until smooth and creamy or whisk by hand. Taste for seasoning and add more salt if needed.
Put the romaine, baby greens, radicchio, celeriac and red onion in a large salad bowl.
Peel the base of the fennel bulb with a vegetable peeler to remove the tougher outer layer. Slice the fennel very thinly using a sharp knife or shave on a mandoline. Add to the salad bowl.
Pour half the dressing over the salad and toss gently.
Transfer the salad to a serving plate and arrange the reserved radicchio leaves around the salad. Drizzle with additional dressing and sprinkle with pomegranate seeds. Garnish with fennel fronds.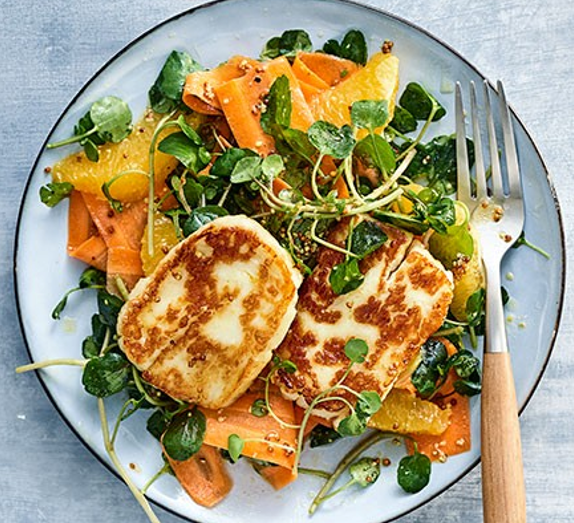 Halloumi, Carrot, Orange & Watercress Salad
Serve this halloumi, carrot, orange and watercress salad with a mustard and honey dressing for an easy lunch or starter. It takes just 20 minutes to make and delivers one of your 5-a-day.
Nutritional Information
Kcal 338 | Fat 23g | Saturates 10g | Carbs 15g | Sugars 15g | Fibre 4g | Protein 16g | Salt 2.1g
Recipe source: BBC Good Food
2 large oranges
1 1/2 tsp honey
1 1/2 tbsp wholegrain mustard
1 tbsp white wine vinegar
3 tbsp rapeseed or olive oil, plus extra for frying
2 large carrots, peeled
225g block halloumi, sliced
100g bag watercress or baby spinach
Method
Cut the peel and pith away from the oranges. Use a small serrated knife to segment the orange, catching any juices in a bowl, then squeeze any excess juice from the off-cut pith into the bowl as well. Add the mustard, honey, vinegar, oil and some seasoning to the bowl and mix well.
Using a vegetable peeler, peel carrot ribbons into the dressing bowl and toss gently. Heat a drizzle of oil in a frying pan and cook the halloumi for a few mins until golden on both sides. Toss the watercress through the dressed carrots. Arrange the watercress mixture on plates and top with the halloumi and oranges.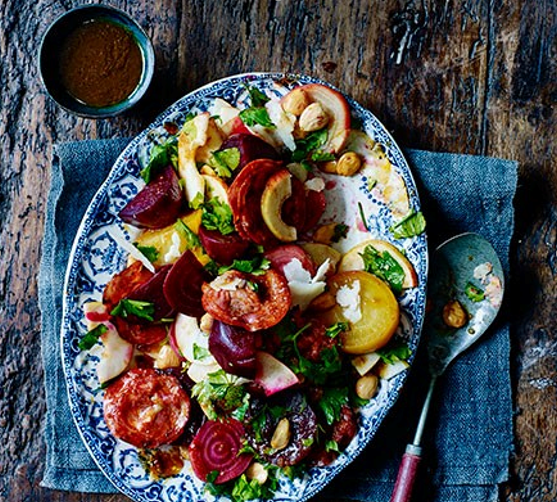 Warm Beetroot, Chorizo & Pear Salad
Combine succulent pear, colourful beetroot, spicy chorizo and buttery manchego cheese in this vibrant winter salad that's ideal for sharing with friends.
Nutritional Information

Kcal 568 | Fat 33g | Saturates 10g | Carbs 37g | Sugars 34g | Fibre 9g | Protein 24g | Salt 1.7g
Recipe source: BBC Good Food
200g chorizo, skinned and thickly sliced
100g whole blanched almonds
2 tbsp membrillo (quince paste)
4 tbsp sherry vinegar
1 tbsp lemon juice, plus an extra squeeze
1 tbsp extra virgin olive oil
1 large pear or 2 small firm pears
Small pack parsley, leaves picked and roughly torn
50g manchego, shaved
Method
Put the beetroot in a large pan of water (if you have a mix of colours, cook in separate pans as the colours will bleed). Bring the water to a boil, cover and leave to simmer – about 20-40 mins, depending on the size of the beetroot. Use a skewer or small sharp knife to check that they're tender in the centre (try not to poke too often or they'll bleed all their juices into the water).
Drain the beetroot and leave to cool in a colander. When cool enough to handle, peel away the skins, root and stalks, then roughly chop or slice the beetroot.
Put the chorizo in a cold frying pan and fry over a medium heat until crisp – you should collect lots of oil in the pan. Lift out the chorizo with a slotted spoon and keep warm. Tip in the almonds and fry quickly until just turning brown on the edges. Scoop out with a slotted spoon and place on kitchen paper to dry.
Make the dressing by melting the membrillo in the pan with the chorizo oil, sherry vinegar and 1 tbsp lemon juice. Mix in the olive oil and season.
Core and thinly slice the pear, toss with a little lemon juice to stop it browning, then arrange on a platter with the beetroot, chorizo and almonds. Toss together with the dressing, if you like, or serve the dressing on the side. Sprinkle over the parsley and manchego and serve immediately.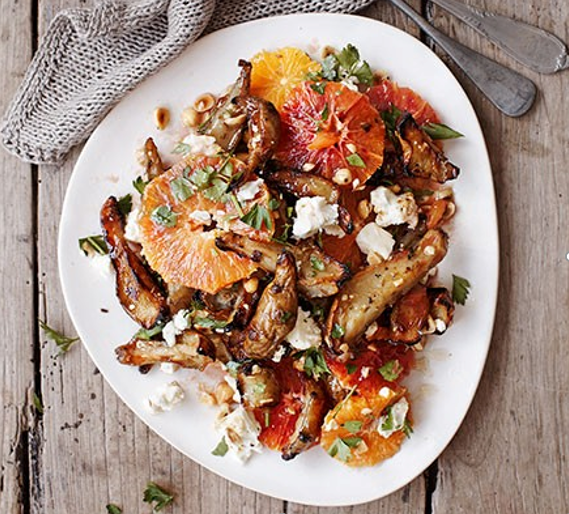 Warm Artichoke, Blood Orange and Feta Salad
This warm salad has it all: colour, flavour and texture. Sweet blood oranges, sharp feta and nutty Jerusalem artichokes combine to create a beautiful side or seasonal meze.
Nutritional Information

Kcal 410| Fat 22g | Saturates 5g | Carbs 40g | Sugars 28g | Fibre 7g | Protein 11g | Salt 1g
Recipe source: BBC Good Food
750g Jerusalem artichokes, scrubbed and quartered
2 tbsp olive oil
4 blood orange, plus juice of 1 (about 2 1/2 tbsp)
2 tsp Sherry vinegar
1 tbsp extra-virgin olive oil
1/2 tsp clear honey
50g blanched hazelnuts, very roughly chopped
1 tsp cumin seeds, lightly crushed
100g feta, crumbled
25g pack flat-leaf parsley, roughly chopped
Method
Heat oven to 200C/180C fan/gas 6. Toss the artichokes, olive oil and half the orange juice in a large roasting tin. Season well, and roast for 45 mins, turning halfway through, until tender and turning golden.
Meanwhile, use a serrated knife to remove the skin and pith from the remaining oranges, then segment the flesh or cut into thin wheels. Put the Sherry vinegar, remaining orange juice, the extra virgin olive oil and honey in a jug and whisk to combine. Season to taste.
Scatter the nuts and cumin over the artichokes and roast for another 5 mins until the nuts are just golden and the cumin aromatic. Remove from the oven, cool briefly, then gently fold in the orange, feta, parsley and dressing. Serve in the tin or pile onto a platter.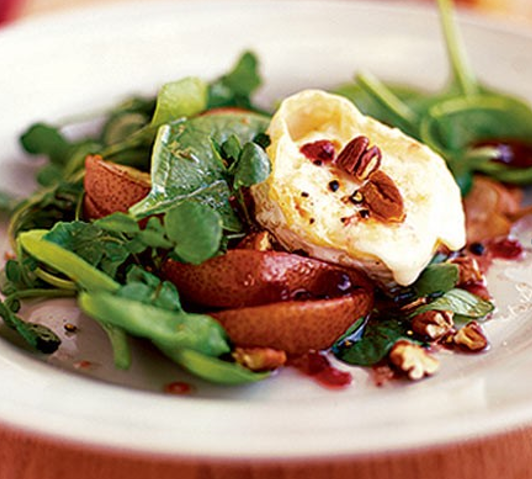 Make a delicious and seasonal salad with this recipe, which you can customise to your liking.
Nutritional Information

Kcal 327| Fat 26g | Saturates 10g | Carbs 12g | Sugars 2g | Fibre 3g | Protein 13g | Salt 0.99g
Recipe source: BBC Good Food
100g goat's cheese (round with a rind)
1 ripe pear
Handful pecans, roughly broken
80g bag mixed watercress and spinach
Crusty bread, to serve
Oil, for brushing
For the dressing
1 tbsp cranberry sauce
1 tbsp olive oil
1 tbsp lemon juice
Method
Preheat the grill to high and line the grill rack with foil. Halve the cheese to make two discs. Halve and core the pear, cut each half into slices and arrange in two piles on the foil. Lightly brush the pears with oil then top each pile with a cheese disc (cut side up) and grill for a few minutes until lightly golden and bubbling. Scatter with the nuts and grill for a minute or so more.
Whisk the cranberry sauce with the oil and lemon juice and season. Arrange salad leaves on two plates. Put the pears and cheese on top. Spoon over the dressing, scatter over any stray nuts and eat right away with crusty bread while the cheese is still deliciously runny.