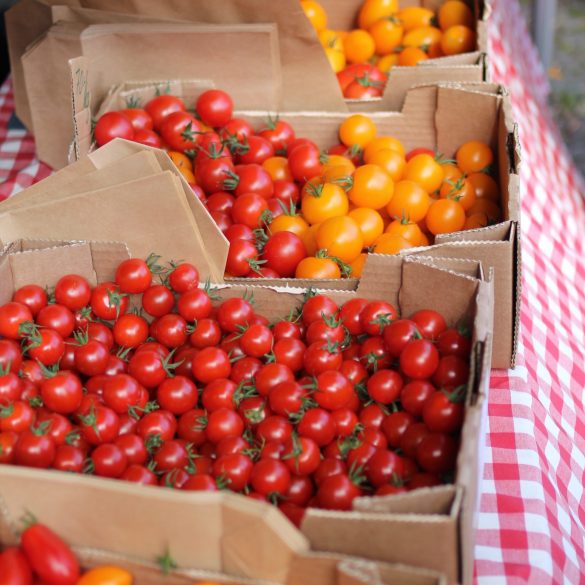 Tomatoes are one of the secret weapons for health and healing, packed full of nutrients, they are great immune system boosters, help keep your skin, teeth and bones in great condition as well as increase your defences against heart disease and cancer.
British tomato fortnight celebrates the moment when British tomatoes are at their best and they are one of the most versatile things to cook with too.  Why not give some of these Spring-inspired recipes a try.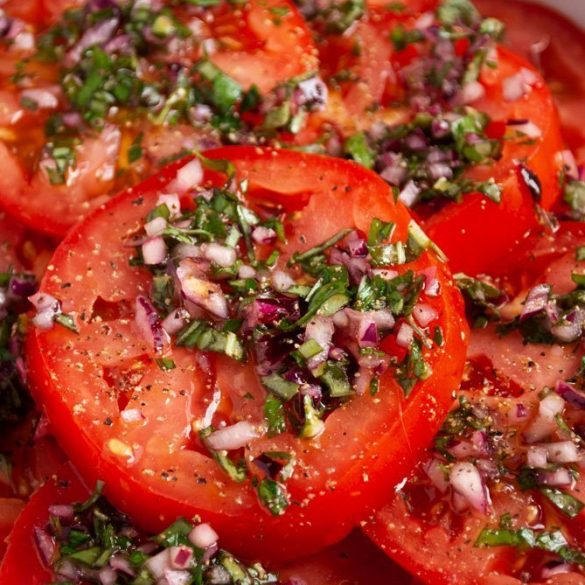 Keep it simple with this Italian tomato salad, a great side dish for any meal or try them as a burger topping or on sandwiches.
Source: Love and Good Stuff
3 Beefsteak tomatoes – sliced 0.5cm thick
4 tbsp olive oil
2 tbsp red wine vinegar
1/2 tbsp lemon juice
3 tbsp red onion, finely diced
4 large basil leaves,  finely diced
1 garlic clove, crushed
1/2 tsp fine sea salt
Fresh ground pepper
Method
Slice the tomatoes into slices about 0.5cm thick and arrange on a platter with a rim in a single layer.
Whisk together the olive oil, red wine vinegar, lemon juice, minced red onion, diced basil and parsley, crushed garlic and sea salt to make the marinade.
Pour the marinade evenly over the tomatoes ensuring that they are all covered in marinade and that the herbs and onion are spread out across the top of the tomatoes.
Place the platter in the fridge and let sit for at least an hour so that the tomatoes can absorb the marinade.
Garnish with fresh ground pepper when ready to serve.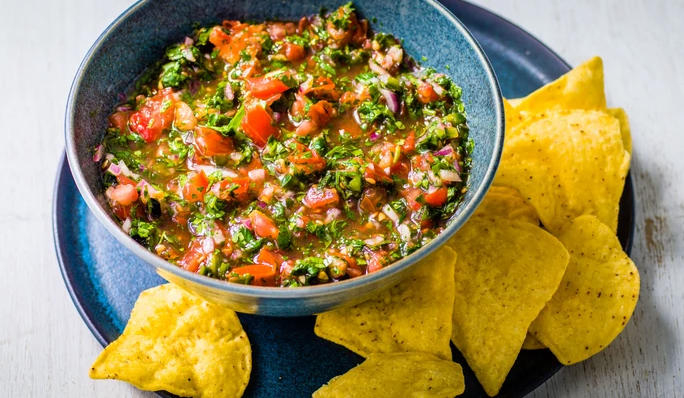 Make your homemade salsa smoky with chargrilled tomatoes and jalapeño chillies, then serve in big bowls with plenty of tortilla chips for dunking.
Source: Olive Magazine
1 small red onion, finely chopped
1 tsp sugar
1 tsp sea salt flakes
4 tbsp lime juice
4 large vine tomatoes
3 fresh jalapeno chillies
A small bunch of coriander, chopped
Plain tortilla chips, to serve
Method
Put the onion, sugar, salt and lime juice in a bowl and toss together. Heat a griddle pan or BBQ to hot. Grill the tomatoes, turning until charred then drop into a bowl and cover. Do the same with the chillies.
Remove as much of the skin as possible from the tomatoes and chillies and discard (don't worry if there's a little left on). Roughly chop the tomatoes and finely chop the chillies, discarding the stems. Add both to the onion bowl, toss and leave for at least 30 minutes for all the flavours to meld. Serve with tortilla chips for scooping.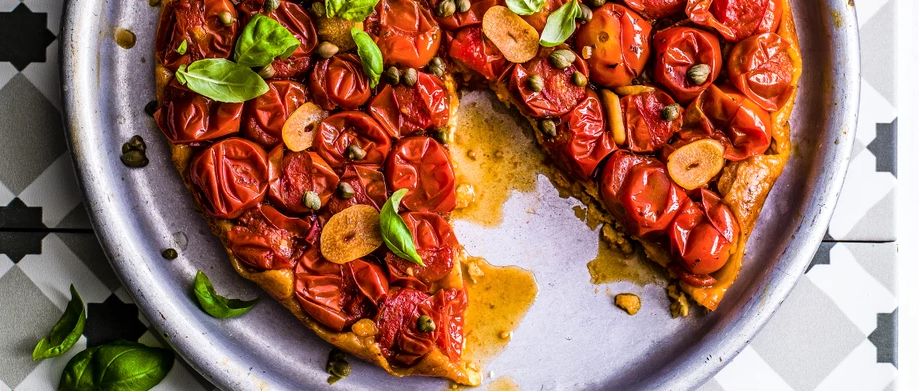 Encase juicy cherry tomatoes in crisp, golden pastry to make this show-stopping savoury version of the classic French Tarte Tatin.
Source: Olive Magazine
30g butter
25g caster sugar
2 tbsp balsamic vinegar
2 garlic cloves, finely sliced
1 tsp Herbes de Provence or thyme leaves
650g cherry tomatoes
1 tbsp capers
A small handful of basil leaves
For the pastry
210g plain flour, plus extra for dusting
100g cold butter
1 egg yolk
Method
To make the pastry, put the flour and a good pinch of salt in a large bowl. Grate in the butter and rub it into the flour with your fingertips. Mix the egg yolk with 2 tbsp cold water and stir into the mixture to make a dough. If you need to add any more water to bring it together, do so very gradually. Shape into a disc, wrap and chill for 30 minutes.
Meanwhile, heat the oven to 200C/fan 180C/gas 6. Melt the butter in a 20-22cm ovenproof frying pan and stir in the sugar and vinegar. Simmer for 5 minutes or until thick and looks like caramel.
Take the pan off the heat and scatter over the garlic and herbs, then arrange the tomatoes in one layer in the pan (be careful as the caramel will be hot).
Roll out the pastry on a lightly floured work surface until it's about 1cm larger than the pan, then put it on top of the pan, tucking it in around the edges and cutting a few small vents in the top to let steam escape.
Bake for 35 minutes or until the pastry is golden, then run a palette knife around the edge and leave for 5 minutes. Hold the pastry gently with one hand and carefully tip the pan so any juices run out into a jug, then carefully invert the tart onto a lipped plate. Scatter with capers and basil, and serve the cooking juices alongside as a dressing.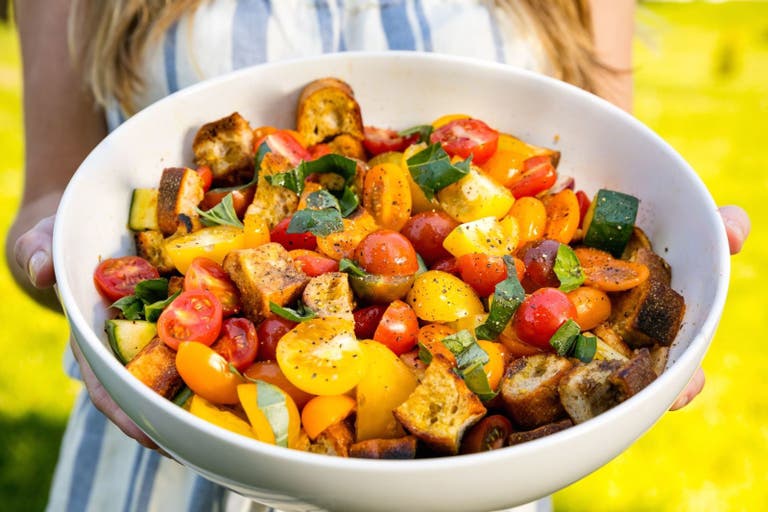 This Summer Panzanella is perfect served at a summer BBQ.
Source: Delish
2 large baguettes, cut into 1 inch cubes
6 tbsp extra virgin olive oil
3 tbsp red wine vinegar
1 tsp honey
Sea salt
Freshly ground black pepper
1 large, seedless cucumber, roughly chopped
600g cherry tomatoes (multicoloured), halved
1 red onion, chopped
1 garlic clove, minced
1 bunch basil, torn
Method
Preheat a large frying pan over medium-high heat.
Meanwhile, in a large bowl, toss bread with 3 tablespoons of olive oil. Add bread to skillet and toast until golden and crisp, about 10 minutes. Drain and set aside to cool.
Make the dressing: In a small bowl, whisk together red wine vinegar, remaining 3 tablespoons olive oil and honey. Season with salt and pepper.
To a large bowl, add crispy bread, cucumber, tomatoes, onion and garlic. Toss with dressing until evenly coated and season with more salt and pepper.
Garnish with basil and serve.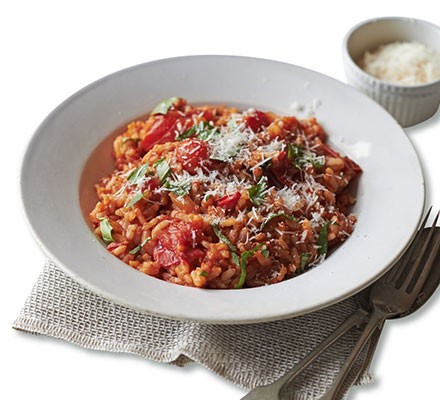 A budget rice dish flavoured with rosemary, basil and sweet cherry tomatoes.  An ideal mid-week supper.
Source: BBC Good Food
400g can chopped tomatoes
1L vegetable stock
Knob of butter
1 tbsp olive oil
1 onion, finely chopped
2 garlic cloves, finely chopped
1 sprig of rosemary, finely chopped
250g risotto rice
300g cherry tomato, halved
Small pack basil, roughly torn
4 tbsp grated parmesan
Method
Tip the chopped tomatoes and half the stock into a food processor and pulse until smooth. Pour into a saucepan with the remaining stock, bring to a gentle simmer and keep over low heat.
Meanwhile, place the butter and oil in the base of a large saucepan and heat gently until the butter has melted. Add the onion and gently cook for 6-8 mins until softened. Stir in the garlic and rosemary, then cook for 1 min more. Add the rice and cook, stirring, for 1 min.
Start adding the hot stock and tomato mixture about a quarter at a time. Let the risotto cook, stirring often, adding more stock as it is absorbed. After you have added half the stock, add the cherry tomatoes. After 20-25 mins, the rice should be creamy and tender, the cherry tomatoes softened and all of the stock should be used up.
Cover and leave for 1 min, then stir in the basil. Serve sprinkled with Parmesan and a good grinding of black pepper.