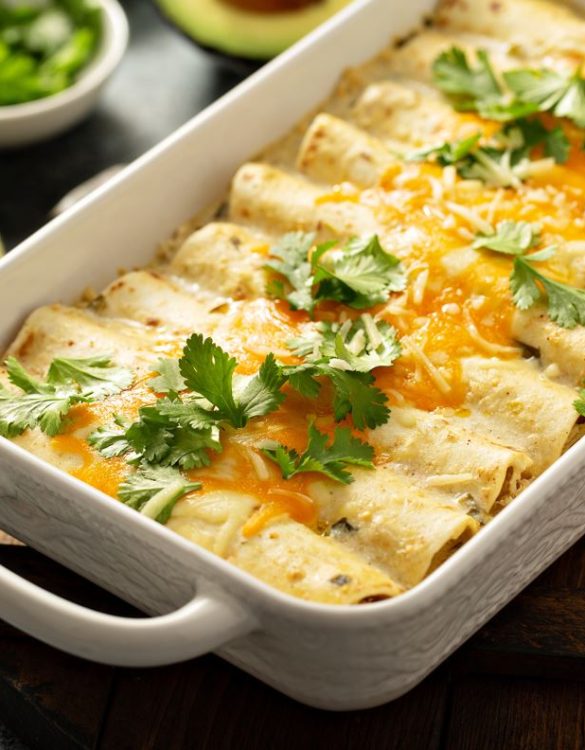 Butternut Squash & Mushroom Enchiladas

– Eat Healthy for Less
This recipe is full of flavour with the butternut squash and mushroom fillings, topped with a spicy tomato sauce.
You can double the recipe quantities as all the fillings and the sauce is great for freezing.
Using corn tortillas makes this dish gluten-free and these enchiladas are perfect for vegetarians. .
Let us know if you have a go at this dish and tag us in a picture on Facebook and Instagram.
Nutritional Information: Calories 192kcals; Carbohydrates 25.6g; Dietary Fibre 4.6g; Total Fat 7.9g; Protein 7.9g; Sugars 6.4g; Salt 0.3g.
½ small onion, chopped

 

1 small jalapeno, deseeded and chopped

 

1 bell pepper, chopped

 

1 tbsp butter

 

200g butternut squash, peeled & cubed

 

¼ tsp chilli flakes

, 

¼ tsp cumin

, 

¼ tsp salt

, mixed together in a bowl

 

225g mushrooms, chopped

 

6 corn tortillas

 

130g 

cheddar cheese, grated

 
For the sauce 
450g tomatoes

 

2 garlic cloves

 

65g coriander 

 

130ml stock

 

60ml double cream

 

½ lime juice

 

Salt to taste

 
Method
For the sauce: Place the tomatoes on a greased baking tray. Roast for 20 minutes at 200C, until the skins have brown or black spots on them, and the tomatoes are soft. Place in a blender with the garlic and coriander and puree until mostly smooth. Transfer to a saucepan and add the stock. Simmer for 20 minutes, until the sauce has thickened. Add the cream, lime juice and season with salt. 
For the squash filling: In a large non-stick pan over high heat, fry the jalapeno and bell pepper. Do not stir too often; let the skins get browned and roasted. Add the onions and sauté for a few minutes. Add the squash, 1/2 tablespoon butter, and ½ the spice mixture; sauté until the squash is fork-tender. Set aside. 
For the mushroom filling: Place 1/2 tablespoon butter back in the pan; add the mushrooms and sauté until soft and browned. Season with the remaining spice mixture. 
Assembly: Preheat the oven to 200C. Warm the tortillas in the microwave. Stuff the softened tortillas with a little bit of squash and mushrooms. Roll and place seam-side-down in a baking dish. Repeat until finished, cover with sauce and top with cheese. Bake for 10-15 minutes until cheese is melted and bubbly. Serve with your favourite toppings, e.g. salsa, guacamole.