What to make with your box contents w/c 5 September
Be creative and adapt recipes to suit what you have in your fridge and store cupboard.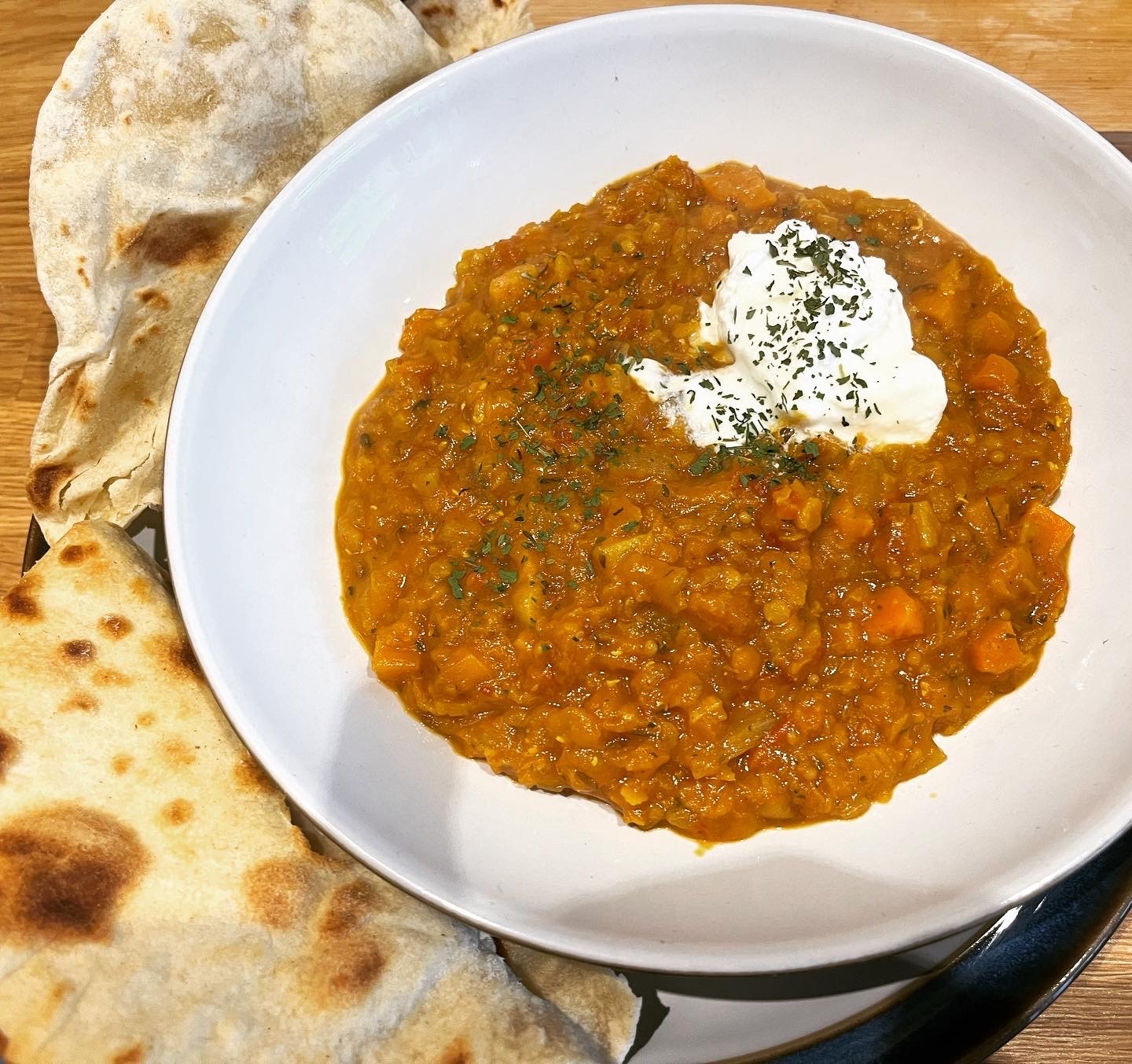 Homemade red lentil dal with flatbreads
Perfect for the start of autumnal weather, healthy and filling too.  This is Emma's tried and tested recipe, check out the video here
For the Dal
2 tablespoons Oil
1 onion chopped
2 tsp grated fresh ginger
3 medium carrots 🥕 diced
200g split red lentils
700 ml water
400g tin chopped tomatoes 🍅
1/2-1 tsp ground turmeric
1/2-1 tsp chilli 🌶 flakes
2 tsp cumin seeds
2 tsp black mustard seeds
4 garlic 🧄 cloves sliced
2 tsp garam masala
Salt to taste
For the flatbreads
* 200g/7oz plain flour
* ¼ tsp salt
* 100ml/3½fl oz warm water
* 2 tbsp olive oil (or other type is fine)
Method
For the dal
Heat 1 tablespoon of the oil in large saucepan over a medium heat. Add onion and cook for about 10 minutes, stir occasionally. Stir in grated ginger and cook for 1-2 mins. Add carrot, lentils, water, tomatoes, turmeric and chilli flakes and bring to boil. Reduce heat and simmer for 25-30 mins.
Once the lentils are cooked heat some oil in frying pan and add cumin seeds, mustard seeds and garlic and fry until garlic becomes slightly golden. Add to other pan with the garam masala, stir and season with salt.
For the flatbreads
Place the flour and salt in a large bowl and trickle on the water bit by bit.
Mix the water and flour mixture together.
Add the oil and knead the dough for about 5 mins – you are aiming for a soft dough. If it is too sticky, add a little more flour or if it is too dry, add a splash of water.
You can cook the breads straight away or leave the dough to stand for about 30 minutes.
On a clean surface, roll each ball of dough one at a time using a rolling pin. If you pick up and move round the flatbread often you know it hasn't stuck. (You may need to sprinkle a little flour on the surface but only use a little as too much will dry out the dough.) Don't worry if they aren't perfect circles!
Heat a large frying pan. Take a sheet of kitchen paper and rub a little oil onto the surface of the pan. Cook each flatbread for about 2 minutes on one side – it should puff up a little. Flip the flatbread over using tongs and then cook for a couple of minutes on the other side. The flatbread should have turned lighter in colour and may have a few spots of brown. Keep the cooked flatbreads warm, wrapped in foil or a clean tea towel, until the others are cooked.
If you want crisp flatbreads rub them with a little olive oil, chop into strips or triangles with scissors and fry them for 5–10 minutes, or until crisp.
Corn on the cob peanut curry
Spinach and squash macaroni cheese
This cheesy bread will turn any non broccoli eaters into broccoli lovers.
Recipe source: Delish, find the recipe here
Roast savoy cabbage with orzo
A great vegan alternative to the classic Sunday roast, plus there's minimal washing up as it's all cooked in one tray. Choose harissa for a spicy kick, or tomato pesto for a more rounded, umami flavour
Recipe source: Olive, find the recipe here
Total time: 1 hr 15 mins approx
A soft and tender orange cake that's bursting with fresh orange flavor. This everyday orange cake recipe is easy to make and only gets better over time.
Recipe source: Pretty simple sweet, find the recipe here