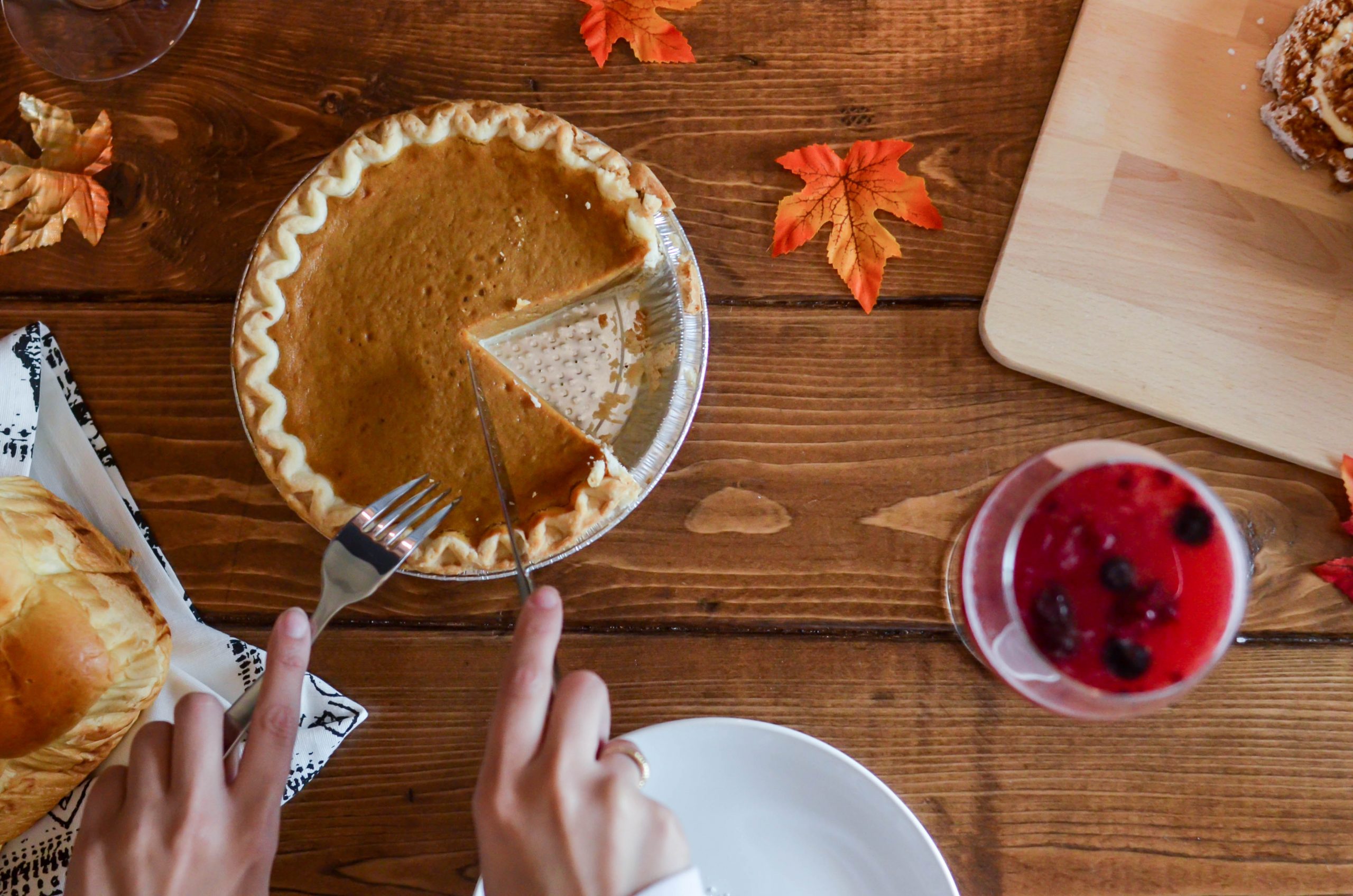 If you are ready for colder, darker evenings wrapped up in a cosy blanket maybe sat by the fire, then these Autumn desserts will get you excited! Think warm puddings that can be served with custard, cream or ice cream or using autumnal spices like cinnamon and nutmeg. We have all of these in the recipes below. Let us know what your favourite autumnal dessert is on Facebook. Don't forget to check out our Pinterest board for more inspiration.
Prep time: 40 mins + 2 hrs chill time
Add a little caramel to the classic apple pie and you'll have the perfect dessert to curl up on the sofa with, just add ice cream.
Source: Delicious
6 Granny Smith apples
110g demerara sugar
Finely grated zest of 1/2 lemon
1 tbsp custard powder
330g dulce de leche (tinned caramel)
Icing sugar, to dust
Pastry
300g plain flour
150g self-raising flour
35g cornflour
30g custard powder
2 tbsp icing sugar
200g cold unsalted butter, chopped
2 egg yolks, plus 1 extra egg
1 tbsp demerara sugar
Method
For the pastry, place the flours, custard powder, icing sugar and a pinch of salt in a food processor. Pulse to combine, then add the butter and whiz to fine crumbs.
Add egg yolks and 165ml cold water and whiz until the pastry comes together in a smooth ball. Enclose pastry in plastic wrap and chill for 2 hours.
To make filling, peel apples and remove cores, then thinly slice. Place in a pan with demerara sugar, lemon zest and 125ml water over medium heat, stirring until sugar dissolves
Bring to the boil, then reduce heat to low. Cover and cook, stirring occasionally, for 10 minutes or until apples have softened. Set aside to cool.
Preheat the oven to 200°C. Grease four 12cm pie dishes. Divide the pastry into two equal pieces. Divide one portion into 4 pieces, then roll out each piece on a lightly floured surface until 3mm thick and use to line the base and sides of the pie dishes, leaving 2cm overhanging. Scatter 1 tsp custard powder over each base.
Divide spoonfuls of the apple filling among the pie dishes, alternating with spoonfuls of the dulce de leche until all filling and dulce de leche are used. Brush pastry edges with a little cold water.
Roll out the remaining pastry on a lightly floured surface until 3mm thick. Cut into 16 x 3cm-wide strips and 12 x 1cm-wide strips. Using 4 large strips and 3 thin strips each, weave a lattice pattern over each pie.
Trim the excess pastry, leaving 1cm overhanging, then crimp pastry edges to seal. Whisk whole egg with 1 tbsp cold water and brush over the pastry. Scatter pies with demerara sugar.
Place pies on a baking tray and bake for 20 minutes, then reduce heat to 180°C and bake for a further 20 minutes or until golden and cooked through. Serve pies warm, dusted with icing sugar.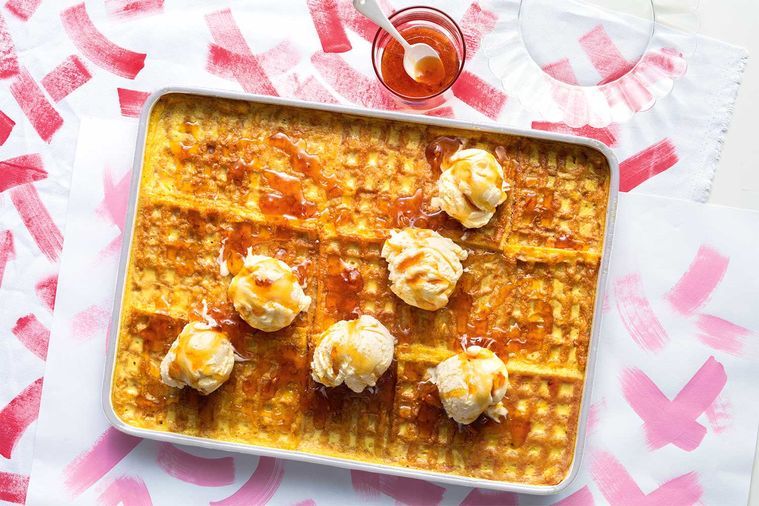 Waffle Bread and Butter Pudding
Prep time: 20 mins + 2 hrs chilling
We've taken everything you loved about the classic bread and butter pudding and taken it to the next level thanks to the addition of rich, dense, buttery waffles.
Source: Delicious
170g orange marmalade
15 rectangle waffles
3 eggs, plus 2 extra egg yolks
300ml whipped double cream
300ml milk
150g golden syrup, plus extra to serve
1 orange, finely zested
1 tsp vanilla extract
60ml whisky, optional
Vanilla ice cream, to serve
Method
Grease a shallow 30cm x 40cm baking dish. Spread marmalade over both sides of the waffles and place in a single layer in the dish.
Place eggs and yolks in a heatproof bowl and whisk to combine. Place cream, milk, golden syrup, zest and vanilla in a pan over medium heat, stirring until syrup dissolves.
As soon as cream bubbles around the edge, slowly pour over the egg mixture, whisking constantly until combined. Stir in whisky, if using, then pour over waffles.
Set aside at room temperature for 2 hours to soak.
Preheat oven to 180°C. Bake pudding for 40-50 minutes until golden and custard is set with a slight wobble. Cool slightly.
Serve pudding with ice cream.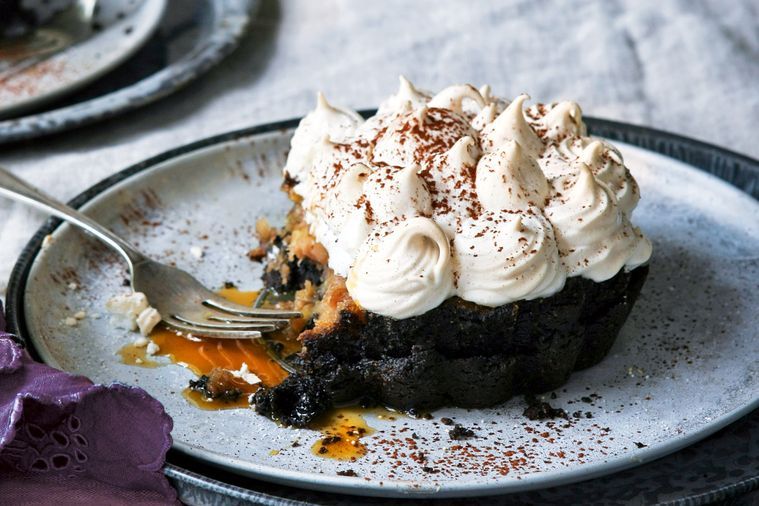 Chocolate Banoffee Pies with Meringue
End dinner for 2 with these chocolate take on a banoffee pie – regardless of the occasion, these are a perfect way to finish.
Source: Delicious
75g plain chocolate biscuits
35g pecans
30g unsalted butter, melted
1 banana, mashed
2 tbsp double cream
60g dulce de leche (tinned caramel)
Cocoa powder, to dust
For the meringue
2 egg whites
100g caster sugar
1/2 tsp cream of tartar
1/2 tsp white vinegar
Method
Lightly grease two 12cm (3.5cm-deep) round loose-bottomed tart pans. Whiz biscuits and nuts in a food processor until mixture resembles fine crumbs. Add butter and whiz to combine. Press firmly into the base and sides of the pans. Chill for 15 minutes or until firm.
Preheat the oven to 180°C. Place the banana, cream, dulce de leche and a pinch of salt flakes in a bowl, and stir well to combine. Spread filling into the pie shells, then bake for 15 minutes. Remove from the oven and cool for 5 minutes. Reduce the oven to 150°C.
For the meringue, whisk the egg whites with electric beaters until frothy. Whisking continuously on high speed, gradually add the sugar, then whisk to stiff peaks. Add the cream of tartar and vinegar, and whisk until just combined. Transfer meringue to a piping bag fitted with a small star-shaped nozzle, then pipe over pies. Bake for 10-15 minutes until the meringue is golden. Cool pies completely in the pans. Remove from pans, dust with cocoa, then serve.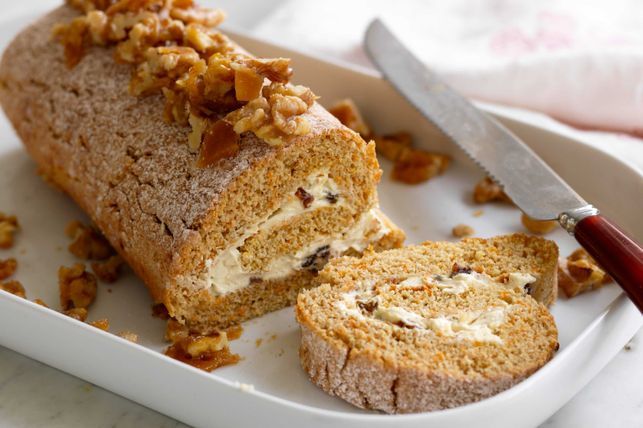 Carrot Cake Roulade with Candied Walnuts
For a twist on a classic recipe, roll up carrot cake with sweet cream cheese filling and top with candied walnuts.
Source: Taste
100g self-raising flour
1 tsp mixed spice
3 eggs, at room temperature, separated
65g caster sugar
2 tbsp hot milk
45g carrot, finely grated
2 tbsp icing sugar
1 tsp ground cinnamon
Filling
375g cream cheese, softened
1 1/2 tbsp caster sugar
3/4 tsp ground cinnamon
55g raisins, chopped
Candied walnuts
45g caster sugar
20g butter
120g walnuts
Method
Preheat oven to 200C/180C fan-forced. Grease a 25cm x 30cm swiss roll pan and line with baking paper. Sift the flour and mixed spice 3 times.
Using an electric mixer, beat the egg whites in a large bowl until soft peaks form. Gradually beat in the sugar, 1 tablespoon at a time, until thick and glossy. Add the egg yolks, 1 at a time, beating until combined. Beat for 5 minutes or until thick and pale. Pour the hot milk down the side of the bowl and sift the flour mixture over the top. Use a spatula to gently fold together until just combined. Sprinkle over the carrot and gently fold through. Pour onto the prepared pan and level the surface with a spatula. Bake for 8-10 minutes or until golden and springy to touch and a skewer inserted into the centre comes out clean.
Place a piece of baking paper on a clean bench and sprinkle evenly with the icing sugar and cinnamon. Turn the cooked cake out onto the sugar and cinnamon. Peel away the paper that was lining the pan. Carefully roll up the cake, starting at a short side. Set aside on a wire rack to cool completely.
Meanwhile, beat the cream cheese, sugar and cinnamon with an electric mixer until smooth. Stir through the raisins. Set aside.
To make the candied walnuts, place the sugar in a large frying pan over medium heat. Shake the pan over heat until the sugar melts and becomes golden. Add the butter and swirl the pan until melted. Add the walnuts and toss to coat well. Transfer to a tray lined with baking paper. Set aside to cool. Coarsely chop.
Unroll the cake, spread evenly with the cream cheese mixture and then re-roll. Serve sprinkled with candied walnuts and cut into slices.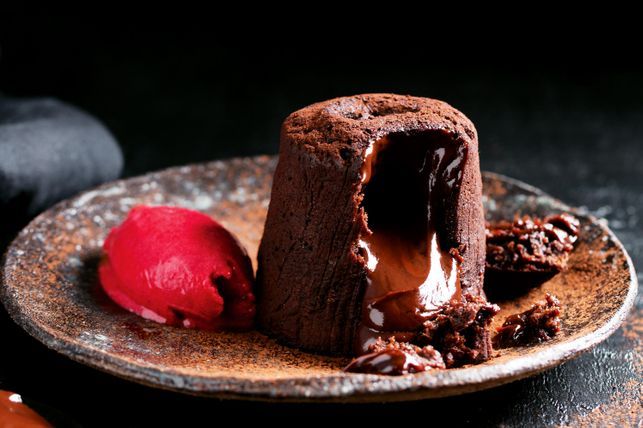 Add a little lava to your life with these yummy chocolate lava cakes. The best bit is how simple they are to make!
Source: Taste
200g dark chocolate, finely chopped
200g unsalted butter, chopped, plus extra to grease
Cocoa powder, to dust
4 eggs
4 egg yolks
100g caster sugar
50g plain flour
15g cocoa powder
Raspberry sorbet
600g frozen raspberries, thawed
215g caster sugar
100ml water
1 1/2 tsp lemon juice
1 egg white
Method
For sorbet, process berries in a food processor until smooth. Strain through a fine sieve into a bowl, pushing the mixture through with the back of a spoon. Discard seeds. Place sugar and water in a saucepan.
Cook, stirring, over medium heat for 3 minutes or until sugar dissolves. Bring to boil. Simmer for 2 minutes or until thickened. Cool. Stir syrup and juice into puree. Pour into a tray. Freeze for 2 hours until almost frozen.
Use a spoon to break up frozen puree. Process until just smooth. With motor running, slowly add egg white until combined and glossy. Spoon into an airtight container and freeze for 6-8 hours or until set.
Place chocolate and butter in a heatproof bowl set over a saucepan of simmering water (don't let bowl touch the water). Cook, stirring with a metal spoon, until smooth. Cool slightly. Lightly grease six 180ml dariole moulds with butter. Dust lightly with cocoa.
Use a balloon whisk to whisk eggs, yolks and sugar in a bowl until sugar dissolves. Stir in chocolate mixture. Sift over flour and cocoa. Fold until combined. Divide among moulds, filling to three-quarters full. Place in the fridge, uncovered, for 1-2 hours or until chilled.
Preheat oven to 220C/200C fan. Place puddings on a baking tray. Bake for 12 minutes or until puffed and just set (the centre should wobble slightly). Stand for 1 minute. Carefully turn puddings onto serving plates. Dust with cocoa. Serve with scoops of sorbet.