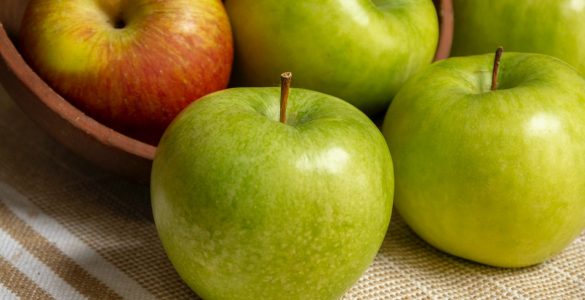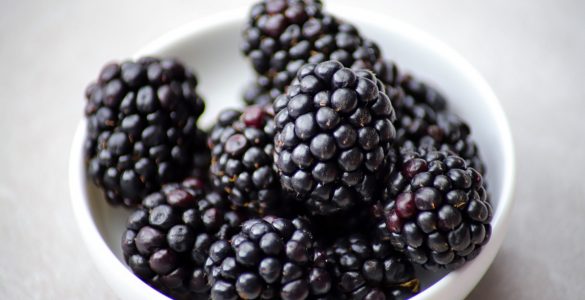 Apples, Pears and Autumn Fruits
Autumn is a feast of riches when it comes to fresh produce. September marks the end of summer berries but there is still plenty of delicious fruits coming into season. We have put together some recipes which celebrate the new season fruit. Let us know on Facebook if you give them a go.

Apples
British apples are at their best from September through to November. They are a good source of vitamin A and C.
Best eating apple varieties include Cox's Orange Pippin, Golden Delicious, Granny Smiths, Braeburn, Gala, Pink Lady and Jonagold.
Best cooking apple varieties include Bramley, Blenheim Orange, Grenadier, Reverend W Wilks and Ida Red.
Blackberries
A purply black-coloured berry comprising many individual seed-containing fruits surrounding a cone-shaped core. Wonderfully juicy, they're good raw (straight from the hedge!) or cooked and are bursting with vitamin C. Wild, they're often called brambles. Available from August to October.
Pear
Like apples, to which they are related, pears come in thousands of varieties. Their fine, slightly granular flesh is much more fragile than apples and, unlike most fruit, they improve in flavour and texture after they're picked. Available from September through to January.
Best varieties for cooking: Conference, Comice, Concorde, Anjou, Williams Bon Chretien
Best varieties for eating: Conference, Comice, Concorde, Packham's, Anjou, Red William, Rocha, Williams Bon Chretien
Figs
Although not juicy, the fig is an incredibly luscious fruit, with a delicate aroma and sweet flavour. Figs have an oval or squat pear shape, and thin skin that encloses hundreds of held in a succulent, softly fibrous red or purple flesh. Figs are very delicate and need gentle handling. Fresh figs are around from August through to early October.
Plums
One of the juiciest stone fruits, plums come in many different varieties, some sweet, some slightly more tart. British plum varieties are in season from mid-August to October.
Sweet and juicy plums are particularly good to eat raw: Victoria plums, Santa Rosa, Burbank, Denniston's Superb and Black Amber.
Great for cooking with are the drier, tarter varieties like Mirabelle, Cherry, Quetsch and Czar.
Similar to plums but not a part of the plum family are Damsons, great for jams and desserts. They are in season during September.
Quince
The two different shapes – apple and pear in which quinces grow are an obvious clue to the fruits to which they are related. When ripe, they are very fragrant, with a smooth, golden yellow skin, but their hard, bitter flesh means that they are used almost exclusively for cooking, rather than eating raw. Once cooked, the flesh develops a deeper flavour and turns a golden pink. British quinces are available from October through to December.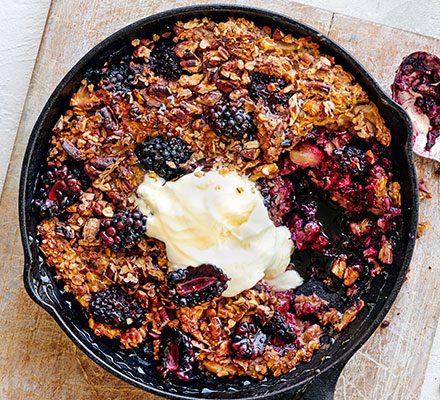 Blackberry & Apple Oat Bakes
Try a twist on your regular porridge in the morning with this healthy blackberry and apple oat bake. Serve with milk or yogurt and maple syrup.
Source: BBC Good Food
500ml semi-skimmed milk
2 small cinnamon sticks
6 cardamom pods, bashed
2 medium apples, peeled, cored and cut into 1 cm cubes
200g jumbo porridge oats
1 egg beaten
1 tsp vanilla extract
1 tsp baking powder
100g pecans, roughly chopped
320g blackberries
Milk, yogurt and/or maple syrup, to serve
Method
Heat the oven to 200C/180C fan/gas 6. Put the milk, spices and apple in a small saucepan. Cover, gently bring to the boil and simmer for 10-12 mins. Set aside to infuse for at least 15 mins.
Remove and discard the spices, then pour the apples and milk into a large bowl and roughly crush the apples with the back of a fork. Mix in the oats, egg, vanilla, baking powder, pecans and blackberries.
Tip into a 2-litre ovenproof dish and bake for about 30-35 mins until piping hot in the middle. Serve with milk or yogurt and maple syrup, if you like.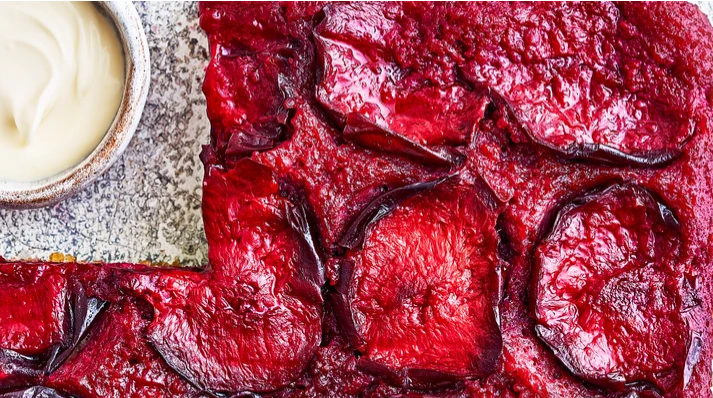 Ever thought of adding couscous to a cake? The nutty grain – similar to polenta – adds a gentle bite to this vibrant plum cake. Serve with a dollop of yogurt for dessert.
Source: Olive Magazine
150g unsalted butter, softened, plus extra for the tin
45g demerara sugar
6 plums, halved and stoned
150g soft light brown sugar
3 eggs
75g couscous
125g self-raising flour
1 tsp vanilla extract
2 tbsp whole milk
Yogurt, to serve
Method
Heat the oven to 180C/fan 160C/gas 4. Butter the base and sides of a 20cm non-stick square tin. Evenly sprinkle the demerara sugar over the base and sides of the pan, then arrange the plum halves on top in a neat pattern, cut sides down.
Tip the butter into a bowl with the brown sugar and beat with an electric whisk for 4-5 minutes or until really light and fluffy. Add the eggs, one at a time, whisking well between each addition.
Tip in the couscous, flour, vanilla, milk and a pinch of fine sea salt, and fold everything together to combine. Scrape into the tin over the plums and level the top with a spatula, being careful not to disturb the plums. Bake for 40-45 minutes or until cooked through and a skewer poked into the centre comes out clean.
Cool in the tin for 10 minutes, then run a knife around the edges of the pan to release. Carefully flip onto a serving platter and remove the tin. Cool until just warm, then cut into slices and serve with dollops of yogurt.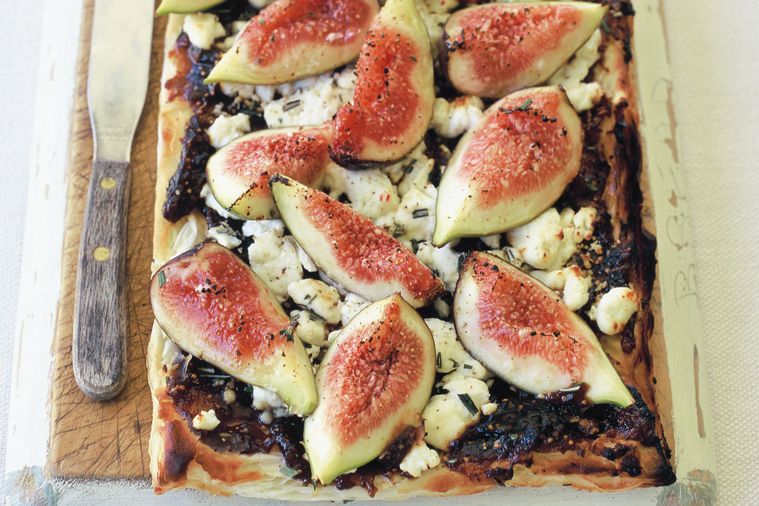 Fig & Goat's Cheese Tranche
With figs in season, there's no better time to try this simple tart.
Source: Delicious AU
1 x 375g puff pastry
1 egg, beaten
150g good quality fig jam
120g soft goat's cheese
1 tsp rosemary, chopped
3-4 ripe figs, cut into wedges
1 tbsp honey
Method
Preheat the oven to 180°C. Line a baking sheet with baking paper.
Roll out the pastry to an 18cm x 30cm rectangle. Brush the top with egg and prick with a fork. Place on a baking sheet and bake for 10 minutes. Remove and lay another tray on top, and return to oven for 10 minutes. Remove and allow to cool slightly.
Preheat the grill to medium-high.
Spread jam over the pastry base, crumble cheese over, sprinkle with rosemary and season. Lay figs on top.
Place under the grill for 2-3 minutes until cheese is lightly golden. Drizzle with honey. Serve with a green salad.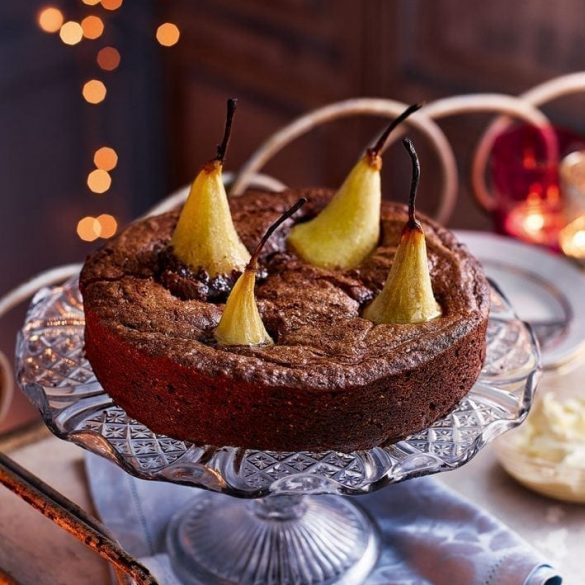 Chocolate & Pear Brownie Torte
There are not many things better than a brownie but this brownie torte recipe with poached pears certainly takes the biscuit.
Source: Delicious Magazine
180g unsalted butter, softened, plus extra to grease
180g caster sugar
3 medium free-range eggs
200g ground almonds
250g dark chocolate
For the poached pears
250g caster sugar
4 conference pears, peeled, stalks left on
Method
To poach the pears, put 1.5 litres of cold water and the sugar in a large saucepan over medium heat. Bring to the boil and stir to make sure the sugar has fully dissolved. Slice off the round ends of the pears so they have a flat base to stand on when they're in the cake tin. Lower them into the hot syrup, then simmer for 15-20 minutes until tender. Drain and pat dry. Heat the oven to 180°C/160°C fan/gas 4.
Meanwhile, in a large mixing bowl, beat the butter and sugar together until pale and creamy using an electric mixer. Beat in the eggs, one at a time, then add the ground almonds and beat until incorporated.
Melt the dark chocolate on low power in the microwave for about 2 minutes, stirring halfway through and taking care not to burn the chocolate (you can also do this in a heatproof bowl set over, but not touching, a pan of steaming water). Add the melted chocolate to the cake batter, stirring until mixed in, then pour the batter into a greased 20cm loose-bottomed cake tin.
Gently push the pears into the batter, evenly spaced, so they stand upright in the tin, then bake for 40 minutes. (The middle of the torte should still be gooey like a brownie but the outside will be firmer.)
Remove the tin from the oven and leave it to cool for 10 minutes before carefully removing the cake from the tin. Cool for a further 15-20 minutes, then slice while still warm and serve with ice cream. The torte is also good at room temperature.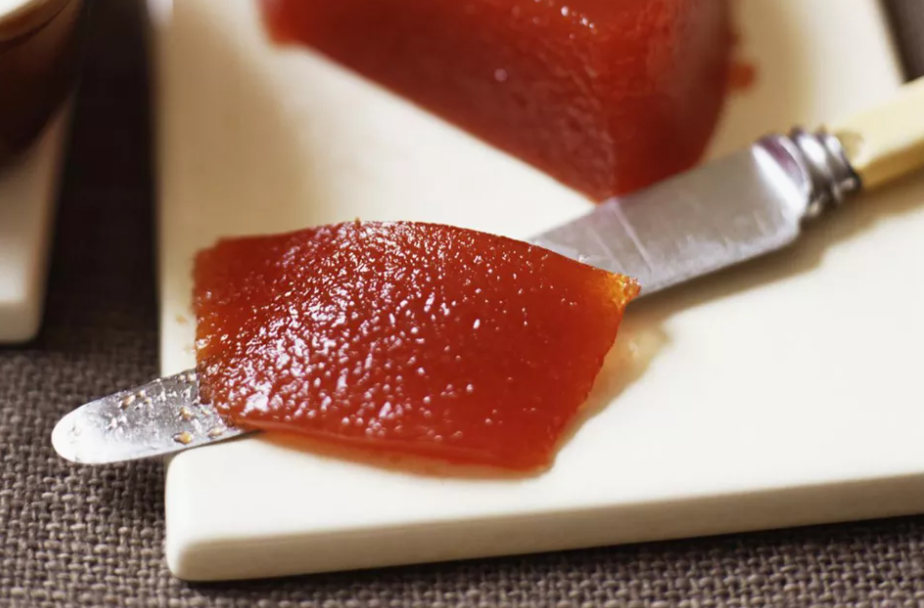 Quince paste, called membrillo in Spain, is a tangy-sweet fruit preserve. It is fantastic served with cheese, but it also makes an excellent breakfast spread. Serve with cheese, crackers and cold meats or use it in cakes and pastries.
Source: The Spruce Eats
Method
Wash and peel quinces, reserving peels. Core quinces, adding cores to reserved peels.
Chop remaining quince into approximately 5cm chunks.
Tie peels and cores up in cheesecloth or in a clean muslin bag.
Put chunks of quince and the bundle of peels and cores into a large pot. Add water to cover by approximately 2.5cm. Bring to a boil over high heat. Reduce heat and simmer for 1 to 1 1/2 hours, or until quince chunks are mushy.
Remove and discard bundle of peels and cores. Strain remaining cooked quince through a very fine-meshed strainer or a double layer of cheesecloth set in a colander (you can use liquid that strains out to make quince jelly). Leave quince to strain for 2 hours.
Puree strained quince mash in a food processor.
Weigh or measure puree and then put it in a large pot. Add an equal amount by weight or volume of caster sugar.
Cook over low heat until very thick, approximately 1 1/2 hours. Stir constantly at first to dissolve sugar, frequently after that. When it is done, quince paste will stick to a wooden spoon, and if you drag the spoon over the bottom of the pot, it will leave a trail that does not fill in immediately. Be careful at the end of the cooking time to stir often and not let it burn.
Lightly grease a 22cm baking dish. Spread quince paste in the dish, smoothing it out with the back of a spoon. It should be about 4 cm thick. Let paste cool in the baking dish.
Dry paste in your oven at the lowest setting, no higher than 50C. If your oven doesn't go this low, use the lowest setting and prop the door open with a dishtowel or the handle of a wooden spoon.
Dry quince paste for 8 hours or overnight. The surface should be glossy and not sticky to the touch. Put a baking dish of quince paste into the fridge for 4 hours.
Run a knife around the edges of the paste. Invert quince paste onto a plate. Slice as desired.