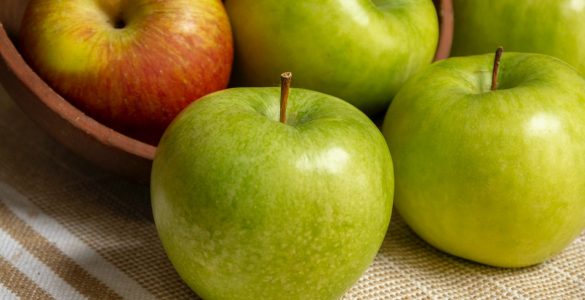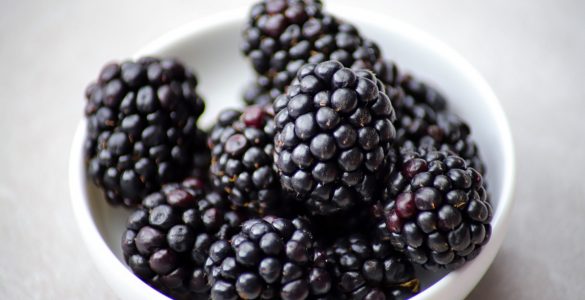 Apples, Pears and Autumn Fruits
Autumn is a feast of riches when it comes to fresh produce. September marks the end of summer berries but there are still plenty of delicious fruits coming into season. We have put together some recipes which celebrate the new season fruit. Let us know on Facebook if you give them a go.

Apples
British apples are at their best from September through to November. They are a good source of vitamin A and C.
Best eating apple varieties include Cox's Orange Pippin, Golden Delicious, Granny Smiths, Braeburn, Gala, Pink Lady and Jonagold.
Best cooking apple varieties include Bramley, Blenheim Orange, Grenadier, Reverend W Wilks and Ida Red.
Blackberries
A purply black-coloured berry comprising many individual seed-containing fruits surrounding a cone-shaped core. Wonderfully juicy, they're good raw (straight from the hedge!) or cooked and are bursting with vitamin C. Wild, they're often called brambles. Available from August to October.
Pear
Like apples, to which they are related, pears come in thousands of varieties. Their fine, slightly granular flesh is much more fragile than apples and, unlike most fruit, they improve in flavour and texture after they're picked. Available from September through to January.
Best varieties for cooking: Conference, Comice, Concorde, Anjou, Williams Bon Chretien
Best varieties for eating: Conference, Comice, Concorde, Packham's, Anjou, Red William, Rocha, Williams Bon Chretien
Figs
Although not juicy, the fig is an incredibly luscious fruit, with a delicate aroma and sweet flavour. Figs have an oval or squat pear shape, and thin skin that encloses hundreds of held in a succulent, softly fibrous red or purple flesh. Figs are very delicate and need gentle handling. Fresh figs are around from August through to early October.
Plums
One of the juiciest stone fruits, plums come in many different varieties, some sweet, some slightly more tart. British plum varieties are in season from mid-August to October.
Sweet and juicy plums are particularly good to eat raw: Victoria plums, Santa Rosa, Burbank, Denniston's Superb and Black Amber.
Great for cooking with are the drier, tarter varieties like Mirabelle, Cherry, Quetsch and Czar.
Similar to plums but not a part of the plum family are Damsons, great for jams and desserts. They are in season during September.
Quince
The two different shapes – apple and pear in which quinces grow are an obvious clue to the fruits to which they are related. When ripe, they are very fragrant, with a smooth, golden yellow skin, but their hard, bitter flesh means that they are used almost exclusively for cooking, rather than eating raw. Once cooked, the flesh develops a deeper flavour and turns a golden pink. British quinces are available from October through to December.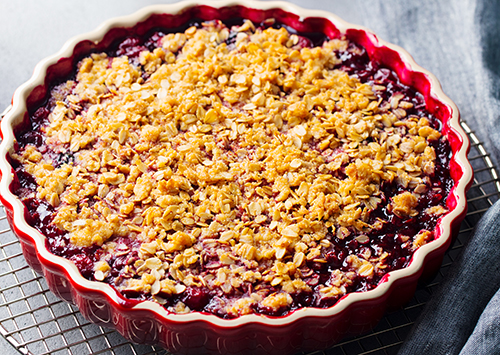 Blackberry & Apple Oat Bakes
Try a twist on your regular porridge in the morning with this healthy blackberry and apple oat bake. Serve with milk or yogurt and maple syrup.
Source: BBC Good Food, find the recipe here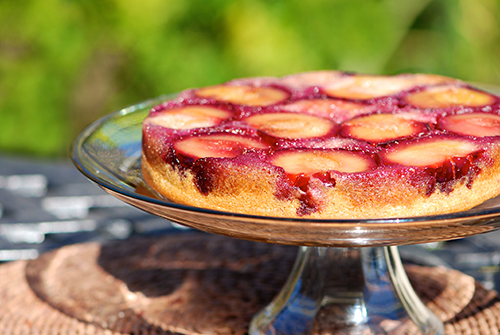 Ever thought of adding couscous to a cake? The nutty grain – similar to polenta – adds a gentle bite to this vibrant plum cake. Serve with a dollop of yogurt for dessert.
Source: Olive Magazine, find the recipe here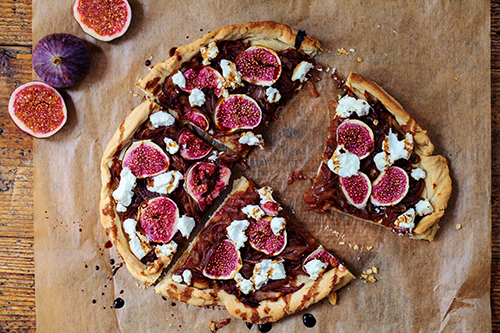 Fig & Goat's Cheese Tranche
With figs in season, there's no better time to try this simple tart.
Source: Delicious AU, find the recipe here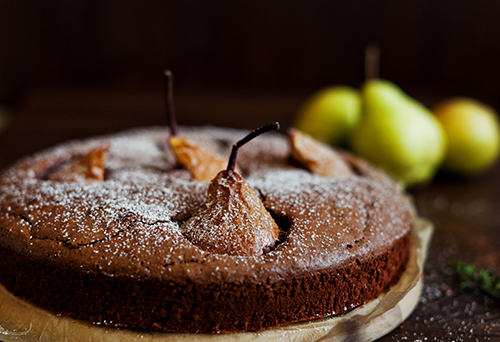 Chocolate & Pear Brownie Torte
There are not many things better than a brownie but this brownie torte recipe with poached pears certainly takes the biscuit.
Source: Delicious Magazine, find the recipe here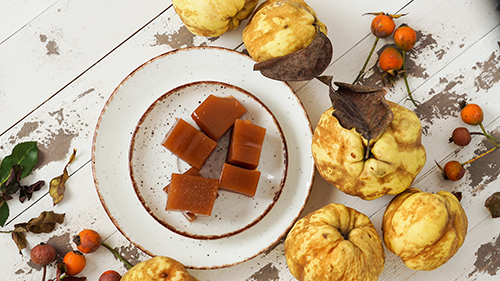 Quince paste, called membrillo in Spain, is a tangy-sweet fruit preserve. It is fantastic served with cheese, but it also makes an excellent breakfast spread. Serve with cheese, crackers and cold meats or use it in cakes and pastries.
Source: The Spruce Eats, find the recipe here