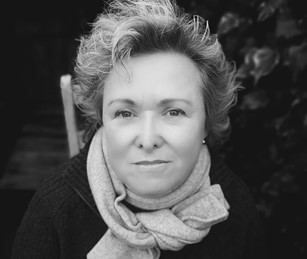 All that Glitters – An interview with Helen Ferrer-Fort, Jewellery Designer
With local businesses having been under so much pressure to survive throughout the pandemic we really wanted to practice what we preach about supporting locals and to highlight some of the amazing independent creatives and businesses in the South West region.
This week Emma is chatting to Helen Ferrer-Fort of Joies Ferrer Jewellery Design, Marlborough, a jewellery designer who along with her brother Antoni, make beautiful bespoke handmade jewellery.
View some pieces on Instagram.
Visit the shop in Marlborough which is located near the Town Hall. To commission a piece of jewellery phone 07575 368530 or email joiesferrer@gmail.com
Tell us a bit about your background, what inspired you to become a jewellery designer?
As a youngster, I had a favourite occupation that required no reminding and I never needed prompting! My grandmother had a wonderful collection of jewellery and on Sunday afternoons it was my job to clean her diamonds! I think my fascination with jewellery and gems began all that far back! I was hooked.
Where did you study your craft?
I  studied in Florence in Northern Italy. Living and studying in the centre of this magnificent Renaissance city was an extremely formative experience for me. I would frequently walk 'the long way around' on my way home from the institute where I was studying, to go in the direction of the famous Ponte Vecchio! I can still remember the incredible carved 19thC orange coral cherub with 18k yellow gold wings as the centrepiece in the main window display of this beautiful, tiny jewellery shop! It was an inspiration!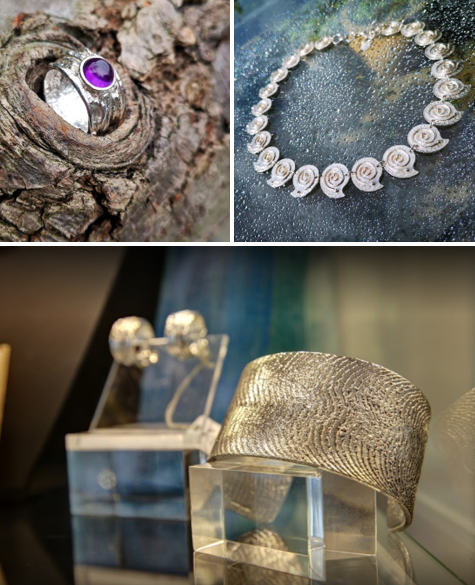 Do you come from a creative background? How did your family and the place that you come from shape you?
Coming from a very creative family we were always involved in everything going on! One of my earliest memories at the age of 3 involved a hammer! I wanted to help but hit my thumb instead; my grandmother was convinced I would give up, but after a plaster, I wanted to have a go again! Hammers are still one of my favourite tools!
How would you define the style of your work?
Like any artist whose brushstrokes create an individual signature style, the work becomes immediately recognisable. We too have our signature "strokes" which makes our work recognisable. Overall the style of our work is textured and probably best described as 'organic' in its inspiration.
Where do you draw your inspiration from/what influences your work?
We draw our inspiration mostly from nature; there are so many textures to be found in just tree bark, pebbles, floral structures, marine life & seashells, the list is endless. Though sometimes even the design of a modern hinge prove to be exciting to us!
What has been the single most important jewellery-making skill you've learned and why?
Probably the single most important skill required to making good jewellery is the art of soldering. A good, invisible solder is just fundamental!
Are most of your pieces based on commissions or do you have free reign on what you are designing to sell?
We work both to commission and for ourselves to stock the shop, which allows us to be creative to the max!
Do you have a favourite colour palette?
When it comes to having a favourite colour palette, we all have our personal favourites; taking a lead from the Impressionists, we love to combine reds, oranges and pinks…as well as putting blues, greens and purples together. The stunning lustre of pearls combines so beautifully with amethyst, peridot, tourmalines, emeralds, red spinels and of course diamonds to name but a few!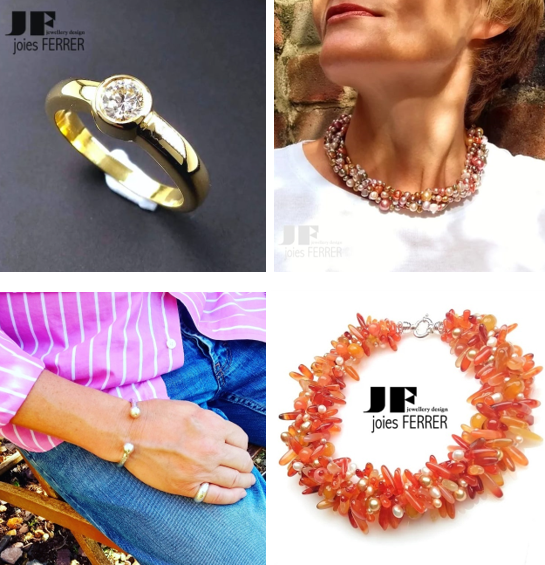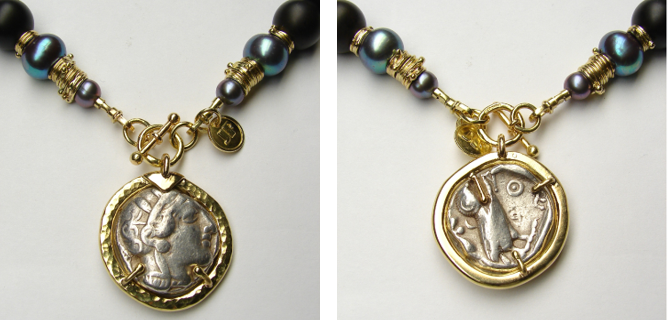 What's your favourite piece of jewellery that you've made and why? / What pieces of work are you most proud of?
When creating a beautiful piece of jewellery, either to commission or for ourselves, so much creative thought goes into the process so it's very hard to nominate a favourite piece! There are always some that stand out; for me, it was a stunning 18k yellow gold, black frosted onyx with blue pearl, front fastening T-bar necklace. What was spectacular about it was the centrepiece – we sourced an exceptional silver coin of Athena, which had formed a part of the famous 'Parthian hoard', from Ancient Greece. This was definitely 'one' of our favourite pieces that we are most proud of! It was truly incredible; but often, as soon as one 'favourite' is completed suddenly the next one becomes the new favourite!
Shown is the exquisite & totally unique, one-off necklace that we made incorporating an exquisite example of a Greek tetradrachm silver coin of Athena, dated to 500.BC; her symbol, the wise owl, is on the reverse. The tetradrachm was the equivalent of a four-drachma coin, which weighed approximately 17.26 g in silver. It was the practice at the time to strike these valuable coins with a hammer to effectively cut the coin, in order to make sure that it was indeed solid silver! However, out of respect for the Goddess Athena, they would always strike from the back- hence why the poor little owl appears damaged, with the slice near his eye! We made use of this indentation when setting the coin and made a feature of it placing the gold prong (pin) into the groove! The handmade 18k yellow gold mount was created to fit the coin and only has it held in place by gold pins bent over it to keep it in position; this does not damage the coin in any way. Positioned as a pendant from our signature 'front-fastening T-bar' design, it hangs at the front of the necklace and is flanked by handmade 18k tendril coil links and beautiful blue pearls and frosted velvety black onyx beads.  Interestingly enough, the vast number of these "owls-tetradrachms" available in those days, mainly from the silver mines of Laurium, financed some of the great achievements of Athens, such as the reconstruction of the Acropolis and building the Parthenon, as well as many wars, including the famous Peloponnesian Wars with Sparta which began in 431 BC & lasted 15 long years.
What challenges do you face in your work?
Every new project is a challenge because there is always the unexpected lurking around the corner. We always have to have a plan B in the offing. Jewellery design is probably best described as 'continuous problem-solving!'
What materials do you work with the most?
We love to work with both silver and gold metals, as well as pearls and gemstones. We also incorporate a flexible silicone structure to one of our contemporary silver torque designs! We love to create the unexpected!
Do you have a dream design project that you would love to realize someday?
We would love to create one day, a diamond-studded collar torque, to represent the Milky Way!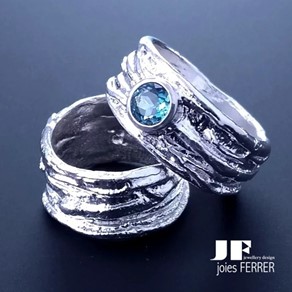 Any tips for aspiring jewellery designers?
The simplest advice we could give to anybody who might aspire to being a jewellery designer is to get to know your materials; understand the limitations and work within them to create a successful design!
What does a typical day look like for you as a jewellery designer?
A typical day working as a jewellery designer can involve so many, many aspects! Drawings are important. Sketches are the start. Working on a piece, then cleaning it up in an acid pickle solution, to then prepare it for polishing. Whilst the piece is in the polisher, it allows for other different work to be completed; even trips to catch the post to send work off to hallmark has to be squeezed in!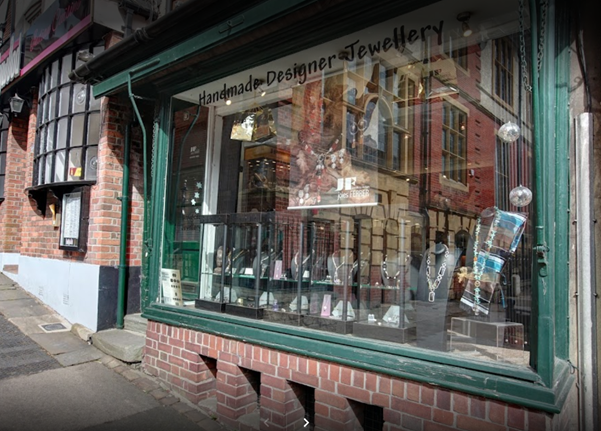 Is your shop now open in Marlborough? How can people commission a piece of jewellery from you?
Our shop in Marlborough is located near the Town Hall, with "The Parade" by the side, which allows for 2 hours of free parking. We open from Wednesday to Saturday, from 11 am to 4 pm. Mondays and Tuesdays we are officially closed, but open by appointment for a consultation. To commission a piece of jewellery we request our clients to contact us to make an appointment, on #07575 368530 or via email;  joiesferrer@gmail.com
The services we offer; we obviously work to commission; we create special 'in Memoriam pieces for those wishing to remember a loved one', sometimes extremely unusual pieces indeed. We do a great deal of 're-design work, using the heirloom pieces clients bring in; sometimes adapting them or other times completely reinterpreting them. We also offer engraving, pearl silk stringing, as well as heavy jewellery restringing.
What do you do to wind down after a busy week?
To unwind after finishing work, I like to draw and sketch, enjoy the garden and do photography, or even design the next piece; Antoni loves to go cycling and thinks nothing of going out for a 40 mile run at the very least!
Are you a foodie?
We are all big foodies! We follow our Mediterranean roots and enjoy a healthy Mediterranean diet! Antoni is such a good authentic Catalan paella cook, his paellas are mouthwatering! When it comes to a favourite drink, for us there's nothing better than a beautiful cava from San Sadurni d'Anoia or a beautiful full-bodied Rioja!
What's your guilty food pleasure?
We don't feel guilty about any food pleasure! We are totally unabashed and reckless!!! Where to begin? Black chocolate for one; real creme caramel; orange and mango Cointreau sorbet, etc, etc!!!
Can you share your favourite recipe?
Grilled North Atlantic salmon, with melted, organic goats cheese laid on top just before it comes out of the grill…
Accompanied by tender grilled asparagus spears, grilled in olive oil and organic Modena balsamic vinegar, accompanied by Charlotte new potatoes, simply boiled and dressed with Greek virgin olive oil, salt, balsamic vinegar and finely chopped baby green onions!
Yummy!!
If you have an independent creative business and would like to share your work please email emma@heritagefinefoods.co.uk.