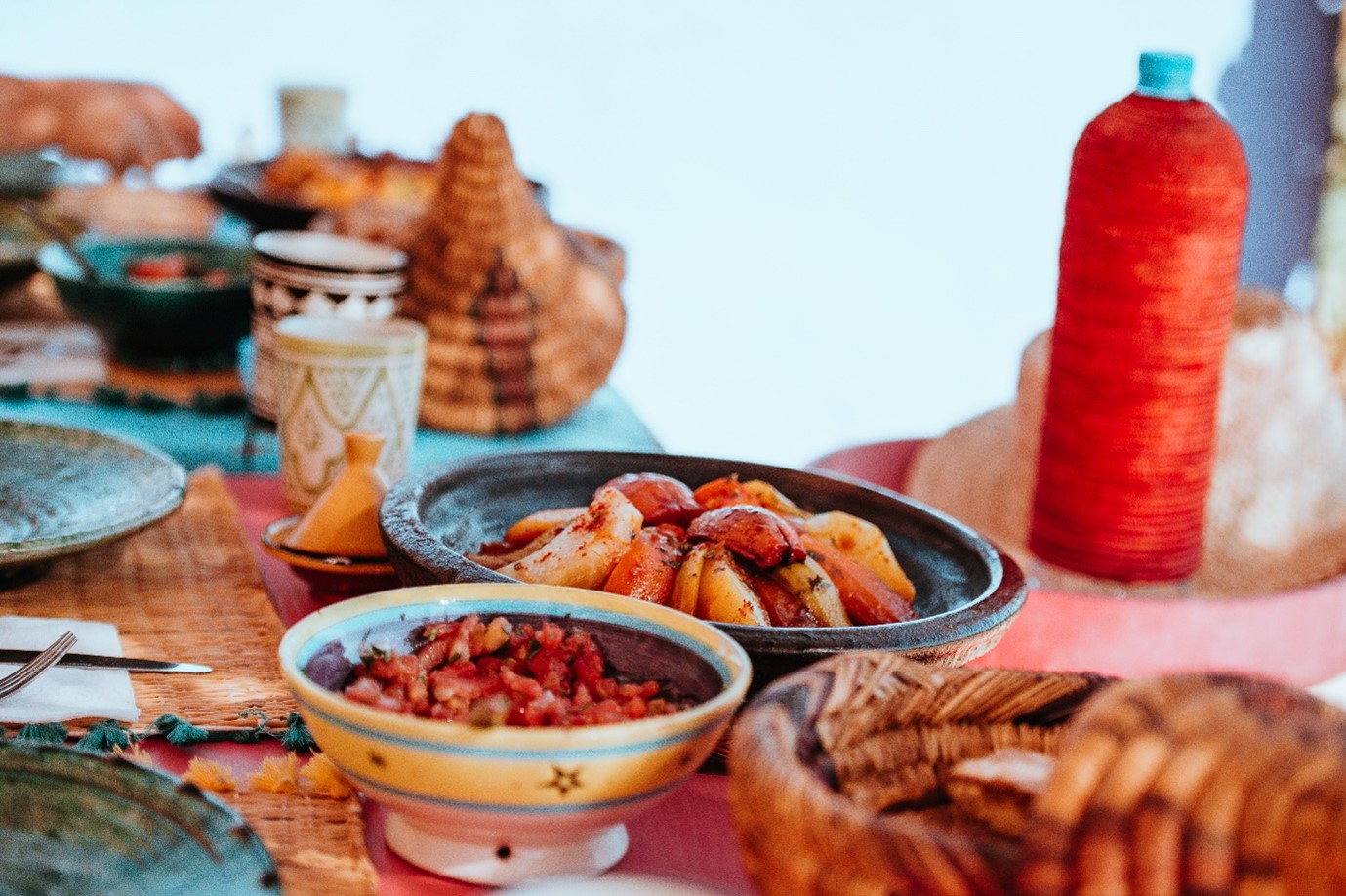 From tempting tagines to kofta and couscous Moroccan dishes are sure to tickle your taste buds.
I (Emma) was lucky enough to travel around Morocco a couple of years ago for a couple of weeks – I started my trip in Marrakech.
The souks of the medina constitute miles and miles of fascinating crowded intersecting lanes or passageways – sometimes a little dangerous as motorcycles interweave with pedestrians, donkey carts and hand-drawn carts. The variety of goods on offer in the souks and vibrancy of the displays are worth it even if you aren't an avid shopper. Vendors try to get your attention but leave you alone if you indicate you're not interested (do not touch anything you don't intend to buy or look too long at something!).
To really experience the buzz of the souks we headed out with a local guide on a food tour into the medina, seeing how the locals cook their bread in communal ovens, how they cook their meat and tasting the treats – tea and freshly made doughnuts.
The beautiful Jardin Majorelle gardens and hamam were a welcome escape from the assault on the senses (although the hamam was something I will not forget in a hurry for various reasons).
For a complete change of scene, my next stop was hiking in the Atlas mountains, staying in a rustic homestead high in the mountains with all the food coming from the local's gardens – here I ate some of the most delicious fresh produce and traditional dishes that I have ever tasted – simply cooked green beans cooked with fresh tomatoes and garlic were of keynote and the shakshuka for breakfast was to die for, combined with the most amazing location to eat on the rooftop with views all around.
I was happily welcomed into the kitchen in the homestead to see them cooking and pick up some tips.
After the high mountains, I headed into the desert by 4×4 to experience camel riding and glamping (in between seeing the argan cooperatives and the goats in trees!). I then moved on to the beautiful laid back coastal town of Essaouira to experience the music, fresh fish dishes, markets and local silver crafts (they filmed parts of Game of Thrones here on the ramparts as well as the 1952 Orson Welles film Othello).
My trip ended in Agadir to try out surfing and yoga for a few days!  The whole trip was filled with amazing food and hospitality, the guides and people were warm and friendly and happy to share their culinary skills throughout the journey. It was an amazing adventure that I would highly recommend and I have future plans to travel more around Morocco as it is such a diverse country with so much to offer (when this pandemic is over!)
More about the cuisine…
Moroccan food is incredibly diverse, thanks to the country's interaction with other cultures and nations over the centuries, including Berber, Moorish, Arab and Mediterranean influences.
Food definitely holds a special place in the heart of most Moroccans forming an integral part of their culture and history, local dishes are famed for their strong flavours, extravagant spices and colourful presentation, which is why they're such a treat to eat. Despite the deliciousness of Moroccan cuisine, however, it's actually quite simple as dishes revolve around a handful of trademark dishes and long-held traditions.
The main Moroccan dish most people are familiar with is couscous, usually eaten in a tagine with a wide selection of vegetables and meat or chicken. They also use additional ingredients such as plums, boiled eggs, and lemon.
Spices feature extensively in Moroccan cooking and there is a centuries-old art to their careful balancing. The dishes are also very healthy (at least in general). Most dishes contain vegetables and rely on whole grains, freshly prepared food, spices and sweet fruit rather than refined sugar and deep-frying. They use lamb which is leaner than red meat, and couscous which is healthier than rice.
Tea is a central part of the Moroccan diet
The tea is brewed in a very particular way that gives it a flavour like no tea you've tasted before. A mixture of green tea, mint, heaps of sugar is all added to a steeping brew which is poured from a great height and is served at every opportunity, an art in itself.
Bread making
If you want to step inside Morocco's food culture, then the first port of call on any whistle-stop tour is to visit a communal oven.
The bakers keep track of whose dough is whose by separating it out throughout the oven. It's amazing how they are able to keep everything straight. Some families put a specific indented mark on top of their bread dough to help the bakers remember that it is theirs. They use a long wooden paddle to easily move different items in and out of the oven.
Children are taught how to make it from a young age, family recipes are passed down through the generations as a rite of passage. Most bread is made from locally grown grains, which are used to create a type of circular flatbread that's just perfect for dipping in hummus.
Eating tagine is a social occasion
One of the most wonderful things about Moroccan food culture is that meals are considered a communal affair, especially when tagine is on the menu. Taking its name from the conical clay pot that it's cooked in, tagine is served piping hot and is presented in a single dish that feeds everyone around the table. Each diner is expected to stick to their own triangle, scooping up their broth with some homemade bread. It's then piled high with meat and vegetables before being eaten.
Couscous is considered Morocco's national dish
Couscous is the go-to national dish of Morocco and the country's citizens are very particular about its preparation. Steamed above a pot of boiling vegetables, the dish is fluffed by hand for an hour or more to make sure the end result is up to scratch. Served with aubergines, onion and any other vegetable that takes your fancy, it not only tastes great but is super healthy too.
Here are a few recipes to help tempt your tastebuds and check out our Pinterest board for more ideas.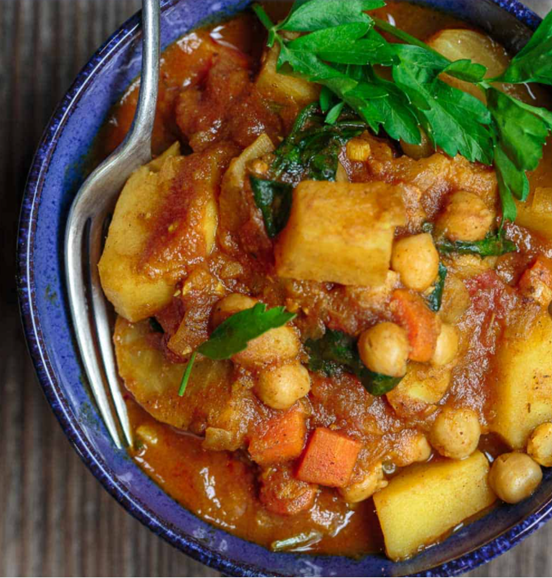 This easy Moroccan vegetable tagine begins with a few humble ingredients, you probably already have potatoes, carrots, onions, and garlic.  A heaping portion of chopped dried apricots is what provides the subtle sweetness in this hearty vegetable tagine. And to balance it off, tangy tomatoes, and a splash of lemon juice (which is added at the very end to wake everything up).
Nutrition Facts per serving: Kcals: 448 | Total fat: 18.4g | Carbs: 60.7g | Protein: 22.5g | Salt: 0.4g
60ml extra-virgin olive oil, more for later
2 medium onions, peeled and chopped
8-10 garlic cloves, peeled and chopped
2 large carrots, peeled and chopped
2 large potatoes, peeled and cubed
1 large sweet potato, peeled and cubed
Salt
1 tbsp Harissa spice blend
1 tsp ground coriander
1 tsp ground cinnamon
1/2 ground turmeric
260g canned whole peeled tomatoes
65g dried apricots, chopped
950ml vegetable stock
260g cooked chickpeas
1 lemon, juiced
Handful fresh parsley leaves
Method
In a large heavy pot or tagine, heat the olive oil over medium heat until just shimmering. Add the onions and increase the heat to medium-high. Saute for 5 minutes, tossing regularly.
Add the garlic and all the chopped veggies. Season with salt and spices. Toss to combine.
Cook for 5 to 7 minutes on medium-high heat, mixing regularly with a wooden spoon.
Add the tomatoes, apricot and stock. Season again with just a small dash of salt.
Keep the heat on medium-high, and cook for 10 minutes. Then reduce heat, cover and simmer for another 20 to 25 minutes or until veggies are tender.
Stir in chickpeas and cook another 5 minutes on low heat.
Stir in lemon juice and fresh parsley. Taste and adjust seasoning, adding more salt or harissa spice blend to your liking.
Transfer to serving bowls and top each with a generous drizzle of extra virgin olive oil. Serve hot with your favourite bread, couscous, or rice. Enjoy!
Moroccan Couscous with Roasted Veg, Chickpeas & Almonds
This recipe is brimming with bright Moroccan flavours and packed with fresh veggies. You even get some protein from the almonds and chickpeas. It's a great lunch on its own or for dinner pair it with chicken, lamb or beef. It makes great leftovers too!
Nutrition Facts per serving: Kcals: 362 | Total fat: 13g | Carbs: 50g | Protein: 9g | Salt: 0.2g
Recipe and Image Source: Scrumpdillyicious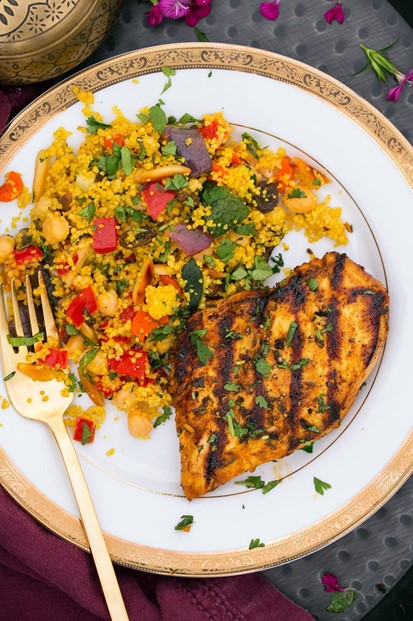 1 large red pepper, cored and diced
2 medium carrots, halved through the length and sliced thin
1 small red onion, diced into 1-inch chunks
1 medium courgette, halved through the length and sliced
4 tbsp olive oil, divided
2 tbsp fresh lemon juice
2 garlic cloves, minced
1 tsp ground cumin
1 tsp ground coriander
1/2 tsp ground cinnamon
Salt
170g dry couscous
370ml chicken stock
1/2 tsp turmeric
60g raisins
1x 400g tinned chickpeas, drained & rinsed
65g sliced almonds, toasted
3 tbsp fresh coriander, minced
2 tbsp fresh mint, minced
Method
Preheat oven to 220 °C. Spray an 18 by 13-inch rimmed baking sheet with non-stick cooking spray. Place pepper, carrots, onions and courgette on a baking tray.
Drizzle with 1 tbsp olive oil and season with salt and toss to evenly coat. Roast in preheated oven about 15 minutes until tender, tossing once halfway through roasting.
While vegetables are roasting, in a small mixing bowl whisk together remaining 3 tbsp olive oil, lemon juice, garlic, cumin, coriander, cinnamon and season with 1/4 tsp salt, set aside.
Place couscous and raisins in a large mixing bowl and pour the chicken stock, salt and turmeric over the couscous and stir, cover bowl with plastic wrap and let rest for 5 minutes.
Add roasted vegetables, chickpeas, almonds, coriander, mint and lemon mixture to couscous and toss to evenly coat (while seasoning with a little more salt to taste as desired). Serve warm.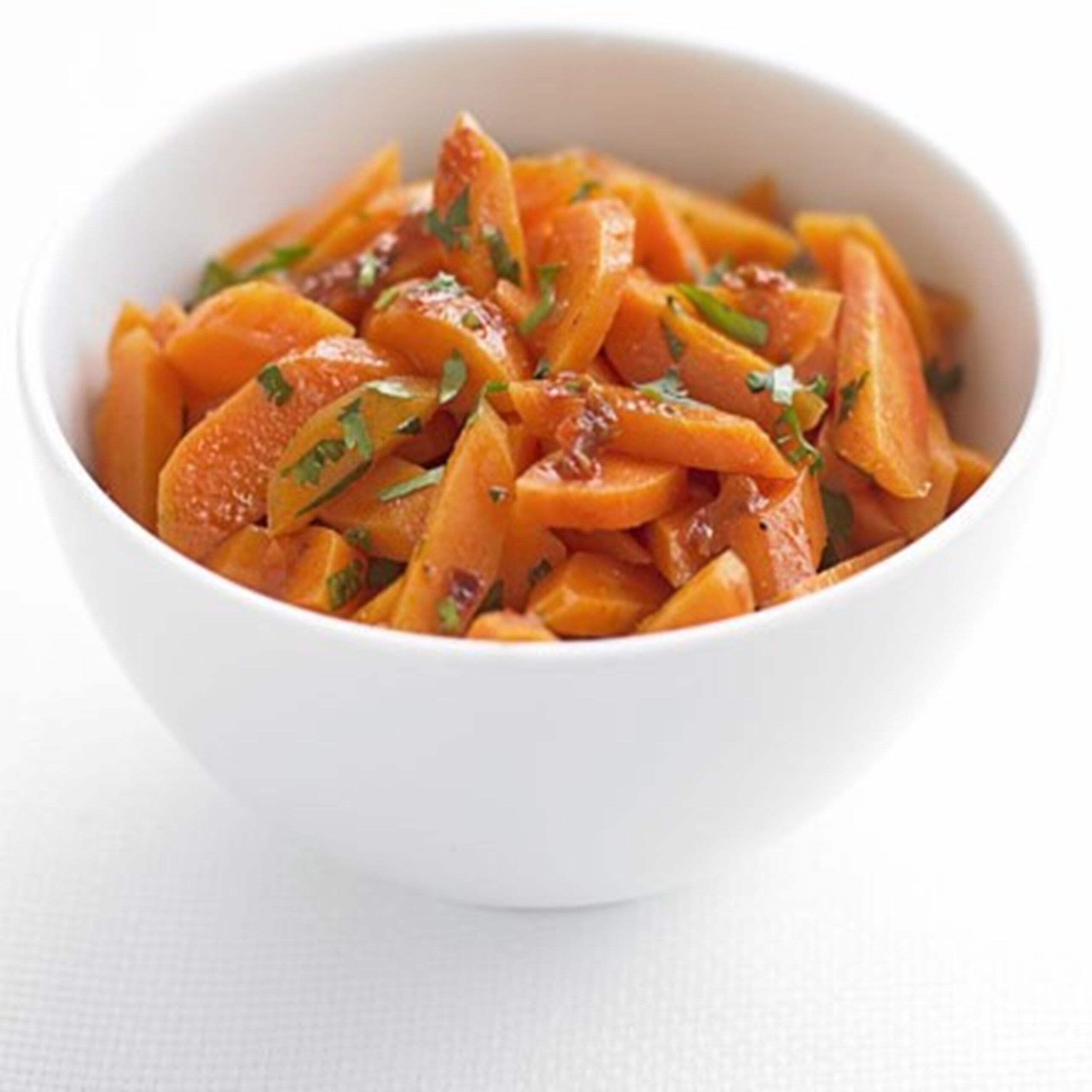 Create a carrot sensation with this simple idea for dressing and experiment with your favourite veg. Serve with grilled lamb chops and couscous, or for a great veggie main, try grilled halloumi.
Nutrition Facts per serving: Kcals: 95 | Total fat: 6g | Carbs: 10g | Protein: 1g | Salt: 0.1g
Recipe and image source: BBC Good Food
500g carrots, halved and cut into thin rounds
2 tbsp extra-virgin olive oil
Harissa pasta
1 tbsp lemon juice
Handful coriander, chopped
Method
Place the carrots in a steamer set over a pan of boiling water and cook for 7-10 mins until just soft. Mix together the remaining ingredients, then toss the warm carrots through the dressing.
Sprinkle with extra chopped coriander to serve.
This will become one of your favourite recipes. Light, moist, and so zingy, it will keep for up to a week in an airtight container.
Source: Kitchen Confidante
64g slightly stale white breadcrumbs
128g caster sugar
128g ground almonds
1 tsp baking powder
100ml sunflower oil
4 eggs
1 large orange, zest
1 lemon, zest
Whipped cream or Greek yoghurt, to serve
For the citrus syrup
1 orange, juice
1 lemon,  juice
43g caster sugar
1 cinnamon stick
2 cloves
Method
Preheat the oven to 180˚c. Line the base, grease, and flour an 8 × 2-in round cake pan.
Mix together the breadcrumbs, sugar, almonds, and baking powder. Whisk the oil with the eggs, then pour the egg mixture into the dry ingredients and mix well. Add the orange and lemon zests. Pour the mixture into the cake pan and cook in the oven for 45–60 minutes or until the cake is golden brown. Check that the cake is cooked by inserting a skewer into the centre; if it's ready the skewer should come out clean. Allow to cool for 5 minutes before turning out onto a wire rack.
Meanwhile, make the citrus syrup. Put all the ingredients into a saucepan and bring gently to a boil, stirring until the sugar has dissolved completely. Simmer for 3 minutes. Remove the cinnamon stick and cloves from the syrup.
While the cake is still warm, pierce it several times with a skewer, then spoon the hot syrup over the cake, allowing it to run into the holes. Leave to cool. Spoon any excess syrup back over the cake every now and then until it is all soaked up. Serve with whipped cream or a dollop of thick Greek yoghurt, if you like.