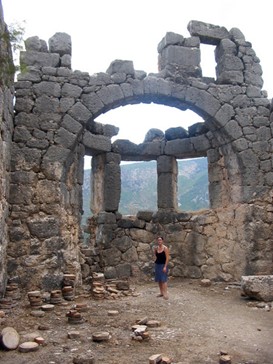 Turkish cuisine is one of the oldest in the world and it has been around for thousands of years. It's geographical setting, trade, religion, and external influence have all contributed to the formulation of the most prominent cuisine.
From East to West, the mountainous terrain to the beaches, Turkey is a huge country with a diverse food selection. The Turkish food culture features a blend of local dishes as well as external influences. Seafood is popular in the west and as you move further towards the south and east, you will notice that the food starts to get spicier.
The range of Turkish delicacies are so diverse, you can't miss them in the global food scene. From the appetizers, desserts, drinks, to main meals, you will be amazed by how these dishes engage your taste buds, always leaving you craving for more.
Northeastern Turkish Cuisine
The regional cuisine in this area is quite intriguing. The locals tend to put anchovies in almost every type of food. If it's a dessert, it has some shades of anchovies, even rice comes with these small fish! Other types of edibles common here include hazelnuts, cheese, tea, and honey.
Southeastern Turkish Cuisine
This is where you will find food with that Middle-East touch. There is plenty of meze with meat as well as kebabs that play an important role in all cuisines. Besides that, the baklava dish is also common here. If you are a fan of stuffed lamb ribs, the southeast region has Kaburga Dolmasi.
Central Anatolia
This is an inland region and it features many trading and business hubs. The most common regional dishes found here include pastirma, a type of air-dried, and cured beef. Its manti is popular among locals and tourists thanks to its amazing taste and melting feeling.
The Aegean and Mediterranean Regions
These places are close to the sea. Besides that, the Aegean and Mediterranean coastal resorts borrow a lot from Greek culture. Fish and seafood are the most common and the locals usually make them using traditional recipes.  Besides that, the warm coastal weather provides an ideal climate for growing tropical fruits and vegetables. As a result, the locals feed a lot on Mezes, olives, in addition to herbs.
Emma first visited Turkey in 2007 to stay with a close friend who had relocated there, she had based herself in one of the most unspoilt and gorgeous regions of Turkey in Adrasan up in the hills and off the beaten track but with access to the Lycian Way for great walks.  The area has become more developed now but there are still unspoilt areas to feast your eyes on.
A clear memory I still have was of the food we ate and the adventures we had.  From line fishing off a friends boat and cooking it on a BBQ straight from the sea to gorgeous, simple veg stews and salads to freshly stuffed pancakes served from the sides of roads. The food I ate was the freshest, tastiest food I think I've ever tasted.  The scenery and history were everywhere you turned (including under the sea).
Chickpea Salad with sumac onions, peppers, spinach & tomatoes
This is a delicious variation of the much loved Turkish beans salad, Fasulye Piyazi with some more veg added to it. Chickpeas are fantastic paired with cumin and with sumac infused onions in this refreshing, nutritious salad. If you like greens add more spinach or pepper here. It is a lovely, easy to make, substantial salad for lunch that can be served as part of a meze or a side to grilled vegetables, fish or meat. You can use cannellini or your other favourite cooked beans in this salad instead of chickpeas too.
Source: Ozlems Turkish Table, Find the recipe here
Cacik (Turkish yoghurt dip with cucumber)
Ann has lived in Turkey for nearly 20 years now so and has integrated herself with the community, food and language. Here she shares her favourite thing to make. "Simple and refreshing, we prepare it with all kinds of meals…I make it to accompany roasted veggies, meat and fish, salad or just a dip with flatbread!"  Ann
Half a large Cucumber diced (or 2 baby cucumbers)
750g natural yoghurt
2 teaspoons crushed garlic
2 tablespoons olive oil
2 tablespoons dried crushed mint
Salt
Method
Grate cucumber, sprinkle salt over, stand 15 mins, then squeeze out excess water.
Mix yoghurt with garlic, olive oil, dried mint and salt.  Add cucumber.
Chill in the fridge…eat!
Hot Cumin Lamb Wrap with crunchy slaw & spicy mayo
A healthy kebab flatbread – make double the cabbage and carrot coleslaw and have leftovers for lunch.
Source: BBC Good Food, Find the recipe here
Pine nut, feta, spinach & mint börek
These crispy feta and spinach filo pastries – or börek – are like a magic carpet ride straight to Turkey.
Source: Delicious Magazine, find the recipe here
Turkish inspired double upside-down cake
Studded with fresh figs, raspberries, pistachios and Turkish delight this double upside-down cake brings a taste of the East to afternoon tea.
Source: Delicious Magazine, find the recipe here