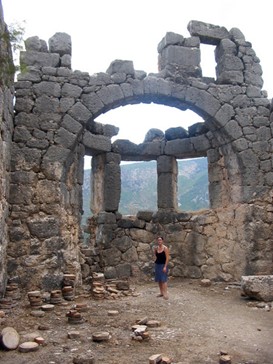 Turkish cuisine is one of the oldest in the world and it has been around for thousands of years. It's geographical setting, trade, religion, and external influence have all contributed to the formulation of the most prominent cuisine.
From East to West, the mountainous terrain to the beaches, Turkey is a huge country with a diverse food selection. The Turkish food culture features a blend of local dishes as well as external influences. Seafood is popular in the west and as you move further towards the south and east, you will notice that the food starts to get spicier.
The range of Turkish delicacies are so diverse, you can't miss them in the global food scene. From the appetizers, desserts, drinks, to main meals, you will be amazed by how these dishes engage your taste buds, always leaving you craving for more.
Northeastern Turkish Cuisine
The regional cuisine in this area is quite intriguing. The locals tend to put anchovies in almost every type of food. If it's a dessert, it has some shades of anchovies, even rice comes with these small fish! Other types of edibles common here include hazelnuts, cheese, tea, and honey.
Southeastern Turkish Cuisine
This is where you will find food with that Middle-East touch. There is plenty of meze with meat as well as kebabs that play an important role in all cuisines. Besides that, the baklava dish is also common here. If you are a fan of stuffed lamb ribs, the southeast region has Kaburga Dolmasi.
Central Anatolia
This is an inland region and it features many trading and business hubs. The most common regional dishes found here include pastirma, a type of air-dried, and cured beef. Its manti is popular among locals and tourists thanks to its amazing taste and melting feeling.
The Aegean and Mediterranean Regions
These places are close to the sea. Besides that, the Aegean and Mediterranean coastal resorts borrow a lot from Greek culture. Fish and seafood are the most common and the locals usually make them using traditional recipes.  Besides that, the warm coastal weather provides an ideal climate for growing tropical fruits and vegetables. As a result, the locals feed a lot on Mezes, olives, in addition to herbs.
I first visited Turkey in 2007 to stay with a close friend who had relocated there, she had based herself in one of the most unspoilt and gorgeous regions of Turkey in Adrasan up in the hills and off the beaten track but with access to the Lycian Way for great walks.  The area has become more developed now but there are still unspoilt areas to feast your eyes on.
A clear memory I still have was of the food we ate and the adventures we had.  From line fishing off a friends boat and cooking it on a BBQ straight from the sea to gorgeous, simple veg stews and salads to freshly stuffed pancakes served from the sides of roads. The food I ate was the freshest, tastiest food I think I've ever tasted.  The scenery and history were everywhere you turned (including under the sea).
I'm hopeful I will return again after the pandemic to catch up on the changes which have happened and sample more delicious food.
Here are some tasty treats you can make yourself, why not make a big meze to share as a meal in your backyard with friends from the 29 March.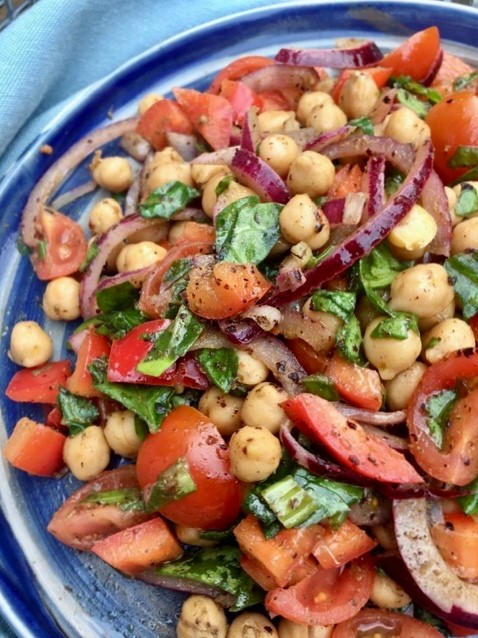 Chickpea Salad with sumac onions, peppers, spinach & tomatoes
This is a delicious variation of the much loved Turkish beans salad, Fasulye Piyazi with some more veg added to it. We love chickpeas and they are fantastic paired with cumin and with sumac infused onions in this refreshing, nutritious salad. If you like greens, by all means, add more spinach or pepper here. It is a lovely, easy to make, substantial salad for lunch that can be served as part of a meze or a side to grilled vegetables, fish or meat. You can use cannellini or your other favourite cooked beans in this salad instead of chickpeas too.
Source: Ozlems Turkish Table
1 can of chickpeas
1tsp ground sumac (use more if you are a fan!)
1tsp ground cumin
½ medium red onion halved and thinly sliced
10 cherry tomatoes, quartered
3 spring onions/scallions, finely chopped
1 red bell pepper, deseeded and finely chopped
40g spinach leaves, washed and roughly chopped
For the dressing:
2tbsp extra virgin olive oil
½ juice of lemon
Salt and freshly ground black pepper to taste
Sprinkle of extra sumac to serve
Flatbread or pitta bread to serve
Method
In a mixing bowl, rub a pinch of salt and ground sumac into the onion slices with your hands really well. This will soften the onions and make them more palatable, will also help infuse tangy sumac to the onion slices.
Place the chickpeas in a colander, drain its liquid and rinse over running water. Combine the chickpeas with the onions in the mixing bowl. Stir in the ground cumin and season with salt to your taste, mix well.
Stir in the chopped tomatoes, peppers, spring onion and spinach into the bowl and combine well with the chickpeas and onion mixture.
For the dressing; combine the extra virgin olive oil and lemon juice in a small container. Season with salt and freshly ground pepper to your taste.
Pour in the seasoning over the salad and combine well. Transfer the salad to a serving plate. Serve with an extra pinch of ground sumac sprinkled over, if you like, with plenty of flatbreads or pitta bread by the side, to mop up the delicious juices.
Cacik (Turkish yoghurt dip with cucumber)
Ann has lived in Turkey for over 15 years now so and has integrated herself with the community, food and language. Here she shares her favourite thing to make. "Simple and refreshing, we prepare it with all kinds of meals…I make it to accompany roasted veggies, meat and fish, salad or just a dip with flatbread!"  Ann
Half a large Cucumber diced (or 2 baby cucumbers)
750g natural yoghurt
2 teaspoons crushed garlic
2 tablespoons olive oil
2 tablespoons dried crushed mint
Salt
Method
Grate cucumber, sprinkle salt over, stand 15 mins, then squeeze out excess water.
Mix yoghurt with garlic, olive oil, dried mint and salt.  Add cucumber.
Chill in the fridge…eat!
Hot Cumin Lamb Wrap with crunchy slaw & spicy mayo
A healthy kebab flatbread – make double the cabbage and carrot coleslaw and have leftovers for lunch.
Source: BBC Good Food
4 small lamb leg shanks
2 tsp olive oil
1 heaped tsp ground cumin
1 tbsp sugar
3 tbsp white wine vinegar
2 carrots, coarsely grated
2 spring onions, finely sliced
400g white cabbage, very finely sliced
5 sweet peppadew peppers, 2 roughly sliced
2 tbsp mayonnaise
4 large pitta or flatbread, warmed
Method
Heat a griddle pan. Rub the lamb steaks with the oil, cumin and some seasoning. Griddle for about 3-4 mins on each side or until cooked to your liking. Place to one side on a plate to rest.
In a large bowl, stir the sugar into the vinegar until dissolved. Add the carrots, spring onions, cabbage and some seasoning, and toss together.
Blitz the whole peppers and the mayo in a food processor. Add a heap of the salad to each flatbread. Slice the lamb, trimming off any excess fat and lay on top of the salad, drizzling with the resting juices. Spoon over the mayo and scatter with a few of the sliced peppers. Roll up and eat. If using pitta, split and stuff. Serve any extra salad on the side.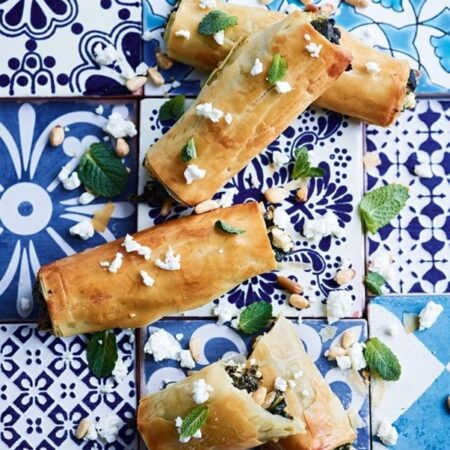 Pine nut, feta, spinach & mint börek
These crispy feta and spinach filo pastries – or börek – are like a magic carpet ride straight to Turkey.
Source: Delicious Magazine
200g baby leaf spinach, wilted in a hot pan, then squeezed to remove excess water
80g feta cheese, crumbled, plus extra to serve
20g pine nuts, toasted
A few sprigs of fresh mint, leaves picked and chopped, plus extra to serve
1-2 tbsp double cream
30g natural yoghurt
1 tbsp milk
1 tbsp olive oil, plus extra for brushing
3 filo pastry sheets
Method
Heat the oven to 200°C/180°C fan/gas 6. Combine the cooked spinach, feta, toasted pine nuts and mint in a bowl. Add just enough double cream to bind, then season well. Set aside.
In another bowl, whisk together the yoghurt, milk and olive oil. Layout a sheet of filo on a clean work surface and brush with some of the yoghurt mixture (keep the remaining filo sheets covered with a damp tea towel so they don't dry out). Repeat with the remaining sheets of filo, layering them up as you go. Fold the filo layers in half like a book and brush again with the yoghurt mix (you may have some yoghurt mix leftover).
Cut the filo in half horizontally, then again vertically to create four even rectangles. Divide the filling equally among the four rectangles, putting about 1 heaped tablespoon of filling on each, leaving a 2cm gap from the bottom of the short side facing you. Roll each piece tightly to create four cigar-shaped cylinders. Transfer to a baking tray lined with non-stick baking paper, brush with a little oil and bake for 15-20 minutes, turning halfway, until golden and crisp. Serve sprinkled with extra mint leaves, feta and pine nuts.
Tips
The yoghurt mix, although delicious brushed onto the filo, makes it tricky to roll neatly. If the börek look a little untidy you can cut off the baked ends to create a neater shape. You can make them up to a day ahead, cover and chill. Reheat in a low oven to serve.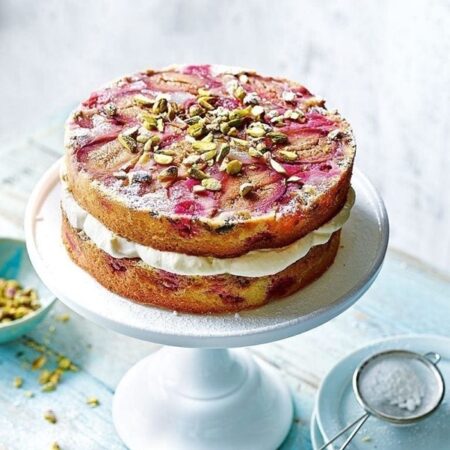 Turkish inspired double upside-down cake
Studded with fresh figs, raspberries, pistachios and Turkish delight this double upside-down cake brings a taste of the East to afternoon tea.
Source: Delicious Magazine
For the cake
8 ripe figs
225g raspberries
75g pistachio kernels, plus extra to decorate
170g rose & lemon Turkish delight, chopped into 1 cm cubes
125g unsalted butter, softened
115g full-fat yoghurt
225g caster sugar
Finely grated zest 1 large orange
4 large free-range eggs
225g self-raising flour
Icing sugar to dust
For the filling
200ml double cream
150g full-fat yoghurt
3 tbsp clear honey
You will also need:
2 x 20cm sandwich tins, greased and lined with baking paper
Method
Heat the oven to 180°C/160°C fan/gas 6. For the cake, slice the figs in half, then arrange them, cut-side-down and in a single layer, in the base of the cake tins. Divide the raspberries between the tins along with the 75g pistachios and the Turkish delight.
Beat together the butter, yoghurt, caster sugar and orange zest until the sugar is more or less entirely dissolved. Add the eggs, one at a time, beating well after each addition – if the mixture splits, don't worry, it's just because the fat of the butter and the fat of the egg yolks haven't emulsified, but it won't make any difference to the finished cake. Sift the flour, then fold it into the mixture using a large spoon until smooth and combined.
Divide the batter between the cake tins, spreading it over the topping ingredients – be careful not to displace them. Bake for 30-35 minutes until a skewer pushed into the centre of each cake comes out clean. There might be a little raspberry mush on the skewer, but don't let that fool you. Allow the cakes to cool in the tins for 10 minutes, then invert onto a wire rack to cool completely.
To make the filling, whip the double cream to soft, floppy peaks using a whisk or electric mixer, then whisk in the yoghurt and honey. Make sure the cakes are completely cool, to avoid oozing, then place one cake (the least pretty) on a plate or cake stand with the cut-side of the figs facing upwards. Spread the filling over the cake, then top with the second cake, again with the figs facing upwards. Roughly chop a few more pistachio kernels and scatter them over the top, then sift over a light dusting of icing sugar and serve straight away.