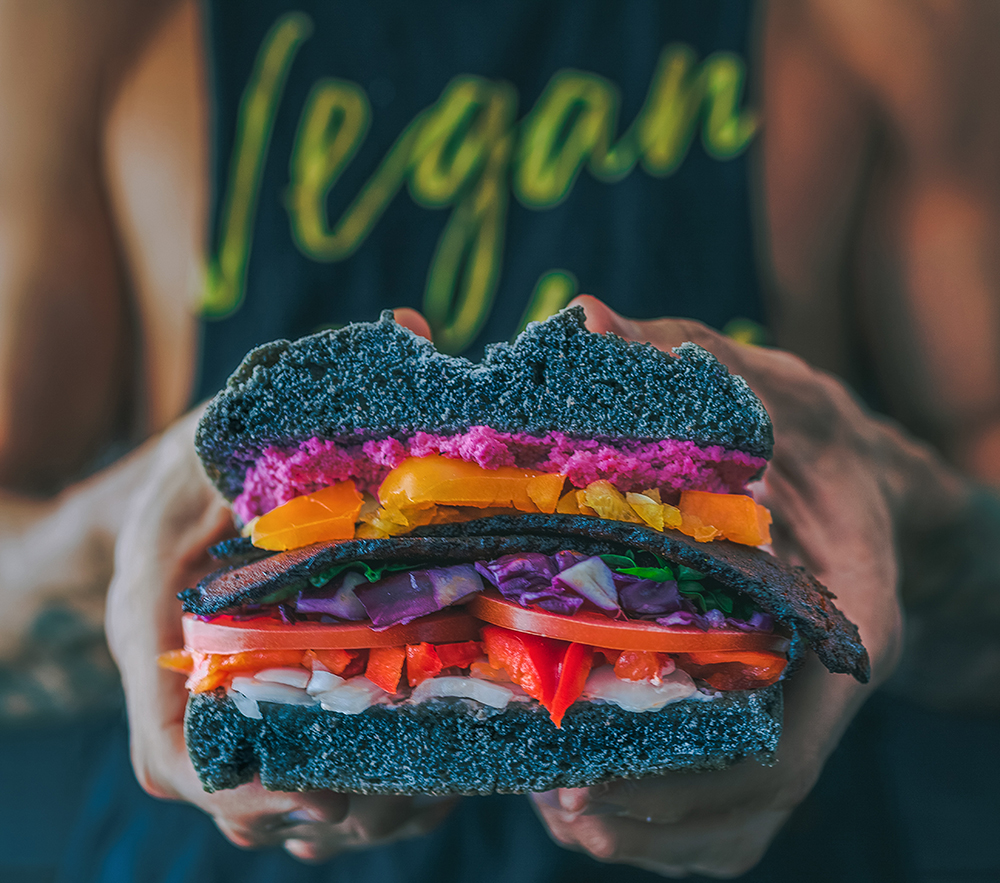 November marks the start of World Vegan Month.
To celebrate we've put together some of our favourite vegan recipes for you to try out.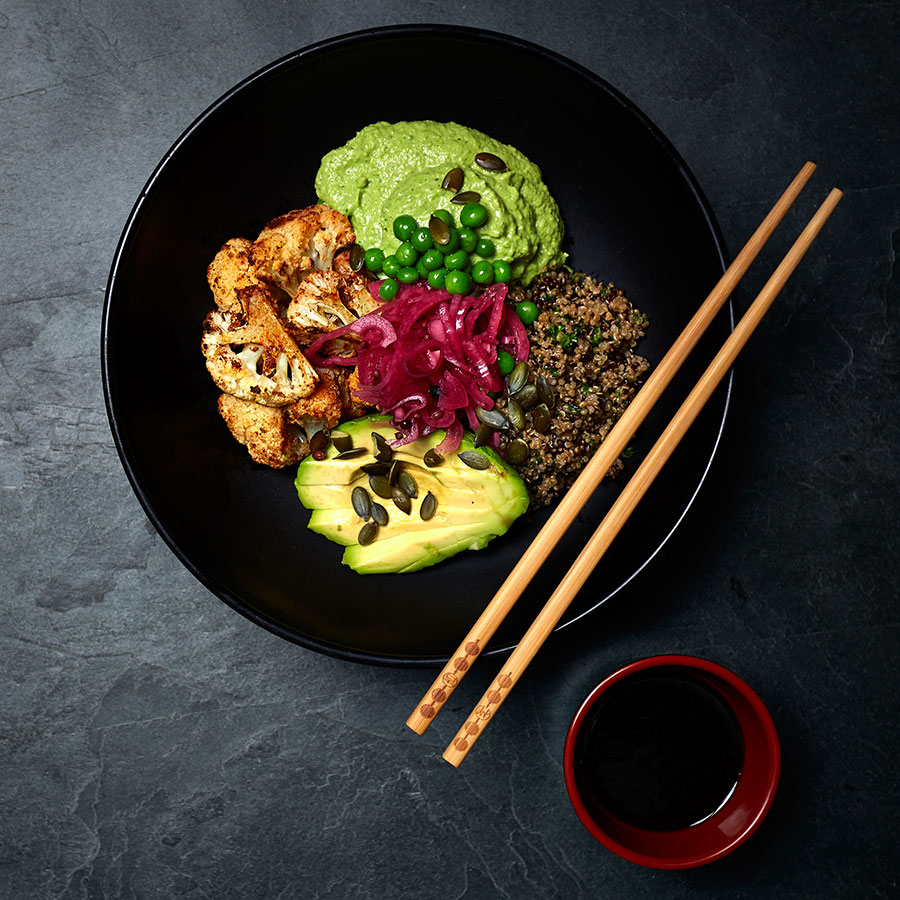 Buddha Bowl with Chipotle Cauliflower & Pea Hummus
Buddha bowls are the best dinner when you fancy a nice mix of textures and flavours in your meal, with some elements cooked and others fresh and crunchy. This multi-coloured buddha bowl with spicy chipotle cauliflower and a refreshing pea hummus to temper down the heat is a taste sensation.
Source: Vegan food and living
1

 

small cauliflower, chopped into florets

2

 

Tbsp

 

extra virgin olive oil

2

 

tsp

 

Baharat

Sea salt flakes & freshly ground black pepper

100

 

g

 

quinoa, cooked

Juice of ½ a lemon

Small handful chopped parsley

1

 

avocado, peeled and sliced

Chopped fresh parsley, to serve

Pumpkin seeds, to serve

Pickled onions, to serve

For the pea hummus:

300

 

g

 

frozen peas

3

 

Tbsp

 

tahini

3

 

Tbsp

 

lemon juice

0.50

 

tsp

 

ground cumin

Small handful chopped fresh coriander

2

 

spring onions, trimmed and finely chopped

2

 

cloves garlic
Method
Preheat the oven to 200°C/400°F/Gas mark 6
Drizzle the cauliflower florets with 1 tbsp of olive oil, sprinkle over the Baharat and season with salt and pepper.
Spread the florets evenly over a baking sheet and roast in the oven for 20-25 minutes, tossing once or twice throughout.
Mix the quinoa with the lemon juice, chopped parsley and a little olive oil.
To make the hummus: cook the peas in a pan of salted boiling water, drain well and rinse under cold water.  Blend the peas into a smooth purée in a food blender.  Mix the crushed peas into the puree and stir in the tahini, lime juice, cumin, coriander and spring onions. Season with salt and pepper to taste.
To assemble your bowls: start with a big scoop of quinoa, add in a large helping of spicy cauliflower and some diced avocado, some pea hummus and some pickled red onions.
Top the whole bowl off with some chopped fresh parsley and pumpkin seeds and dig in!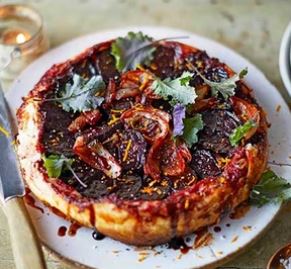 Beetroot and red onion tarte tatin
Try this vegan tart for a show-stopping centrepiece. The bold red of beetroot against the vibrant green salad also makes it ideal for a meat-free celebration.
Source: BBC Good Food
400g beetroot, cut into wedges
1 red onion, cut into wedges
3 tbsp olive oil
2 tbsp rice wine vinegar
2 tbsp soft brown sugar
2 star anise
flour, for rolling
500g block puff pastry (we used vegan Jus-Rol)
1 orange, zested
peppery green salad, to serve
Method
Heat oven to 200C/180C fan/gas 6. In a bowl, toss the beetroot and onion in 2 tbsp of the oil, the vinegar and sugar. Add the star anise and season well. Heat the rest of the oil in a large, ovenproof non stick frying pan. then nestle in the veg so that they cover the surface of the pan. Cover with foil and cook in the oven for 45 mins.
On a well-floured surface, roll the pastry to a thickness of 0.5cm and cut out a circle the same size as your frying pan. Carefully take the pan out of the oven, remove the foil and wiggle the beets and onion around in the pan to make a compact layer. Put the pastry on top, tucking it in all around the edges, then return the pan to the oven and bake for 35 mins or until the pastry has puffed up and is a deep golden brown.
Slide a palate knife around the edge of the tart, then put a plate on top of the pastry, serving side down. Flip the pan over to turn the tart out onto the plate – be careful not to burn yourself with the handle. Top with the orange zest and a sprinkle of sea salt, then serve with a peppery salad on the side.
A quick and easy vegan  Biryani! A fragrant Indian rice dish infused with Indian spices.  A quick and easy weeknight meal.
Source: Feasting at Home
420g

white basmati rice

2 tablespoons

 olive oil (or sub ghee or coconut oil)

1

 large onion, thinly sliced

1

 red bell pepper, thinly sliced

2

diced carrots ( or use match sticks)

4

 garlic cloves, rough chopped

2 teaspoons

 fresh ginger, grated or use ginger paste

1 tablespoon

 cumin ( or whole seeds)

1 tablespoon

 coriander (or whole seeds, cracked open)

1 teaspoon

 chili powder

1 teaspoon

 cinnamon (or 

one

 cinnamon stick)

1/2 teaspoon

 cardamom (or 

3

 crushed cardamom pods)

1/2 teaspoon

 ground turmeric

2

 bay leaves

1

 star anise pod (optional)

980ml

veggie stock

3/4 teaspoon

 salt, more to taste

1

 can chickpeas, drained, rinsed

2 hanfuls raisins

 raisins
Garnish: 2 handfuls cashews and chopped parsley or coriander
Method
Soak rice in a bowl of hot water while you prep ingredients.
In a large frying pan or shallow Dutch oven, heat oil over medium-high heat. Add the onion and sauté, stirring often, until tender and golden, 5 minutes. Turn heat to medium, add the veggies, garlic and ginger, and saute 4-5 minutes. Remove one cup of the mixture and set aside.
Add spices and bay leaf, and stir one minute, toasting the spices. Drain the rice and add it along with veggie stock and salt.
Top with chickpeas, raisins and the cup of veggies you set aside. Bring to a simmer over high heat, then lower heat to low. Cover the pot with a thin dish towel, then place the lid over the top of the towel, and bring the four corners of the towel up and over the lid. This will tighten the seal and keep the steam in, allowing the rice to cook more quickly and evenly.
Simmer on low 20-30 minutes or until the rice has soaked up the liquid.
Uncover the Biryani and fluff up with a fork. Top with the toasted cashew and coriander.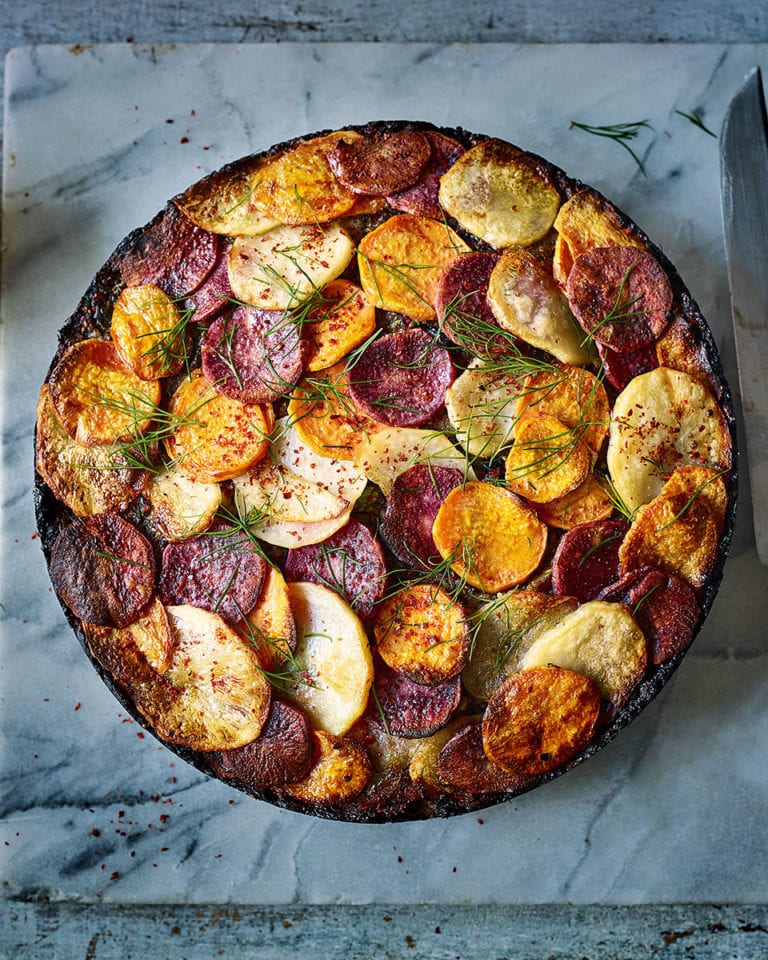 Middle Eastern spiced nut roast with three potato topping
Cook time: 1 hour 25 mins
This is a nut roast recipe like no other. A mouth-watering mix of nuts, quinoa, dried fruit, fresh herbs and halloumi are topped with, not one but, three types of potato. Drown it in gravy and dig in.
Source: Delicious Magazine
5 sweet potatoes (about 575g)
Oil to drizzle
1 large onion, sliced
3 garlic cloves, crushed
2 tsp ground cumin
1 tsp ground coriander
1 tsp ground cinnamon
180g pack cooked chestnuts, roughly chopped
100g dried cranberries
50g dried apricots, chopped
2 tbsp za'atar spice mix
2 tbsp aleppo pepper, plus extra to serve
Finely grated zest and juice 1 lemon
250g cooked quinoa
100g shelled unsalted pistachios, toasted in a dry pan

90g pine nuts, toasted in a dry pan

 

2 tbsp pomegranate molasses

Small bunch fresh dill, chopped, plus extra to serve
Small bunch fresh parsley, chopped
2 large free-range eggs, beaten
125g halloumi cheese, grated
1 purple sweet potato
1 maris piper potato
Method
Heat the oven to 180°C/160°C fan/gas 4. Peel 4 of the sweet potatoes and slice into 1cm rounds. Spread evenly on a large roasting tray, drizzle with oil, season, then roast for 30 minutes.
Heat another drizzle of oil in a large non-stick frying pan and add the onion. Cook gently for 8 minutes, then add the garlic and cook 2 minutes more. Stir in the cumin, coriander and cinnamon and cook for a final 2 minutes, then put in a mixing bowl. Add the chestnuts, cranberries, apricots, za'atar, aleppo pepper, lemon zest and juice, quinoa, pistachios, pine nuts, pomegranate molasses, dill and parsley. Season generously, then stir in the eggs and grated halloumi until combined.
Layer half the roast sweet potato in the base of the prepared tin, then spoon half the spicy chestnut filling over the top. Repeat with the rest of the roast sweet potato and filling and press down firmly.
Peel the remaining sweet potato, purple sweet potato and maris piper potato, then slice thinly (about 2mm thick) with a mandoline or sharp knife. Toss with olive oil and salt, then layer tightly on top of the filling, overlapping the slices as you go and creating an attractive mix of colours.
Weigh the topping down with a casserole lid wrapped in baking paper and bake for 30 minutes. Remove the lid and bake for another 20-25 minutes until the potatoes are tender and crisp.
Leave to cool for 5 minutes in the tin. Remove and serve sprinkled with extra dill and aleppo pepper.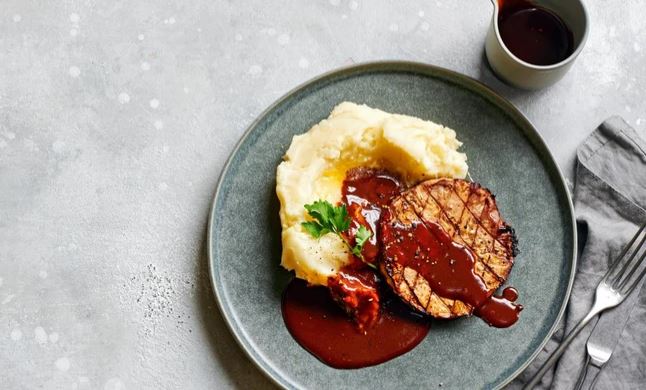 Celeriac steak with mash and gochujang sauce
Cook time: 1 hour + marinating
Slow-roasted celeriac has a wonderful 'meaty' bite and a unique mellow flavour. Spicy Korean gochujang lifts this umami-packed celeriac steak to the next level
Source: Olive magazine
CELERIAC STEAKS
celeriac 800g
red wine (check it's vegan) 120ml
olive oil 80ml
liquid smoke or smoked paprika 1 tbsp
soy sauce 60ml
maple syrup 1½ tbsp
dried thyme ½ tsp
black peppercorns coarsely cracked with a pestle and mortar to make ½ tbsp
MASH
Maris Piper potatoes 750g, peeled and halved
vegan butter 55g
soy milk 50ml
GOCHUJANG SAUCE
gochujang 1 tbsp
soy milk 80ml
Method
Wash and dry the celeriac well. Slice it into four ½-inch-thick discs, and then carefully slice off the outside skin, being careful not to remove more than ½cm from each disc. Use a sharp knife to score shallow lines ½cm apart across the top of each disc, then rotate each disc by 45 degrees and repeat so the score lines form rough diamonds. Set aside.
To make the marinade, whisk together the wine, olive oil, liquid smoke, soy sauce, maple syrup, thyme and peppercorns. Transfer three-quarters of the marinade to a bowl and set aside.
Transfer the discs to a large reusable ziplock bag and pour in the remaining quarter of the marinade. If the celeriac is not fully coated, use a little more marinade from the bowl. Seal the bag and put in the fridge to marinate for 1-4 hours.
Once the celeriac is marinated, heat the oven to 200C/fan 180C/gas 6 and line a baking tray with baking paper. Remove the celeriac from the marinade and put on the tray, scored-side up. Using a pastry brush, coat the celeriac in a little extra marinade before putting the tray in the oven.
Cook for 15 minutes before turning the discs over, brushing with a little extra marinade and cooking for a further 15 minutes. Reserve the remaining marinade for the sauce.
While the celeriac cooks, make the mash. Heat a large pan of water until boiling, then cook the potatoes for 20 minutes until very tender and a knife can easily be inserted into the centres. Drain the potatoes and leave them to steam in the colander for 5 minutes.
Return the potatoes to the pan and mash well until smooth. Add the butter and then the soy milk a splash at a time (you may not need all of it). Season with salt and pepper then cover to keep warm.
To make the sauce, add the gochujang and soy milk to the reserved marinade, and whisk until combined. Pour the mixture into a medium, high-sided frying pan and warm over medium heat. Bring to a simmer, stirring often, but don't allow the sauce to boil. Reduce the sauce by half until you have a glossy, aromatic sauce which is a chocolatey brown colour. If the sauce thickens too much, use a little extra wine to thin it out.
Serve the celeriac steaks, scored-side up, on top of the mash with a generous serving of sauce on top.