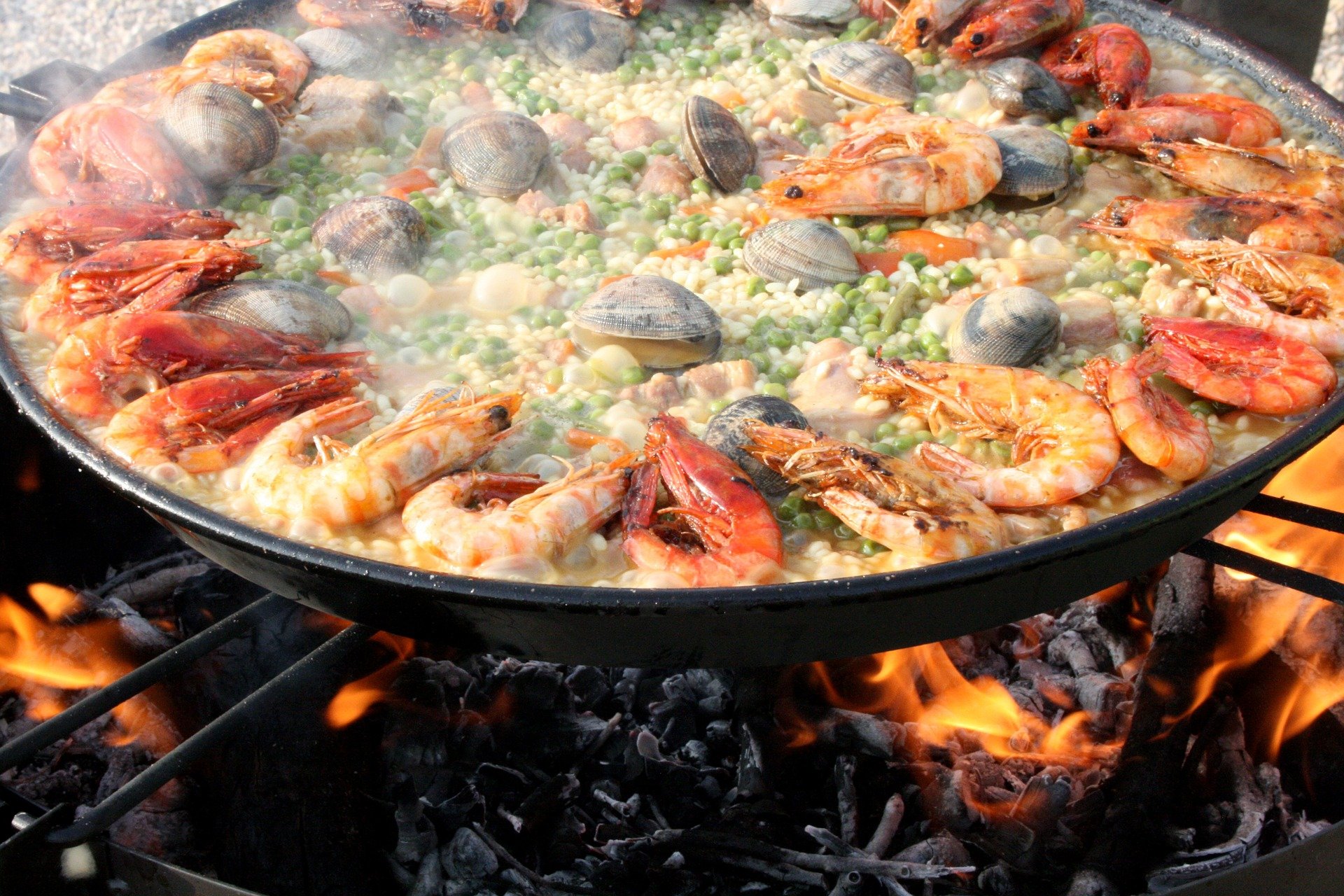 World Paella Day – 20 September 2021
Since 2018, World Paella Day takes place every September 20 with the aim of sharing Valencia's most famous dish internationally and to place Valencia as the gastronomic destination it deserves to be.
Valencians love their traditional dish so whenever they have the chance, they'll tell you that the whole world gets paella wrong: the wrong ingredients, even the wrong pronunciation! However the spirit of their cooking has always been flexible to whatever meat, fish, seafood or game can be found.
Rice is the main ingredient in most Valencian dishes: Arroz a banda (rice on the side), Arroz al Horno (oven-baked rice) and of course, paella.
It should be cooked to perfection; not too soft, not too hard. Saffron is a common seasoning.
We've included a traditional Valencian paella recipe as well as some other variations. If you don't have a traditional paella pan, a large shallow frying pan will do.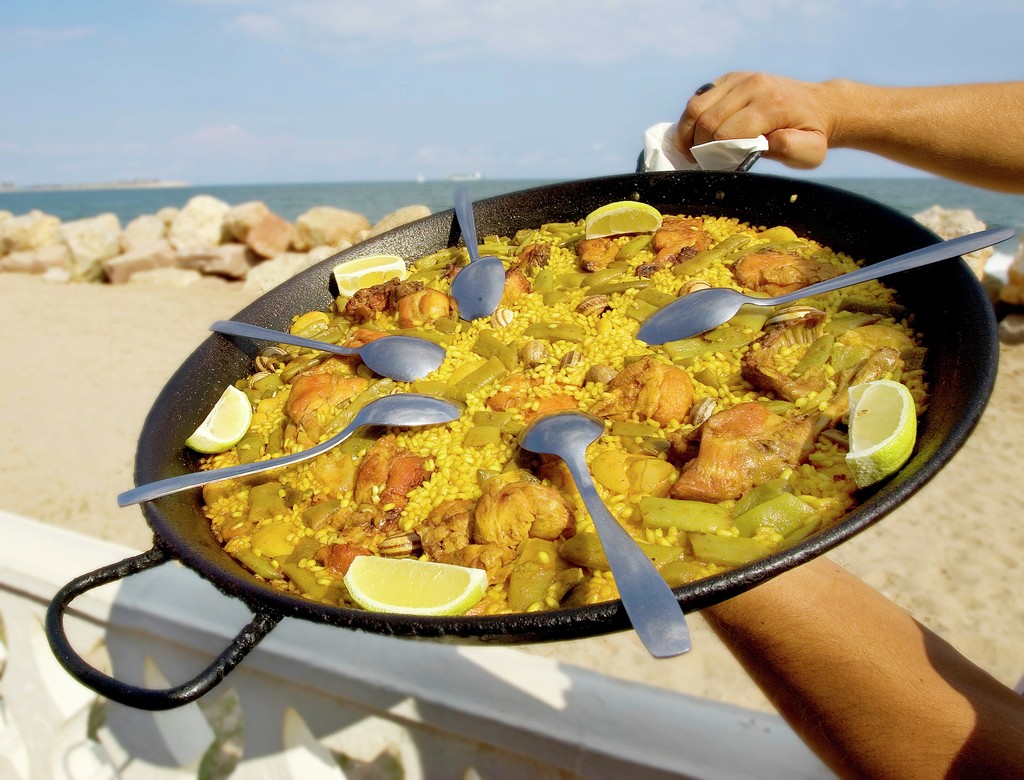 Authentic paella originates from Valencia and contains different combinations of meat, such as rabbit, sausage, chicken and snails. If you don't have a traditional paella pan, a large shallow frying pan will do.
Source: BBC Good Food
660g short-grained rice
100ml olive oil
1.2L water
800g chicken, cut into bite-size pieces
600g rabbit meat, cut into bite-size pieces
12 Vaguetes snails, well cleaned, optional
250g Ferradura beans, wide green beans
200g Garrofon beans
1 ripe tomato, peeled
1 clove of garlic, peeled & chopped
1/2 tbsp paprika
Saffron threads
Salt
Rosemary, optional
Lemon wedges, to garnish
Method
Heat the oil in a paella dish or large shallow frying pan.
Salt the chicken and rabbit and brown in the pan for 5 mins.
Add beans and brown for another 5 mins.
Add the garlic, paprika and tomato. Add water and the snails. Boil for 10 mins.
Add the saffron and rice, distributing it evenly over the surface of the pan. Boil on high heat for 8 mins.
Add rosemary and salt to taste.
Turn heat on low and cook for a further 8 mins. So the bottom layers of rice are crispy ("socarrat")
Garnish with lemon and serve immediately.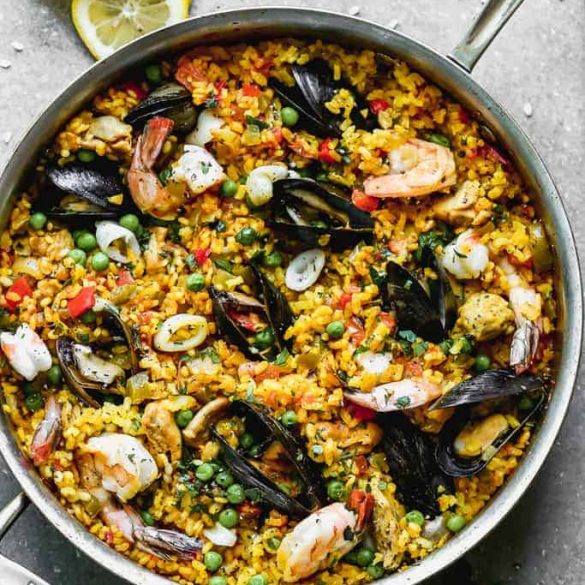 You can make this delicious, paella in your own kitchen with simple ingredients like rice, saffron, vegetables, chicken, and seafood. If you love cooking International food, you will fall in love with this comforting dish!
Source: Tastes Better From Scratch
4 tbsp extra virgin olive oil
1 onion, diced
1 bell pepper, diced
4 garlic cloves
3 Roma tomatoes, very finely diced
Bay leaf
1 tsp paprika, sweet or smoked
1 pinch saffron threads
Salt and pepper
4 tbsp white wine
4 boneless, skinless chicken thighs, cut into pieces
Large handful flat-leaf parsley, chopped, divided
360g Spanish rice
1250ml chicken stock
75g frozen peas
230g jumbo shrimp or prawns
230g mussels, cleaned properly, beards off
230g calamari rings
Lemon, for garnish
Method
Add olive oil to a skillet over medium heat. Add the onion, bell peppers and garlic and cook until the onion is translucent. Add chopped tomato, bay leaf, paprika, saffron salt and pepper. Stir and cook for 5 minutes. Add white wine and cook for 10 minutes. Taste and add salt if needed.
Add chicken pieces, 2 tablespoons chopped parsley and rice to the pot. Cook for 1 minute.
Pour the stock slowly all around the pan and jiggle the pan to get the rice into an even layer. (Do not stir the mixture going forward!).
Bring mixture to a boil. Reduce heat to medium-low. Give the pan a gentle shake back and forth just once or twice during cooking. (We don't ever stir the rice, so that a crispy crust forms at the bottom, called a socarrat).
Cook for about 15-18 minutes (uncovered), then nestle the shrimp, mussels and calamari into the mixture, sprinkle peas on top and continue to cook (without stirring) for about 5 more minutes. Watch for most of the liquid to be absorbed and the rice at the top nearly tender. (If for some reason your rice is still not cooked, add 50ml more water or stock and continue cooking).
Remove pan from heat and cover the pan with a lid or tinfoil. Place a kitchen towel over the lid and allow to rest for 10 minutes.
Garnish with fresh parsley and lemon slices. Serve.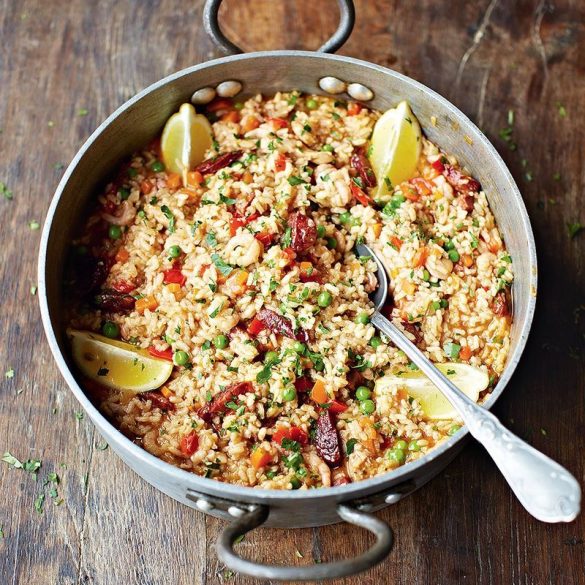 The Spanish can be quite protective about what is and what isn't a paella, but at the same time, the spirit of their cooking has always been flexible to whatever meat, fish, seafood or game can be found.
Source: Jamie Oliver
2 garlic cloves
1 onion
1 carrot
1/2 a bunch of fresh flat-leaf parsley
70g quality chorizo
2 free-range chicken thighs, skin off, bone out
Olive oil
1 tsp sweet smoked paprika
1 red pepper
1 tbsp tomato puree
1 organic chicken stock cube
300g paella rice
100g frozen peas
200g frozen peeled cooked prawns, from suitable sources
1 lemon
Method
Peel and finely slice the garlic, peel and roughly chop the onion and carrot. Finely chop the parsley stalks, then roughly chop the chorizo and chicken thighs.
Put a lug of oil into a large lidded shallow casserole or paella pan on medium heat, add the garlic, onion, carrot, parsley stalks, chorizo, chicken and paprika, and fry for around 5 minutes, stirring regularly.
Deseed and chop the pepper, then add to the pan for a further 5 minutes.
Stir through the tomato purée and crumble in the stock cube, then add the rice and stir for a couple of minutes so it starts to suck up all that lovely flavour.
Pour in 750ml of boiling water and add a pinch of sea salt and black pepper. Pop the lid on and bring to a boil, then reduce to a simmer for 15 minutes, stirring regularly from the outside in and from the inside out, and adding a splash of water if needed.
Stir in the peas and prawns, replace the lid, and cook for a further 5 minutes, or until hot through.
Season to perfection, then chop the parsley leaves, scatter them over the paella, and serve with lemon wedges on the side for squeezing over.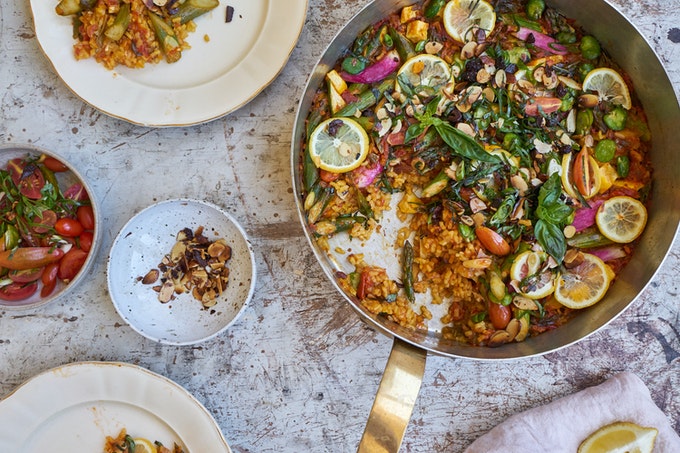 An Amazing Vegetarian Paella
Many paellas feature various meats and seafood, but vegetarian paella can be a revelation. This version is fully loaded with a rainbow of seasonal vegetables cooked into a saffron and paprika-scented rice-based dream.
Source: 101 Cookbooks
1.5 tbsp extra virgin olive oil
1 carrot, 1cm dice
4 spring onions, chopped
2 garlic cloves, chopped
220g short-grain paella rice
250ml tomato passata
1 tsp smoked paprika
1/4 tsp saffron threads
4 large handfuls of bite-sized mixed vegetables: peas, cherry tomatoes, baby radish, asparagus etc
1250ml hot vegetable stock
Toppings: lemon slices/ olives / toasted sliced almonds / chopped herbs
Method
Preheat oven to 160 C. Heat the olive oil in a large pan over medium heat. Fry the carrots and spring onions, until onions translucent. Stir in the garlic, and let it cook a little longer. Add the rice, stir well, and cook until the grains are also translucent for a few minutes – be mindful to not allow the rice to burn. Stir in the sofrito sauce. Add the paprika. Crush the saffron with your fingers, and add that as well.
Stir in the vegetables, pour the hot stock over all of it, stir, and bring to a moderate simmer. No more stirring allowed. Simmer for exactly 17 minutes. Set a timer. Taste the stock and re-season if necessary.
Move the paella to the oven and bake for another 12 minutes. Remove, and if you want to try to get a bit more crust on the base of your paella, and you're confident your paella won't burn, return the paella to a burner for another minute or so. Remove from heat and allow it to rest for another few minutes. Top with anything else you like – olives, nuts, lemons, herbs, etc. Serve family-style in the pan.