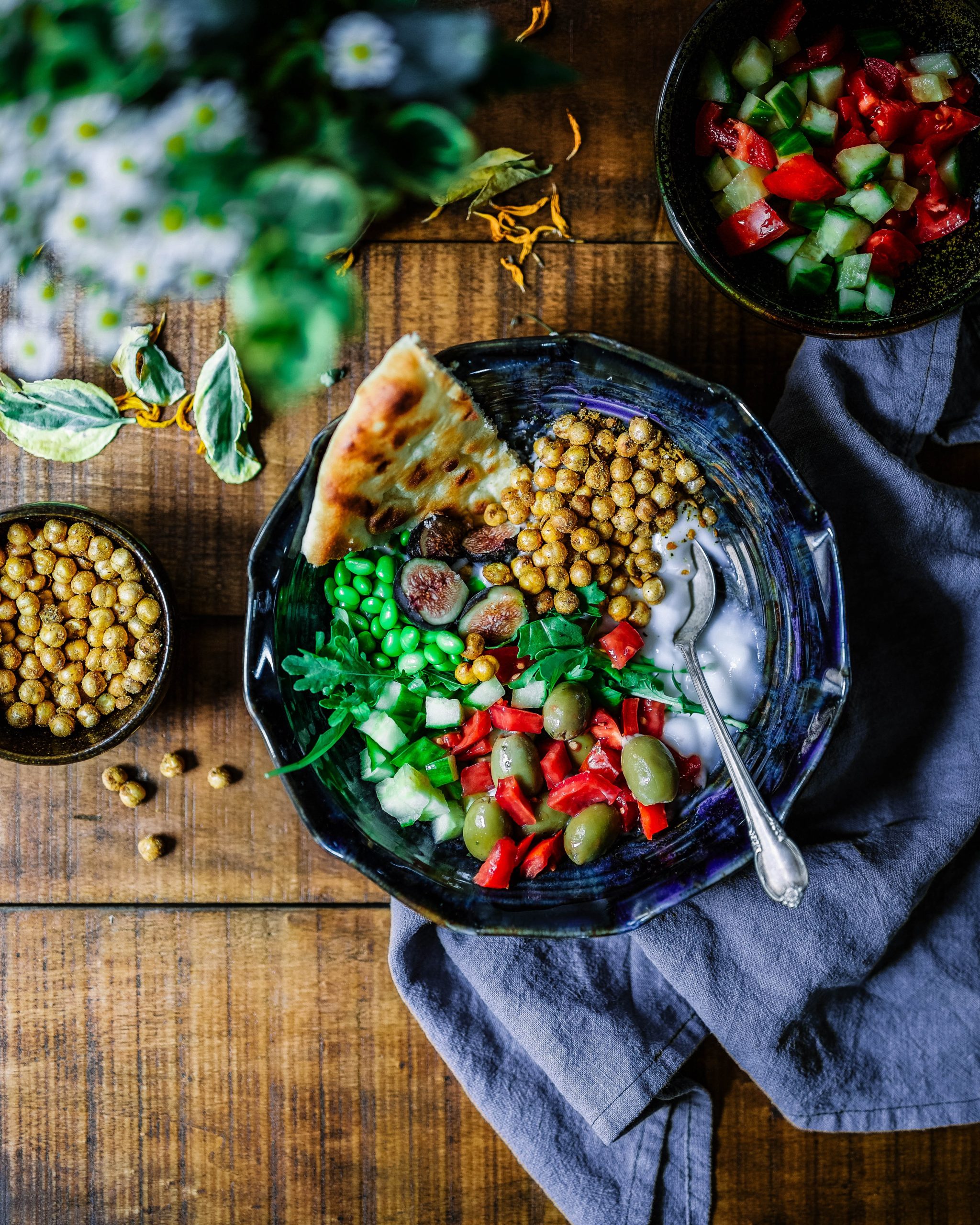 It is now widely accepted that a plant-based diet offers numerous benefits compared with a diet centred on animal products.  
Vegan and vegetarian diets have the potential to prevent most modern lifestyle diseases, which is why an increasing number of doctors and health institutions promote plant-based nutrition. 
You can get all the nutrients you need from a healthy, balanced vegan diet rich in wholefoods including fruits, vegetables, pulses, grains, nuts, and seeds. Several studies have reported that people who eat vegan tend to consume more fibre, antioxidants, potassium, magnesium, folate, and vitamins A, C, and E. 
So why not try veganuary this January and see how you get on. 
Read about Marco Pierre White's experience of going vegan for 9 months here.
Here's your guide to what you should be eating every day (source veganuary) 
BEANS Baked beans, soyabeans, chickpeas, peas, kidney beans, lentils, tofu, or hummus etc.  
BERRIES Grapes, raisins, blackberries, blueberries, cherries, raspberries and strawberries etc.  
OTHER FRUITS Apples, tomatoes, avocados, bananas, oranges, grapefruit, melon, lemons, or limes etc. 
CRUCIFEROUS VEGETABLES Broccoli, cauliflower, kale, rocket/arugula, or brussels sprouts etc.  
GREENS Spring greens, kale, young salad greens, rocket/arugula, spinach, or swiss chard etc. 
OTHER VEGETABLES Carrots, sweetcorn, courgettes, garlic, mushrooms, onions, pumpkin, or sweet potatoes etc.  
NUTS & SEEDS Peanut, almond, brazil, walnuts and sunflower or pumpkin seeds etc.  
FLAXSEEDS One tablespoon a day is enough  
SPICES A quarter of a teaspoon of turmeric, plus any others you love  
WHOLE GRAINS Brown rice, wild rice, quinoa, oats, or whole-wheat pasta etc.  
DRINKS Water, coffee, green tea, white tea, black tea, earl grey, hibiscus tea etc.  
VITAMIN B12 : Getting enough B12 from fortified foods is difficult so vegans should take a supplement daily 
For lots of inspiration, recipes, menu planners and checklists check out the Veganuary website as well as our previous blogs and pinterest board.  Here are our top 3 favourite recipes to try: 
One pot butternut squash and chickpea curry
A quick, easy curry recipe featuring some stock-cupboard faves, long-lasting veg, and big, bold spices.
Source: Veganuary
½ tsp coriander seeds
3 Tbsp vegetable oil
2 tsp garam masala
½ tsp ground turmeric
¼ tsp fenugreek powder
¼ tsp chili powder
1 tsp ground cinnamon ¼ tsp ground ginger
1 dried chili
5 curry leaves
1 cinnamon stick, snapped in half
1 large onion, peeled and finely chopped
2 cloves garlic, crushed
Thumb-sized piece of fresh ginger, peeled and grated
2 large tomatoes, roughly chopped
500g peeled, de-seeded butternut squash chunks (around 1 small squash)
200ml coconut milk
350ml vegetable stock
1 x 400g can chickpeas, drained and rinsed
3 Tbsp fresh/frozen coriander, roughly chopped or torn
4 tsp flaked almonds
Method
Place a large saucepan over medium heat and add the coriander seeds. Allow them to toast, swirling the pan, for a few minutes until smoky and fragrant. Don't allow them to burn. Remove them from the heat and grind roughly in a mortar and pestle or spice grinder.
Add the oil to the pan and add the spices, including the ground coriander seeds, dried chili, and curry leaves. Stirring constantly, allow the spices to temper in the hot oil until bubbling and very fragrant.
Add the chopped onion to the pan and stir. Fry for around two minutes but don't let the onion brown (lower the heat if necessary). Add the garlic and ginger and cook for a further 2 minutes.
Add the chopped tomatoes and stir well. If the onions are starting to stick at this stage, add 3-5 tbsp of water along with the tomatoes to deglaze the pan. Cook, stirring often until the tomatoes are starting to break down and lose their shape – around 5 minutes.
Add the cubes of butternut squash and the chickpeas and stir to coat in the curry paste. Add the vegetable stock and bring to a simmer. Stirring occasionally, allow the curry to simmer with a lid on for around 10-15 minutes or until the squash is cooked.
Once the squash is cooked and the sauce has reduced nicely, add the coconut milk and stir. Lower the heat and allow the curry to simmer for a few moments before removing from the heat.
Stir in the coriander and top with the flaked almonds. Serve with steamed basmati rice and/or Rotis.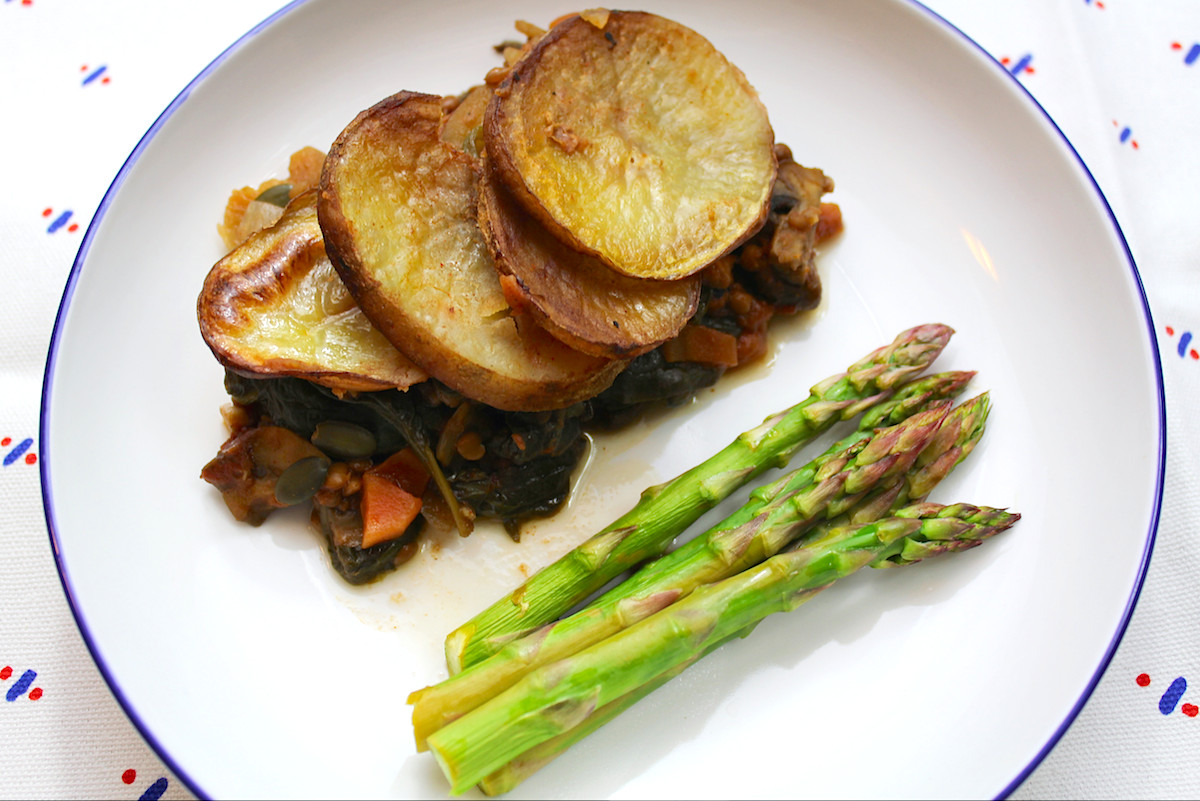 A healthy and delicious cottage pie with intense and warming flavours, and all the nutritional goodness of fresh greens and natural seasoning.
This recipe will soon become a new family favourite!
Source: Veganuary
2 tsp olive oil
· 1 red onion
· 6 cloves garlic
· 250g chestnut mushrooms
· 1 small carrot
· 15g fresh rosemary, leaves picked
· ½ tsp dried chilli flakes
· 1 tsp each smoked paprika, ground cinnamon and coriander seeds
· 2 tbsp pumpkin seeds
· 125ml red wine
· 2 tbsp red wine vinegar
· 1 tbsp tamari/soy sauce (or a handful of olives)
· 2 tbsp tomato purée
· 1 tin chopped tomatoes (400g) plus ¼ tin water
· 1 tin puy lentils (400g / drained weight 240g), rinsed
· 250g spinach
· 600g potatoes (I like to use Rooster potatoes)
· To season: black pepper, nutritional yeast
Method
Preheat the oven to 220°C / 425°F / Gas Mark 7.
Place a heavy-based casserole dish on the hob and heat the oil on a moderate to high heat. Chop the onion, garlic, mushrooms, carrot and rosemary leaves and add these to the oil, stirring.
Leave to sauté for 5 minutes, or until the onions soften.
Stir in the chilli flakes, smoked paprika, cinnamon, coriander seeds and pumpkin seeds, followed by the red wine, vinegar, tamari, tomato purée, chopped tomatoes and water. Simmer for 10 minutes.
While this is bubbling away, slice the potatoes as thinly as you can.
Now add the lentils, spinach and black pepper to the sauce and give it a good stir. Remove from the heat and arrange the potato slices to cover the dish in any pattern you like. If you are using nutritional yeast, sprinkle onto the potato topping.
Cover the dish and cook in the oven for 20 minutes.
Remove the lid and return to the oven for a further 20 minutes. The potatoes should be cooked through and nicely crisp.
Serve with lovely steamed greens or a fresh salad.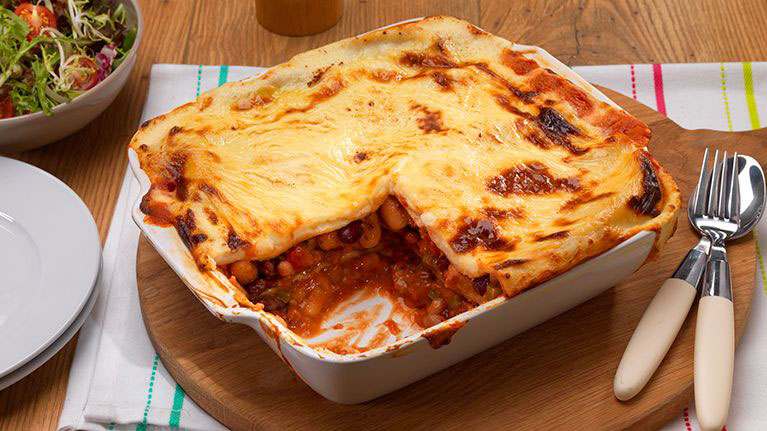 How hot can you go? This dairy-free Mexican take on the Italian Classic ticks all the boxes: cheese, tick. Crunchy veg, tick. Chilli, TICK. Make it as hot or not as you and the family like, just adjust the amount of chilli flakes you add for the perfect kick.
Source: Veganuary
1 tbsp oil
1 onion, chopped
1 green pepper, deseeded and chopped
395 g tinned mixed beans in spicy tomato sauce
400 g tinned chopped tomatoes
1/2 tsp dried chilli flakes, for extra heat if liked
25 g Flora Freedom
25 g plain flour
300 ml unsweetened soya milk
150 g dairy-free cheese, grated
salt and
pepper
8 flour tortillas, halved
Method
Preheat oven to 180 C, 160 C fan, Gas mark 4.
Heat oil in a pan and fry onion until soft but not coloured. Add pepper and fry for further 2-3 minutes.
Stir in the mixed beans and chopped tomatoes, adding chilli flakes if liked. Heat through and then reduce heat to low whilst making the dairy free cheese sauce.
Place Flora, flour and soya milk in a medium saucepan. Stirring continuously over a moderate heat, bring to the boil and cook for 2-3 minutes until thickened, smooth and glossy. Stir in 100g dairy free cheddar cheese until melted and season to taste with salt and pepper.
Spoon about a quarter of the tomato sauce over the base of a lasagne dish and arrange a single layer of flour tortillas over the top. Spoon a quarter of the dairy free cheese sauce over the tortillas then repeat the layers finishing with a layer of cheese sauce. Cover the top with the remaining cheese.
Bake in preheated oven for 30-35 minutes until bubbling and golden.