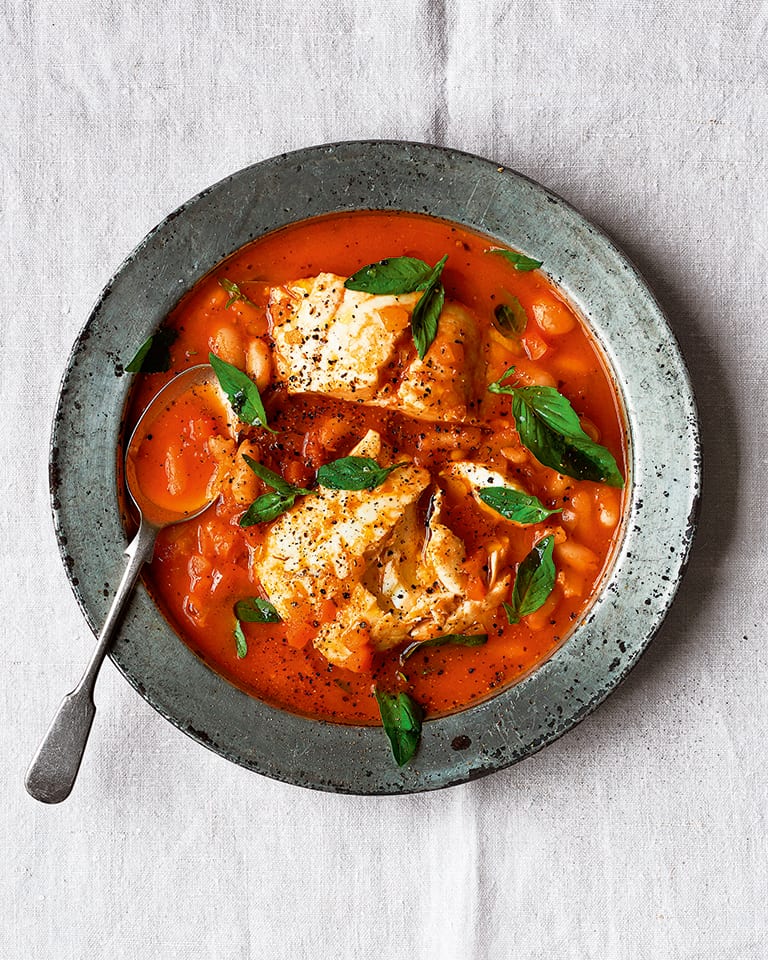 One-Pan Tomato Fish Chowder – Eat Healthy for Less
This flavoursome, gluten-free tomato-based chowder recipe uses soffrito as a starting point. Soffritto (known as mirepoix in France), is a classic Mediterranean base of finely chopped onion, carrot and celery. This recipe is easy, quick and tasty – perfect for a midweek meal. Enjoy for just £1.20 per serving. Let us know if you have a go at this dish and tag us in a picture on Facebook and Instagram.
Nutritional Information: Calories 292 kcals; Carbohydrates 24.4g; Total Fat 4.3g; Saturated Fat 0.7g; Protein 34.1g; Fibre 9.8g; Salt 0.4g.
Source: Delicious
1 tbsp olive oil
1/2 onion, finely chopped
1 medium carrot, finely chopped
1 celery stick, finely chopped
600ml passata
500ml vegetable stock
400g tinned cannellini beans, drained and rinsed
4 x 150g skinless haddock fillets
Large handful fresh basil leaves
Method
Heat the oil in a deep saucepan and gently fry the onion, carrot and celery for 10 minutes over medium heat until softened. Add the passata and vegetable stock to the pan and bring to a steady simmer.
Stir in the beans, then add the haddock. Cover and simmer for 4-5 minutes until the fish is cooked through and starting to break into chunks. Scatter with basil leaves and serve.