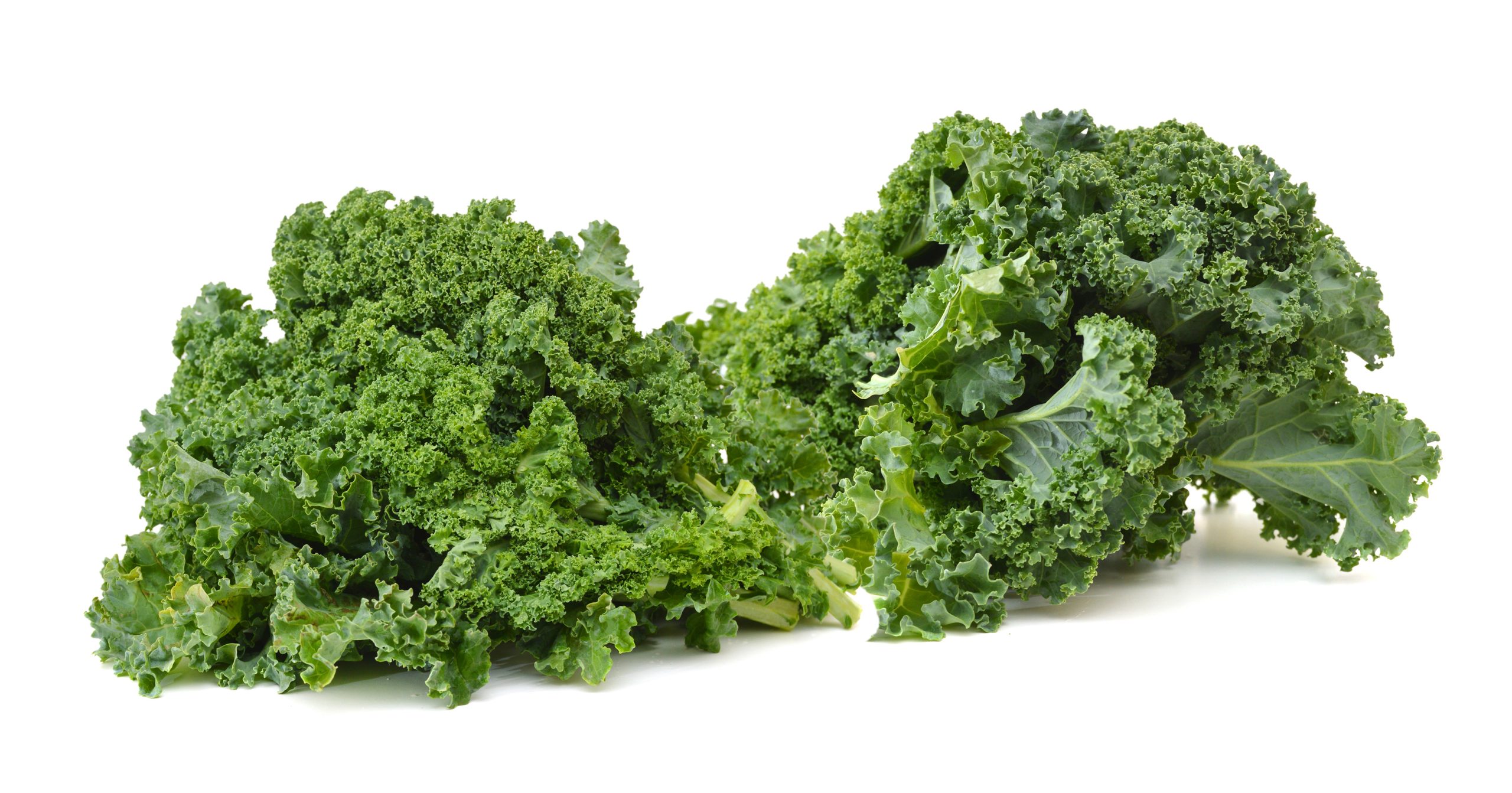 We've got some delicious kale in the boxes this week from our local suppliers.
Kale is a nutrition superstar due to the amounts of vitamins A, B6, C, K, folate, fibre, carotenoids and manganese it contains. One cup of raw kale has just 20 calories
Dressed kale salads keep well in the refrigerator for a couple of days, unlike most salads made with more delicate greens.
Regardless of which variety of kale you choose (they all make great salads), you'll first want to remove the tough ribs from the leaves. Use a sharp knife to slice out the stems or just pull the leaves from the ribs with your fingers. The ribs are too chewy and distracting to include in the salad, but you can chop them and sauté them later or feed them to your dog if your dog will eat anything!
You'll want to chop the kale into pretty small, bite-sized pieces. Eating kale salads made with pieces of giant kale is mighty awkward.  Lightly salt to help cut the bitter flavour and massage the kale for about 30 seconds, finally dress with flavours of your choice.
Check out these recipes and let us know how you use the kale.
Here a pungent garlicky dressing is infused into kale by massaging the greens and the dressing together with your hands. Any type of kale will work in this recipe, just remember to remove the tough stems before you start.
Source: Eating well, find the recipe here
This breakfast kale salad combines the popular omelette with a delicious side of massaged kale and other healthy greens. It's ready in less than 10 minutes!
2 large handfuls kale, chopped
1 handful baby spinach
5 green olives
Small onion, chopped
2 eggs, beaten
Dressing
1/2 tbsp olive oil
Half a lemon juice
1 tsp oregano
Salt & ground pepper, to taste
Method
Whisk the eggs. Spray a pan with some oil and add the eggs on medium-low heat, covered with a lid. After 2 minutes, using a spatula, flip the omelette on the other side and cook for one more minute. Set aside.
Add chopped kale and spinach to a bowl. Add all the dressing ingredients and gently massage the kale.
Add olives, green onion and top with the sliced omelette.
Sweet Potato & Kale Salad
Baked sweet potato chips partner perfectly with this kale salad for an easy, healthy lunch option. Tossed together with pomegranate seeds and feta cheese in a tahini dressing, this kale salad makes a great salad and gluten-free meal.
Source: Yummly, find the recipe here
Strawberry Kale Salad with Nutty Granola Croutons
Raw kale, chopped strawberries and radishes, and crumbled goat cheese tossed in a tangy lemon dressing. Top that with savoury, nutty granola "crouton" clusters for a hearty and healthy meal in a bowl.
Source: Cookie and Kate, find the recipe here
This warm balsamic kale salad has tons of flavour and includes sauteed mushrooms and peppers, bell peppers, and Asiago cheese.
Source: Pinch of Yum, find the recipe here