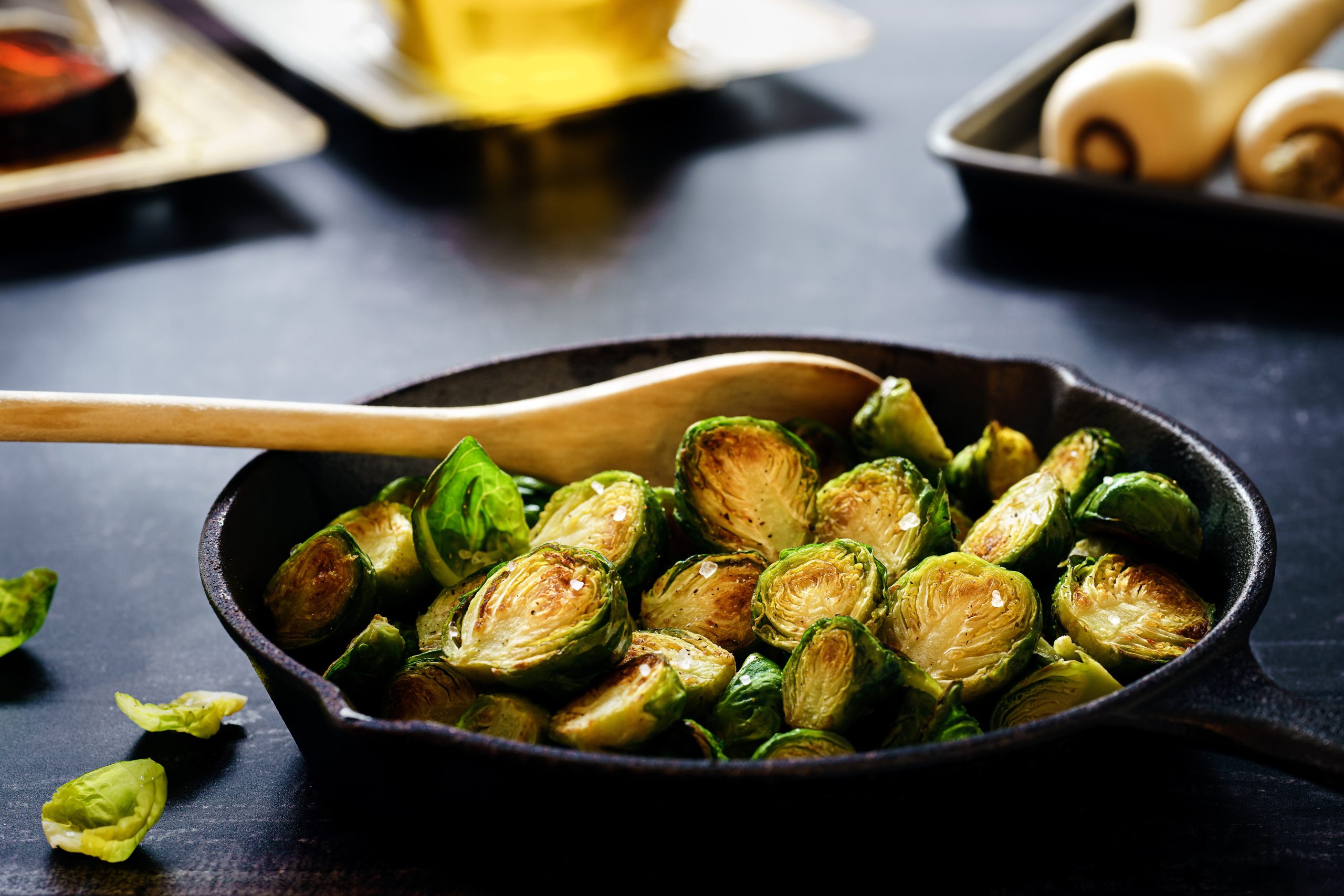 Every year since a very young age, many of us are forced to sit down and eat Brussels sprouts– a vegetable almost every child and even a lot of adults detest. But why do we hate them so much? Is it simply the way they are cooked, or that most people only serve them with Christmas dinner. We're here to share that we think sprouts are really wonderful and are not just for Christmas.
Try this cheesy sprout gratin and you'll convert anyone who previously snubbed this festive veg.
Source: BBC Good Food
600g Brussels sprouts, trimmed and halved if large
1 tbsp olive oil
50g unsalted butter
2 banana shallots, finely chopped
50g plain flour
750ml semi-skimmed milk
100ml double cream
1 tbsp English mustard
150g mature vegetarian cheddar, grated
40g dried breadcrumbs (panko work well)
2 thyme sprigs, leaves picked
60g blanched hazelnuts, roughly chopped
Method
Bring a large pan of lightly salted water to the boil. Tip in the sprouts and cook for 3 mins, then drain and set aside to steam-dry.
Heat the oil and butter in a medium saucepan until the butter is foaming, add the shallots and cook over a low heat for 7 mins or until softened. Stir in the flour and cook for 2 mins. Remove from the heat and whisk in the milk in several pours, continuously whisking until you get a smooth sauce. Return to the heat and simmer for 2 mins, whisking all the time. Whisk through the cream, mustard and cheddar. Season to taste. Heat the oven to 220C/200C fan/gas 7.
Toss together the dried breadcrumbs, thyme leaves and hazelnuts. Tip the sprouts into a deep 30 x 20cm ovenproof dish and pour over the sauce. Top with the nutty breadcrumbs. Will keep in the fridge for up to 24 hrs. Bake in the centre of the oven for 20-25 mins or until golden brown and bubbling. Leave to rest for at least 10 mins before serving.
Chicken tagine with spiced sprouts and feta
Joe Wicks' tasty sprout recipe balances earthy, sweet and spicy flavours, using tender chicken thighs, chickpeas and cheese for a hearty stew
Source: Joe Wicks
1 ½ tbsp coconut oil
1 large red onion, sliced
1 red pepper, finely sliced
3 garlic cloves, finely chopped
10 chicken thighs fillets (boneless and skinless)
½ tsp ground cinnamon
½ tsp ground turmeric
½ tsp smoked paprika
1 tbsp tomato purée
250ml chicken stock
6 dried apricots, cut in half
175g canned chickpeas, drained and rinsed
½ tsp cumin seeds
275g Brussels sprouts, shredded
50g feta
½ small bunch coriander, roughly chopped
Method
Heat 1 tbsp of the coconut oil in a large flameproof casserole dish over a medium heat. When melted and hot, add the onion, pepper and garlic. Cook, stirring regularly, for 3 -4 mins or until just starting to soften. Increase the heat to maximum and add the chicken thighs. Fry everything together for about 3 mins, stirring occasionally.
Sprinkle in the spices, squeeze in the tomato purée and fry, stirring almost constantly, for 1 min. Pour in the stock and bring to the boil. Reduce the heat to a simmer and partially cover with a lid. After 30 mins, add the dried apricots and chickpeas, and continue to simmer for a further 10 mins.
While the tagine is bubbling away, heat the remaining 1/ 2 tbsp of coconut oil in a frying pan over a high heat. When melted, add the cumin seeds, toast for 10 secs, then add the shredded sprouts. Fry the sprouts over the high heat, stirring almost constantly, for 5 mins, by which time they should have softened and browned in places.
Serve the tagine in a large bowl, scatter over the fried sprouts, crumble over the feta and finish with the coriander.
Creamy sprout, hazelnut and leek pasta
Use up leftover Brussels sprouts in this comforting pasta recipe. The dish is healthy and low in calories.
Source: BBC Good Food
½ tbsp rapeseed oil
3 leeks, halved and sliced
200g Brussels sprouts, ½ chopped and ½ quartered
2 garlic cloves, rushed
50ml low-salt vegetable stock
3 tbsp low-fat crème fraîche
350g short pasta (riciolli or fusilli work well)
1 tbsp grated parmesan or veggie alternative
1 lemon, zested
½ small bunch of parsley, finely chopped
1 tbsp chopped hazelnuts, toasted
Method
Heat the oil in a large frying pan over a low heat. Add the leeks and sprouts and cook for 10-15 mins or until softened. Add the garlic and cook for 1 min. Stir through the hot stock and crème fraîche.
Cook the pasta following pack instructions. Drain and toss with the leeks and sprouts, parmesan, lemon, parsley and hazelnuts, adding a ladleful of the pasta cooking water if needed to loosen. Season to taste and spoon into four bowls.
Parsnip and Brussels sprout mash
Parsnip and sprout mash makes a great twist on the classic potato variety. This quick and easy recipe is made with double cream and a good grating of nutmeg.
Source: Delicious
600g parsnips (about 10 medium-size), cut into chunks
2 garlic cloves, peeled but left whole
Freshly grated nutmeg, to taste
Good splash of double cream
30g unsalted butter
300g brussels sprouts, halved and shredded
Method
Put the parsnips in a pan and cover with cold water. Add the garlic and season well. Bring to the boil, then simmer for 15-20 minutes until the parsnips are tender and soft enough to mash. Drain well and return to the pan. Add the nutmeg, cream and butter and mash well.
Bring a pan of water to the boil and add the shredded sprouts. Blanch for 2 minutes, then drain well. Stir the shredded sprouts through the mash, season generously, then serve.
Minestrone with quinoa and brussels sprouts
Information about the recipe.
Source: if there is one
2 tbs extra virgin olive oil
150g flat pancetta, chopped
1 leek, washed and thinly sliced
1 garlic clove, finely chopped
1 carrot, chopped
1 celery stick, chopped
400g can chopped tomatoes
1 parmesan rind (optional)
2 potatoes, peeled and cut into 2cm pieces
400g can borlotti beans, drained
350g brussels sprouts, quartered lengthways, plus extra outer leaves, blanched
100g quinoa
Crusty bread to serve
Method
Heat the oil and pancetta in a large saucepan over medium heat. When the pancetta begins to sizzle, cook for 2-3 minutes until the fat has rendered. Add the leek, garlic, carrot and celery and cook for 2-3 minutes until softened. Add tomatoes, parmesan rind, potatoes and 1L water.
Bring to a simmer and then cook for 15 minutes. Add the beans, sprouts and quinoa, then cook for a further 10 minutes until quinoa is tender and flavours have infused. Season to taste.
Top with blanched brussels sprouts leaves and serve with crusty bread.