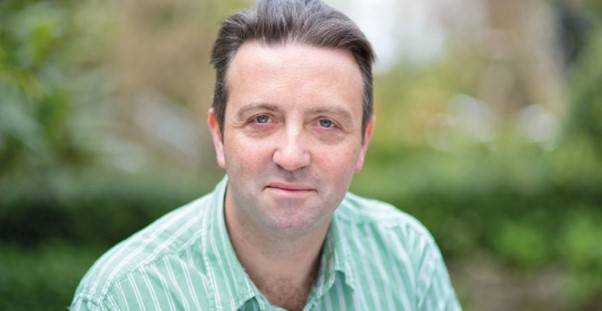 A feast for your eyes at Flourish
Flourish is a new positive-impact, planet-friendly restaurant and food retail destination located between Bath and Bristol at Glenavon Farm, Saltford, BS31 3TJ.
Emma caught up with Paul Hargreaves (Founder of Cotswold Fayre) who along with Paul Castle have created a wonderful destination for all your food needs in a sustainable and planet-friendly way.  Partnering with local companies (including Heritage who are supplying fruit and veg) their ethos is centred around being environmentally and socially responsible and to benefit people and our planet. If you want to just head out for lunch and then shop they also have a 110 indoor and 40 outdoor seating area to enjoy freshly cooked food within an open kitchen.
What attracted you to get involved in this new farm shop project?
Well, number 1 was the location – we supply over 1,700 independent food retailers and very few are in such a good location on a very busy road.  Second, having been a supplier to similar outlets for over 20 years and see the good, the bad and the ugly I have always fancied doing it ourselves. Finally, none of this would have happened without the retail genius of Paul Castle.  He had been involved with the plans for a project at this location for several years before Cotswold Fayre became involved and we are thankful for him introducing us when the previous partnership fell through.
Do you think that this sort of farm shop set-up is the future for food retail?
We're not calling it a farm shop as I believe that title should only be given to retailers selling products produced on the farm they are built on, but it is a shop on a farm so some will call it that. People are sick of chains that churn out the same products whatever town they are in, so I think places like this that offer different products in a unique way mixed with an experience are the way forward, yes!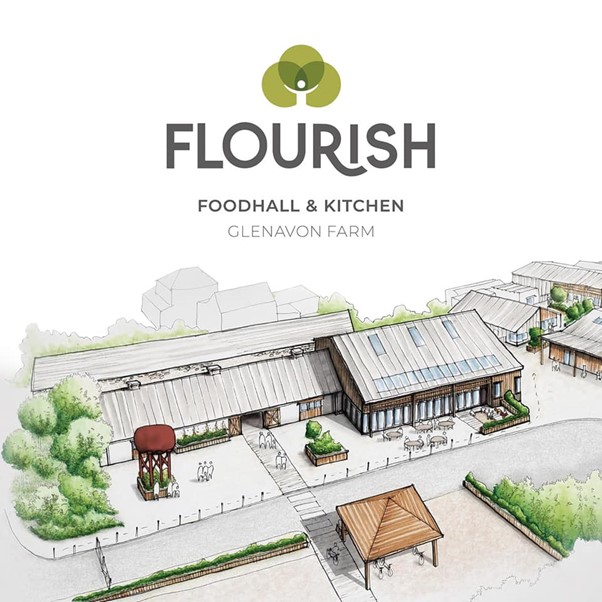 Tell us a bit about the ethos of Flourish
Cotswold Fayre is a B Corporation and we were one of the founding companies in the UK in 2015. B Corps are companies who have changed their articles of association to exist for the benefit of all stakeholders, not just shareholders.  In other words, companies that put people and our planet before profit.  B Corps must go through a rigorous assessment process to ascertain just how good they are for the world and reach a certain standard that is publicly available, and they also have to produce an annual impact report.  Link to ours here.
What sustainable features are there within Flourish?
In terms of the building, we have a heat exchange system where the heat generated from the fridges and freezers product our hot water, rainwater harvesting that is used to flush the toilets and, of course, solar panels.  All the packaged goods (except wine & frozen) and the unpackaged units in the middle of the store have been chosen for their sustainable credentials and most delivered in one delivery from our own warehouse thereby reducing carbon.  Most of the fresh goods come from local suppliers.  In terms of people, we are replicating all the good practices of our parent company such as Living Wage Employer, longer holidays, private health and many more.  Happy employees who love coming to work are the basis of a successful business.

How does the shopping experience differ from a supermarket?
The ambience, the interaction of our people with the customers, the quality of the products and the sustainability angle all of which are better than the supermarkets.
Can you tell us a bit more about the companies who are supplying Flourish? What were the criteria for including them in your food hall?
As I have said most of the products in-store come from our sister company, Cotswold Fayre and to be in the wholesale range go through a vetting process and must sign a code of conduct as a supplier.  All products were chosen along our four Ps: product (taste is everything), packaging (if relevant) – they must look good as well as taste good, provenance (made by trusted methods and local if possible) and partnership – we like our supplier relationships to be relational and not just transactional.
How long has this project been in the making?
I have been involved for two and a half years and the original plan (I think) 3 years before that was a cooperative amongst 6 local farmers, which fell through, so a long time.  It is great to see it finally open!
Were there any setbacks with the pandemic or did you have to make any changes?
Generally, we were lucky – there were some delays due to availability of materials, which was more of a Brexit issue than Covid.  And then there were the normal building and planning delays.  We wanted to open the week before Easter, so we're only 3 months late.
What parts have you and Paul Castle played in the setup of Flourish?
Paul has been full time on this with Cotswold Fayre for exactly a year next week and was heavily involved in all the design and concept.  It is largely his work, not mine.  I have been involved in the key recruitment, helping set the people and planet-oriented culture and, of course, the wholesale company has provided most of the finance.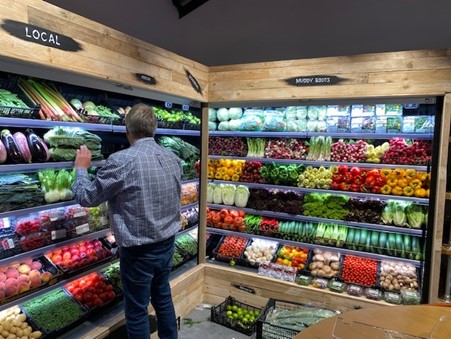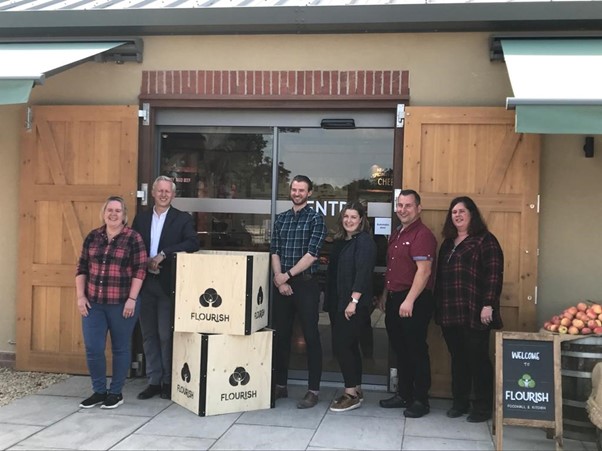 What do you think will attract people to visit and to keep coming back?
We have had queues most days so far for the restaurant and plenty of shoppers in-store. Whether they come back will be the quality of what they receive both in products and service. The early comments on social media and face to face have all praised the food with comments like "the best breakfast I have ever had" and "the best Sunday lunch ever".
What's your favourite meal at the Flourish kitchen?
That's an interesting question as most days I have been there I haven't dared eat in the restaurant as the kitchen was under pressure!  But the puccias, which are a folded pizza, are unusual and delicious and the pizzas are a great hit, made by our Italian pizza chef.
You go shopping at Flourish, what is in your basket?
Now shopping is something I do every day I'm there!  Some steak for the weekend is a must, some amazing Neal's Yard cheese, a bottle of freshly squeezed orange juice (I bring my own bottle), a COOK meal for a quick meal during the week, a fresh croissant for tomorrow's breakfast, some of the amazing vegetables and fruit. I could go on and I do but need to up my visits to the gym!  Oh, and I mustn't forget to mention my two books on sale near the tills!

What sort of events do you hope to be hosting at Flourish?
We are limited in how many events we can have during the year after hours, but plan to do movie and pizza evenings  – there is a huge wall-mounted screen in the restaurant.  Also, a pumpkin festival in October and Christmas market in December. We are fortunate that we have lots of goodwill with our producers and several of them will be there for tastings each Saturday when Covid rules allow.
Do you have any future expansion plans?
Initial planning has gone in for the farm buildings behind Flourish for a non-food retail space and a children's play-barn.  We plan also to develop the area behind that has a meadow with a picnic area and possibly some animals for children to pet.  And you never know there may be another Flourish pop up one day in a different area!
Anything else you would like to tell us about Flourish?
Probably summed up in the words above the tills: Eat Well, Do Good and Feel Great.  We want people to eat quality food at prices they can afford.  We will do as much good for people and the planet as we possibly can – we are not perfect but will aim to be better each year.  And we want our customers to feel great having had an experience that makes them flourish!