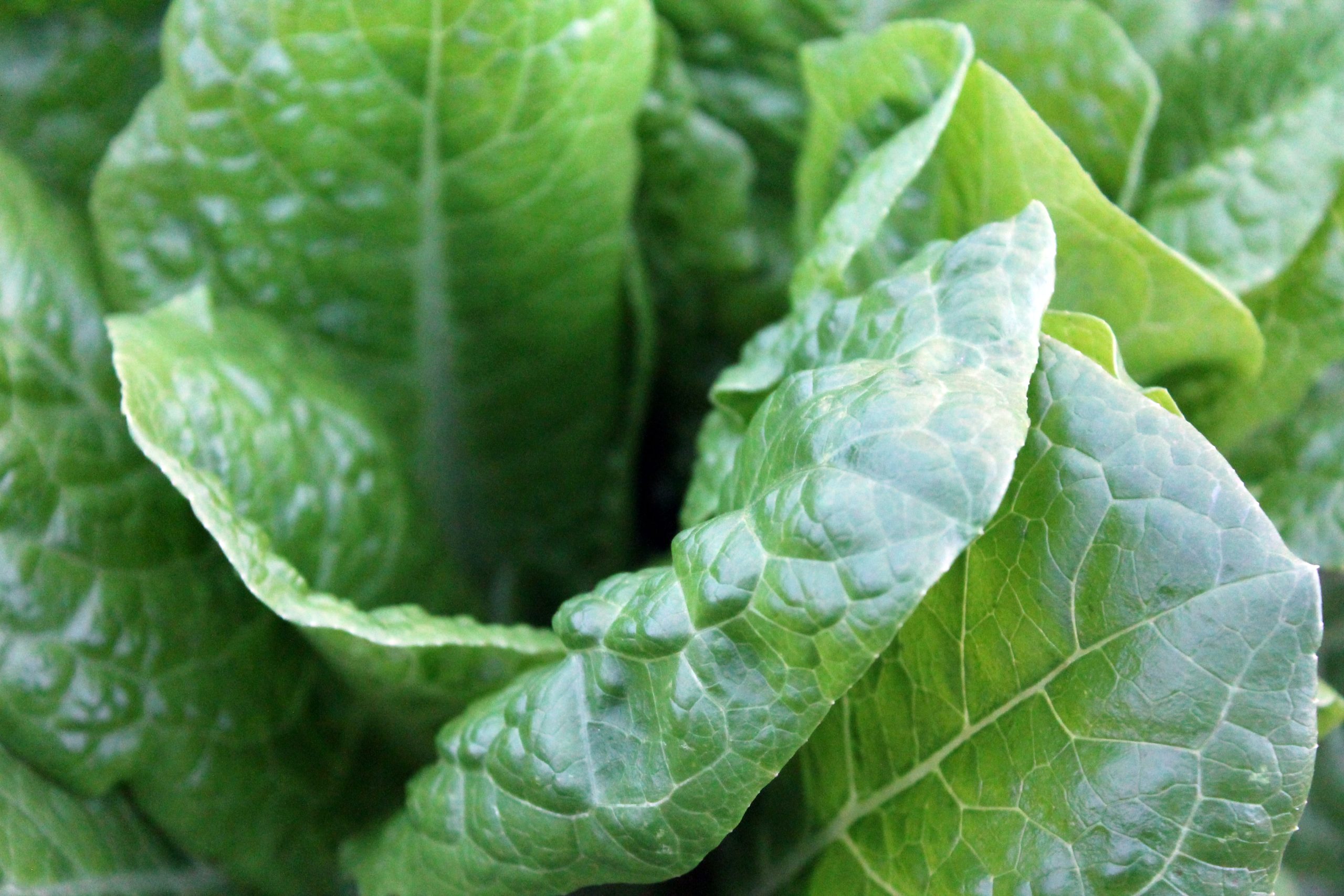 The first young, tender cabbages of the year are called Spring greens.  They have a silky-soft texture and taste sweeter and fresher than the robust, hearted cabbages we associate with winter, so they fit well with lighter spring and summer cooking.
Add spring greens at the end of a stir-fry, or use in soups, stews and pasta dishes. They are delicious sliced, steamed and drizzled with melted butter. Take care not to overcook as the leaves can develop a nasty flavour and smell.
Spring greens will provide you with a seriously useful amount of vitamin C, to support your immune system, and vitamin K, to build bone strength. They also contain natural compounds, such as sulforaphane and indoles. A body of evidence suggests these plant chemicals have significant anti-cancer action, and anti-inflammatory properties, which could help protect against heart disease and stroke. To make the most of the nutrients in spring greens, refrigerate them and eat as close to purchase as possible, ideally within a couple of days.
We've shared some of our favourite spring green recipes below.
Seared Scallops with Flavoured Greens
This sophisticated starter is a taste sensation with lemon, anchovies and garlic packing a punch.
Source: BBC Good Food
2 tbsp rapeseed oil
3 shallots, diced
2 garlic cloves, crushed
zest and juice 2 lemons
300g spring greens
50g anchovies, chopped
9 large scallops, roe removed and halved horizontally
knob of butter
Method
Heat half the oil in a frying pan. Add the shallots, garlic and lemon zest, and fry gently until soft. Add the spring greens to the anchovies, and cook for 5 mins until the leaves are wilted.
Meanwhile, heat the remaining oil in a non-stick pan, then add the scallops and fry for 1-2 mins on each side. Add the butter and lemon juice to the pan and swirl until the butter melts and you have a glossy sauce. Divide the cabbage and scallops between 6 plates and serve with the pan juices spooned over
Shakshuka is typically comprised of spices, eggs and tomatoes, but here it's been mixed up to make it green with asparagus tips and broad beans.
Source: Olive Magazine
12 asparagus tips
100g peas
100g double-podded broad beans
200g spinach, shredded
Olive oil
Butter
6 baby leeks, sliced
2 garlic cloves, sliced
2 tsp cumin seeds
4-6 eggs
a handful dill, chopped
a pinch chilli flakes, optional
Method
Bring a pan of salted water to a boil then add the asparagus and cook for 30 seconds. Add the peas and beans and cook for another 30 seconds, then add in the spinach and cook for 2 seconds more before tipping everything out into a colander to drain.
Heat 2 tbsp olive oil and a knob of butter in a large frying pan. Cook the leeks and garlic until soft, then add the cumin seeds. Stir in the blanched veg and cook for 3-4 minutes. Season, then make holes for as many eggs as you want and crack an egg into each space.
Keep cooking gently on the hob until the eggs are done how you like them (cover with a lid if you want to speed things up). Scatter over dill and chilli flakes and add another drizzle of olive oil before serving.
Spring Green Udon Noodles
A bowl of absolute nourishment, flavoured with ginger, chilli and oyster sauce. Slippery udon noodles are a perfect match for spring greens and shiitake mushrooms.
Source: Olive Magazine
2 tsp vegetable oil
1 garlic clove, crushed
thumb-sized piece of ginger, shredded
1 red chilli, thinly sliced
125g shiitake mushrooms, halved
1 tbsp oyster sauce
1/2 tbsp light soy sauce
1L chicken stock
300g vacuum-packed cooked udon noodles
200g spring greens, shredded
Method
Heat the vegetable oil in a pan and cook the garlic, ginger and ¾ of the red chilli for 2-3 minutes until softened. Add the mushrooms and cook gently for 5 minutes until beginning to soften then add the oyster and soy sauce and the chicken stock and simmer for another 5 minutes. Add the udon noodles and spring greens and cook for a few minutes to reheat the noodles and wilt the greens. Spoon into 2 bowls and sprinkle over the remaining chilli, if you like.
Calzone with Spring Greens
This hearty and warming folded pizza is a great way to use up veg box kale.
Source: BBC Good Food
500g strong white bread flour
1 tsp dried yeast
1 tbsp olive oil
Semolina or polenta, for dusting
For the filling
12 slices chorizo
2 garlic cloves, finely chopped
200g spring greens
2 balls of mozzarella, torn into pieces
Walnut-size lump of parmesan
Method
Put the flour, yeast, 1 tbsp oil, 300ml lukewarm water and a big pinch of salt in a bowl and mix to a soft, wettish dough. Knead in a mixer or by hand, lifting the dough as you work it to keep it light until the dough is smooth – about 10 mins. Try not to add any more flour; it will get less wet as you work it, but should still be very soft when you finish kneading. Put in a bowl, cover and leave to rise for 2 hrs.
Heat oven to 200C/180C fan/gas 6. Put a pizza stone or heavy baking sheet in the oven. Cut any central tough veins out of the greens, then finely shred the leaves.
Divide the dough into 2 pieces. Roll one piece out into the largest rectangle that you can, then layer half the chorizo onto one half of it leaving a border around the edge. Sizzle the garlic in a little oil in a pan, then add the greens and toss. Tip half onto the chorizo, then add half the mozzarella and grate over lots of Parmesan. Fold the dough over, fold in and pinch the sides together, and slide onto a baking sheet dusted with semolina. Repeat with the remaining dough and filling, then bake for 15-20 mins or until puffed up and browned.
Sautéed Spring Greens with Bacon and Mustard Seeds
Using spring greens in this quick sauté, which gets terrific flavour and texture from smoky bacon, hot chile and the pop of mustard seeds.
Source: Food & Wine
60g thick-cut bacon, finely diced
2 tbsp extra-virgin olive oil
1 large shallot, thinly sliced
1 hot red chilli, seeded and finely chopped
1 tbsp yellow mustard seeds
560g spring green, cut into ribbons
Salt
Freshly ground pepper
1 tbsp white wine vinegar
Method
In a large frying pan, cook the diced bacon in olive oil over moderate heat, stirring, until golden, about 3 minutes. Add the shallot, chilli and mustard seeds and cook until softened, 2 to 3 minutes. Add the greens, season with salt and pepper and cook, tossing frequently, until wilted and tender, 5 to 6 minutes. Stir in the vinegar and serve.