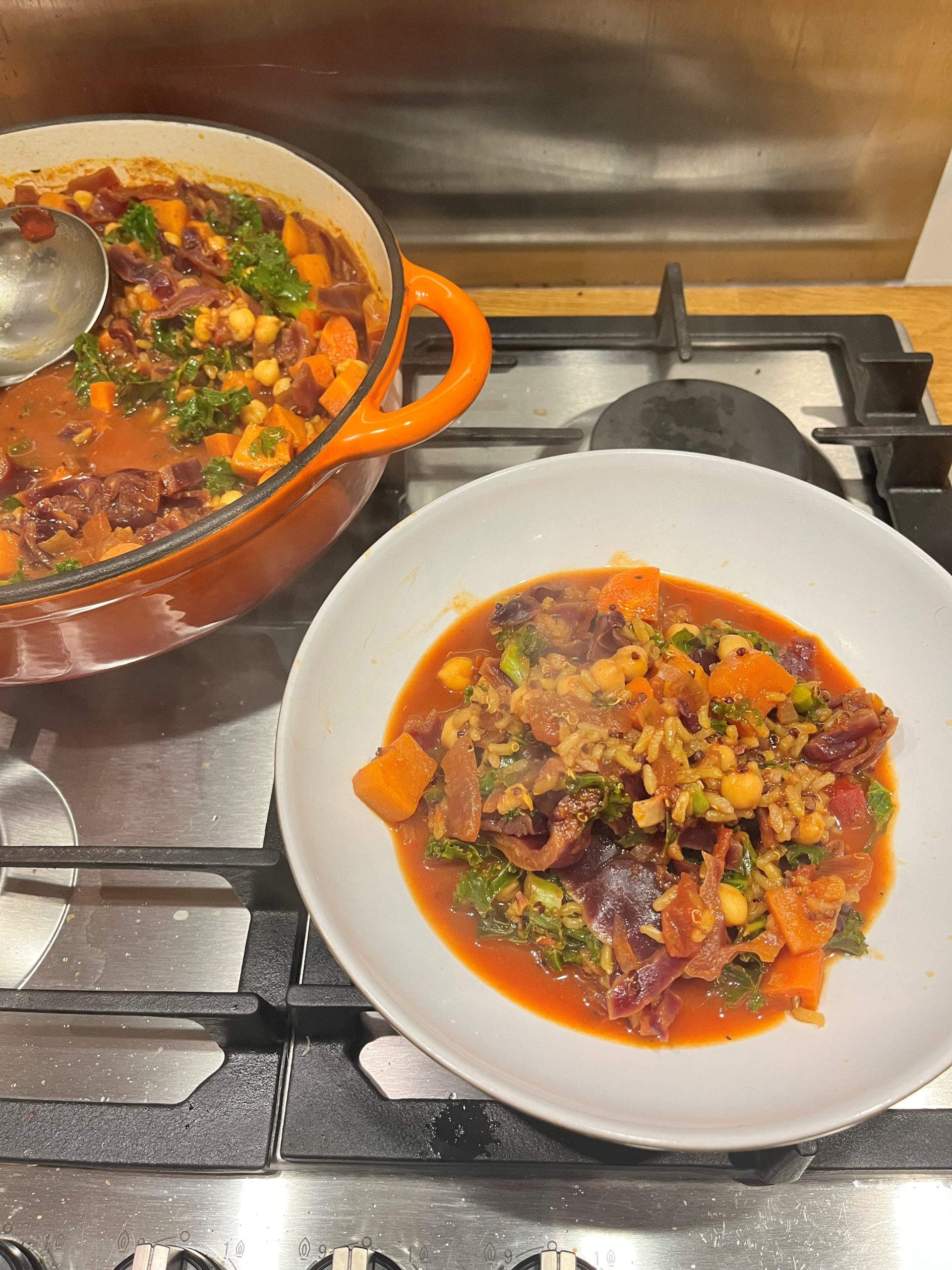 Recipe of the week – red cabbage vegetable quinoa stew
A hearty delicious bowl of goodness. This red cabbage vegetable quinoa stew is sure to be a new family favorite! Instead of dry quinoa I used a mix of wild rice and quinoa in a ready cooked pack into the stew 5 minutes before it was ready. See our video here on youtube here.
Freezes well so you can grab a portion out for a quick lunch or dinner.  If you don't have all the vegetable ingredients don't be constrained, you can swap out the sweet potato for squash or even normal potato, add butterbeans or kidney beans instead of chickpeas etc – have fun and create something new and delicious.
Recipe Adapted from Abra's Kitchen recipe
1 large bowl is around 250kcal
1

 

tbsp olive oil

1

 

large

 

onion, chopped

2

 

stalks

 

celery, chopped

2

 

large

 

carrots, chopped

3

 

cloves

 

garlic, chopped

2

 

tsp

 

freshly grated turmeric

 

(or 2 tsp turmeric powder)

1

 

tsp

 

sea salt

1/4

 

tsp

 

ground black pepper

1/2

 

tsp

 

dried oregano

2

 

bay leaves

1 medium

 

sweet potato, diced

1/2

 

small

 

red cabbage, chopped

950ml 

vegetable stock

Can of

chopped tomatoes

475ml water

135g quinoa (or use a ready made pack of cooked quinoa/wild rice mix)

1

 

can

 

chickpeas

200G

kale chopped

Fresh lemon juice for serving
Method
In a very large pan saute onion, celery, garlic, and carrot in olive oil for 5 minutes (medium heat).
Add fresh (or dried) turmeric, sea salt, black pepper, oregano, bay leaves, sweet potato, and red cabbage. Saute for 2 minutes.
Add vegetable stock, chopped tomatoes and water, stir well. Add quinoa, bring to a boil, reduce heat and simmer for 25 minutes (if using precooked pack of quinoa/rice mix add when you add chickpeas and kale instead).
Add chickpeas and kale, simmer for 5 more minutes.
Finish with 2 tbsp of fresh lemon juice. Serve each bowl with additional lemon juice.