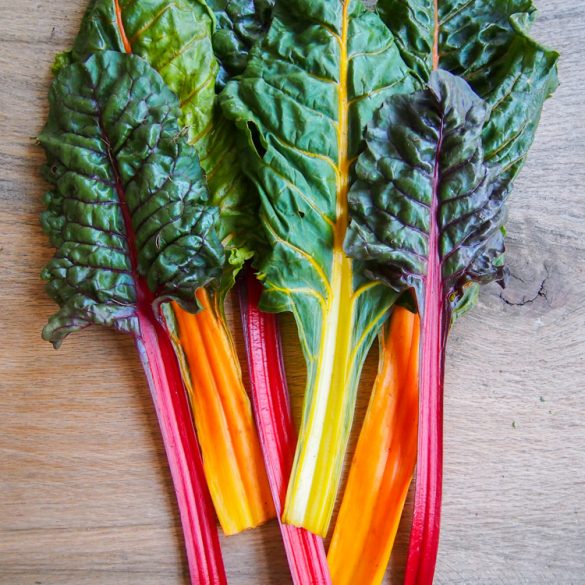 Dark, leafy green vegetables are among the most nutrient-dense foods. Although kale is often deemed the king of greens, chard is equally impressive in its wide array of nutritional benefits. 
Chard is a leafy green belonging to the Chenopodioideae family, which also includes beets and spinach.   Grown worldwide, it's prized for its ability to grow in poor soils and its low need for water and light. 
There are many types of chard, including rainbow chard which has colourful, jewel-toned stalks and veins, making this vegetable particularly pleasing to the eye. What's more, its leaves and stalks provide an abundance of vitamins, minerals and powerful plant compounds. 
Just 175g of cooked chard contains : 
Calories:

 35

 

Protein:

 3.3 grams

 

Carbs:

 7 grams

 

Fiber:

 3.7 grams

 

Vitamin A:

 214% of the Reference Daily Intake (RDI)

 

Vitamin C:

 53% of the RDI

 

Vitamin E:

 17% of the RDI

 

Vitamin K:

 716% of the RDI

 

Calcium:

 10% of the RDI

 

Copper:

 14% of the RDI

 

Magnesium:

 38% of the RDI

 

Manganese:

 29% of the RDI

 

Iron:

 22% of the RDI

 

Potassium:

 27% of the RDI

 
As you can see, a small serving of cooked chard covers your daily need for vitamins A and K and nearly fulfils the RDI for vitamin C. 
Chard goes with everything, but the following are some go-to partners: almonds, balsamic vinegar, basil, beets, butter, coconut milk, corn, currants, eggs, fennel seed, feta, garlic, goat cheese, leeks, lemon, lime, marjoram, mushrooms, nutmeg, olives, olive oil, onions, Parmesan cheese, parsley, pasta, pine nuts, polenta, quinoa, red pepper flakes, ricotta, rosemary, scallions, shallots, sweet potatoes, thyme, walnuts, wine vinegars, and courgette. 
Unlike most sturdy greens, chard comes with tender stems that are a real pleasure to eat. They cook quickly, although a little longer than the leaves. (Just cook stems a few minutes before you add leaves — they need about the same time as an onion.) 
You can also sauté chopped stems on their own with garlic, olive oil, and a squeeze of lemon or a splash of vinegar. Top these stems with a sprinkle of cheese or toss them into a grain salad. Try dredging stems in breadcrumbs and parmesan cheese, then pan-fry them like breaded courgette sticks. 
You might also try deep-frying them — dip them in batter and drop them in oil until golden and tender; serve with lemon or herb aioli. Pickled chard stems are delicious, too. Serve them alongside a cheese plate and bowl of nuts.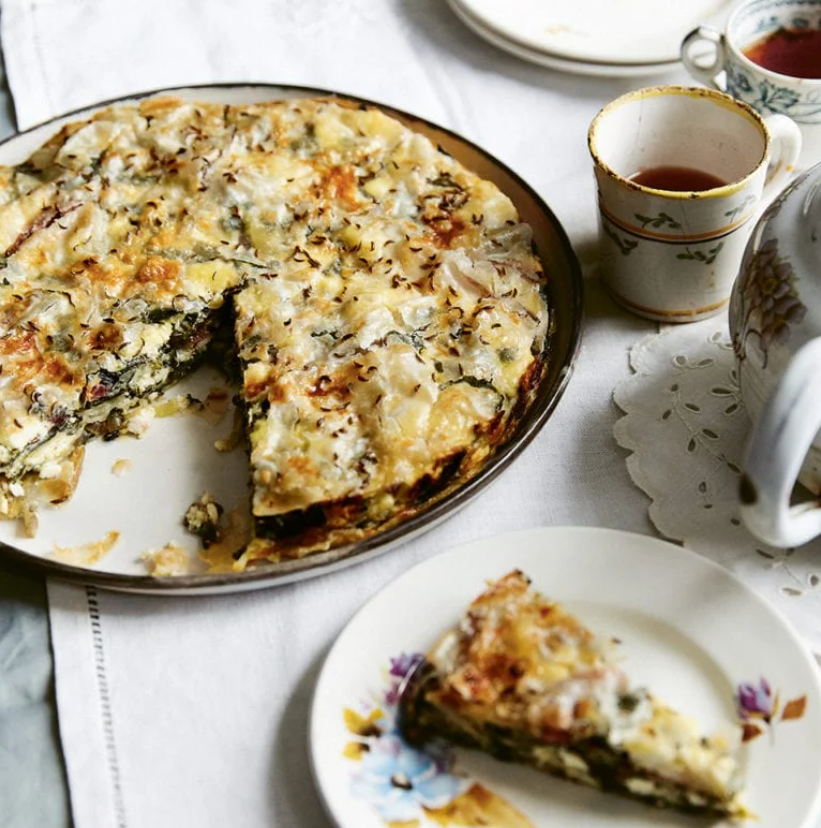 Feta, Chard, and Spinach Filo Pie
This Bulgarian pie is by Caroline Eden from her book Black Sea: Dispatches and Recipes Through Darkness and Light. When she first cooked zelnik, she and her husband would eat it fresh from the oven, warm, with mid-afternoon tea.  
Source: Delicious Magazine
5 tbsp rapeseed oil
5 shallots, thinly sliced into rings
1/4 tsp freshly grated nutmeg
200g rainbow chard
200g baby leaf spinach
2 large fresh mint sprigs, leaves picked
Good handful lovage
1 large free-range egg, lightly beaten, plus an extra egg beaten to glaze
300g feta, crumbled
40g unsalted butter, melted
270g filo pastry
1 tbsp caraway seeds
Method
Preheat the oven to 180°C/160°C fan/gas 4. Heat 3 tbsp of the rapeseed oil in a large saucepan and cook the shallots gently with a pinch of salt until translucent (about 10 minutes), then add the nutmeg and a generous few grinds of black pepper and stir together.  Transfer to a large mixing bowl and set aside. In the same pan, add the remaining oil and chard stems and cook them for 2 minutes, then transfer to the mixing bowl.  Next, cooking in batches, gently wilt all the greens, including the mint and lovage, if using. Once cool enough to handle, squeeze out any excess water from the greens. 
Transfer the greens to the mixing bowl and leave to cool completely before adding one egg and the cheese. Mix and set aside. 
Grease a round 20–23cm tin with some of the melted butter, and cut the filo sheets into rounds to fit the tin (10–12 sheets in total). Lay 2 filo rounds in the base of the tin, brushing each with melted butter. Sprinkle over half the caraway seeds, then add a layer of the greens and cheese and repeat these layers, each time brushing the filo with melted butter. 
End with a top layer of 2 filo rounds, brushed with plenty of butter, a little beaten egg and the rest of the caraway seeds. Bake for around 35 minutes, until golden. Leave the pie to cool in the tin for 10 minutes before slicing into it. Serve with a pot of afternoon tea.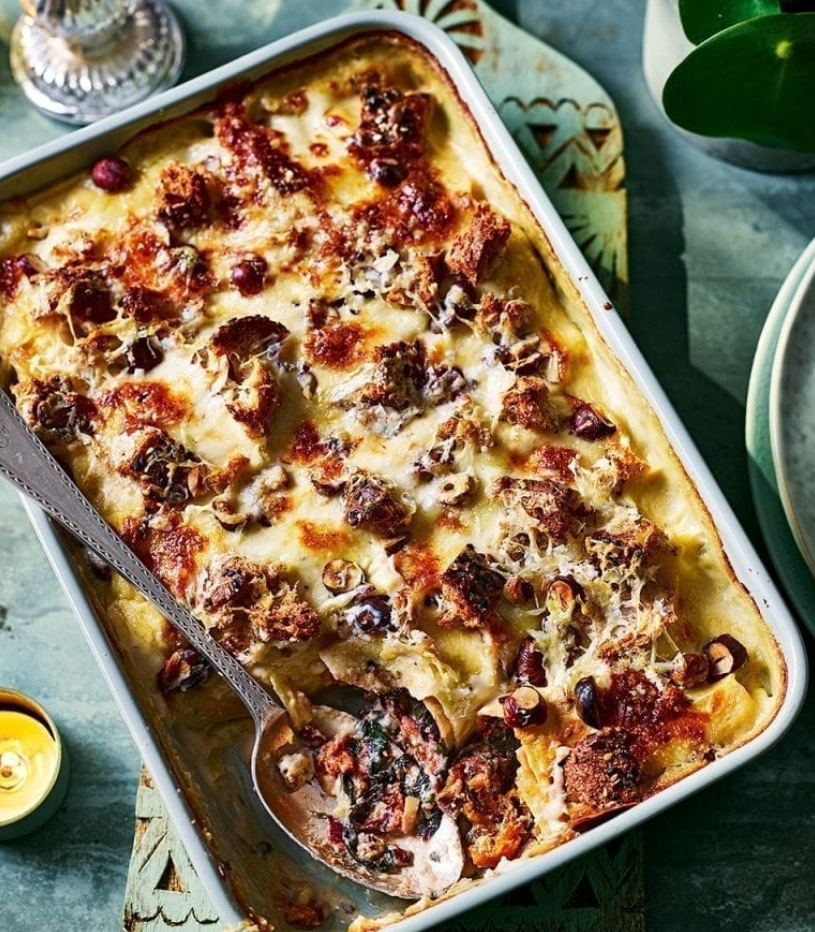 Squash, Chard & Hazelnut Cannelloni
This Italian dish has everything: cheese sauce, sourdough bread, sherry, crunchy hazelnuts and pasta. It will make your house smell amazing as it bubbles away in the oven, just serve with a green salad to complete the meal. 
Source: Delicious Magazine
400g butternut squash, peeled and cut into 1.5cm chunks
2 tbsp light olive oil, plus extra for frying
600g rainbow chard, leaves, and stems separated and finely chopped
1 tsp caraway seeds
75ml amontillado sherry
1 small bunch fresh parsley, chopped
1 small bunch fresh dill, chopped
250g tub ricotta
100g vegetarian parmesan-style cheese, grated
7 fresh lasagne sheets
50g skin-on hazelnuts, roughly chopped
3 thick stale sourdough bread slices, torn into chunky croutons
125g mozzarella, drained and torn
For the white sauce
40g butter, plus extra for greasing
40g plain flour
1/2 tsp English mustard powder
300ml semi-skimmed milk
300ml vegetable stock
You will also need:
1.6-2 litre baking dish, greased with butter
Method
Heat the oven to 200°C/180°C fan/gas 6. Toss the butternut squash with 2 tbsp olive oil and plenty of seasoning in a roasting tin, then roast in the oven for 30 minutes until tender. 
Meanwhile, make the white sauce. Melt the butter in a pan, then stir in the flour and mustard powder to make a roux. Cook for 2-3 minutes, then remove the pan from the heat and gradually whisk in the milk, followed by the stock. Return to the heat, bring to a boil and simmer for 6-8 minutes or until thickened enough to coat the back of a spoon. Season well. 
Meanwhile, heat a glug more oil in a large frying pan and fry the chard stems over medium heat with a little salt and pepper for 5 minutes until soft, then stir in the caraway seeds and cook for another minute. Add the chard leaves and stir over the heat until softened. Pour in the sherry, turn up the heat and let it bubble for 1 minute, then remove the pan from the heat and stir in the parsley, dill, roasted butternut squash, ricotta and 75g of the hard cheese. Season well. 
Divide the mixture evenly among the lasagne sheets, rolling each sheet tightly to make a cannelloni tube, then arrange the tubes in the baking dish. Pour over the white sauce and sprinkle over the chopped hazelnuts, sourdough croutons, mozzarella pieces and remaining grated hard cheese. Bake for 30 minutes until golden and bubbling. Serve with a green salad, if you like.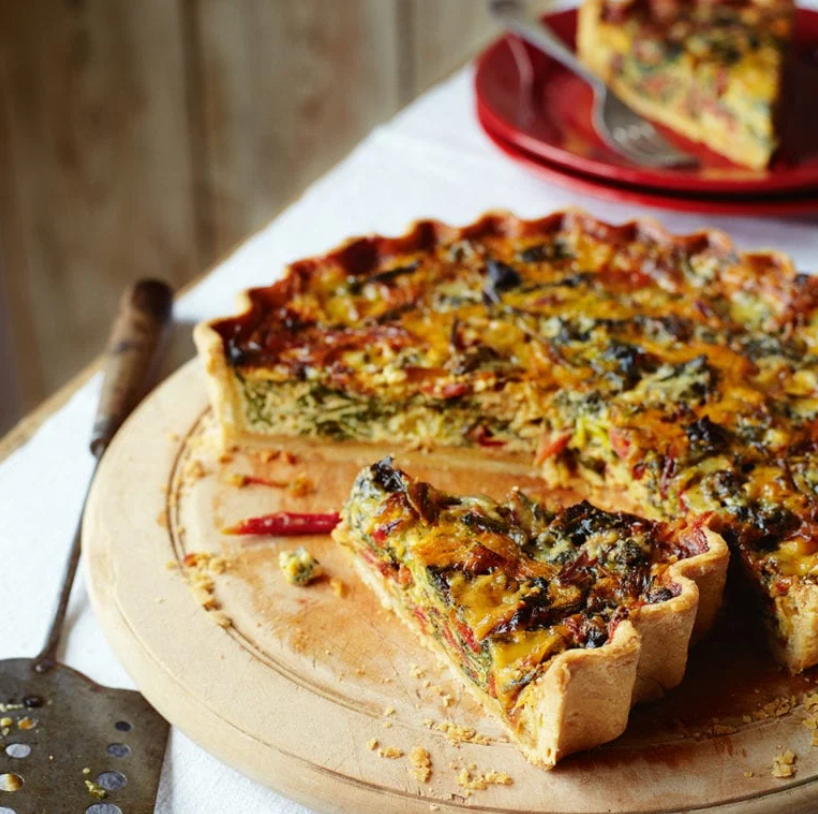 Phil Vickery's Chard, Leek & Blue Cheese Tart
This tart has punchy flavours, freezes brilliantly and works equally well as a starter, lunch or main, depending on what you serve with it. 
Source: Delicious Magazine
150g unsalted butter, cubed
300g plain flour, plus extra to dust
1 large free-range egg, beaten
For the filling
2 tbsp olive oil
1 small leek, washed well and shredded
300g rainbow chard
3 large free-range eggs
200ml double cream
150ml whole milk
6 tbsp chopped fresh flatleaf parsley
1 tsp smoked paprika
125g blue cheese
Method
Preheat the oven to 190°C/fan170°C/gas 5. Put the butter and flour in a food processor and blend until it forms a fine mixture. Add the egg. Pulse, then add 1-2 tsp cold water until the pastry just starts coming together. Do not overwork. 
Turn out the pastry, gently knead into a ball, then chill for at least 10 minutes. Roll out to the thickness of a pound coin on a floured surface. Line a 23cm x 4cm deep flan tin with the pastry, prick all over with a fork, then line with baking paper. Chill for a further 10 minutes. 
Fill the pastry case with baking beans or rice, then blind-bake for 10-12 minutes. Take away the paper and beans/rice, then cook for a further 5-6 minutes until golden. 
To make the filling, heat the olive oil in a medium frying pan, add the leek and cook for 3-4 minutes to soften. Put into a large bowl and set aside. Add the chard to the pan and wilt for a few minutes, then gently press with the back of a spoon in a colander to remove excess liquid. Roughly chop, then add to the leek. 
Whisk the eggs, cream and milk together in a large bowl, season well, then add the fresh parsley and the smoked paprika. Pour this over the vegetables and mix well. 
Spoon into the cooked tart case, crumble over the blue cheese and bake for 30-40 minutes or until just set. Serve at room temperature.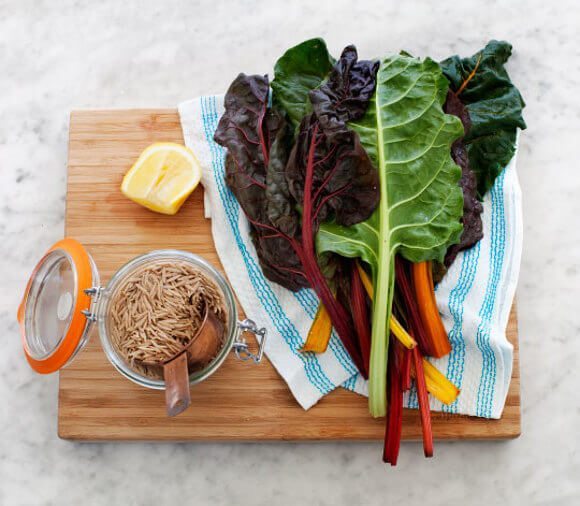 These rainbow chard bowls are perfect for a light & healthy weeknight dinner. They come together in under 30 minutes! 
Source: Love and Lemons
230g uncooked whole wheat orzo
1 tbsp olive oil
1 garlic clove, minced
1/2 tsp Dijon mustard
A few squeezes of lemon
1 small bunch of rainbow chard, about 4-5 leaves
150g feta cheese
30g toasted walnuts
Sea salt and freshly ground black pepper
Method
Prep your chard by slicing off the coarse parts of the stems and dicing them. Coarsely chop the greens and set them aside. 
Cook orzo in a pot of salted boiling water according to package directions (or about 9 minutes). 
In a medium bowl add 1 tablespoon olive oil, minced garlic, dijon mustard, lemon, salt and pepper. Once your orzo is done cooking, drain it and then add it to this bowl and toss. (the heat of the pasta will gently cook the raw garlic). Taste, adjust seasonings and set aside. 
In a medium skillet, heat a few teaspoons of olive oil, then add the chard stems, salt and pepper. Next, add the chard leaves and toss until just wilted (less than 2 minutes). Finish with a squeeze of lemon and remove from heat. 
Assemble bowls with orzo, chard, feta and toasted walnuts. 
Notes 
Make this gluten-free by subbing quinoa for orzo. 
Make this vegan by skipping the cheese and topping it with a few capers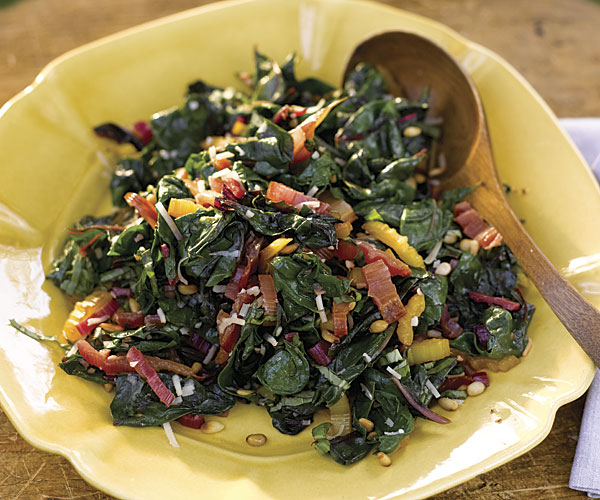 Rainbow Chard with Pine Nuts, Parmesan & Basil
This easy sauté makes delicious use of the ingredients that go into pesto.
Source: Fine Cooking
1 large bunch of rainbow chard
1 tbsp extra virgin olive oil
3 tbsp pine nuts
Sea salt
1 tbsp minced garlic
1 tbsp cold butter, cut into 4 pieces
22g Parmigiano reggiano, grated
8-10 fresh basil leaves, thinly sliced
Method
Pull or cut the stems from the chard leaves. Cut or rip the leaves into 2-3-inch pieces and wash and dry them well. Rinse the stems and slice them crosswise 1/4 inch thick. 
In a 12-inch non-stick stir-fry pan or skillet, heat the olive oil over medium heat. Add the pine nuts and cook, stirring constantly, until lightly browned, 2 to 3 minutes. Transfer the pine nuts to a plate, leaving behind as much oil as possible. 
Return the pan to medium-high heat, add the chard stems and a pinch of salt, and cook, stirring occasionally, until shrunken and beginning to brown lightly, 6 to 7 minutes. Add the garlic and cook just until fragrant, about 15 seconds. Add the chard leaves and 1/4 tsp. salt. Toss with tongs until just wilted, 1 to 2 minutes. (If using a skillet, you may need to add the chard in batches, letting the first batch wilt before adding more.) Remove the pan from the heat, add the cold butter pieces and stir just until the butter has melted. 
Using tongs, immediately transfer about half of the leaves and stems to a serving plate and arrange. Sprinkle on half of the Parmigiano, basil, and pine nuts. Layer on the remaining leaves, stems, and pan juices, and garnish with the remaining cheese, basil, and pine nuts. Serve immediately.