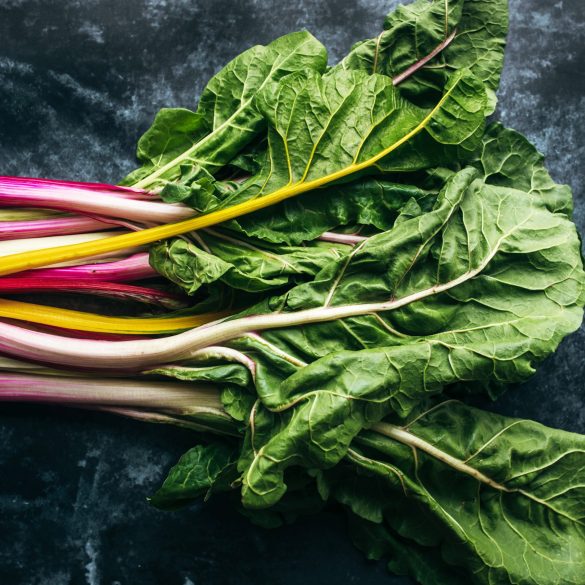 Dark, leafy green vegetables are among the most nutrient-dense foods. Although kale is often deemed the king of greens, chard is equally impressive in its wide array of nutritional benefits. 
Chard is a leafy green belonging to the Chenopodioideae family, which also includes beets and spinach.   Grown worldwide, it's prized for its ability to grow in poor soils and its low need for water and light. 
There are many types of chard, including rainbow chard which has colourful, jewel-toned stalks and veins, making this vegetable particularly pleasing to the eye. What's more, its leaves and stalks provide an abundance of vitamins, minerals and powerful plant compounds. 
A small serving of cooked chard covers your daily need for vitamins A and K and nearly fulfils the RDI for vitamin C. 
Chard goes with everything, but the following are some go-to partners: almonds, balsamic vinegar, basil, beets, butter, coconut milk, corn, currants, eggs, fennel seed, feta, garlic, goat cheese, leeks, lemon, lime, marjoram, mushrooms, nutmeg, olives, olive oil, onions, Parmesan cheese, parsley, pasta, pine nuts, polenta, quinoa, red pepper flakes, ricotta, rosemary, scallions, shallots, sweet potatoes, thyme, walnuts, wine vinegars, and courgette. 
Unlike most sturdy greens, chard comes with tender stems that are a real pleasure to eat. They cook quickly, although a little longer than the leaves. (Just cook stems a few minutes before you add leaves — they need about the same time as an onion.) 
You can also sauté chopped stems on their own with garlic, olive oil, and a squeeze of lemon or a splash of vinegar. Top these stems with a sprinkle of cheese or toss them into a grain salad. Try dredging stems in breadcrumbs and parmesan cheese, then pan-fry them like breaded courgette sticks. 
You might also try deep-frying them — dip them in batter and drop them in oil until golden and tender; serve with lemon or herb aioli. Pickled chard stems are delicious, too. Serve them alongside a cheese plate and bowl of nuts. 
Feta, Chard, and Spinach Filo Pie
This Bulgarian pie is by Caroline Eden from her book Black Sea: Dispatches and Recipes Through Darkness and Light. When she first cooked zelnik, she and her husband would eat it fresh from the oven, warm, with mid-afternoon tea.  
Recipe Source: Delicious Magazine, find the recipe here
Squash, Chard & Hazelnut Cannelloni
This Italian dish has everything: cheese sauce, sourdough bread, sherry, crunchy hazelnuts and pasta. It will make your house smell amazing as it bubbles away in the oven, just serve with a green salad to complete the meal. 
Recipe Source: Delicious Magazine, find the recipe here
Phil Vickery's Chard, Leek & Blue Cheese Tart
This tart has punchy flavours, freezes brilliantly and works equally well as a starter, lunch or main, depending on what you serve with it. 
Recipe Source: Delicious Magazine, find the recipe here
These rainbow chard bowls are perfect for a light & healthy weeknight dinner. They come together in under 30 minutes! 
Recipe Source: Love and Lemons, find the recipe here
Rainbow Chard with Pine Nuts, Parmesan & Basil
This easy sauté makes delicious use of the ingredients that go into pesto.
Recipe Source: Fine Cooking, find the recipe here