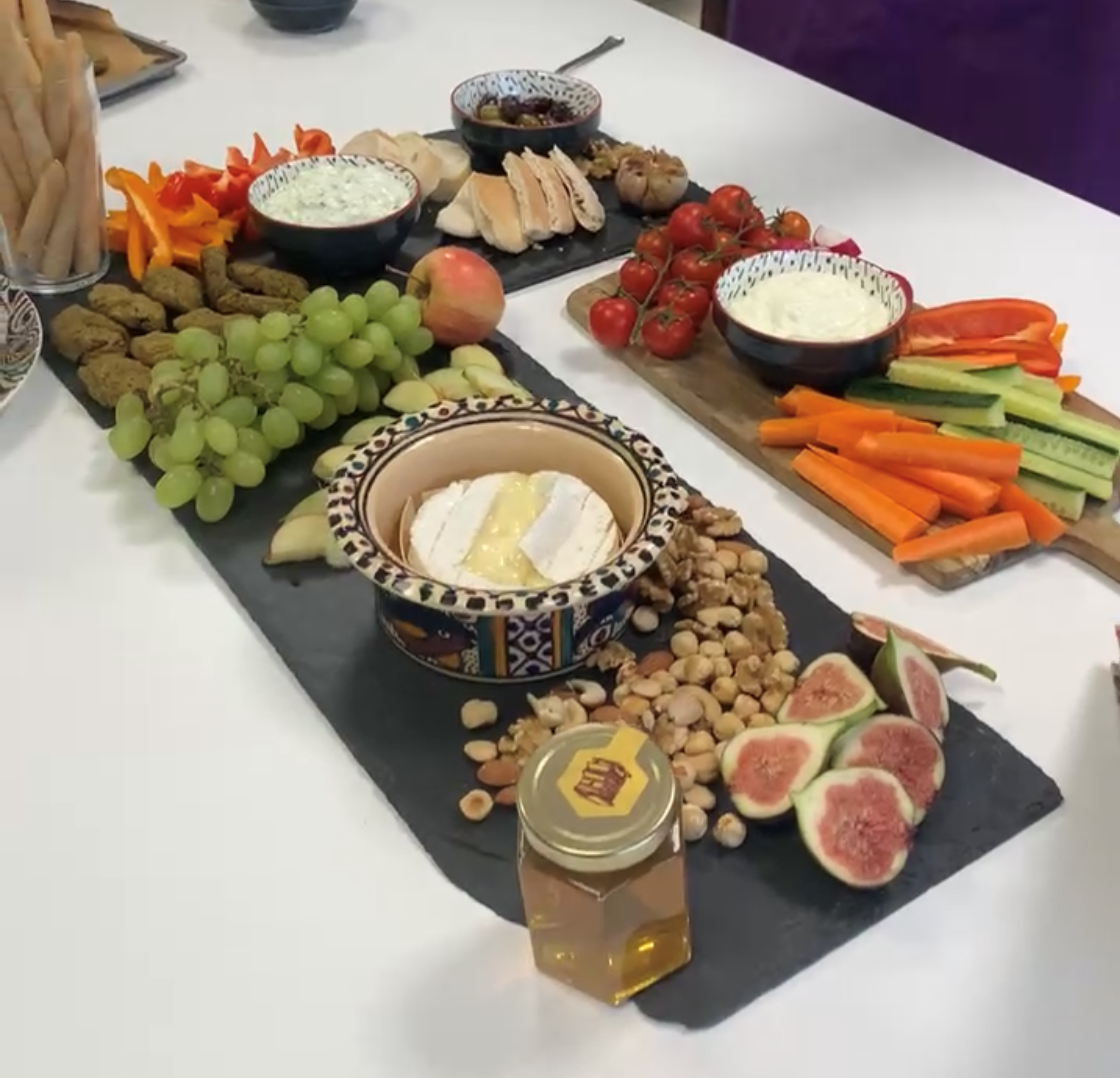 Grazing Platter Boards for Sharing
Looking to entertain with a grazing party platter board over the festive period or simply can't be bothered to cook a meal?  The great thing about a grazing board is that you can customise to your tastes and do whatever you fancy! Have fun with it! Get creative!  Add cheese, meat and fruits, veggies and condiments. It's always fun to try new things, and you never know, you may find your next favorite food. Check out some of our suggestions.
If you missed the live video you can view it here.
Tzatziki
Prep: 10 mins
Serves 6
This fresh and simple Greek dip is perfect served with toasted pitta bread or chopped veg and falafel.
Ingredients
½ cucumber peeled and grated
170g pot Greek yogurt
1 small garlic clove crushed
Dessertspoon fresh dill (or 2 tea spoons dried)
Salt and Pepper to taste
1 teaspoon olive oil
Peal and coarsely grate the cucumber, squeeze out all the liquid. Tip into a bowl with the yogurt, garlic and dill, add salt and pepper and olive oil and mix well.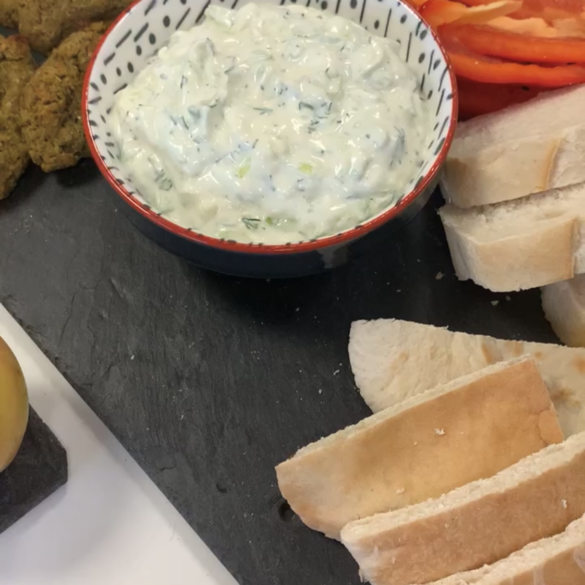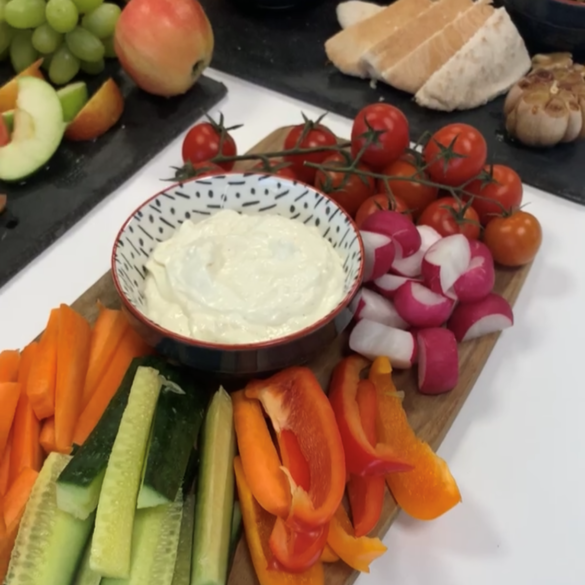 Feta Dip
Prep: 10 mins
Serves 6
This simple alternative to tzatziki is deliciously tangy and again is perfect served with toasted pitta bread or chopped veg.
Ingredients
170g pot Greek yogurt
100g of feta cheese
Salt and Pepper to taste
1 teaspoon olive oil
Crumble the feta into the Greek yoghurt, add salt and pepper and olive oil and mash up until you are happy with the consistency.
Healthy Baked Falafel
This easy baked falafel recipe is made with fresh herbs, garlic and spices.
Preparation time less than 30 mins
Cooking time 30 mins to 1 hour
Ingredients
1 tsp olive oil
2 small onions (200g/7oz in total), finely chopped
2 x 400g tins chickpeas, rinsed and drained
4 garlic cloves, grated
3 tsp ground cumin
2 tsp ground coriander
2 tsp sea salt flakes
30g/1oz coriander leaves, roughly chopped
30g/1oz flatleaf parsley leaves, roughly chopped
40g/1½oz plain flour
freshly ground black pepper
olive oil spray
Preheat the oven to 230C/210C Fan/Gas 8 and line a baking tray with baking parchment.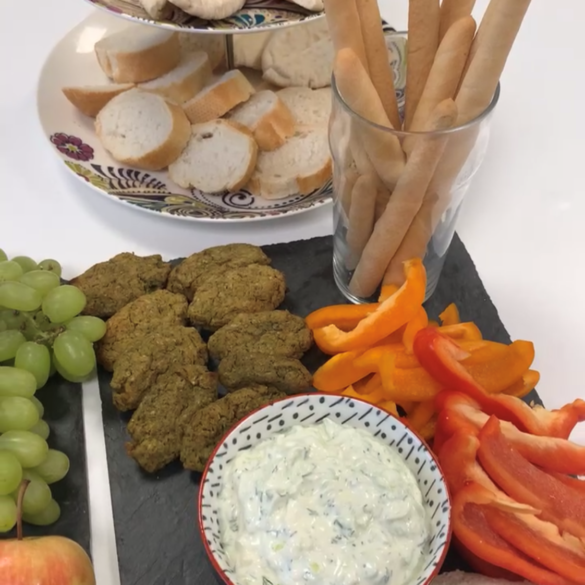 Heat the olive oil in small frying pan over a medium heat. Add the onions and cook for about 10 minutes, or until softened and starting to brown (add a splash of water if they start to stick). Remove from the heat and leave to cool.
Put the onions, chickpeas, garlic, spices, salt, chopped herbs, flour and some pepper in a food processor. Pulse until the mixture is fairly smooth, stopping every so often to scrape down the sides with a spatula. You want to retain some texture but the paste should be able to hold together.
Pop in the fridge for an hour to firm (overnight is even better)
Divide the mixture into 18 equal pieces and shape into patties. Place on the prepared baking tray and spray the patties with 10 sprays of oil. Cook on the top shelf of the oven for 20–25 minutes, or until golden-brown.
Roasted Garlic
Prep: 5 mins
Cook: 35 mins
Ingredients
One or more whole heads of garlic
Extra virgin olive oil
Preheat your oven to 205°C.
Peel and discard the papery outer layers of the whole garlic bulb, leaving intact the skins of the individual cloves of garlic.
Using a sharp knife, cut 1/4 to a 1/2 inch from the top of cloves, exposing the individual cloves of garlic.
Put garlic in baking tin or muffin tin: Place the garlic heads in a baking pan, cut side up.
Drizzle a couple teaspoons of olive oil over each exposed head, using your fingers to rub the olive oil over all the cut, exposed garlic cloves.
Cover the bulb with foil.
Bake at 205°C for 30-40 minutes, or until the cloves are lightly browned and feel soft when pressed.
Allow the garlic to cool enough so you can touch it without burning yourself. Use a small knife cut the skin slightly around each clove. Use a cocktail fork or your fingers to pull or squeeze the roasted garlic cloves out of their skins.
How to bake brie & camembert?
Use a good quality brie or camembert for this recipe. The easiest ones to cook are the ones in a box, just wrap that in foil so nothing can ooze out.
If you want to add herbs you can slash the top and add in along with a drizzle of olive oil.
Pop in the oven at 200 for 30 minutes.
Allow the baked brie to rest for 5 minutes before transferring it to the cheese board.