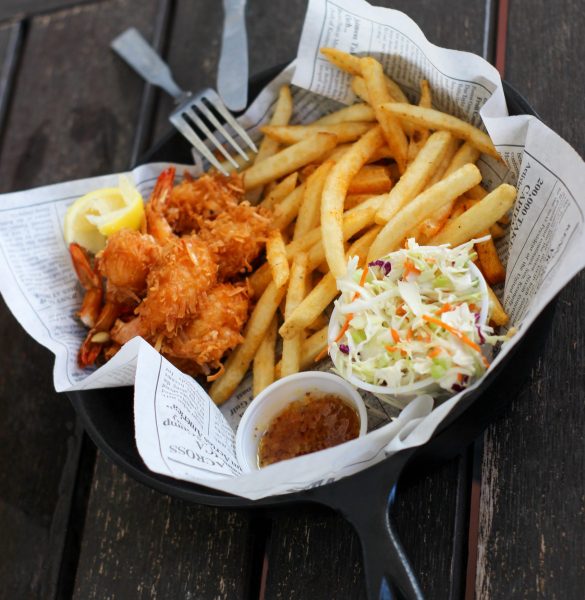 Rich, delicious, flavourful, and utterly satisfying is the best way to describe fish and chips! 
Fish and Chip Day commemorates this national meal of the working class throughout the United Kingdom and beyond. And while its roots may lay on Britannia's foggy shores, there are few places in the world that this comfort food hasn't found its way to. 
History of Fish and Chip Day 
No one knows precisely where or when fish and chips came together. Chips had arrived in Britain from France in the eighteenth century and were known as Pommes Frites. The first mention of chips was in 1854 when a leading chef included "thin cut potatoes cooked in oil" in his recipe book, Shilling Cookery. Around this time, fish warehouses sold fried fish and bread, with mention of this in Charles Dickens' novel Oliver Twist published in 1830. 
The British Government safeguarded the supply of fish and chips during the First World War and the Second World War and it was one of the few foods in the UK not subject to rationing during the wars so helped feed the masses. 
In the late 1800s, trawl fishing became a major part of the economic industry in the North Sea. This resulted in the growing availability of fresh fish in areas further inland in the British Isles, especially within the cities. This cheap, very filling and highly caloric food created an excellent foundation for a working class that held incredibly physically demanding jobs throughout the late 19th century. Thus it was that "Chippers" started cropping up all over major population centres, the vendors that served the fish and chips to the people on the street. 
A great fish and chips are only as good as its ingredients. The U.K.'s favourite fish is still cod and accounts for more than half of the total consumption. Haddock is the second favourite, and there are regional variations include whiting in Northern Ireland and some parts of Scotland, as well as skate and huss in the south of England. 
When it comes to the chip, a floury potato is best—waxy potatoes can often result in greasy chips. The best varieties are King Edward, Maris Piper, and Sante. A thick-cut potato absorbs less oil than a thin cut, so the chunkier chips are the healthier ones. 
Fish and Chip Day is just the time to celebrate this delicious meal so either head out to your local chippie or how about trying out our recipes!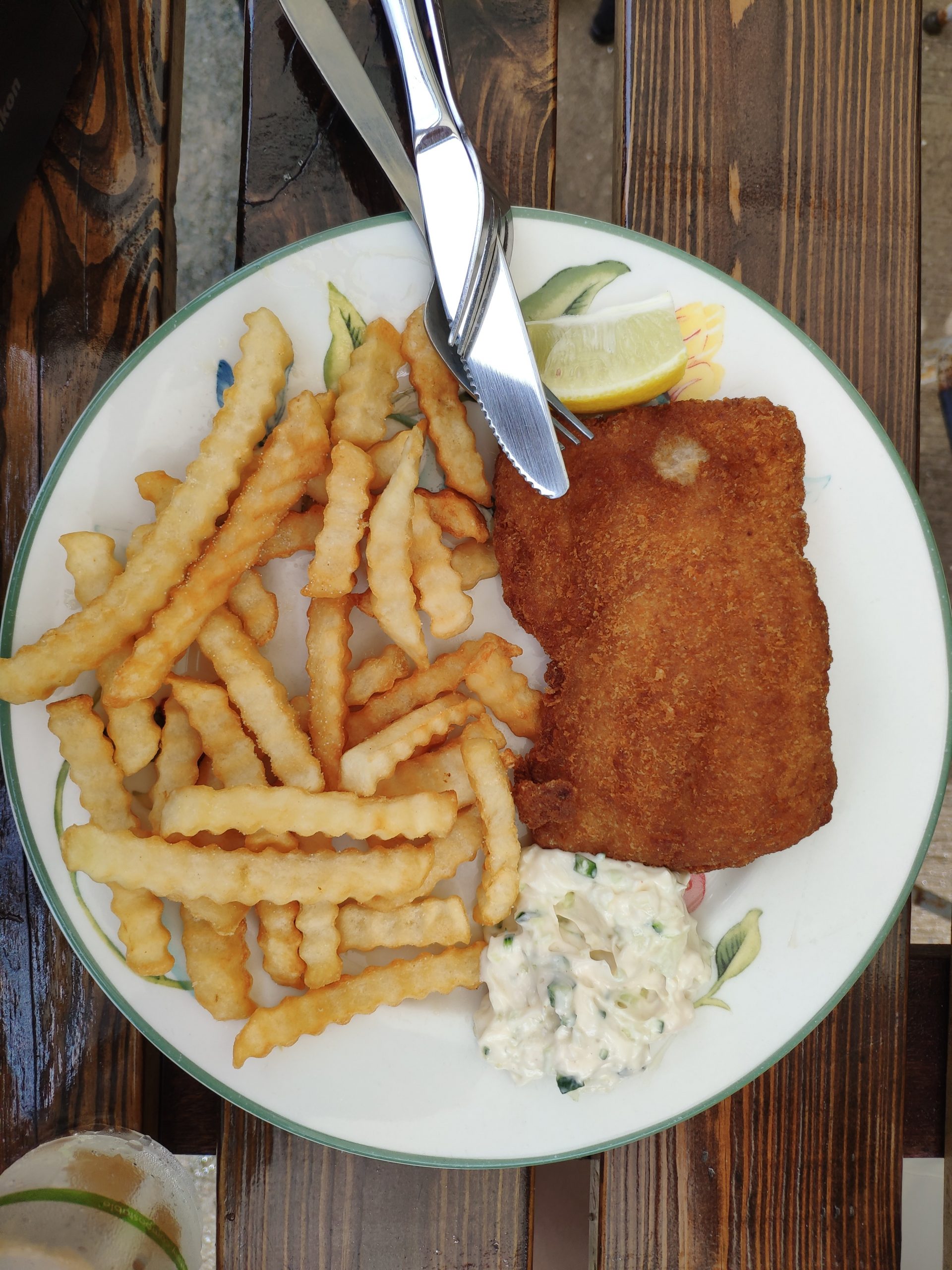 The Ultimate Fish & Chips
A lighter, healthier twist on a British classic.
For the chips
800g unpeeled, even-size potatoes
2 tbsp olive oil
For the peas
300g frozen garden peas
1 tbsp olive oil
2 tsp lemon juice
For the fish
650g skinless cod, haddock or hake, cut into 4 equal-size pieces
50g self-raising flour, plus 1 tbsp
50g cornflour
1 egg white
125ml ice-cold sparkling water
1 lemon, cut into wedges
600ml sunflower oil, for frying
Method
Scrub the potatoes, cut into 1.5cm thick lengthways slices, then cut each slice into 1.5cm thick chips. Tip the chips into a large saucepan, pour in enough water to just cover, bring to the boil, then lower the heat and gently simmer for 4 mins only. Drain, tip onto a clean tea towel, pat dry, then leave to cool. Can be done 1-2 hrs ahead. Heat oven to 220C/fan 200C/gas 7. Put a large shallow non-stick roasting tray in the oven with 1 tbsp olive oil and heat for 10 mins. 
Transfer the chips to a bowl and toss in the remaining oil using your hands. Tip out in a single layer onto the hot roasting tin. Bake for 10 mins, then turn them over. Bake 5 more mins, then turn again. Bake for a final 5-8 mins until crisp. Drain on paper towels. 
While the chips are in the oven, cook the peas in boiling water for 4 mins. Drain, then tip into the pan and lightly crush with the back of a fork. Mix in the oil, lemon juice and freshly grated pepper. Cover and set aside. 
The fish can also be cooked while the chips are in the oven. Pat the fillets dry with paper towels. Put the 1 tbsp of flour on a plate and use it to coat each fillet, patting off the excess. Pour the oil for frying into a heavy, medium non-stick wok or wok shaped pan. Heat to 200C (use a thermometer so you can check the oil stays at that temperature). Mix 50g flour, cornflour, a pinch of salt and some pepper. Lightly whisk the egg white with a balloon whisk until frothy and bubbly, but not too stiff. Pour the water into the flour mix, gently and briefly whisking as you go. The batter shouldn't be completely smooth. Add the egg white, then lightly whisk in just to mix. Try and keep as many bubbles as you can so the batter stays light. Cooking two pieces of fish at a time, dip them in the batter to coat, let some of it drip off, then lower into the hot oil using a slotted spoon. Fry for 5-6 mins, making sure the oil stays at 200C and turning the fish over halfway through so it is golden all over. Lift out with a slotted spoon, drain on kitchen paper. Check the oil is back up to 200C, then repeat with the remaining fish. Reheat the peas and serve with the fish, chips and lemon wedges.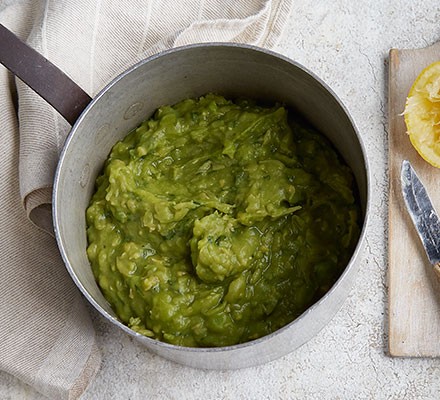 Enjoy comfort food at its best with homemade mushy peas. Their subtle mint and lemon flavour mean they're perfect with fish and chips.
250g dried marrowfat peas
2 tbsp baking powder
25g salted butter, cubed
1/4 small bunch of mint, finely chopped
1/2 lemon, juiced
Method
Put the marrowfat peas and baking powder in a large heatproof bowl and cover with boiling water. Leave to soak for 12 hours or overnight.  
Drain the peas and rinse them twice with cold water to wash off the baking powder. Put the beans in a saucepan and cover with 650ml cold water. Bring to the boil, reduce the heat and simmer for 30 mins until tender, stirring occasionally. 
Mash briefly and stir in the butter, mint and lemon, seasoning to taste.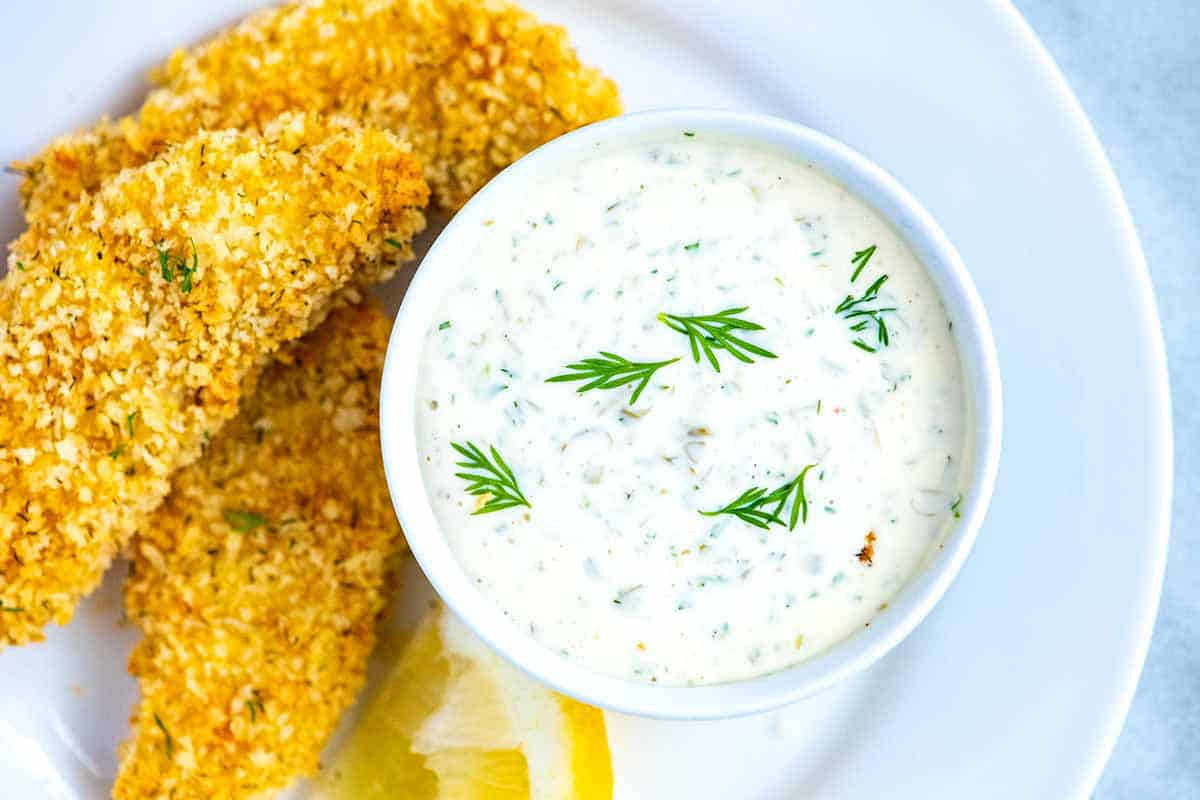 This easy homemade tartare sauce is better than anything you can buy at the store. It's extra creamy and perfect for serving next to your favourite seafood dishes.
16 tbsp mayonnaise
1 small gherkin, chopped very small
1 tbsp fresh lemon juice, plus more to taste
1 tbsp capers, chopped
1 tbsp chopped fresh dill or 1 tsp dried dill
1 tsp Worcestershire sauce
1/2 tsp Dijon mustard
Salt and freshly ground black pepper
Method
Combine the mayonnaise, pickles, lemon juice, capers, dill, Worcestershire sauce, and mustard in a small bowl and stir until well blended and creamy. 
Season with a pinch of salt and pepper. Taste then adjust with additional lemon juice, salt, and pepper. For the best flavour, cover and store in the refrigerator for at least 30 minutes. 
Keep, tightly covered, in the refrigerator for one week.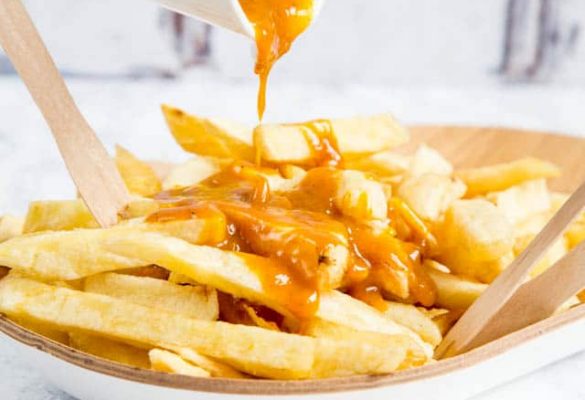 Homemade Curry Sauce for Chips
This homemade takeaway Chinese curry sauce – chip shop style on fat chips is so so good. Thick, gloopy with no added nasties.
4 tsp cornflour
1 tsp curry powder (or more to taste)
1/2 tsp Chinese Five Spice mix
1/4 tsp ground ginger
1/4 tsp garlic powder
1 tbsp butter
2 tsp soy sauce
2 tsp chilli sauce
240ml vegetable stock
1 tsp lemon juice
Method
Mix half the cornflour and all of the dry spices together in a small bowl 
Melt the spread or butter in a small saucepan, add the cornflour mixture and fry for a minute, stirring all the time until fragrant. 
Turn the heat down and slowly start to add the stock a few spoons at a time stirring all the time. Make sure it is mixed well before you add more. 
Place the remainder of the cornflour in a small bowl and add a few spoons of the stock to it.   Mix well.    Add to the pan of sauce, stirring well. 
Add the remainder of the stock, the lemon juice, soy sauce, and stir. Cook for a few minutes, stirring all the time, making sure to carefully scrape the sides and bottom of the pan. With a gentle simmer, the sauce will rapidly thicken. If it thickens too much add a little water. 
Serve immediately with chips as a dip, or use for a curry sauce.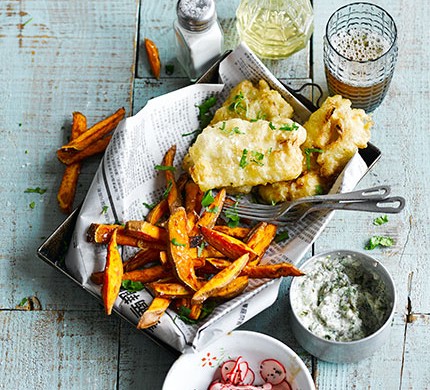 Asian-style Fish and Chips
Fancy a slightly more daring fish supper? Give your Friday night fish and chips an Asian twist with tempura-battered cod and a spicy wasabi tartare sauce.
100g white miso paste
3 tbsp rice wine vinegar
2 tsp golden caster sugar
2-3 cod fillets, bones and skin removed
100g rainbow radishes, very thinly sliced
1 tbsp black sesame seeds
2 large sweet potatoes, skin on, cut into chunky chips
Oil, for deep-frying
For the tempura batter
140g plain flour, plus 100g extra for coating
100g cornflour
200ml soda water
For the wasabi tartare sauce
140g mayonnaise
1 tsp wasabi
1 small shallot, finely chopped
1 tbsp capers, finely chopped
1/4 small pack coriander, chopped
Method
In a large bowl, combine the miso paste with 1 tbsp rice wine vinegar and 1 tsp sugar. Put the cod fillets in the marinade and turn them over so they are evenly coated. Cover with cling film and chill for 1 hr. 
Put the radishes in a small bowl with the black sesame seeds, the remaining vinegar and sugar, and a pinch of salt. Leave to pickle for at least 30 mins. 
For the wasabi tartare sauce, combine all the ingredients and season well. Set aside or chill in the fridge until needed. 
Meanwhile, put the sweet potato chips in a large saucepan filled with cold salted water. Bring to the boil and cook for 7-8 mins until slightly tender. Drain and leave to steam dry for 2 mins. 
Fill a large saucepan with the oil until two-thirds full. Place over medium-high heat until the oil reaches 180C on a temperature probe (or until a piece of bread crisps up in 20 secs). Meanwhile, make the tempura batter by combining the flours and gradually whisking in the soda water. Whisk until the batter is lump-free, then chill until needed. 
Once the oil has come to temperature, fry the sweet potato chips in batches until golden and cooked through, about 5 mins. Transfer to a baking sheet, season with salt and place in a low oven to keep warm while you fry the fish. 
Tip some seasoned flour onto a plate and dip the cod fillets in it, patting off any excess. Dip into the batter and fry in the same oil as the chips for 3-4 mins, until the batter is golden and the fish is cooked. Drain on kitchen paper. 
Serve the cod with the chips, wasabi tartare, pickled radishes and lime for squeezing over.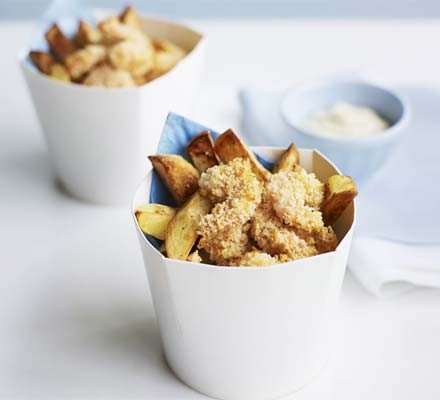 Cheats Scampi with Chunky Chips
A classic favourite that's satisfying and surprisingly healthy! 
3 large baking potatoes, cut into chunky chips
1 tbsp olive oil
400g raw peeled king prawns
2 eggs, beaten
140g dried breadcrumbs
Tartare sauce and lemon to serve
Method
Heat oven to 200C/180C fan/gas 6. Arrange the chips on a baking tray, drizzle with the oil and season. Bake for 40-45 mins until golden, turning halfway through. 
Mix the prawns in the beaten egg and tip the crumbs onto a plate. Lift the prawns out with a slotted spoon so that any excess egg drains off and toss them in the crumbs with your hands so they are coated. Transfer to a baking tray. 
When the chips have 10 mins to go, heat grill to high. Cook the prawns for 3-5 mins each side, until crisp and cooked through. Serve with the chips, some tartare sauce and lemon wedges, if you like.