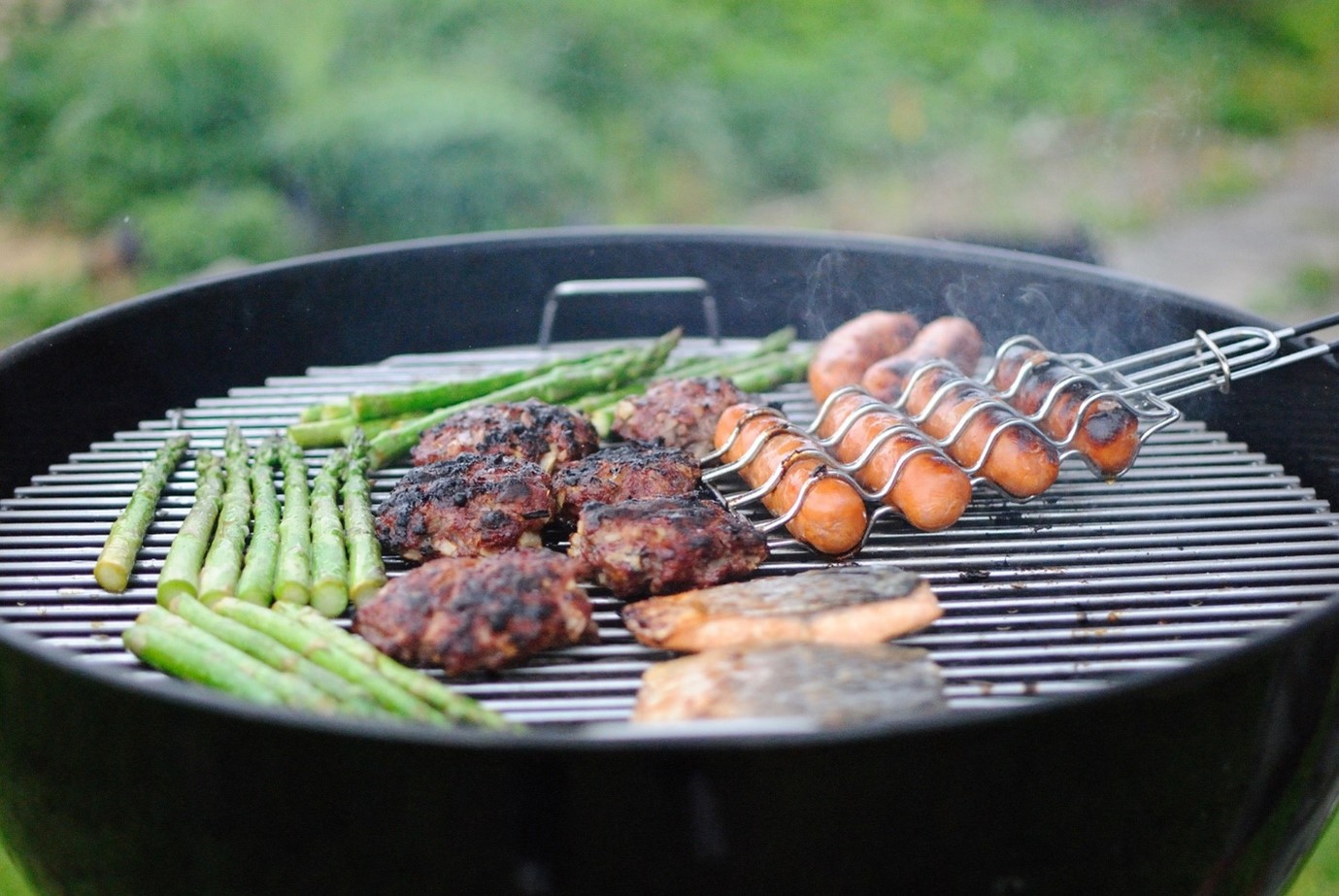 It's time to celebrate National BBQ Week. There is nothing better in the Summer than a garden get together and a barbecue. We have got everything you need to make your barbecue a roaring success from meat to veg to cheese and all your drinks and snacks too. Why not give some of these quick but tasty bites a go. For more recipes, please check out our Summer Heritage Bites Magazine, blog and Pinterest boards.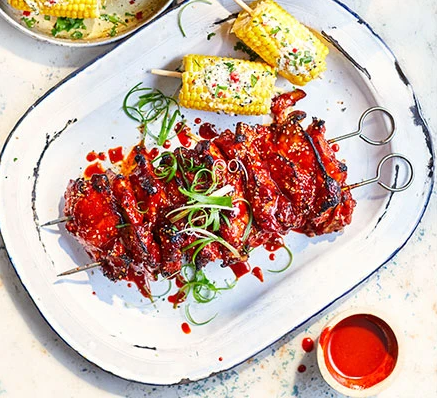 Korean Chilli, Sesame & Honey Chicken
A kebab always goes down well at a BBQ, and this Korean chicken with sweet, spicy and sticky glaze is our new favourite. Scatter over spring onions to serve.
Source: BBC Good Food
12 chicken thighs, boneless and skinless
2 tbsp soy sauce
1 tbsp sesame oil
Thumb-sized piece of ginger, grated
4 spring onions, sliced
For the glaze
4 tbsp Korean chill paste (gochujang) or use a mixture of 3 tbsp ketchup & 1 tbsp sriracha
2 tbsp honey
1/2 lime, juice
1 tbsp soy sauce
1 tsp sesame oil
2 tbsp sesame seeds
Method
Toss the chicken in soy sauce, sesame oil and ginger. Thread each thigh on two long metal skewers, so that each skewer pierces one side of the thigh. Keep threading the chicken, making sure it's packed onto the skewers tightly. Chill until you're ready to cook. Mix the ingredients for the glaze. 
Heat the BBQ. If using a coal BBQ, wait for the coals to turn ashen before you start cooking. Cook the kebab for 5-8 mins on each side (depending on the heat). Once nicely charred but not fully cooked through, start painting on the glaze. The honey will catch if cooked for too long – the key to nice sticky chicken is applying the glaze in layers, turning the kebab often. 
Once the glaze has been used up and the chicken is cooked through (it'll take about 20 mins in total), transfer to a plate and leave to cool for 5 mins before serving scattered with spring onions.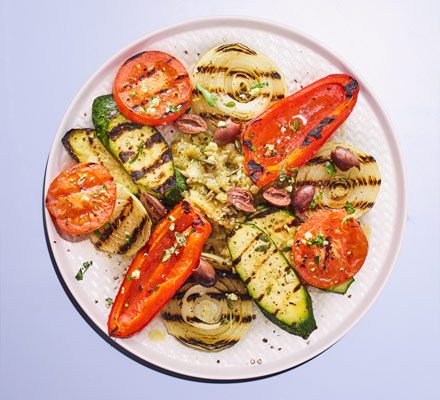 Griddled Vegetables with Melting Aubergines
Pack all five of your 5-a-day into one healthy vegan dish. Flavoured with garlic, lemon and herbs, it's delicious griddled on the hob or cooked on the barbecue. 
Source: BBC Good Food
1 large aubergine
1/2 a lemon, zested & juiced
3 garlic cloves, 1 crushed, 2 chopped
2 tbsp parsley, chopped, plus extra to serve
1 tsp extra virgin olive oil, plus a little for drizzling
4 tsp omega seed mix
2 tsp thyme leaves
1 tbsp rapeseed oil
1 red pepper, deseeded and quartered
1 large onion, thickly sliced
2 courgettes, sliced on the angle
2 large tomatoes, each cut into 3 thick slices
8 kalamata olives, halved
Method
Grill the aubergine, turning frequently, until soft all over and the skin is blistered about 8-10 mins. Alternatively, if you have a gas hob, cook it directly over the flame. When it is cool enough to handle, remove the skin, finely chop the flesh and mix with the lemon juice, 1 chopped clove garlic, 1 tbsp parsley, 1 tsp extra virgin olive oil and the seeds. Mix the remaining parsley with the remaining chopped garlic and the lemon zest. 
Meanwhile, mix the thyme, crushed garlic and rapeseed oil and toss with the vegetables, keeping the onions as slices rather than breaking up into rings. Heat a large griddle pan and char the vegetables until tender and marked with lines – the tomatoes will need the least time. Pile onto plates with the aubergine purée and olives, drizzle over a little extra olive oil and scatter with the parsley, lemon zest and garlic.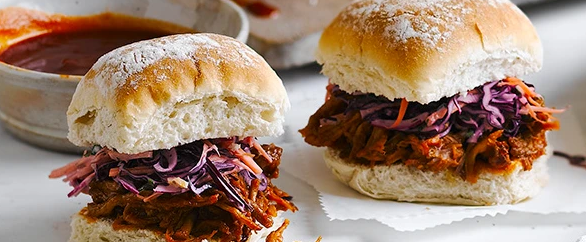 Pulled pork is a great recipe to feed a crowd, served up in soft buns with crunchy coleslaw. Plus we've included instructions on how to make this recipe in a slow cooker. 
Source: Olive Magazine
2kg boneless pork shoulder
4 tbsp vegetable oil
Soft white rolls, to serve
Dry rub
1 tbsp ground cumin
1 tbsp brown sugar
2 tbsp sweet or hot paprika
1 tbsp chilli powder
1/2 tbsp cayenne pepper
1/2 tsp ground mace
1 tbsp salt
2 tbsp cracked black peppercorns
BBQ Sauce
275ml tomato ketchup
225ml red wine vinegar
2 tbsp Worcestershire sauce
2 tbsp soy sauce
125g light brown sugar
2 tbsp mustard powder
4 tbsp chilli powder
1 tsp ground ginger
2 garlic cloves, crushed
2 tbsp vegetable oil
3 slices lemon
4 tbsp bourbon
Coleslaw
1/2 onion, finely sliced
1 lemon, zest & juice
400g red cabbage, shredded
200g carrot, grated
100g celery, finely sliced
Small bunch parsley, chopped
1 heaped tbsp mayonnaise
2 tbsp sour cream
2 tbsp caster sugar
2 tbsp white wine vinegar
1 tbsp mustard powder
2 tsp celery salt
A large handful of roasted peanuts, roughly chopped
Method
Mix the ingredients of the dry rub together with 1 tbsp salt then spread all over the meat, making sure it's well coated. Wrap in foil and chill for at least 4 hours, preferably overnight. Heat the oven to 160C/fan 140C/gas 3. Take the meat out of the fridge to bring to room temperature. Heat the oil in a large non-stick frying pan, then fry the meat on all sides until browned. Put into a large, lidded casserole dish then cook for 3 1/2 hours, or until the meat is falling apart. 
Meanwhile, make the barbecue sauce. Put all the ingredients in a small saucepan, cook over medium heat for about 20 minutes, then take off the heat and fish out the lemon slices. Once the meat is cooked, shred into the barbecue sauce and heat through, adjusting seasoning to taste. 
To make the coleslaw, soften the onion in the lemon juice for 10 minutes, then mix with the cabbage, carrot, celery and parsley. Mix the mayo, sour cream, sugar, vinegar, mustard, celery salt and lemon zest together then add to the cabbage mix and toss. Stir through most of the peanuts, leaving a few to sprinkle on top. 
Serve the pork stuffed into soft buns with a dollop of coleslaw on top.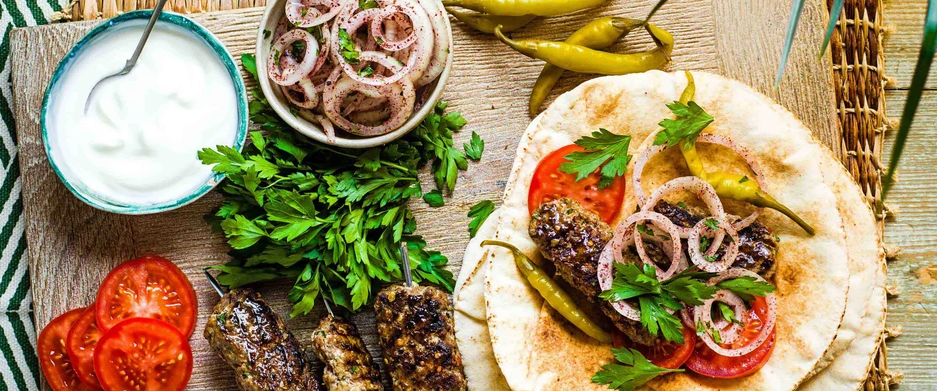 These Turkish-style kebabs are named after the city of Adana and flavoured with chilli and sumac. Make them to feed a crowd at your next barbecue. 
Source: Olive Magazine
For the kebabs
800g lamb mince
1 tbsp dried chilli flakes
4 tsp sumac
4 tsp ground cumin
4 tbsp flat-leaf parsley, chopped
6 garlic cloves, crushed
For the sumac onions
2 onions, thinly sliced
1/2 a small bunch flat-leaf parsley, roughly chopped, plus extra for serving
1 tbsp sumac
To serve
Flatbreads
Yogurts
Pickled chillies
Tomatoes
Method
Prepare the BBQ for direct cooking by spreading the coals in an even layer. 
To make the kebabs, combine the lamb mince with all the other ingredients and lots of seasoning. Mix well with your hands, as if you are kneading bread, for 5 minutes. Form into 12 kebabs and thread onto metal skewers. 
Put the onions into a bowl of iced water for 20 minutes. Drain well, then tip into a bowl and mix with the parsley, sumac and some seasoning. 
Cook the kebabs for 4 minutes on each side or until cooked through and charred. (Alternatively, heat the grill to high and cook the kebabs for 8 minutes, turning halfway, until charred and cooked through.) Serve with the sumac onions, flatbreads, yogurt, tomatoes, pickled chillies and more parsley.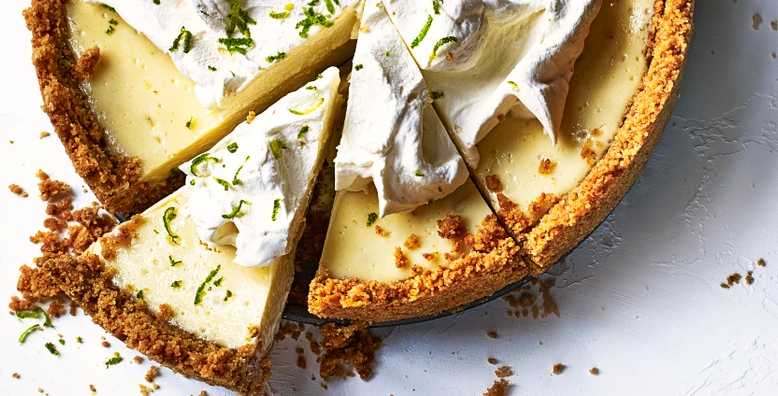 Freezing time: at least 4 hrs
This freezes brilliantly, so it's a great make-ahead pud for dinner with friends. It's best to freeze it before the cream goes on top then just add the topping before serving 
Source: Olive Magazine
250g digestive biscuits
100g butter, melted
3 eggs, yolk
297g condensed milk
3 limes, zested & juiced
1 lemon, juiced
200ml double cream
2 tbsp icing sugar
Method
Heat the oven to 160C/fan 140C/gas 3. Crunch the biscuits into a food processor then whizz to crumbs or put in a plastic bag and bash to crumbs. Tip into a bowl and stir in the melted butter, then press the mixture into the base and sides of a 20cm loose-bottomed tart tin. Bake in the oven for 10 minutes, then cool completely. 
To make the filling, put the egg yolks into a bowl. Use electric beaters to whisk for 2 minutes until paler. Add the condensed milk and whisk for another 4 minutes, then add the lime zest and juice and lemon juice and whisk again for 2-3 minutes until thickened. Pour into the pie case, then put back in the oven for 20 minutes. Cool then chill completely in the fridge. At this point cover with clingfilm and freeze until needed. 
To finish, defrost the pie overnight if frozen. Whip the cream with the icing sugar until softly whipped. Dollop over the top of the pie, then finish with more lime zest.