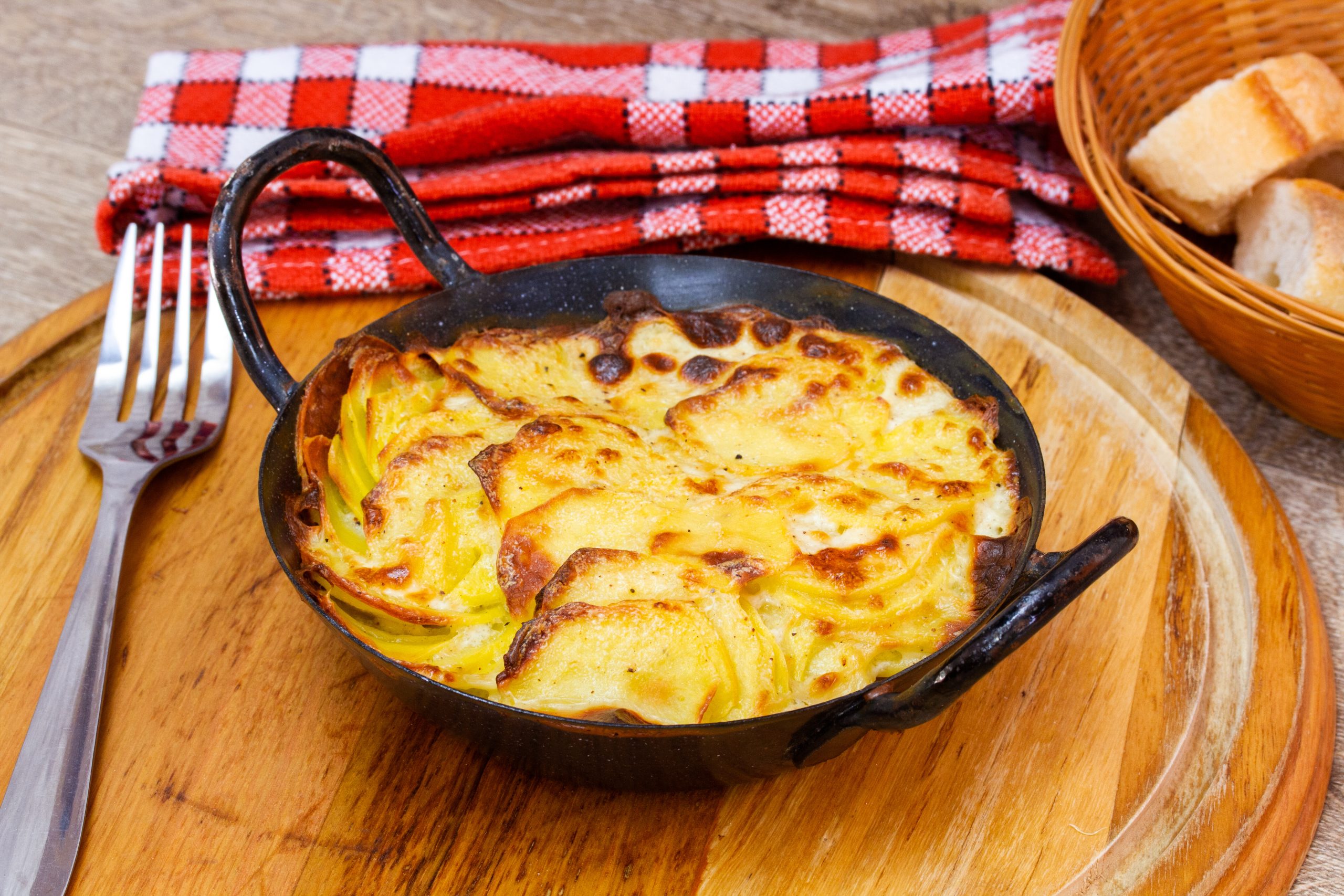 Marco's Pommes Boulangere
Time: 1 hr 45 mins including resting
This  dish is one of the first I learnt as an apprentice chef at the Hotel St George in Harrogate. It's a combination of finely sliced potatoes, caramelised onions and butter, which adds the richness we associate with good comfort food.
Source: Marco Pierre White
Clarified butter (or ghee), for frying, plus extra for greasing
2 large onions, finely sliced
Sea salt
1.2kg waxy potatoes
Approx 1ltr vegetable stock
Bay or thyme
A few knobs of butter, melted
Method
First, caramelise the onions. Melt the clarified butter or ghee in a large casserole dish. Add the onions, season with sea salt and stir as they caramelise. Spread them across the base of the pan so they cook evenly and quickly. Transfer to a plate, then tilt to drain the excess butter into a separate bowl. Set both aside.
Peel the potatoes and then, with a sharp knife or mandolin, thinly slice the potatoes and lay on a clean tea towel. Don't wash the slices – their starch is the 'cement' of this dish, holding it together. Preheat the oven to 160°C/fan 140°C/gas 3.
Butter a casserole dish and pour in a little of the vegetable stock. Line the base of the casserole with the potato slices overlapping, like fish scales. Season with salt, then add a second layer, pushing gently down on the potatoes to compact them.
Add a layer of onions, spreading them evenly, then spoon over a little stock. Repeat the layering, adding one layer of onions for every 2 layers of potatoes. Pour in a little stock as you go. Finish with a layer of potatoes, then brush all over with the drained-off excess butter.
Season lightly and pour the remaining stock over the top and garnish with the herbs. Cover with a sheet of lightly buttered kitchen foil. Bake for about 1 hour 10 minutes, removing the foil for the final 15 minutes to brown the top. Glaze the top with melted butter and season with sea salt. Loosely cover with foil, and leave to rest for 20 minutes before serving.