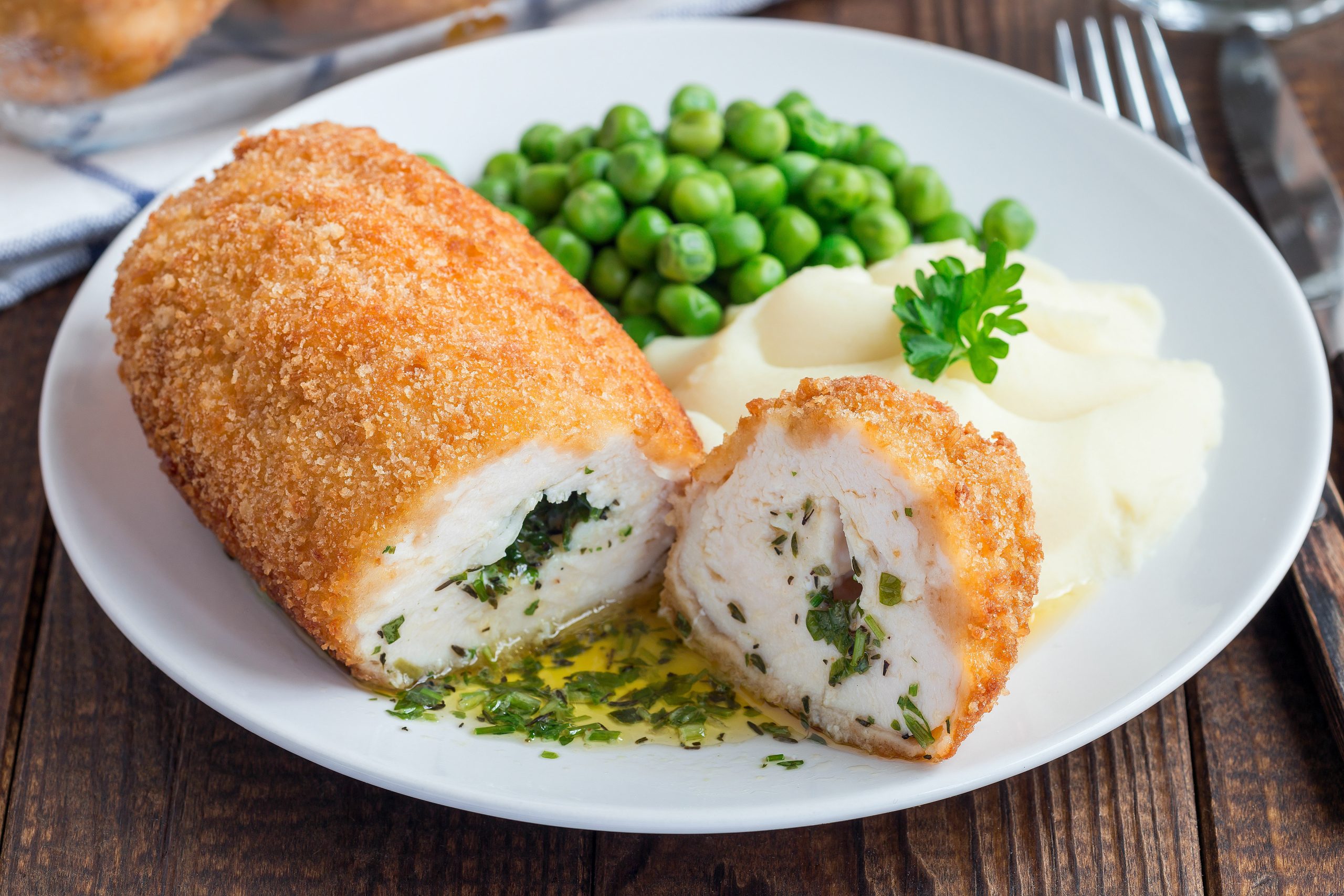 Prep: 1 hour Time: | Cooking time: 20 mins
Make Marco Pierre White's Chicken Kiev Recipe at home. This Master Recipe is sure to please everyone in the family.
Source: Marco Pierre White
2 large Cloves of Garlic
A handful of fresh Parsley, chopped, plus some for garnish
1/4 cup Butter, softened
2 skinless Chicken Breasts
2 Eggs, beaten
2 tablespoons plain Flour
Salt and Pepper to season the flour
1/4 to 1/2 fine Breadcrumbs
Sunflower Oil
Lemon to serve
Method
Peel the garlic and remove the core (it's rather bitter and not very nice). Slice finely, sprinkle with a pinch of coarse salt and grind to a puree with the side of your knife.
Add the ground garlic mixture, the parsley and the butter and fork through to thoroughly combine to make a parsley butter.
Remove the little fillet of meat from below the chicken breast (the chicken supreme), place between 2 sheets of cling film and flatten using a rolling pin, or a small pan.
Place the egg, flour and breadcrumbs in 3 separate dishes. Season the flour with salt and pepper.
Place a tablespoon of the garlic and parsley butter into the center of the chicken breast and fold it back together again. Take the flattened supreme and place on the seam to seal the breast together.
Carefully (so the breast doesn't burst open) dust in the seasoned flour, dunk thoroughly in the egg and coat with the breadcrumbs. Repeat the process with the egg and breadcrumbs to ensure a good coating that will prevent the butter from leaking out.
Leave to rest in the fridge for 50 minutes to 1 hour.
Heat a frying pan with sunflower oil to a depth of 3/4 inch and carefully add the chicken. Cook for 10 minutes on each side. Add the parsley sprigs as well.
Remove from the oil and drain on kitchen paper. Serve immediately with wedges of lemon and the crispy parsley.
Take care when cooking this dish. Never leave a hot frying pan unattended and be careful of being splattered with oil.