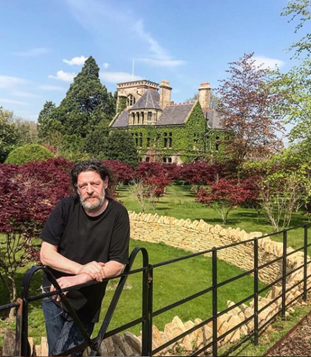 Marco's Wiltshire Wildlife Haven
Most interviews you read about Marco Pierre White are very food-centric but like an onion, he has many layers.  In this latest interview, Marco shares his love for all things nature and his passion for art.
He highlights key elements of interest in the restaurant and discusses the work he continues to do inside to create a welcoming place to stay and eat.   With an eclectic mix of arts and crafts and cute little mice in the restaurant, it is sure to capture your imagination!
His team is doing a huge amount of work to encourage wildlife back into the grounds with ponds, wildlife meadows and much more.
"Everything we do at Rudloe is about nature"
When you drive into Rudloe we've stacked logs down the side of the entrance which are used for hibernating hedgehogs, newts and toads. Also, certain birds like wrens nest in those logs so the amount of songbird and insect life is enormous.
We keep bees and we also build beetle banks, wildflower meadows have been sown providing the perfect environment for insect and birdlife.  When we first arrived we never saw damselflies or dragonflies and now they are common here.
We also have snakes – so far I've seen grass snakes and slow worms, some of which are rather large – all the dry stone walling we have created has attracted them which is where they all live.
We have various raptors including red kites, peregrine falcons, sparrow hawks, kestrels and Tawney owls.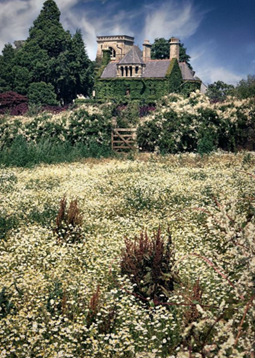 We've also introduced a stocking programme of pheasants, it's a little haven for them here. We started with twenty pheasants and we keep them well-fed, I would say that I saw six yesterday so they have stayed which is rather nice.  Next year we will have forty pheasants (as you will lose a percentage of them).
We will have twenty partridge too; it would be nice to keep a pair of partridge, they are very happy birds.  It's also amazing the number of coveys we have had since we thatched a roof, we've had to put wire on to stop them stealing the thatch.
We also now have jackdaws which we have never had living on the house, it's rather beautiful and I'm sure the heron will be here next year too for his breakfast.
"If you create a habitat for certain species then they will come"
It's all about balance, we're growing vines on the pergolas, purely for the grapes so that the blackbirds can eat them in September. I also leave some of the figs on the trees for the blackbirds to eat.  We don't use the figs in the restaurant but I eat them! They are actually the best figs I've ever tasted in England, this area is south facing so the sun is here for a large part of the day and the glass from the windows magnifies the heat.
What's amazing is with the development we've done so far it has brought in so much nature.
I'm very much a naturalist, you can see by what we are building here we're very much at one with nature, and okay, yes, we have to find that balance of nature and it being a business.
"I name everything on this estate after my childhood"
Every place on the estate has a name from my past.  We have 'The Walk' which is an area of the Broadlands Estate I spent a lot of my early adult life.
It means if I ring the gardener and ask where he is and he says Blackstaple or Squab Wood I know exactly where he is. If he said he was in the top field I'd have no idea where he was!
The pond is called the Bridge Pool where I used to fish in Scotland on the Spey.
Did you know the biggest fish ever caught on rod and line was by a woman? Georgina Ballantine caught a 64lb salmon on the Tay in 1922.
I also used to fish a lot in Wales, in particular at Llangorse near Abergavenny and salmon fish on the Wye near Monmouth, the Wye is a very beautiful river, it has a very big gene pool of salmon.
I think the Wye now have a restocking release programme which is very good. The salmon I used to catch I always put back into the stocking programme though.
Rudloe Hall is a very eclectic mix of amazing photographs, art and sculptures, who chooses the items, do you have an interior designer?
Everything throughout the hotel I have chosen personally.  For instance, this carved fish – 100 years ago Cooper was the finest taxidermist in the world but Cooper realized was, yes, you can stuff a salmon but within 8 – 10 years, it would decompose because of the oils in the skin so he started carving.  He would take their measurements and then produce it as a carving.  I also only buy old original 1930s wooden front fridges which we restore.
I pick up things on my travels, like a little boxed coastal picture by an artist on the South Coast, it's rather beautiful, not very expensive, naïve but a very beautiful little piece. I really like arts and crafts.
The last thing I want to do is create an environment that people feel that they have to dress up for dinner.  I wanted a country house hotel which feels like my home and that is why I don't use designers and I do it all myself. It's a place where people can relax and enjoy themselves and it has to be understated, it can't be flash, we don't try to be posh.
"Have you noticed that each piece of furniture in these rooms have little carved mice on them!"
Marco picks up a 1930s chair to show us, there is a little mouse running up the leg of the chair. 
These are by Robert Thompson a British furniture maker from Kilburn in North Yorkshire and the carved mouse is the carver's signature.
Robert Thompson was having a conversation one day with a colleague whilst carving a cornice – the story told by him is that one of his craftsmen remarked that  "We are all as poor as church mice" whereupon Robert carved a mouse on the church screen he was working on. That particular mouse has never been found but it has continued as a trademark of quality and dedication to craftsman ever since.
In the bar area stands a beautiful old welsh dresser complete with mice which was originally in the Horlicks boardroom. All the furniture is bought and then restored back to its former glory.
Marco continues to show us the bar stools from the 1940s –  bare oak – the design looks like coral, when they cut the wood they keep all the sawdust and mix it with glue. Marco proudly shows us the stunning craftsmanship of the oak furniture which we have to agree is exquisite. He then shows us around the restaurant pointing out all the mice before directing us into the next snug bar area where he has pieces by a Norfolk artist Guy Taplin who took inspiration from wildfowling Decoys.
Guy Taplin works with reclaimed wood which makes him the epitome of the green artist, using recycled materials to create sculptures which celebrate the beauty of the natural world and he is, without doubt, one of the most celebrated international artists in his field.
On the bar wall, there is a beautiful display of delicate pressed seaweed, when you press seaweed you put it between blotting paper and have to change the paper daily so think how delicate that is to do.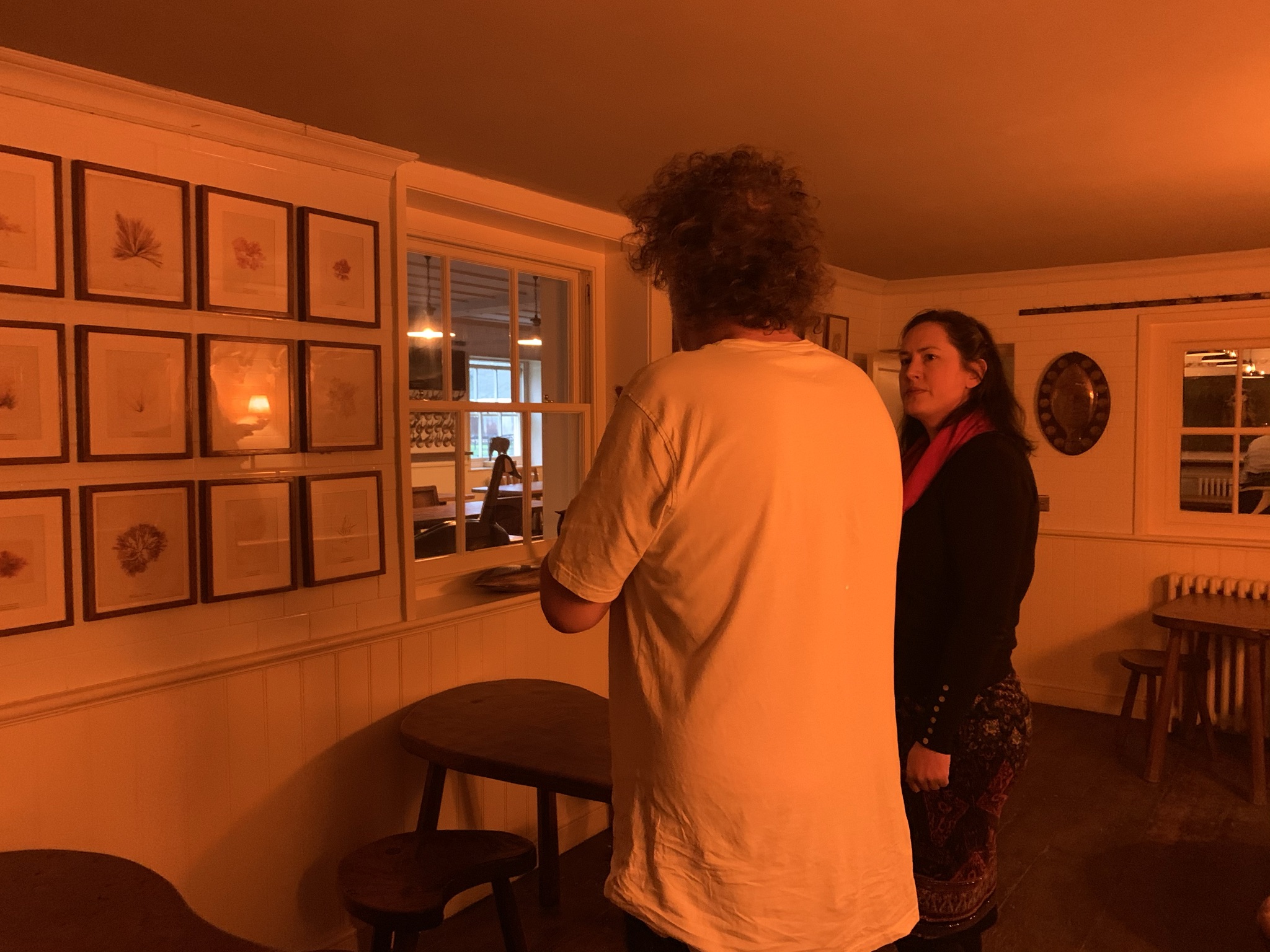 We then move into the next room where Marco points out a picture of a train.
This picture used to hang in the waiting room of Doncaster railway station.  Only twenty-two were ever built between 1898 – 1903 at Doncaster Works. This class of train were nicknamed Klondykes after the 1897 gold rush, they could travel up to 90 MPH. This actual train in the image is the only survivor to escape being scrapped and is currently preserved in York Museum.
We move further into the room and there is a bust on the side of the wall
In the 1930s they knocked down Dorchester House in London and all that land was then turned into the Dorchester Hotel.  This piece came from Dorchester House which was a centrepiece to the main fireplace in the main lounge.
Next Marco points out a framed tablecloth
This is a tablecloth from La Cote D'Or, a very famous 2 star Michelin restaurant I used to work as a boy which was owned by Sir Joseph Maxwell, you can see Robert Morley the actor is one of the people illustrated on it.
"I prefer to leave things blank until I find the right thing for it"
You can see a blank space behind me, what I'm going to do is put in another window that allows me to continue this theme. If you look to the other side of the room there is another theme –  a butchers hook, a fish, antlers …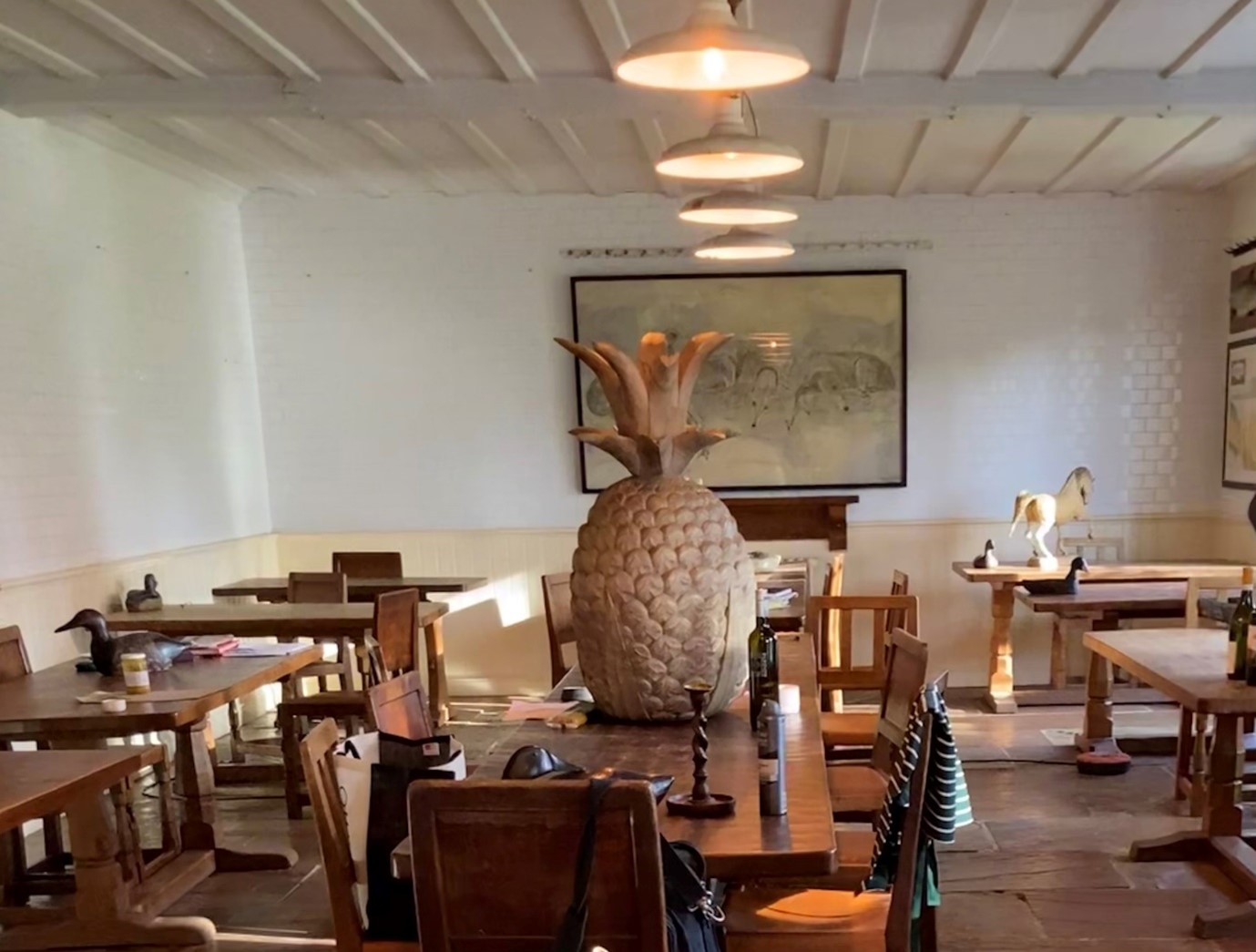 "I like balance and I think the eye must be amused in a restaurant". 
How often do you go into a modern restaurant, you see a lot of them are quite minimal? In five years' time, they will be out of date.   This place will stand the test of time – a lot of people would like my tables in their kitchens.
I wanted to create an environment in which people aren't intimidated by, most country house hotels are all carpet and white table cloths and are all trying to be posh.
Of course, the layout had to be changed because of the pandemic so we have 2 meters in between tables, some restaurants are sticking to a 1-meter spacing. We've got the space so we will use it.
How has the business been affected by the pandemic?
Enormously, we were closed for seven months last year so we were barely open.  December was on about 60% occupancy which I think was very good.  It's not worth a lot of places opening, in some cases it's better to furlough staff rather than open.  If you only had one room booked you have to bring in a receptionist, chef, waiter, night porter for one room.
What really happened with the second lockdown, in my opinion, and I'm not saying I'm right, is that it knocked the stuffing out of the consumer, you book for two days away, for example, you pay and it's lockdown again, I think a lot of people are also concerned about their jobs.
The hotel/pub/restaurant sector has to be down by about 50% if not more. I made a very conscious decision to be really aggressive with my offers as it's not about making money in this market, in my opinion, it's about breaking even.  Layout your stall to break even.
I see a sign up there for Mirabelle restaurant, was your daughter named after that restaurant?
The Mirabelle was the most famous restaurant in Britain for many decades but Mirabelle wasn't named after it.  When we were looking for names I was digging through this book for girls names and I saw the name Plum and in brackets, it said, Mirabelle.
I said to my wife why don't we name her Mirabelle, my wife said we couldn't name her after the restaurant, and so I showed her the book entry.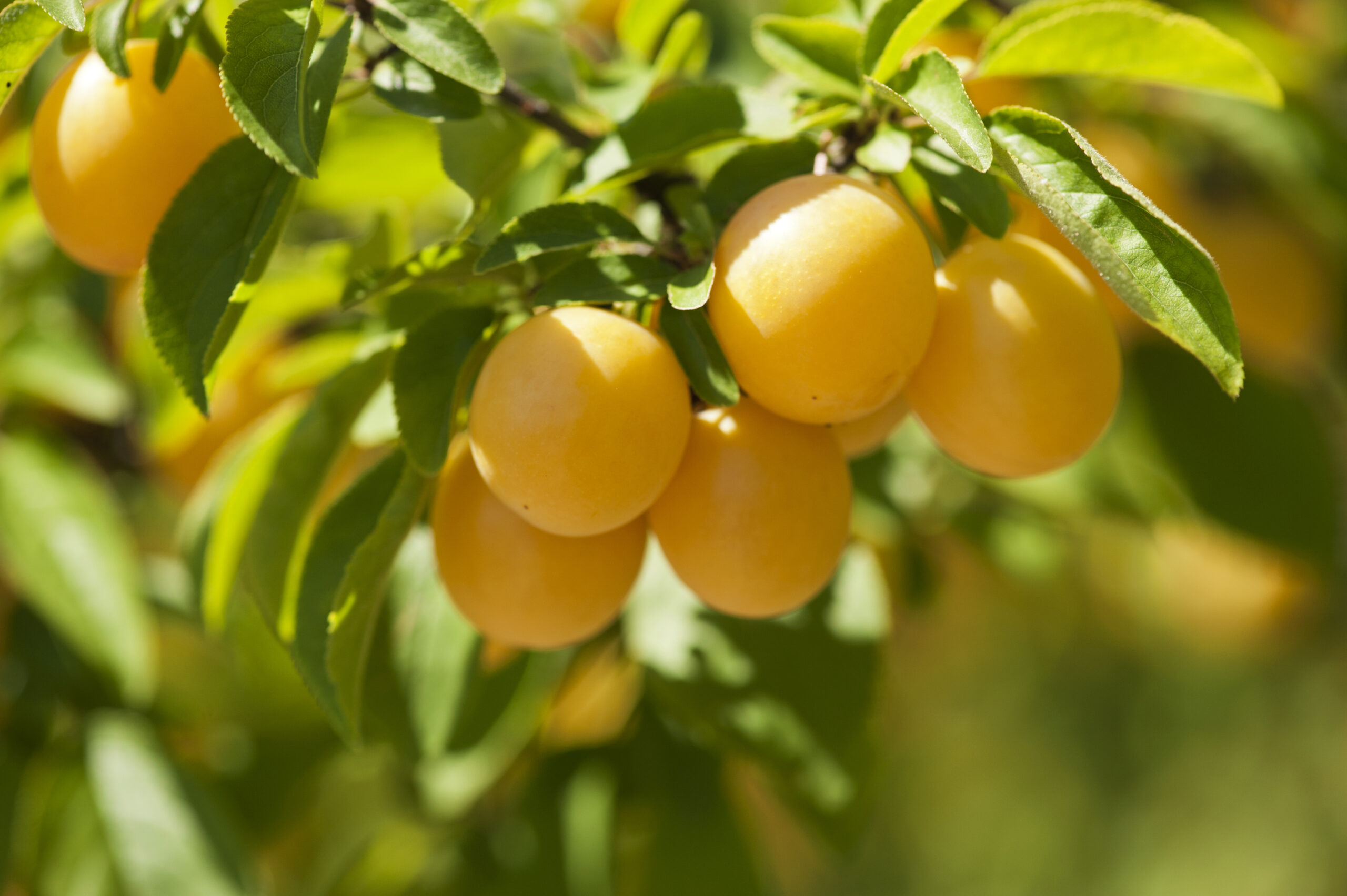 Between that Christmas and New Year, we watched a French Film and it was about two French girls who were friends – ironically one was called Mirabelle (Marco pronounces in a very French accent)  Mirabelle was in Paris and Reinette was her best friend who lived in the countryside and had a more country, simple life.  It was all about this relationship between these two girls and that confirmed it was a great name.
We just happened to have the restaurant called Mirabelle so when we sold it, I took the back sign which must be from the 40s or 50s, it's glass and etched.
The name Mirabelle means wonderful in Latin, there's also an old Victorian name Mirabel, I think the Duke of Arandel's sister was called Lady Mirabel (the English way of spelling it) but my daughter is spelt the French way (of a golden plum). A pretty and quite a whimsical name for a girl.
We also forgot to give her a middle name, so her surname is Pierre White, she has exactly the same initials as me and the only reason she has the surname like her brothers is that we hadn't realized when we registered the two boys at Chelsea Registry Office that the lady behind the desk assumed the surname was Pierre White so they were given their surnames by the lady at the registry office, Pierre is my middle name not part of my surname.
The Final Foodie Word…
"I'm a classicist and I believe we live in a world of refinement by invention". 
I'm a great believer that mother nature is the true artist when it comes to food, we're just the cooks, allowing the food to present itself and be itself.
I don't like overworked or fussy food.  People think they can reinvent the wheel.  You find some individuals who want to put strange and peculiar flavours together, I stick to the classics like basil and tomato, Madeira and mushroom, red wine with shallots and marrowbone and beef (Cote De Boeuf).
"I like simplicity with generosity"
I think generosity is your presentation – plate presence, retention of heat – if you have fine quality beef with a generous amount of ceps what more could you need?  You don't want to be getting tweezers out to present the food.  While you are faffing around, the food is losing its temperature, I really don't like tepid food, I like hot food.
We really hope you have enjoyed our two interviews with Marco, we would highly recommend that you book a table at The Rudloe Arms or treat yourself to a weekend away so you can really enjoy the environment for yourself.
Check out their website for their current offers.