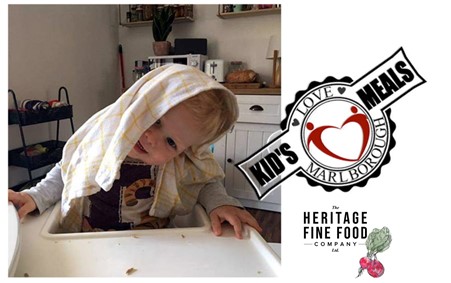 Our food donation to Love Marlborough Kids Meals to help provide food for families in need
With the third lockdown in place Heritage Fine Foods was left with an excess of produce due to schools and catering establishments closing.  Last week they had an excess of small bottles of milk which were due for schools and had been too late to cancel – these have been added to customer food boxes for free.   Heritage was also left with a huge quantity of prepped potatoes that were destined for catering businesses.  When the team heard about the work of Love Marlborough Kids Meals they jumped in to donate 100kgs of excess prepped potatoes to avoid waste and give something back to the local community.
Tom Edwards, Sales Director at Heritage commented "It's certainly a challenging time for everyone right now but we hate waste and absolutely hate the thought of people going hungry, we are really delighted to be able to support such a worthwhile project".
Kymee Cleasby was inspired to start Love Marlborough Kids Meals by England player Marcus Rashford's campaign to feed children missing out on school meals over the summer. "I completely agreed with him and began thinking about all the companies that were making large redundancies and all of the people who have never been in that situation before and not part of the welfare system," she said. "I heard of families who had slipped through the net for one reason or another. I had a feeling that there were other families missing out, and so I began asking around.
"I heard about one family living on baked beans for two weeks, which struck a chord with me. I come from a deprived background and I can remember eating baked beans for the whole of one summer. That was in the 70s, it shouldn't be happening now. I heard of another family wondering how they could split a jar of hot dogs with their neighbour, also in need…"
Love Marlborough, an initiative by St Mary's Church, immediately embraced the idea of providing hot meals to kids and their families that need them twice a week, delivered to their door. A whole team of volunteers have committed to cooking and delivering. Those who are front facing the public are DBS checked, and cooks follow strict Covid rules, to ensure safety for everyone.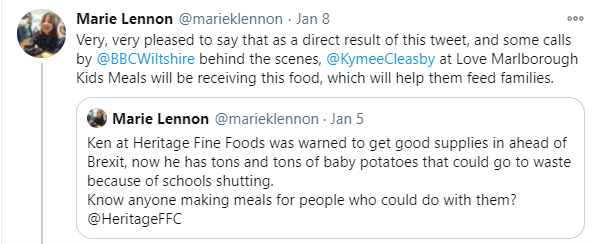 A huge thank you to Marie Lennon at BBC Wiltshire who was instrumental in linking up Love Marlborough Kids Meals with Heritage
Find out more about Love Marlborough Kids Meals and how you can help through food or monetary donations.