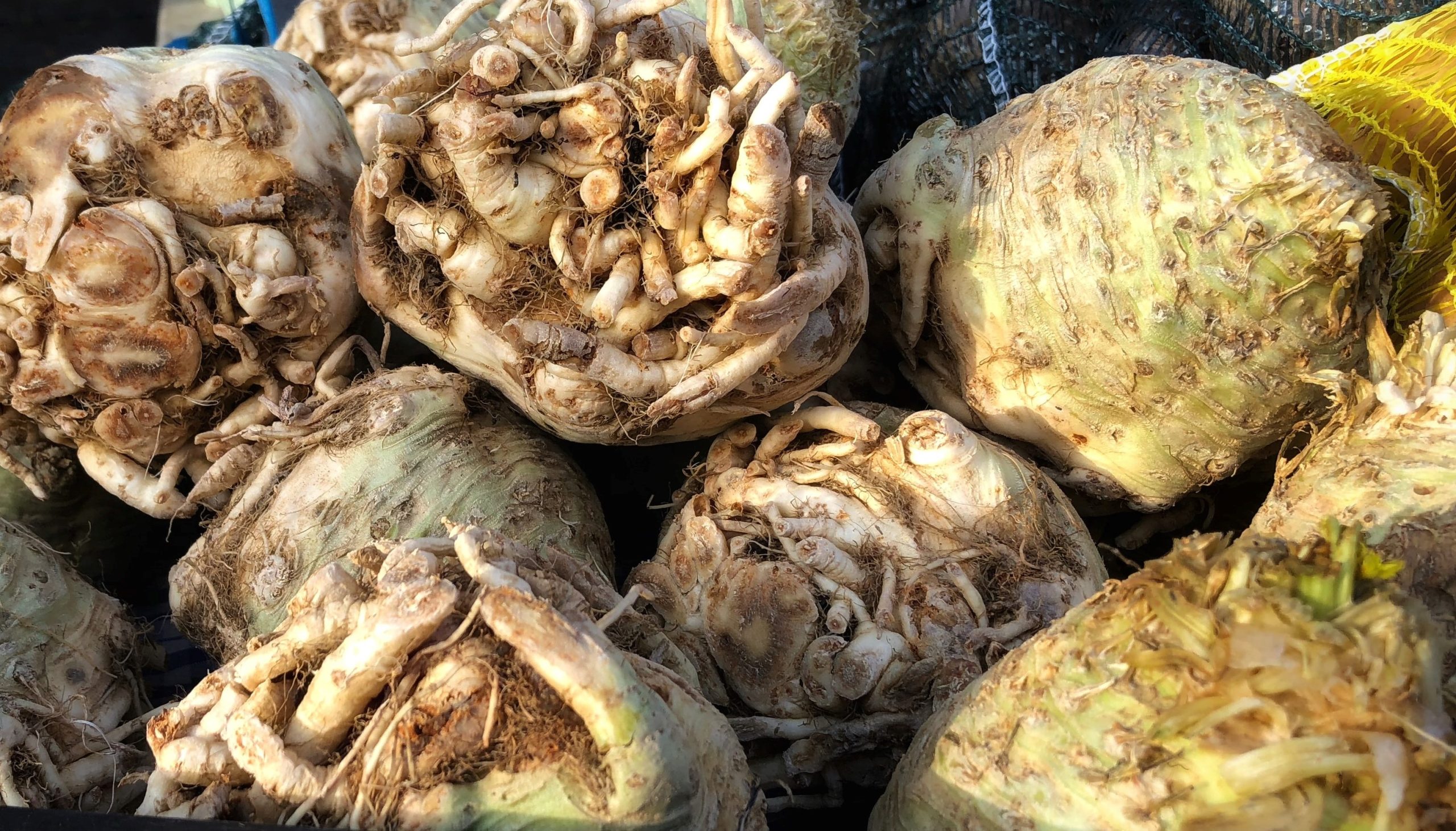 Celeriac, also called celery root, knob celery, and turnip-rooted celery is the unsung hero of the vegetable world, it has a subtle celery-like flavour, with nutty overtones. Try it as mash, raw in a salad, in slow-cooked dishes, or take inspiration from our Pinterest board.
Celeriac is packed with antioxidants and is high in potassium and vitamin K.
Check out some of our celeriac recipes below; or share your favourite recipes on our Facebook, Twitter and Instagram.
Celeriac remoulade is quick and easy to make and perfect as a side dish or to serve as part of a salad for a healthy light lunch.
Source: Olive Magazine, find the recipe here
Celeriac Steak with Salsa Verde
Looking for a veggie midweek meal? Try this vegetarian celeriac steak recipe for a super easy low-calorie meal for three.
Source: Olive Magazine, find the recipe here
Celeriac 'Noodles' with Chilli Sauce
These crunchy celeriac ribbons are a perfect alternative to traditional egg noodles. Crispy ham and chilli sauce give plenty of flavour to this quick and easy dish.
2 tbsp vegetable oil
4 slices prosciutto, finely chopped
1/2 small onion, finely chopped
3 large garlic cloves, finely chopped
4cm piece of ginger, finely chopped
2 tsp chilli flakes
1/2 tbsp fish sauce
2 tbsp soy sauce
1 tbsp soft light brown sugar
250g pak choi, quartered
400g celeriac, peeled and cut into ribbons with a vegetable peeler
3 spring onions, finely sliced
Method
Heat the oil in a frying pan over medium heat and fry the prosciutto and onion for 6-7 mins until the onion is soft and the meat is crisp. Add the garlic, ginger and crushed chillies and cook, stirring constantly, for 2 mins. Add the fish sauce, soy sauce, sugar and 3 tbsp water and cook for 1 min. Remove from the heat and set aside.
Bring a large pan of water to a boil. Add the pak choi and boil for 1 min, then add the celeriac ribbons. Boil for another 30 secs, then drain. Toss with the sauce and scatter with the spring onions to serve.
Smoked Haddock & Celeriac Hotpot
Comfort food doesn't get any better than this one-pot fish recipe that can be frozen too.
Source: Delicious, find the recipe here
Celeriac Hash with Ham Hock & Duck Eggs
This hearty hash is a great way to use up any leftover root vegetables. You could try swapping the celeriac for parsnips, potatoes or Jerusalem artichokes.
Source: BBC Good Food, find the recipe here