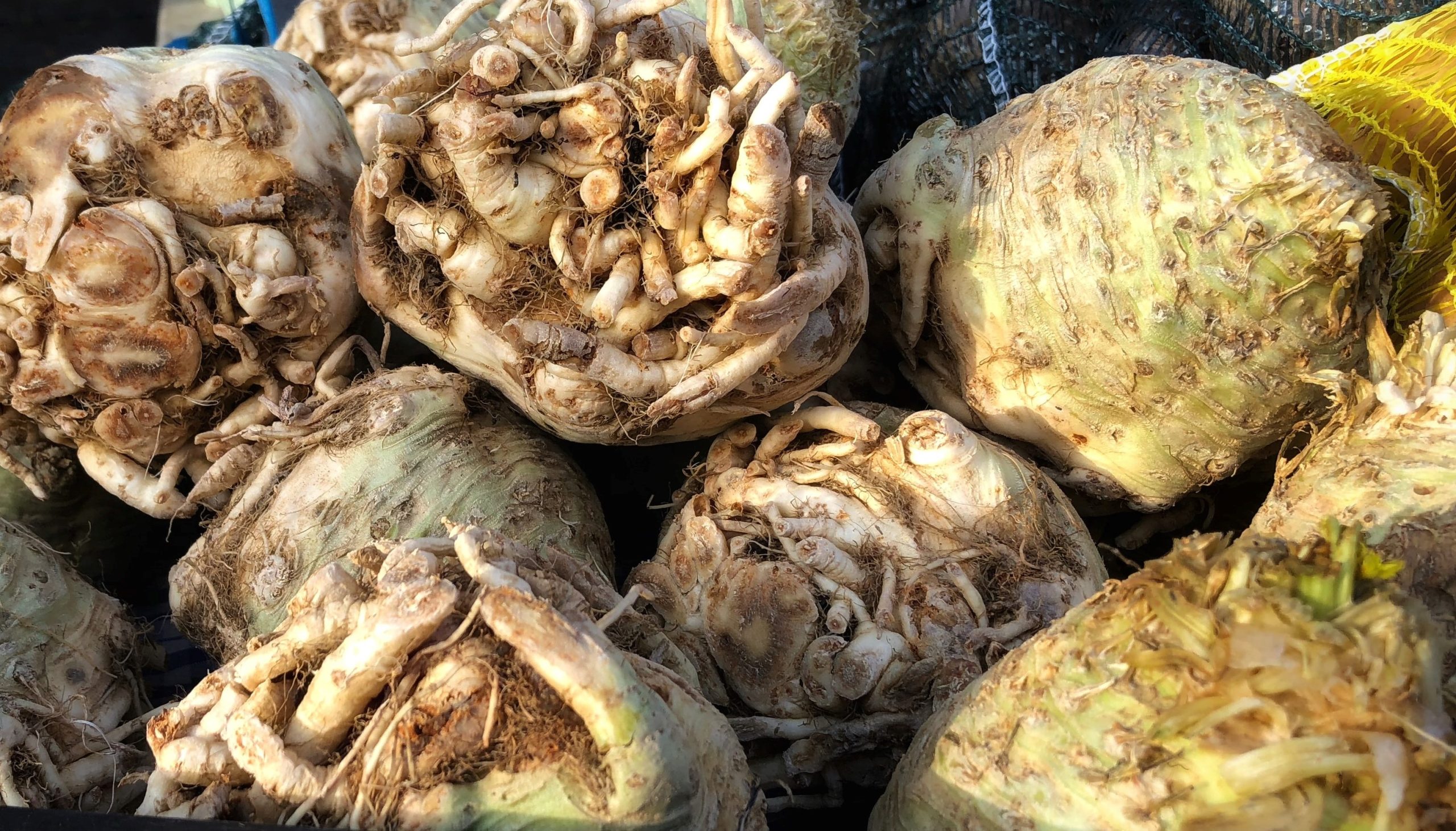 Celeriac, also called celery root, knob celery, and turnip-rooted celery is the unsung hero of the vegetable world, it has a subtle celery-like flavour, with nutty overtones. Try it as mash, raw in a salad, in slow-cooked dishes, or take inspiration from our Pinterest board.
Celeriac is packed with antioxidants and is high in potassium and vitamin K.
Check out some of our celeriac recipes below; or share your favourite recipes on our Facebook, Twitter and Instagram.
Celeriac remoulade is quick and easy to make and perfect as a side dish or to serve as part of a salad for a healthy light lunch.
Source: Olive Magazine
1 lemon, 1/2 sliced, 1/2 juiced
1 medium celeriac, about 400g
3 tbsp mayonnaise
1 tbsp creme fraiche
1 tbsp Dijon mustard
1 tbsp parsley, finely chopped
To serve
Sourdough, sliced, drizzled with olive oil and griddled
Serrano ham
Method
Add the lemon slices to a bowl of cold water. Peel and julienne the celeriac finely. As you prepare the celeriac, drop the pieces into the lemon water, this will stop them from turning brown. Drain well and pat dry on kitchen paper. Mix with the lemon juice and a good pinch of salt and leave for 10 minutes. Drain off and discard the juice then add the remaining ingredients to the celeriac, season and mix well. Serve with sourdough toast and ham.
Celeriac Steak with Salsa Verde
Looking for a veggie midweek meal? Try this vegetarian celeriac steak recipe for a super easy low-calorie meal for three.
Source: Olive Magazine
1 celeriac, peeled
25g unsalted butter
1 tbsp vegetable oil
2 garlic cloves, bashed
A few sprigs of thyme
100ml white wine
150g vegetable stock
100g kale
660g jar Haricot beans, rinsed
Salsa Verde
Small bunch flat-leaf parsley, finely chopped
Small bunch mint, finely chopped
1 tbsp baby capers, rinsed and finely chopped
1 tsp Dijon mustard
1 tbsp red wine vinegar
3 tbsp extra-virgin olive oil
Method
Cut the celeriac into 3 steaks, each about 2cm thick (keeping any leftover for stocks and soups). Heat the butter and oil in a frying pan and, once foaming, add the celeriac. Cook one side for 5 minutes until really golden. Flip, add the garlic and thyme, and cook the other side until golden, basting with the butter. Pour in the white wine and reduce by half, then pour in the stock. Simmer gently for 15 minutes until very tender and a knife pierces them easily, then remove to a plate. Add the kale and 100ml of water to the pan, and simmer for 5 minutes. Add the beans and heat through.
To make the salsa Verde, put all of the ingredients in a bowl with some seasoning and mix well.
Serve the beans and kale with a celeriac steak on top and a drizzle of the Salsa Verde.
Celeriac 'Noodles' with Chilli Sauce
These crunchy celeriac ribbons are a perfect alternative to traditional egg noodles. Crispy ham and chilli sauce give plenty of flavour to this quick and easy dish.
Source: Real Food
2 tbsp vegetable oil
4 slices prosciutto, finely chopped
1/2 small onion, finely chopped
3 large garlic cloves, finely chopped
4cm piece of ginger, finely chopped
2 tsp chilli flakes
1/2 tbsp fish sauce
2 tbsp soy sauce
1 tbsp soft light brown sugar
250g pak choi, quartered
400g celeriac, peeled and cut into ribbons with a vegetable peeler
3 spring onions, finely sliced
Method
Heat the oil in a frying pan over medium heat and fry the prosciutto and onion for 6-7 mins until the onion is soft and the meat is crisp. Add the garlic, ginger and crushed chillies and cook, stirring constantly, for 2 mins. Add the fish sauce, soy sauce, sugar and 3 tbsp water and cook for 1 min. Remove from the heat and set aside.
Bring a large pan of water to a boil. Add the pak choi and boil for 1 min, then add the celeriac ribbons. Boil for another 30 secs, then drain. Toss with the sauce and scatter with the spring onions to serve.
Smoked Haddock & Celeriac Hotpot
Comfort food doesn't get any better than this one-pot fish recipe that can be frozen too.
Source: Delicious
50g unsalted butter
2 tbsp olive oil
2 large mild onions, finely sliced
1 celeriac, diced
3 large potatoes, diced
250ml vegetable stock
800g undyed smoked haddock, pin bones removed
1 bay leaf
600ml whole milk
200g sweetcorn
Small handful parsley, chopped
Method
Heat the butter and oil in a large pan and gently fry the onion for 5 minutes until soft. Add the celeriac and potato to the pan, season well and fry for 5-6 minutes, then add the stock, bring to a boil and cook for 5-10 minutes until tender. Remove from the heat and leave covered.
Heat the butter and oil in a large pan and gently fry the onion for 5 minutes until soft. Add the celeriac and potato to the pan, season well and fry for 5-6 minutes, then add the stock, bring to a boil and cook for 5-10 minutes until tender. Remove from the heat and leave covered.
Return the onion and root-veg mixture to medium heat. Add the milk from the poached fish and the sweetcorn and gently simmer for 2-3 minutes. Check the seasoning. Divide the chowder into two and serve half immediately, with half the haddock, sprinkled with the parsley.
Allow the remaining liquid to cool, then add the cooled haddock and freeze in a sealed plastic container for up to 1 month.
Defrost fully before gently reheating in a pan until piping hot.
Celeriac Hash with Ham Hock & Duck Eggs
This hearty hash is a great way to use up any leftover root vegetables. You could try swapping the celeriac for parsnips, potatoes or Jerusalem artichokes.
Source: BBC Good Food
Small knob of butter
2 tsp rapeseed oil
1 small onion, halved and sliced
1 garlic clove, crushed
2 thyme sprigs, leaves picked
1/2 celeriac, halved, thinly sliced, then roughly chopped
2-3 large cavolo nero leaves
90g cooked ham hock, shredded
1 tbsp wholegrain mustard
2 duck eggs
25g gruyere, cut into small chunks
Method
Heat the butter and oil in a wide frying pan. Add the onion and cook slowly for 15 mins or until turning golden. Stir in the garlic and thyme for 30 secs, then add the celeriac and some seasoning. Stir to make sure the celeriac is well coated in the buttery onions, then add a splash of water and cover the pan with a lid or piece of foil. Cook for 8-10 mins until the celeriac has softened and is caramelising in places.
Add the cavolo nero and ham, and stir well. Increase the heat to wilt the cavolo nero and crisp the ham in places. Add a splash more water if anything starts to stick to the pan. Dot around spoonfuls of mustard, then create two spaces to cook the eggs. Add a drizzle more oil to the gaps if the bottom of the pan looks dry, then crack in the eggs. Dot the cheese around the pan and cover with a lid or foil for 2-3 mins. By this time, the egg whites should be cooked and the yolks still runny. Season the eggs with a little black pepper and serve from the pan.