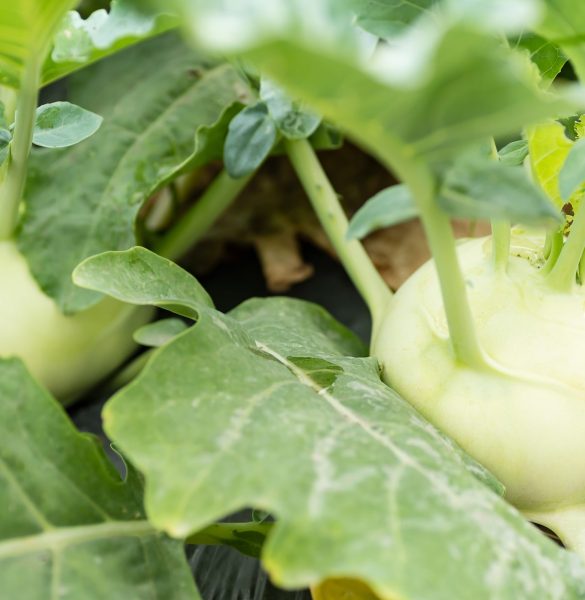 Kohlrabi, also called German turnip or turnip cabbage, is a biennial vegetable, a low, stout cultivar of wild cabbage. It is a cultivar of the same species as cabbage, broccoli, cauliflower, kale, Brussels sprouts, collard greens, Savoy cabbage, and gai lan. It can be eaten raw or cooked. it's great sliced into discs or matchsticks and is nice served with your favorite veggie dip. It also adds a novel kick to salads with its subtly spicy flavor, similar to a mild radish. Definitely give grated kohlrabi a go in slaws.
Kohlrabi is a great source of potassium, vitamin C, and fibre.
Kohlrabi's name originated from the German words "kohl," meaning cabbage, and "rube," meaning turnip.
Try out some of these recipes and let us know on facebook what you made..
An easy vegan weeknight recipe made with ginger-lime marinated kohlrabi, fresh herbs, and rice noodles. A great make-ahead lunch! Healthy & gluten-
Source: Love and lemons, find the recipe here
Shaved kohlrabi salad with basil and parmesan
Kohlrabi tastes like a cross between a turnip and an apple, and when it's shaved thinly and tossed with oil and vinegar, Parmigiano Reggiano, and some fresh herbs, it is so refreshing and delicious.
Source: Alexandra Cooks, find the recipe here
Made with toasted hazelnuts, red onions, and apples, this easy kohlrabi slaw is crisp and refreshing. It's a light, lovely side dish for any autumn meal.
Source: Love and lemons, find the recipe here
Roasted kohlrabi with lemon shallot vinaigrette
This easy oven roasted kohlrabi recipe transforms the unique vegetable with a lemon vinaigrette, goat cheese and fresh tarragon. Crunchy toasted sunflower seeds bring texture to round out this kohlrabi side dish.
Source: Running the kitchen, find the recipe here
Cheesy pasta with shredded kohlrabi
Cheesy Pasta w/ Shredded Kohlrabi is quick, tasty & nutritious. Did you know shredded kohlrabi looks almost exactly like cheese (shh)!
Source: Art of natural living, find the recipe here