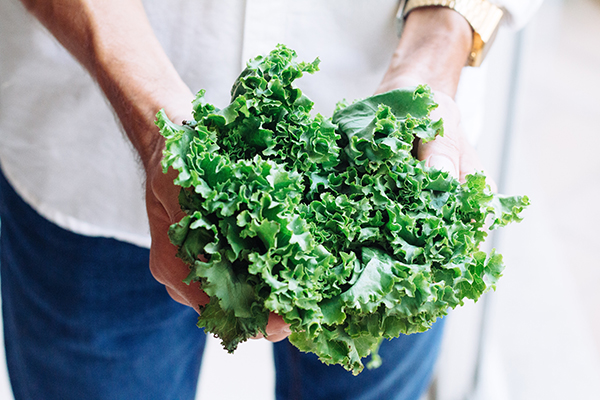 Kale
Kale is a dark, leafy green you can eat raw or cooked.
This superfood has been on dinner plates since Roman times and has long been common across much of Europe. The vegetable hails from the cabbage family, which also includes broccoli, cauliflower, and collards. Kale can be curly or flat or even have a bluish tint mixed in with the green. The flavours differ, so try them all.  Kale is more popular than ever, and it's packed with vitamins and minerals
Try some of our recipes and enjoy it for yourself.
Creamy pesto and kale pasta
Enjoy this creamy pesto and kale pasta. Make it with just a handful of ingredients and store cupboard staples
Source: BBC Good Food
1 tbsp rapeseed oil
2 red onions , thinly sliced
300g kale
300g wholemeal pasta (penne or mafalda work well)
4 tbsp reduced-fat cream cheese
4 tbsp fresh pesto or vegetarian alternative
Method
Heat the oil in a large pan over a medium heat. Fry the onions for 10 mins until softened and beginning to caramelise. Add the kale and 100ml water, then cover and cook for 5 mins more, or until the kale has wilted.
Cook the pasta following pack instructions. Drain, reserving a little of the cooking water. Toss the pasta with the onion mixture, cream cheese and pesto, adding a splash of the reserved cooking water to loosen, if needed. Season.
Kale and gnocchi parmesan bake
This veggie gnocchi bake is a clever way to transform shop-bought gnocchi. A simple, homemade tomato sauce is the base for this cheesy, kale-packed midweek dinner
Source: Olive magazine
kale 250g, stalks removed
olive oil 2 tbsp
dried chilli flakes 1 tsp
gnocchi 500g
parmesan (or veggie alternative) 50g, finely grated
mozzarella 250g ball, torn into chunks
fresh breadcrumbs 50g
TOMATO SAUCE
olive oil 1 tbsp
onion 1, finely chopped
garlic 2 cloves, crushed
plum tomatoes 2 x 400g tins
balsamic vinegar 1 tbsp
oregano a few sprigs, leaves picked and chopped
ricotta 50g
basil a bunch, roughly chopped
Method
Heat the oven to 190C/fan 170C/gas 5. To make the sauce, add the olive oil, onion, and garlic to a pan over a medium heat, and cook for 5-10 minutes or until turning translucent. Add the plum tomatoes, balsamic vinegar, oregano and lots of seasoning, and simmer for 10 minutes.
Meanwhile, put the kale, olive oil, chilli flakes and seasoning in a bowl, and toss to coat. Spread out on a baking tray and roast for 10 minutes to crisp up.
Cook the gnocchi following pack instructions in a large pan of lightly salted boiling water then scoop out and drain.
Add the gnocchi to the tomato sauce and stir through the ricotta and half the chopped basil. Put a third of the tomato sauce and gnocchi in an ovenproof baking dish (approximately 28-30cm) followed by a sprinkling of parmesan, a few chunks of mozzarella and a third of the kale. Repeat two more times. Top with the breadcrumbs, the remaining basil and the rest of the parmesan.
Bake for 20 minutes until bubbling and browned.
This colourful kale quinoa salad is full of healthy ingredients and tastes incredible! Meal prep this easy plant-based lunch idea for meals all week.
Source: A couple cooks
185g dry quinoa
1 bunch kale
Can chickpeas, drained and rinsed
1/2 onion chopped
1 bell pepper
2 carrots
4 tablespoons olive oil
5 tablespooons apple cider vinegar
1 tablespoon Dijon mustard
1 small pinch curry powder
1 large garlic clove, peeled and grated
½ teaspoon kosher salt plus fresh ground black pepper to taste
Method
Make the quinoa as per instructions and let cool.
Prep the kale: Chop the kale. Sprinkle the kale with 1 pinch kosher salt. Coat your hands with a few drops of olive oil and massage the kale leaves for 2 to 3 minutes until all pieces are tender.
Prep the other veggies: Finely chop the onion or shallot. Dice the pepper. Peel and dice the carrots.
Mix the dressing: In a medium bowl, whisk together the olive oil, apple cider vinegar, Dijon mustard, curry powder, and grated garlic.
Mix the salad: Mix the quinoa, chickpeas, and vegetables together with the dressing and the ½ teaspoon kosher salt and fresh ground pepper. Add more kosher salt to taste. Stores up to 3 days refrigerated (you may need to add a pinch of salt before serving since it looses saltiness over time).
Sausage and braised puy lentils with kale
Cook time: 1 hour 45 mins
Make the most of kale in this sausage one-pot recipe, served with a quick, punchy gremolata on the side
Source: Olive magazine
Olive oil
8 Meaty pork sausages
3 Streaky bacon rashers, chopped
1 large Red onion, finely chopped
100g Cavolo nero, leaves stripped and torn into pieces, stems finely chopped
4 cloves Garlic, chopped
2 tbsp Tomato purée
Glass of Red wine (optional)
175g Puy lentils
750ml chicken stock
400g tin chopped tomatoes
100g kale, leaves stripped
GREMOLATA
A small bunch of flat-leaf parsley, chopped
3 tbsp extra-virgin olive oil
1 lemon, zested and ½ juiced
Method
Heat a drizzle of olive oil in a casserole over a medium heat and brown the sausages until golden all over, then scoop out onto a plate. Tip in the bacon and fry until crisp and the fat has rendered, adding a little more oil if drying out.
Add the onion, cavolo nero stems and a pinch of salt, and cook gently for 5-10 minutes or until soft, then add the garlic and cook for a minute. Stir in the tomato purée and cook for a further minute before adding the red wine, if using, and bubble for a few minutes until reduced by 1/2. Stir in the lentils, stock and tomatoes, and add back the sausages and any juices from the plate. Simmer gently for 45 minutes until the lentils are just tender.
Mix together the parsley, extra-virgin olive oil and lemon zest and juice in a bowl with a little seasoning.
Stir the kale and the cavolo nero leaves into the casserole with another 100ml of water and simmer gently, while stirring, for 10 minutes, until the cavolo nero is cooked.
Spoon into bowls and serve with the gremolata scattered over.
Squash, kale, caramelised onion and feta tarts
These individual squash, kale, caramelised onion and feta tarts are really easy to make but look impressive and are packed full of flavour. We love the salty feta with the sweet squash and onion.
Source: Olive magazine
250g shortcrust pastry

sheet

1 onion

 sliced

1 tbsp olive oil 

300g butternut squash

, chunk, peeled and roughly diced

A big pinch of chill flakes 

50g kale 

3eggs

200ml double cream 

2 tbsp chopped dill

2

100g feta 

2 tbsp pine nuts
Method
Heat the oven to 200C/fan 180C/gas 6. Use the pastry to line four individual deep tart tins – around 12-15cm – or a 20cm, round deep tart tin. Line with baking paper, fill with baking beans and bake for 15 minutes, then remove the beans and paper and bake for 5 minutes more.
Meanwhile, soften the onions in the oil in a large frying pan until really soft. Increase the heat and continue frying until golden brown and caramelised, then add the squash cubes for a couple of minutes. Add a mugful of water and simmer until all the water has evaporated and the squash is just about cooked but still has a bite.
Stir in the chilli flakes with some seasoning. Steam or blanch the kale over or in a pan full of boiling water for a couple of minutes until tender. Dry or drain well.
Whisk the eggs, cream, dill and 50g of the feta – very finely crumbled. Season with pepper and a little salt. Crumble the remaining feta into bigger chunks and arrange in the pastry case with the onion-squash mixture and kale. Pour over the dill cream, then sprinkle with the pine nuts.
Bake large tarts for 25-30 minutes, individual tarts for 18-22 until the filling is set.