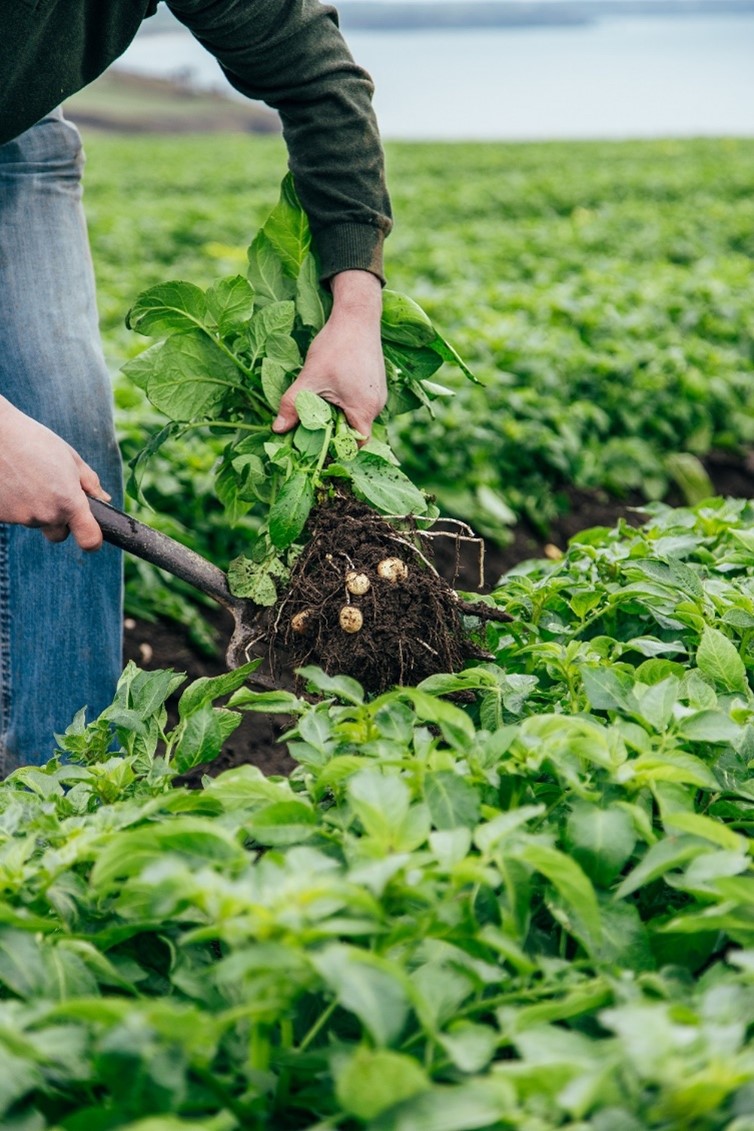 As the demand for seasonal British produce starts to grow now is the perfect time for Cornish new potatoes  They're seasonal, fresh and the UK's first mainland new potato crop. They have a loose skin and a buttery texture due to the temperate climate and proximity to the sea.
Cornish farmers are able to plant some of their earliest potatoes in January on specially selected land on the coast. The milder coastal climate and the sea breezes help to keep the fields largely frost-free through the winter. And with nowhere in Cornwall more than 20 miles from the sea, spring comes that little bit earlier than the rest of the country.
Cornwall grow around 100,000 tonnes of potatoes, a lot of the land is just too wild for farming and the rugged peninsula is around 80 miles long with 400 miles of coastline so Cornish farmers have a range of different landscapes to work with.
Through the generations, they've learned how to select the best land for planting at different times so that they get the benefits of the microclimates across the county. The earliest, during the first few months of the year, tend to be the fields that slope up from the English Channel, catching the sun and benefiting from the Gulf Stream.
Cornish farmers grow carefully selected varieties of potatoes that are ideally suited to their land.
Fast-growing Rocket is one of the earliest, which tends to be popular locally, and you can see it for sale at farm shops as early as April. Next comes Jazzy, then Maris Peer, Gemson and Lady Christl. These are all perfect Early potato varieties, with a mild, slightly sweet taste and a firm texture that keeps its shape when cooked.
The farmers monitor their crops very closely as they grow, checking their progress regularly as the potatoes develop underground. They will be harvested just as soon as they are big enough, while the leaves are still green above the ground. This means that they retain their natural sweetness and have soft, fluffy skin that just rubs off gently. These lovely potatoes aren't around for long though, so you need to make the most of them as soon as they're available – from now until around mid-August.
For inspiration on how to cook with Cornish New potatoes, see below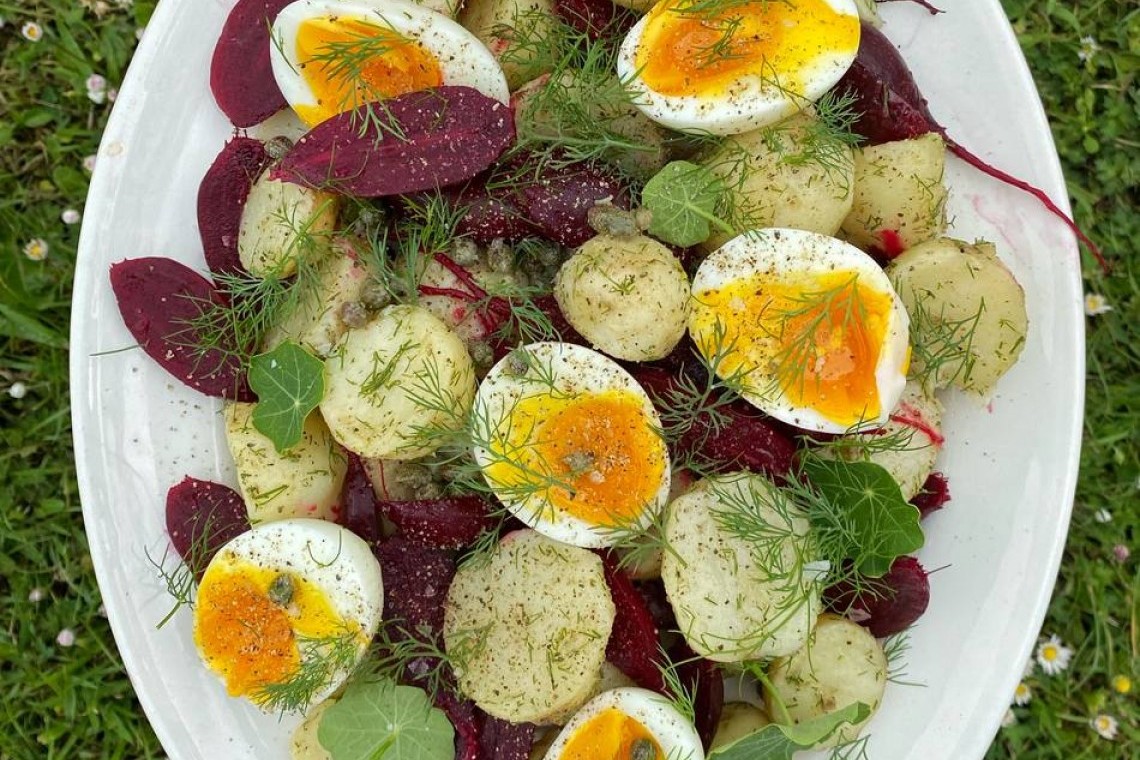 The Cornish New potato season is upon us and we think they're absolutely delicious, the best in fact, either in a salad like this or simply served with lots of butter!
Source: Seasonal Spuds
500g Cornish New Potatoes
8-10 small beetroot
3 eggs, room temperature
2 tbsp capers
1 bunch of fresh dill, chopped
For the dressing
2 tsp Dijon mustard
2 tsp sugar
1/2 small garlic cloves, peeled & bashed
2 tsp cider vinegar
50ml sunflower oil
50ml olive oil
Salt & freshly ground black pepper
Method
First, make the dressing. Place all the ingredients in a jar with a tight-fitting lid. Shake vigorously to combine. Taste and adjust the seasoning, sweetness or acidity as required.
Lightly scrub the Cornish New potatoes and cut them into bite-sized pieces. Place them in a pan full of salted water and bring to up to the simmer. Cook for 10–12 minutes or until they're just tender. Drain and while still warm toss with 2 tbsp of the dressing, half the capers, half the dill and season with salt and freshly ground black pepper.
Do the same with the beetroot, although they may need to simmer for a little longer or until they are tender when pierced with a knife. Drain the beetroot then peel them. When they are small and young the skins will slip off quite easily. Dress the beetroot with 2 tbsp of dressing, the remaining capers and dill and season well.
Place a medium-sized saucepan full of water on the heat. When the waters boiling add the eggs and cook for 6–7 minutes. Drain and allow to cool, then peel the eggs and halve them.
Choose a large shallow salad bowl or platter. Scatter out the dressed potatoes and beetroot. Place the eggs in and around these then finish the salad with a scattering of dill, some flaky salt and freshly ground black pepper and a good trickle of the remaining dressing.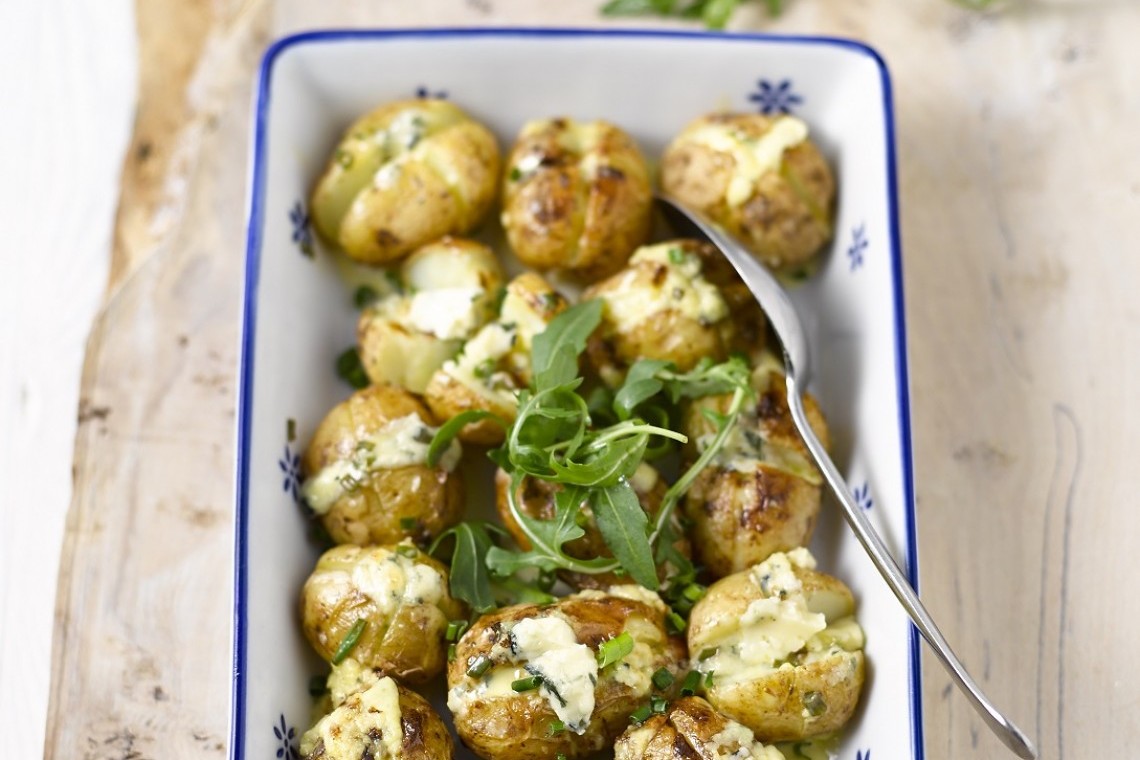 Baked New Potatoes with a Blue Cheese Glaze
Deliciously easy cheesy to make…This tasty treat would make a great lunchtime dish, simply served with a green salad. A mild soft blue cheese is ideal.
Source: Seasonal Spuds
12 medium-sized Cornish New Potatoes
2 egg yolks
200ml double cream
Fresh rocket leaves
200g blue cheese
Bunch of chopped chives
One lemon, juiced
1 tbsp olive oil
Sea salt & black pepper, to season
Method
Preheat the oven to 180˚C / Fan 160˚C / Gas 4.
Wash and dry the potatoes. Rub with olive oil and sprinkle on a little sea salt. Put them onto a baking tray and cook in the oven until soft (this should take around 30 minutes).
Remove the potatoes from the oven, then cut across into them, squeezing to open them up a little
Drizzle with the remaining olive oil and season with salt and pepper.
In a bowl, mix together the cream, lemon juice, cheese, chives and egg yolks in a bowl.
Spoon the mixture into each of the potatoes and put back into the oven for 8 – 10 minutes for the topping to cook until melted and bubbling.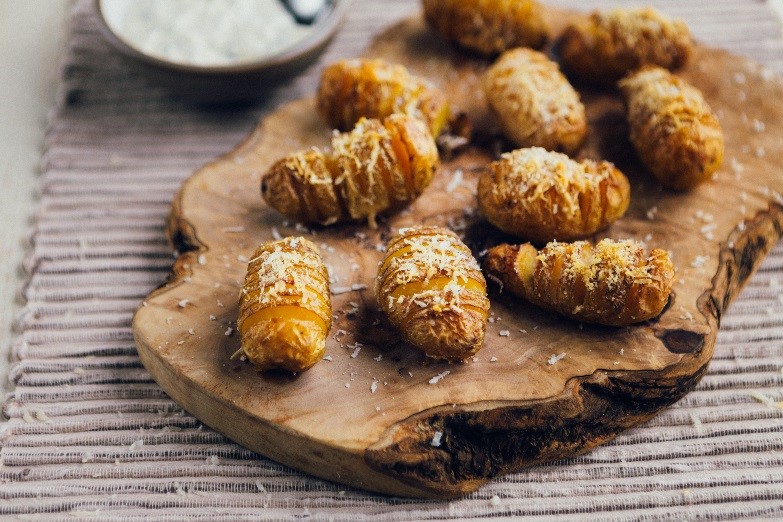 Mini Hasselback Cornish New Potatoes
These diddy little Hasselback potatoes are much quicker to cook than their full-sized buddies. Rest each potato in the bowl of a spoon to make the cuts so that you don't slice all the way through.
Source: Seasonal Spuds
20 Cornish New Potatoes
50g Butter
4 Garlic cloves, crushed
Salt and black pepper, to season
40g fresh parmesan, grated
For the dip
3 tbsp double cream
1 tbsp lemon juice
1 tbsp chives, finely chopped
Method
For the dip mix the double cream with the lemon juice until the cream thickens then stir in the chives. Serve this on the side.
Preheat the oven to 200C (fan 180C).
Make several cuts along each potato but not all the way through. Put them cut side up on a baking tray.
Put the butter and garlic into a pan, season, then warm through until the butter is melted.
Brush the butter and garlic mixture over the potatoes and roast them in the oven for 20 minutes.
Sprinkle with parmesan, then pop them back in the oven for a further 15 – 20 minutes until the parmesan has melted and the potatoes are golden.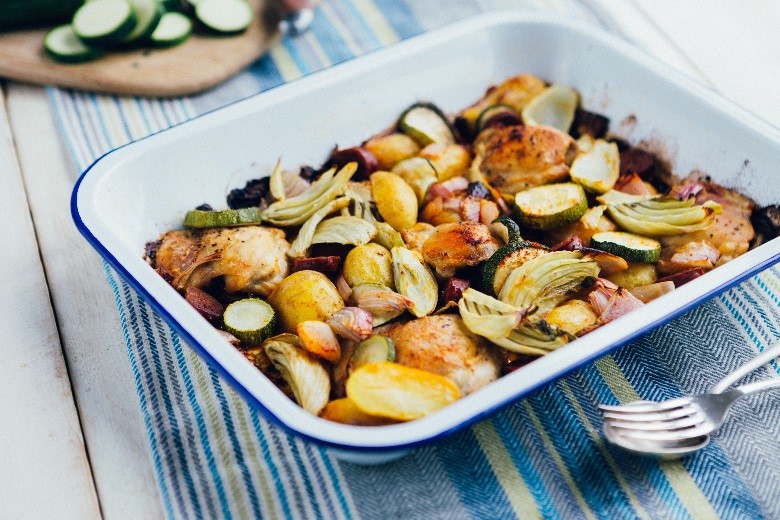 Chicken, Chorizo & Cornish New Potatoes Tray Roast
This healthy one tray roast makes it super easy to cook a roast dinner any day of the week.
Source: Seasonal Spuds
500g Cornish New Potatoes
8 boneless & skinless chicken thighs
100g cooking chorizo, sliced
1 large red onion, cut into wedges
8 garlic cloves, peeled & roughly chopped
1 courgette, chopped into slices
100g cherry tomatoes
1 tsp paprika
1 bulb fennel, sliced lengthways
1 tbsp olive oil
Salt & black pepper, to season
Juice of a lemon
Method
Preheat the oven to 220C (fan 200C).
Give the potatoes a wash, cut any large ones in half then simmer gently in salted water for 8 – 10 minutes until tender. Drain the water off.
Place the chicken, fennel and potatoes in a large ovenproof dish, drizzle with olive oil, sprinkle the paprika over the chicken, season and pop in the oven for 15 minutes.
Take the dish out of the oven. Add the chorizo, tomatoes, courgette, garlic and red onion to the dish and pop back in the oven for a further half an hour, until everything is cooked through.
Drizzle with lemon juice and serve.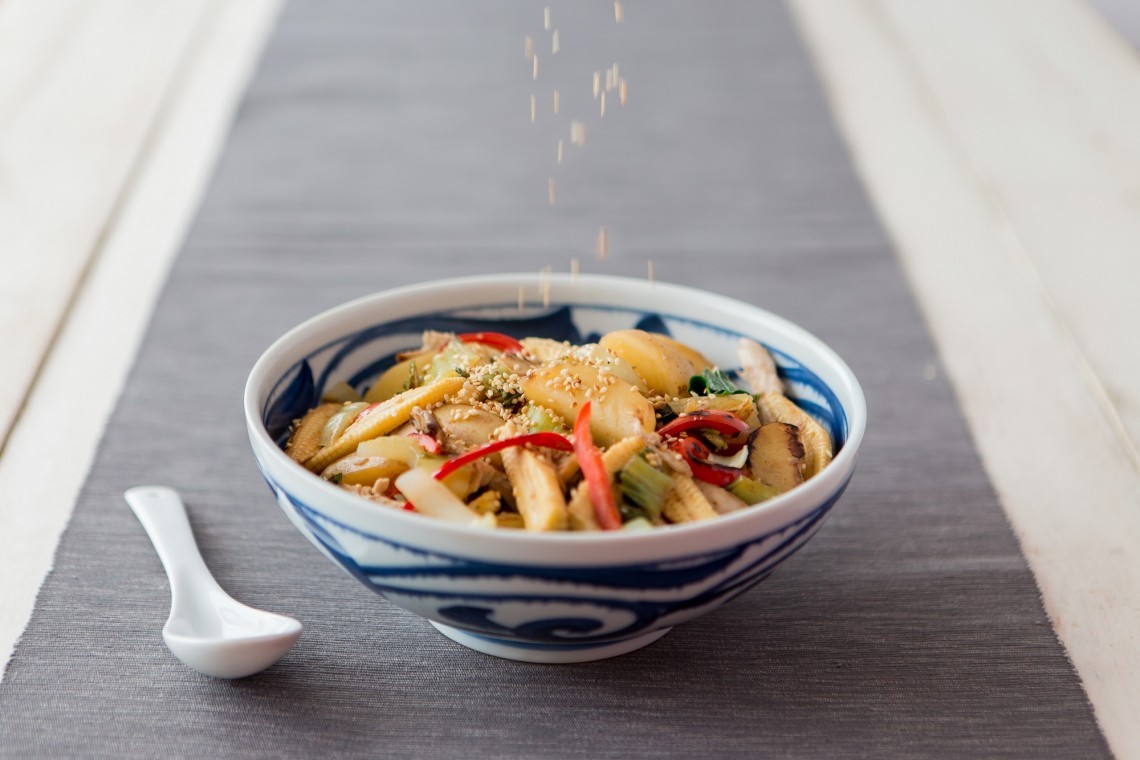 Cornish New Potatoes in a Chinese-style Stir Fry
For a light Chinese-style meal without rice, this is the perfect way to use up leftover cooked chicken (breast or thigh) and potatoes. If you'd prefer a vegan version substitute the chicken for 60g unsalted cashew nuts.
Source: Seasonal Spuds
300g Cornish New Potatoes
2 tbsp rapeseed oil
100g mushrooms, sliced
125g baby corn, sliced lengthways
1 red pepper, cut into thin strips
1 tsp Chinese five-spice seasoning
2 pak choi, sliced
2 spring onions, sliced
2 – 3 tbsp light soy sauce
170g cooked chicken, shredded
1 tbsp sesame seeds
Sea salt & black pepper to season
Method
Heat up a wok or large frying pan on the hob. Add the oil, heat for 1 minute and stir fry the potato wedges for 3 – 4 minutes.
Add the mushrooms, baby corn and red pepper and stir fry for a further 3 minutes.
Sprinkle in the five-spice, stir well and then add the pak choi and spring onion and continue to stir fry for 2 – 3 minutes. Add the chicken and soy sauce and stir fry until heated through.
Season, sprinkle with sesame seeds and serve.