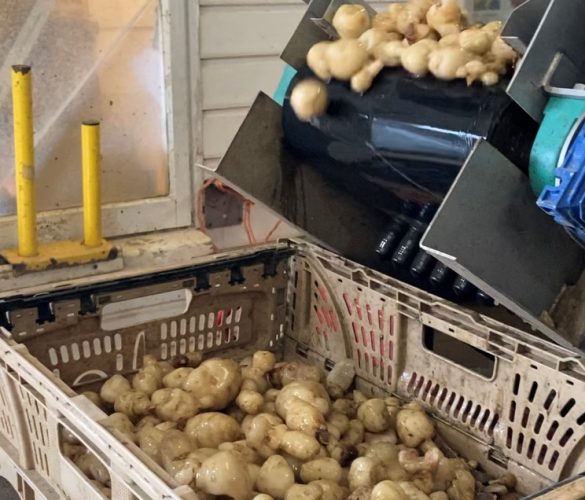 This wonderfully weird-looking root vegetable isn't truly an artichoke but a variety of sunflower with a lumpy, brown-skinned tuber that often resembles root ginger.
Despite its name, the Jerusalem artichoke has nothing to do with Jerusalem but comes from the Italian word for sunflower, Girasole.
Jerusalem artichokes also known as sunchokes, have white flesh which is nutty, sweet and crunchy and is a great source of iron. Sunchokes have other amazing health benefits such as being a high source of protein and potassium – a handful of this amazing veg contains a quarter of your daily iron intake.
So how do you prepare and cook this interesting root vegetable?
The artichoke flesh will discolour if exposed to air, so place the peeled vegetable in a bowl of acidulated water (cold water with a squeeze of lemon juice or a dash of white wine vinegar) until ready to cook.
Jerusalem artichokes are a great low-calorie alternative to potatoes and can be treated very much in the same way as potatoes. They are excellent roasted, sautéed, dipped in batter and fried, or puréed into a delicious soup.
Check out our three Jerusalem Artichoke recipes below, or for more recipe inspiration, head over to our Pinterest board.
Truffled Jerusalem Artichoke Soup
Velvety smooth and supremely comforting, this winter soup makes the most of this underrated root.
Nutritional Information
Kcal 422 | Fat 23.7g | Saturates 12.9g | Carbs 50g | Sugars 27g | Fibre 5g | Protein 7g | Salt 0.9g
Recipe inspiration: BBC Good Food. find the recipe here
Warm Artichoke, Orange & Feta Salad
This warm winter salad has it all: colour, flavour and texture. Oranges, sharp feta and nutty Jerusalem artichokes combine to create a beautiful side or seasonal meze.
Nutritional Information
Kcal 410| Fat 22g| Saturates 5g | Carbs 40g | Sugars 28g | Fibre 7g | Protein 11g | Salt 1g
Recipe source: BBC Good Food, find the recipe here
Jerusalem Artichoke Orzotto with Parsley & Peanut Pesto
This Jerusalem artichoke orzotto recipe is packed with hidden delights – nuggets of goat's cheese, crispy Jerusalem artichoke skins and heavenly parsley and peanut pesto. Make the pesto the day before to save time and allow the flavours to develop.
Nutritional Information
Kcal 836 | Fat 74g | Saturates 19.9g | Carbs 27.4g | Sugars 3.2g | Fibre 5.7g | Protein 19.4g | Salt 1.3g
Recipe source: Great British Chefs, find the recipe here
Smoked Haddock & Jerusalem Artichoke Gratin
Use any preferred smoked fish
This fish bake is a flavoursome warmer and uses dense Jerusalem artichokes in place of potatoes.
Nutritional Information
Kcal 531 | Fat 40g | Saturates 24g | Carbs 25g | Sugars 5g | Fibre 8g | Protein 22g | Salt 1.9g
Recipe source: BBC Good Food, find the recipe here
Pork, Cider & Artichoke Stew
Jerusalem artichokes are in season throughout the winter months and lend a sweet, nutty flavour to this hearty casserole.
Nutritional Information

Kcal 638 | Fat 20g | Saturates 6g | Carbs 43g | Sugars 24g | Fibre 7g | Protein 62g | Salt 1.5g
Recipe source: BBC Good Food, find the recipe here