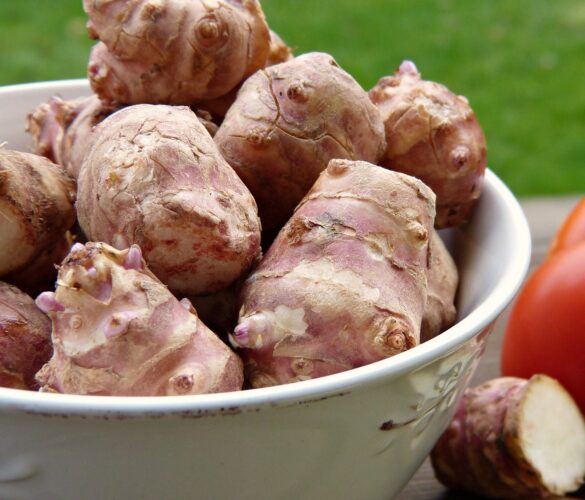 This week, in our boxes we have included a free gift of Jerusalem artichoke. This wonderfully weird-looking root vegetable isn't truly an artichoke but a variety of sunflower with a lumpy, brown-skinned tuber that often resembles root ginger.
Despite its name, this Jerusalem artichoke has nothing to do with Jerusalem but comes from the Italian word for sunflower, Girasole.
Jerusalem artichokes also known as sunchokes, have white flesh which is nutty, sweet and crunchy and is a great source of iron. Sunchokes have other amazing health benefits such as being a high source of protein and potassium – a handful of this amazing veg contains a quarter of your daily iron intake.
So how do you prepare and cook this interesting root vegetable?
The artichoke flesh will discolour if exposed to air, so place the peeled vegetable in a bowl of acidulated water (cold water with a squeeze of lemon juice or a dash of white wine vinegar) until ready to cook.
Jerusalem artichokes are a great low-calorie alternative to potatoes and can be treated very much in the same way as potatoes. They are excellent roasted, sautéed, dipped in batter and fried, or puréed into a delicious soup.
Check out our three Jerusalem Artichoke recipes below, or for more recipe inspiration, head over to our Pinterest board.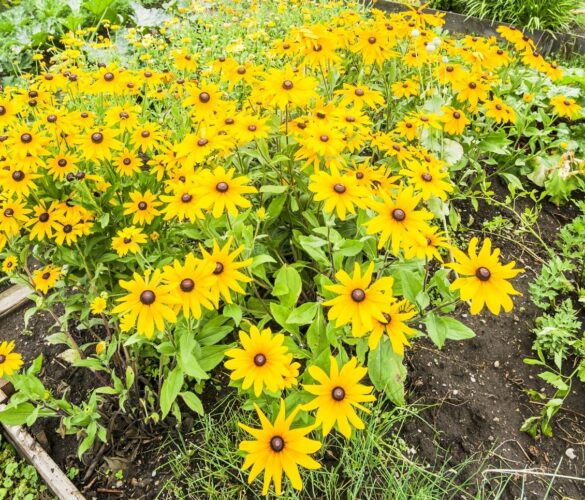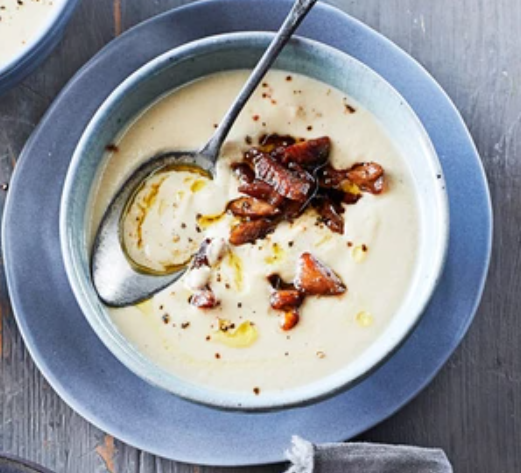 Truffled Jerusalem Artichoke Soup
Velvety smooth and supremely comforting, this winter soup makes the most of this underrated root.
Nutritional Information
Kcal 422 | Fat 23.7g | Saturates 12.9g | Carbs 50g | Sugars 27g | Fibre 5g | Protein 7g | Salt 0.9g
Recipe inspiration: BBC Good Food
50g butter
2 onions, sliced
1kg Jerusalem artichoke, peeled & sliced
1l chicken stock
100ml double cream
A few drops of truffle oil, plus extra to serve
Method
Heat the butter in a large saucepan. Fry the onions and artichokes for 10 mins or until the onions are cooked and the artichokes have softened. Add the stock and bring to the boil, then reduce the heat to a simmer, cooking for 15-20 mins until the artichokes are very tender.
Tip everything into a food processor with the cream and purée until smooth. Season with the truffle oil and some salt. Transfer to a saucepan to keep warm.
Ladle the soup into bowls and top with a drizzle more truffle oil.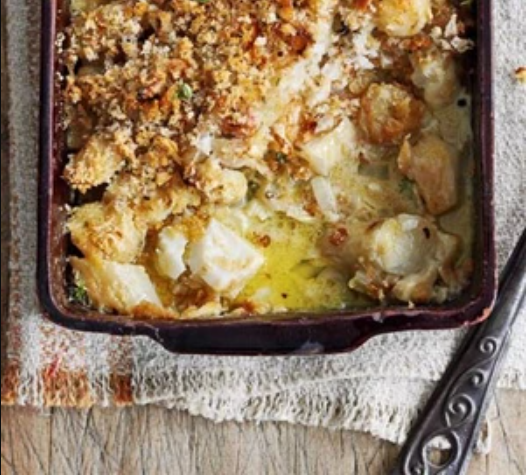 Smoked Haddock & Jerusalem Artichoke Gratin
Use any preferred smoked fish
This fish bake is a flavoursome warmer and uses dense Jerusalem artichokes in place of potatoes.
Nutritional Information
Kcal 531 | Fat 40g | Saturates 24g | Carbs 25g | Sugars 5g | Fibre 8g | Protein 22g | Salt 1.9g
Recipe source: BBC Good Food
800g Jerusalem artichoke
A squeeze of lemon juice
25g unsalted butter, plus extra for dotting
5 shallots, finely sliced
2 bay leaves
1 large thyme sprig, leaves picked
250ml double cream
350g smoked haddock, skinned and cut into 2cm cubes
25g white breadcrumbs
Method
Peel the artichokes carefully with a sharp knife or peeler, cut them into 2cm chunks, then place into a bowl of cold water with the lemon juice to prevent discolouring.
Place a large saucepan over medium heat and add the butter. When it begins to sizzle, add the shallots and a pinch of salt. Stir the shallots to coat them with the butter and cook for 5 mins until they begin to soften. Add the bay and thyme leaves and drained artichokes, then stir to mix them all together.
Add 200ml water to the pan, bring the mixture to a simmer, then reduce the heat and cover so that the artichokes cook gently for about 10-12 mins. When they are beginning to soften, add the cream, bring to a simmer again and cook until the sauce is reduced slightly and the artichokes are tender. Season the mixture with a little pepper, then remove from the heat and discard the bay leaves. At this point, you can chill the mixture, and finish the dish when you are ready. It will keep happily in the fridge for a few hrs.
Heat oven to 200C/180C fan/gas 6. Place the smoked haddock cubes in a gratin dish big enough to hold them in a single layer. Pour over the artichokes and sauce, spreading the mixture out evenly. Top with breadcrumbs and a few small dots of butter. Place the gratin dish on a baking sheet and bake for 30 mins, until the top is golden brown and bubbling.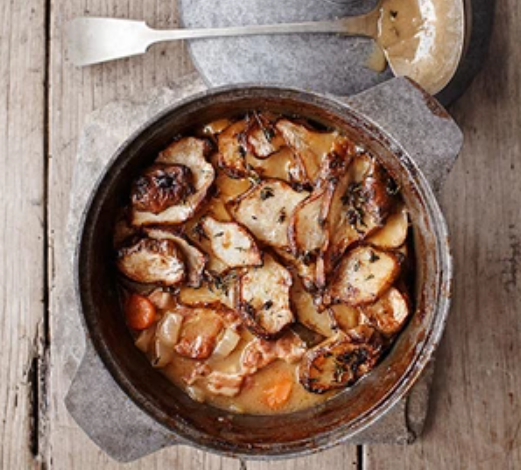 Pork, Cider & Artichoke Stew
Jerusalem artichokes are in season throughout the winter months and lend a sweet, nutty flavour to this hearty casserole.
Nutritional Information

Kcal 638 | Fat 20g | Saturates 6g | Carbs 43g | Sugars 24g | Fibre 7g | Protein 62g | Salt 1.5g
Recipe source: BBC Good Food
1-2 tbsp olive oil
1kg pork shoulder steaks
300ml medium-dry cider
4 rashers dry-cured, smoked streaky bacon
2 onions, thickly sliced
300g carrots, sliced
2 bay leaves
3 thyme sprigs
Juice 1/2 lemon
650g Jerusalem artichokes
2 tbsp plain flour
400ml chicken stock
Knob of butter, melted
Method
Heat a splash of oil in a large frying pan and season the pork. Brown in two batches for 10 mins each, transferring the meat to a medium casserole dish. Add 100ml cider to the frying pan and let it bubble and reduce. Scrape up any bits from the bottom of the pan and tip the liquid over the meat.
Wipe out the pan. Heat 1 tbsp oil and add the bacon, onions, carrots, bay leaves, 2 thyme sprigs and some seasoning. Fry for 10 mins over a high heat, stirring often, until golden.
Meanwhile, half-fill a large bowl with cold water and add the lemon juice. Scrub the artichokes then slice thinly lengthways, leaving the skin on, and drop into the water. Heat oven to 160C/140C fan/gas 3.
Stir the flour into the vegetables and bacon, cook for 1 min, then stir in the stock and remaining cider. Season, bring to a simmer, then stir into the casserole. Drain the artichokes and pat dry, then use to cover the stew in two layers, overlapping the slices generously. Season, brush over a little butter and sprinkle over the leaves from the remaining thyme sprig. Bake, covered, for 1 1/2 hrs, then uncover and cook for a further 30 mins. To crisp the top, brush again with butter, heat the grill to high and grill for 5 mins. Leave to stand for 5 mins before serving.