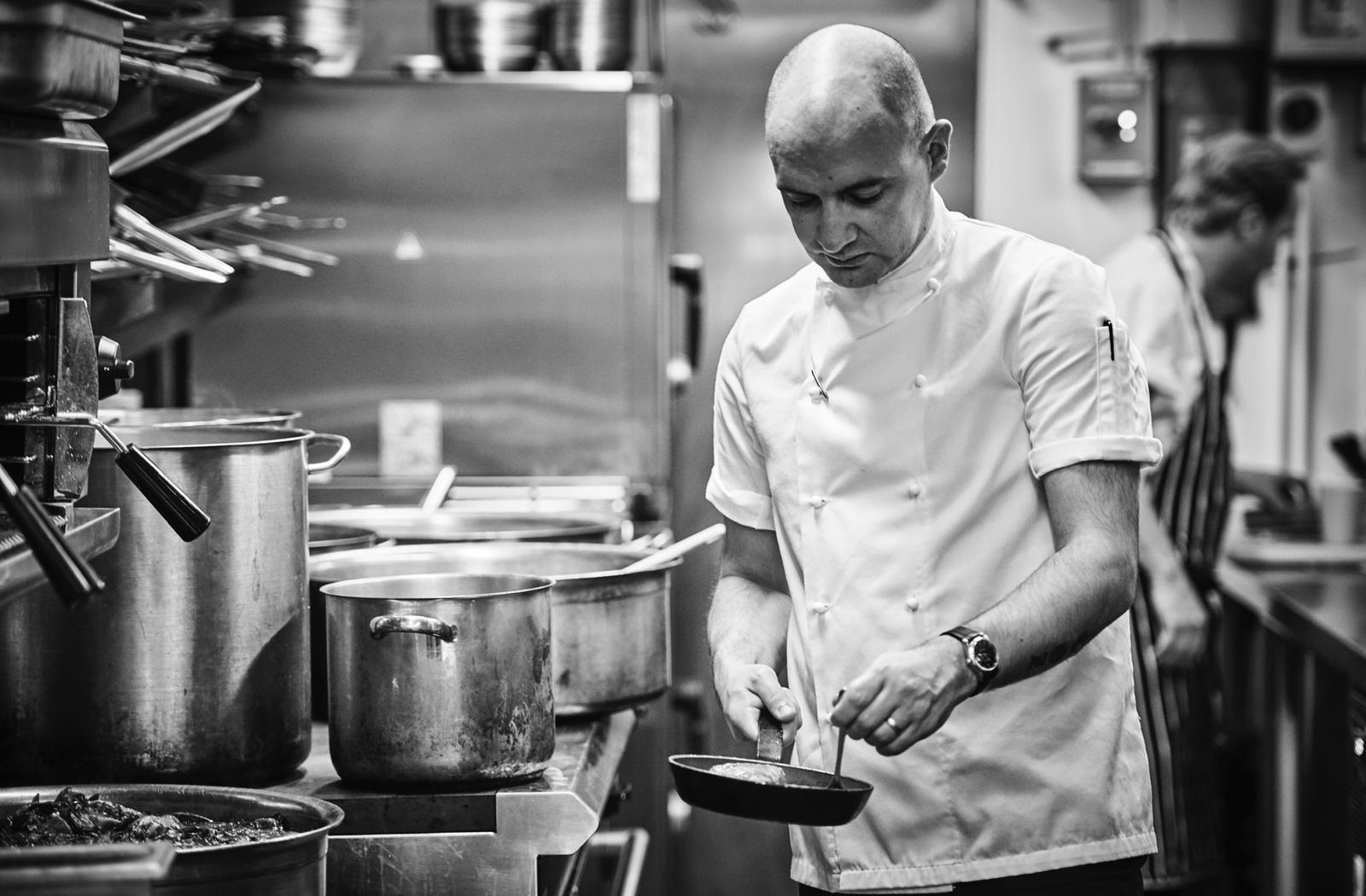 Meet the Chef: 15 minutes with Darren Coslett-Blaize, Chef & Brand Director, Marco Pierre White International Restaurant Group
Darren looks after all food and brand standards across the Marco Pierre White worldwide estate and all events, demonstrations and filming with Marco.
Why did you decide to become a chef? What inspired you?
I was terrible at school, I struggled with the structured learning and coursework. I never got to do home economics/food at school but I really enjoyed all the practical lessons like the sciences, electronics etc. I felt that a hands-on role would be right for me. My careers advisor said it would be best for me to sign on, so my aspirations were set at a low bar very early on!
The only course I could get onto at college was the cooking and the moment I put whites on and stepped into a kitchen the noise, smells and excitement was intoxicating.
I haven't looked back and I've tried to experience as much as possible from the hospitality industry. It really does feel like I've never worked a day in my life.
What would you be doing if you weren't a chef?
I've always loved history and Egypt. I always wanted to be an Egyptologist.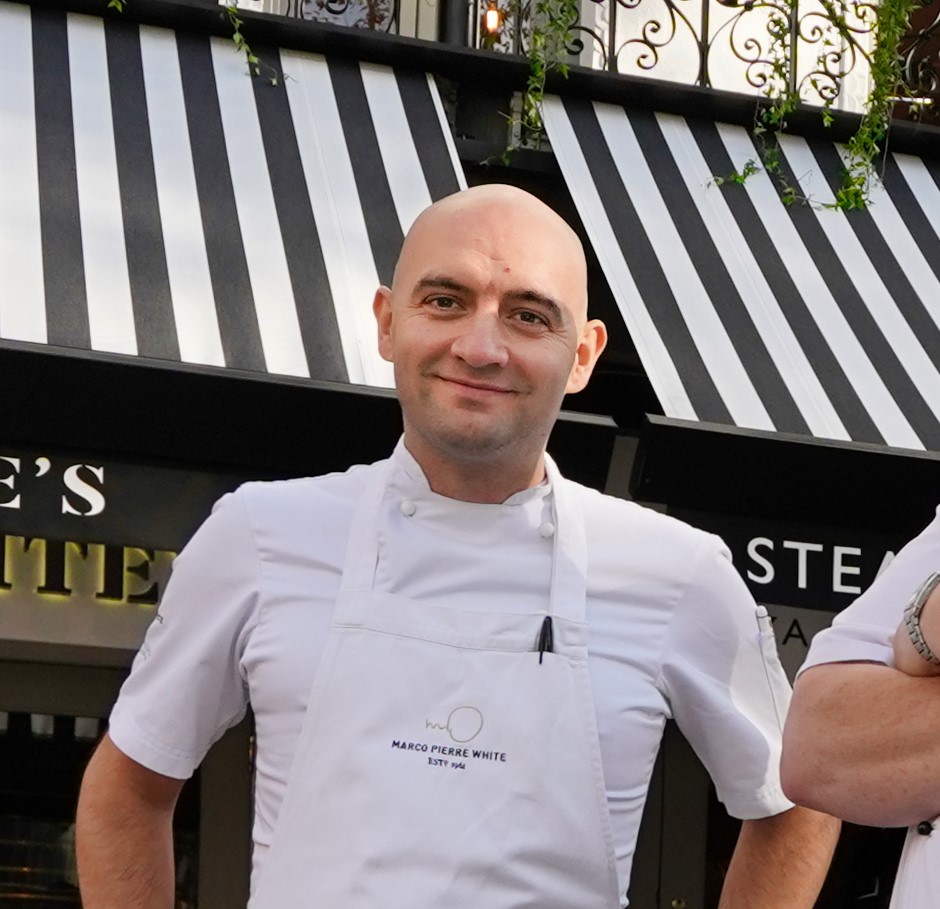 Where did you train?
Claridge's hotel 5* – John Williams / Martyn Nail
Le Gavroche 2 Michelin – Albert Roux / Michel Roux Jr
Tom Aikens 1 Michelin – Tom Aikens
Pollen Street Social 1 Michelin – Jason Atherton
Le Moulin De Mougin 3 Michelin – Roger Verge / Sebastien Chambru
121 – retired 3 Michelin starred Italian chef Antonio Santini
L' Enclume 2 Michelin – Simon Rogan / Mark Birchill
Marco Pierre White – retired 3 Michelin
Pierre Koffmann – retired 3 Michelin
Are there any other chefs you admire?
There are so many. I'm so fortunate to have been in the company of so many. One that stands out though is Thomas Keller from the French Laundry in the Napa Valley. His persona and calmness have always been something aspirational when the UK scene has struggled to step away from the so called kitchen aggression that it's been tarnished with.
Who has been your biggest influence to get you to where you are today?
My wife and now my children are my biggest influences.
What is your favourite cuisine to cook?
French Riviera – Cuisine du Soleil
What foods do you like to pair together and why?
I'm not a fan of sweet and savoury. I would say my favourite pairing is slow braised lamb with persillade. Something hearty and warming
Do you have a favourite wine?
Pouilly Fume – it's a locked in memory from working in the south of France
What industry trends do you find interesting right now?
I love that international street food is expanding and we now have high street concepts of Thai or Indian street cart foods.
What do you think is the most over-hyped food trend?
Molecular over worked deconstructed tasting menus with 30 courses.
How involved are you with menu development and the overall design?
I oversee all menu development and design for our restaurants directly with Marco (Pierre White), Jason Everett (Group chef) and Robyn Lee (Marketing Director).
Do your personal preferences influence the menu at all?
Yes, working directly with Marco is very much an inclusive table discussion. Obviously, he has the final say but I get to openly discuss and drive the restaurants forward.
How do you go about menu planning? What's the process from picking ingredients to getting them fresh into the kitchen and into dishes?
This is a long process for us. We sit with Marco and go though menu innovation. We have all our sales and feedback from guests and teams at hand. From there we look to tweak, remove or keep each dish. Introducing a new dish will be backed with reasoning. We also make sure our Procurement Director can get the products and that our teams are structured and able to consistently deliver all amends. I work directly with each supplier to guarantee the best ingredients are provided to our restaurants at all times.
Do you have a favourite time of year or set of ingredients that you look forward to working with?
I love to follow the seasons. I really like the game season as there is so much variety. Working with Marco is a private masterclass with game.
What new ingredient or ingredients are inspiring you right now?
We are currently working with an Israeli company Redfine Meat. The company has developed a 3D printed vegan steak and in all honesty, it is ground breaking. To sit in a steakhouse and have the same dish (steak and chips) and drink (gin/lager) as the rest of your party but to not be eating meat or drinking alcohol is something I never thought would be possible. We are now delivering that experience to our UK guests.
What differences do you find working with local produce as opposed to non local produce in terms of what you can create and flavour?
I would prefer to use local but with brands it's hard for consistency. Both have huge benefits. If I am cooking at home I will shop local and enjoy wonky shapes and stronger flavours. If I'm sourcing the best carrots for our restaurants, I will choose the best quality that can consistently be delivered anywhere in the UK.
What makes the local food scene so exciting?
I live in rural Staffordshire and seeing the food scene grow from growers, purveyor to restaurants is great to see. It's good to see local identities and trends being developed and brought back to life.
How do you handle special diets such as gluten free etc
We always have multiple choices across our menus. Vegan, dairy free, gluten free options are always available and our senior chefs are empowered to amend dishes at guest request if they have a dietary need that can be accommodated. It is always hard on a Saturday night when someone demands they be catered for but we get the job done and deliver the same experience to every guest.
How would you describe your cooking style?
Hearty. I have worked with many styles of dining and cuisines. Hearty homely dishes are what I enjoy cooking and eating with family and friends.
When are you happiest at work?
Always, but mostly I love the buzz of the kitchen and the restaurant.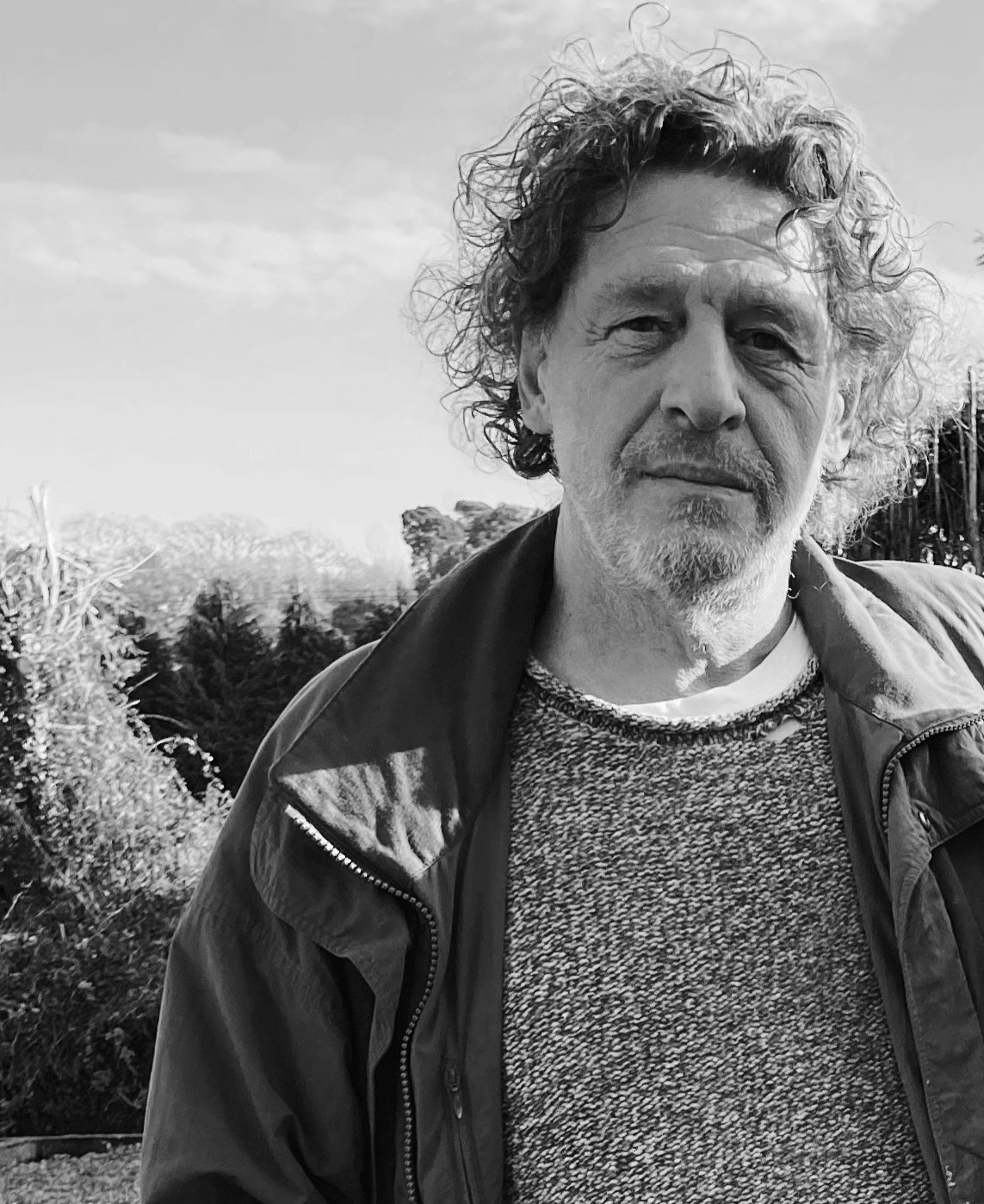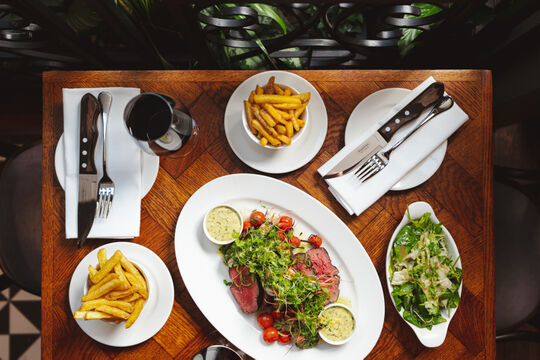 Looking to the future, how do you think people will eat?
Yes, I do think the flexi-lifestyle is growing. I don't like Veganuary being forced down your throat. I do like that if you want to skip meat and fish then the world now has stronger options than a mushroom risotto and linguine pomodoro.
What's your favourite piece of kitchen equipment?
A sharp knife. If all chefs would just sharpen their knives, then they would find their day so much easier.
Are there any ingredients that have fallen out of fashion for you?
Lobster, caviar, truffles, etc. I would much rather rustic full flavour dishes without a huge price tag for something so trivial.
If you could cook and dine with anyone who would it be (dead or alive)?
My Family. To see them smile.
When you're not in the kitchen where can you be found?
Probably on a walk with my wife and children somewhere
What's your favourite meal to cook at home?
Homemade Pizza. My daughter loves making the pizzas with me and we all sit around and share them. Trying to introduce my children to new foods and cooking is something I never had the opportunity to experience, so that is something I love to share with them.
You're having friends over for dinner tonight, what's on the table?
What ever they what to eat. I would rather please them than myself. To see loved ones enjoying a meal together is a better memory to have.
What's your favourite takeaway or comfort food?
Indian, it is so complex and the British market has only scratched the surface of what regional Indian cuisine can offer.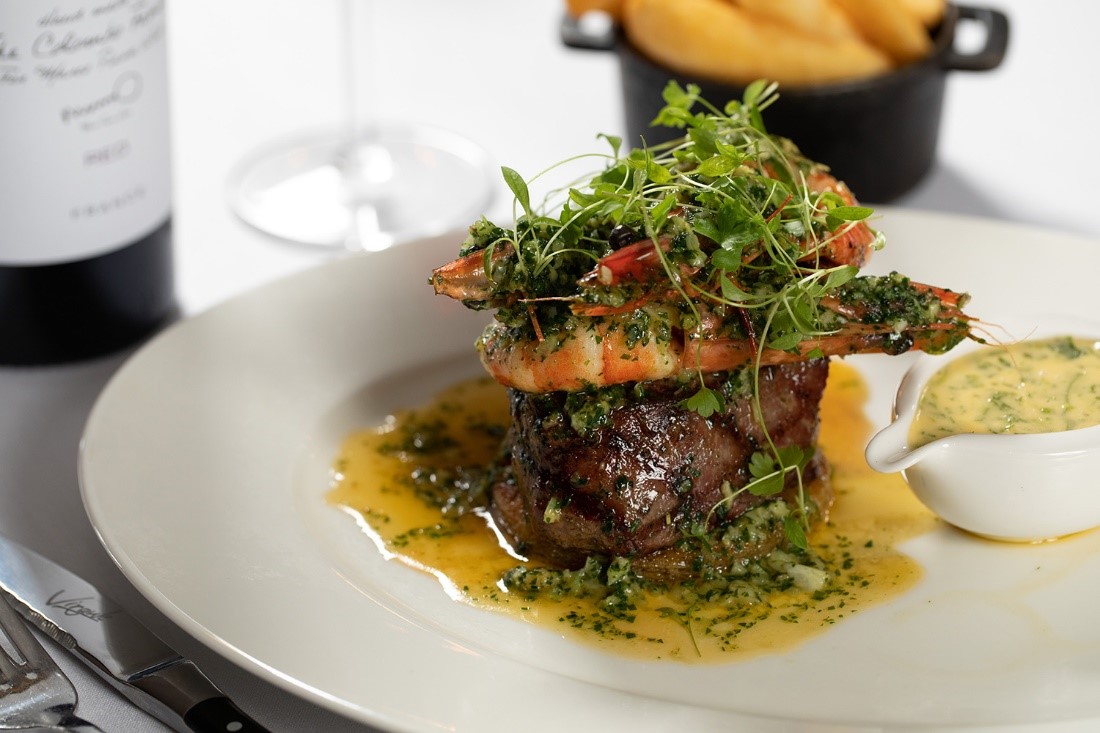 Why not try out Darren's recipe for a good garlic butter
We do a surf & turf dish in our steakhouse restaurants and its all about the garlic butter.
6oz fillet steak – cooked however you like
50ml bearnaise sauce – with loads of chopped tarragon
200gm chips or fries
3 king prawns grilled
50gm Garlic butter or more if you like
Salt & Pepper – to taste
Garlic Butter
500gm Unsalted butter – soft
100gm flat leaf parsley chopped finely
300gm shallots – finely chopped
15gm Garlic – finely minced or grated
Salt & Pepper – to taste
Mix everything together to fully incorporate each ingredient. Use immediately or store in the fridge/freezer until needed.
Cook the steak to your liking and allow to rest. Make the béarnaise and keep hot whilst grilling the prawns and finish them with the garlic butter. Place the steak onto a hot plate and top with the prawns and pour over the garlic butter. Serve the bearnaise and the seasoned chips on the side.