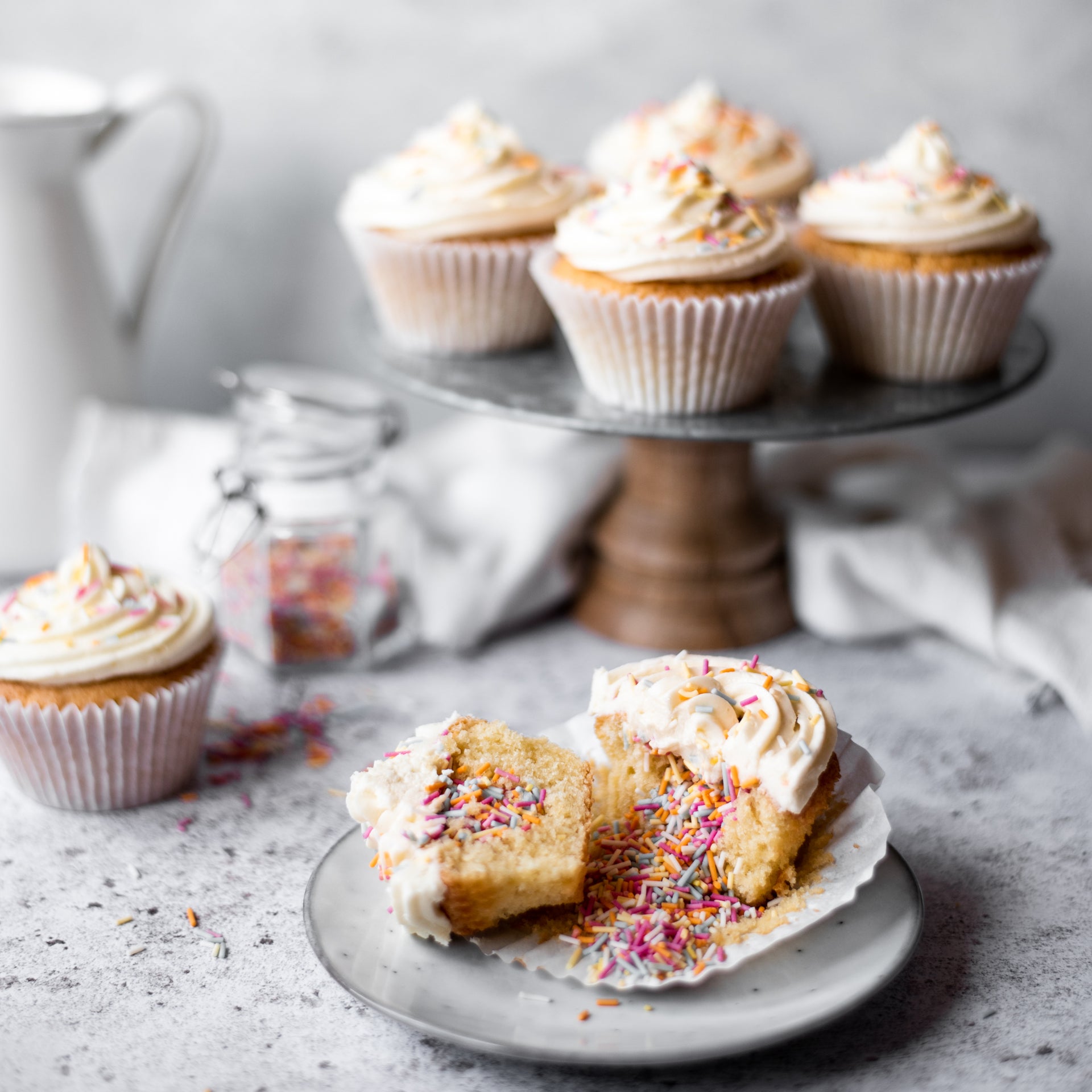 Cupcake Day – Supporting Alzheimer's Society
There's nothing like cake to bring people together. This Cupcake Day, spend time with those you care about and raise vital funds to support people affected by dementia. This year Cupcake Day is on Thursday 17th June but you can host your day whenever it suits you best.
We have put together some impressive looking cupcake recipes for you to impress your guests! For more cupcake inspiration, check out our Pinterest board.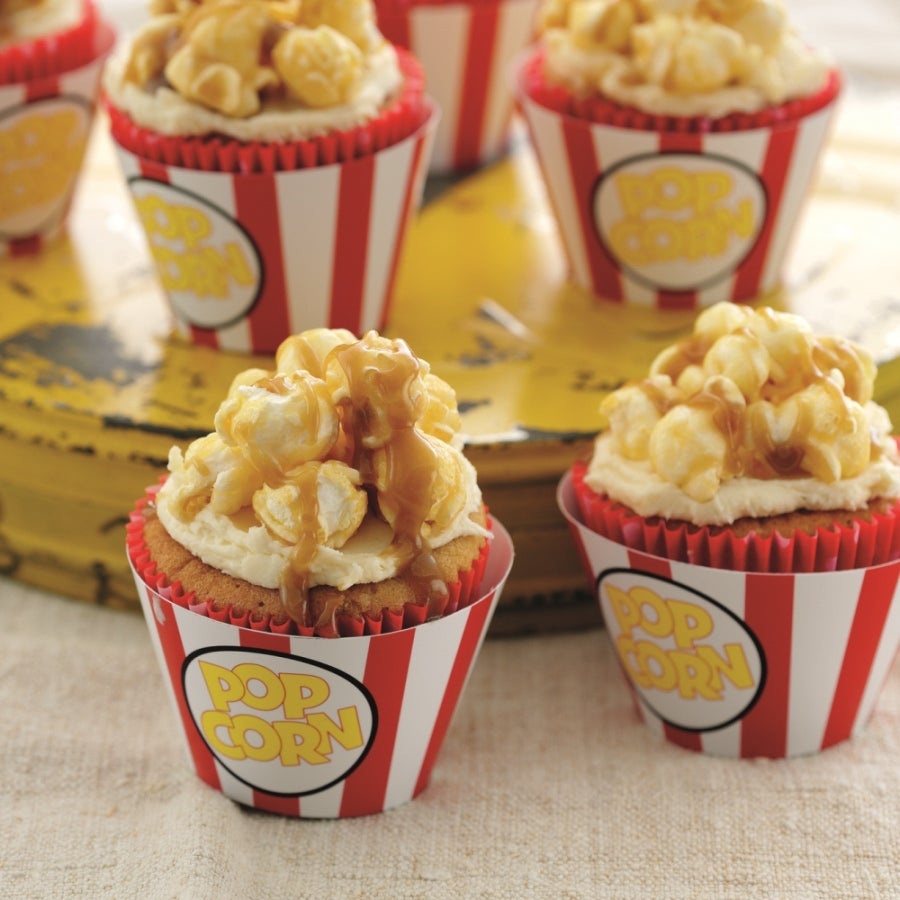 These cupcakes not only look amazing but taste delicious too. Wow, your friends with these beautiful cupcakes.
Source: Baking Mad
175g unsalted butter
175g light brown sugar
3 eggs
175g self-raising flour
6 tbsp soda water
100g fudge pieces
For the toffee sauce
50g light brown sugar
50g unsalted butter
For the frosting
150g unsalted butter
300g icing sugar
1 bag toffee popcorn
Method
Preheat the oven to 180°C (fan 160°C, gas mark 4). Line a muffin tray with 12 paper cases.
Cream the butter and sugar together until creamy.
Add the eggs one at a time and mix well, then fold in the flour gently.
Add the fudge chunks and soda water and mix again. Spoon the mixture into each cake case so they are about two thirds full and bake for 20 minutes.
To make the toffee sauce, put the sugar and butter in a pan and heat until the sugar has dissolved. The sauce will turn a lovely caramel colour.
For the frosting, beat the butter, gradually add the icing sugar and mixing until quite stiff. Add half the toffee sauce mixture to the buttercream and mix in.
When the cakes have cooled, spread some toffee buttercream on top. Stick pieces of popcorn into the buttercream on each cupcake. Finally, drizzle the rest of the toffee sauce on top.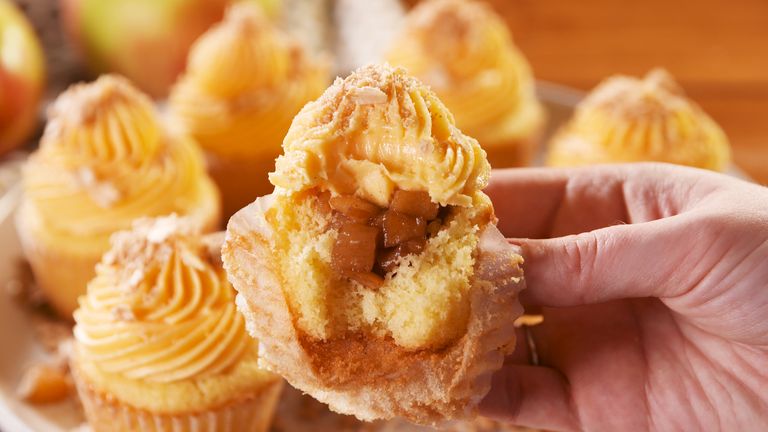 Who doesn't love apple crumble, especially when it comes out of the oven golden, bubbling and delicious? We've reimagined one of our fave desserts into these gorgeous cupcakes!
Source: Delish
For the apple filling
2 Bramley apples, peeled, cored & diced into cubes
75g light brown sugar
1/2 tsp cinnamon
For the cupcakes
170g caster sugar
170g unsalted butter, softened
3 medium eggs
170g self-raising flour
Splash milk
For the buttercream
250g unsalted butter, softened
500g icing sugar, sifted
75g custard powder
Splash milk
For the topping
50g plain flour
25g unsalted butter, chilled and cubed
25g light brown sugar
1/2 tbsp rolled oats
1/2 tbsp demerara sugar
Method
Heat apples, sugar and cinnamon together in 50ml water until apples are soft (about 15 mins). Pour into a sieve and leave to drain completely.
Preheat oven to 180ºC (160ºC fan) and line a 12 hole muffin tin with cupcake cases.
Cream butter and sugar together until light and fluffy. Add eggs one at a time, beating well between additions. Fold in flour and a splash of milk.
Spoon the mixture into the cupcake cases until they are 2/3 full and bake for 20 mins until a skewer comes out clean. Allow to cool in the tin for 10 mins, then transfer to a wire rack to cool completely.
Make the topping: Preheat oven to 180ºC (160ºC fan) and line a baking sheet with parchment. Put all ingredients into a bowl with a pinch of salt and rub together with your fingertips until no large clumps of butter remain. Tip onto the prepared baking sheet and cook for 15 mins until golden. Set aside to cool.
Make the buttercream: Cream the butter and icing sugar together until light and fluffy. Beat in the custard and milk.
Slice a circle around the top of the cupcake and using a tablespoon scoop a large dip out of each cupcake. Fill the cavity with 1 tbsp of apple dice. Pipe a buttercream swirl onto each and sprinkle with the topping.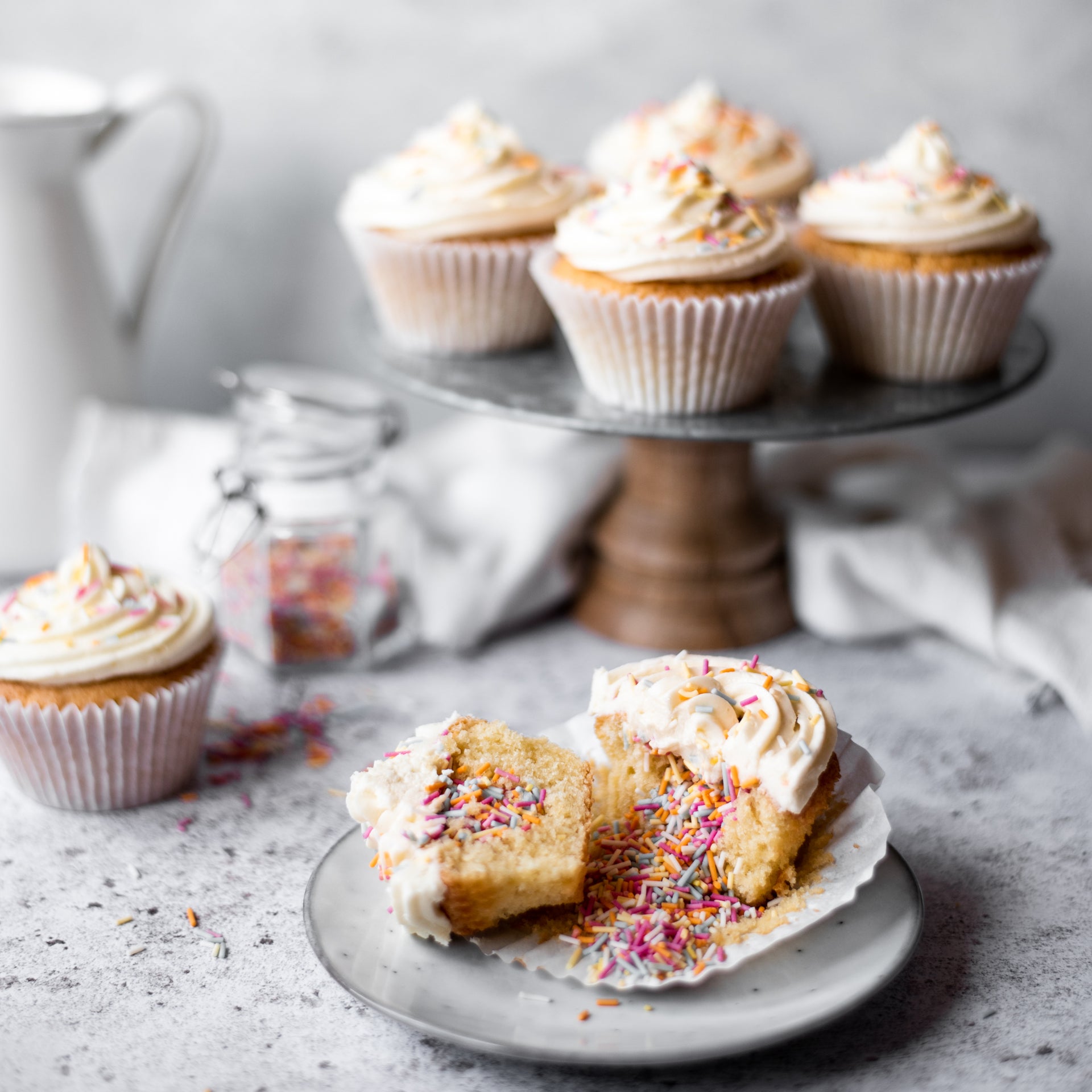 Give your favourite vanilla cupcake recipe the rainbow treatment with these cute rainbow pinata cupcakes. These cupcakes are filled with a hidden centre of rainbow sprinkles to give a sweet surprise to all those who take a bite. They make adorable party cakes for a children's birthday party or simply just a yummy bake to brighten up a gloomy day.
Source: Baking Mad
150g unsalted butter, softened
150g golden caster sugar
3 large eggs
1 tsp vanilla extra
150g self-raising flour
50g sprinkle decorations
For the buttercream
80g unsalted butter, softened
250g icing sugar
1 tbsp milk
1 tsp vanilla extract
50g sprinkle decorations
Method
Preheat your oven to 180°C (160°C / Gas Mark 4) and line a cupcake tray with your cupcake cases.
Beat together the butter and caster sugar until light and fluffy (this may take a few minutes).
Add the eggs one at a time, with a spoonful of the flour to prevent the mixture from curdling.
Add the vanilla extract and the remaining flour then continue to mix until all of the ingredients are fully combined.
Spoon the cake batter into each of the cupcake cases. Only fill the cases 2/3 full this will help you achieve an even bake.
Bake the cupcakes for 20-25 or until they are golden in colour and firm to touch.
Allow the cupcakes to cool on a wire cooling rack whilst you prepare the buttercream.
In a mixing bowl, beat together the icing sugar, softened butter and vanilla extract until the texture of your buttercream is light and fluffy. You may require a splash of milk to help loosen the mixture.
Once the cupcakes are fully cooled use a sharp knife to cut a small circle of sponge from the centre of the cupcake. Remove the sponge and fill the centre of each cupcake with enough sprinkles until it reaches the top.
Fill a piping bag with a nozzle and the vanilla buttercream and pipe an even amount on the top of each cupcake covering the hole filled with sprinkles.
Finish by topping with a small amount of sprinkles on the buttercream and inserting cupcake toppers (if you wish).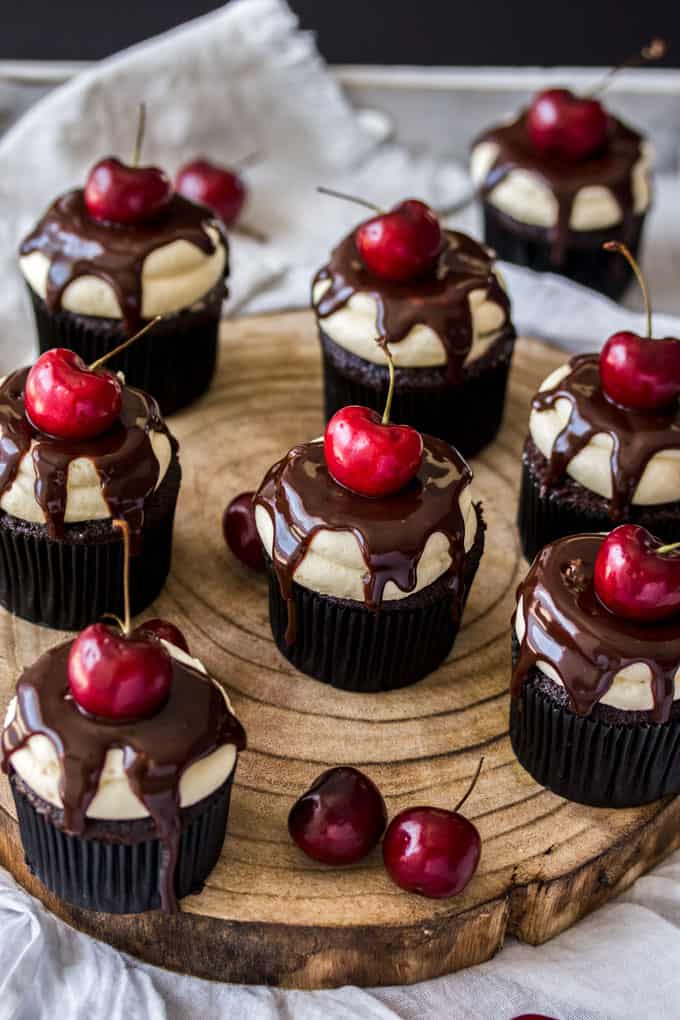 Black Forest Chocolate Cupcakes
Black Forest Chocolate Cupcakes with cream cheese frosting have all the flavour of black forest cake in cupcake form and an irresistible cream cheese frosting.
Source: Sugar Salt Magic
130g plain flour
40g cocoa powder
1/2 tsp baking powder
1/2 tsp bicarb of soda
1/4 tsp salt
115g unsalted butter, melted
100g caster sugar
100g dark brown sugar
2 eggs, room temperature
2 tsp vanilla extract
180ml buttermilk
For the cherry jam
390g frozen cherries
50g sugar
1 1/2 tbsp lemon juice
For the cream cheese frosting
120ml milk
130g caster sugar
2 tbsp plain flour
115g unsalted butter, softened
250g cream cheese, softened
To finish
100g dark chocolate, finely chopped
80ml double cream
12 fresh cherries
Method
Preheat your oven to 180C / 350F / 160C fan. Line your muffin tins with paper cases.
In a bowl, sift together the flour, cocoa, baking powder, baking soda and salt. Mix well to combine.
In a separate bowl or the bowl of a stand mixer, beat together the melted butter and both sugars until smooth. Add the eggs one at a time, scraping down the sides of the bowl each time and beating well after each. Add the vanilla and beat to combine.
Add 1/3 of the flour mixture to the butter and sugar. Stir through gently until just combined. Now add half of the buttermilk, mix gently again. Continue like this until all the flour and buttermilk is combined… just. It is important not to overmix or be too heavy-handed otherwise your cupcakes will turn out dense and tough.
Fill the cupcake cases only to about ⅔ full. Bake in the oven for around 18-20 minutes, turning the pan around in the oven halfway through to make sure they bake evenly. When a toothpick inserted comes out with just a crumb or two, they are done.
Cool in the tin for 5 minutes before transferring to a wire cooling rack.
Meanwhile, in a saucepan over low heat, combine all ingredients and bring to a gentle simmer. Continue to simmer, stirring occasionally so that it doesn't catch, for around 20 minutes or until the liquid has almost disappeared. Allow to cool.
For the frosting, in a small saucepan over low heat, whisk together the milk, half of the sugar and the flour. Continue to heat and whisk regularly for another 3-4 minutes until you have a very thick paste.
Transfer it to a plate, spread it out to about 1cm thick, then cover it with plastic wrap pressing the plastic wrap to the surface. Place in the freezer for around 25 minutes until cool (not cold or frozen, but no longer warm).
Beat the butter and remaining sugar on medium for about 5 minutes or until very light and creamy – scrape down the sides of the bowl every so often.
Add the cream cheese and beat until combined and smooth (only about 1 minute). Now add the milk paste mixture ⅓ at a time, beating for about 30 seconds between each. On the last one, beat for a minute, still on medium. Again, make sure to scrape down the sides of the bowl a few times.
To finish, place the cherry jam into a plastic piping bag and chop off the end. Pipe around a teaspoon into the holes of each cupcake.
Transfer the cream cheese frosting to a piping bag and pipe onto the top of your cupcakes. Place in the fridge while you make the ganache.
Place the chocolate in a small heatproof dish. Heat the cream in a small saucepan over low heat until its bubbling, then pour it over the chocolate. Give the dish a gentle shake so all the chocolate is submerged. Leave for a few minutes, then stir to a smooth glossy ganache. Transfer to a small squeeze bottle and squeeze gently over the top of your cupcakes, letting some drizzle down the side. Place in the fridge to set for 1/2 an hour before topping with cherries and serving.
Sweet strawberry and tart lemon are seriously perfect together.
Source: Delish
150g unsalted butter, softened
150g golden caster sugar
3 large eggs
1 tsp vanilla extract
150g self-raising flour
12 whole strawberries, trimmed
For the icing
130g butter, softened
455g icing sugar, divided
60ml lemonade
4 drops of red food colouring
Lemon slices, for garnish
Strawberry slices, for garnish
Method
Preheat oven to 180C and like a muffin tin with 12 cupcake liners.
In a large bowl add all the cupcake ingredients (not the strawberries) and mix together until smooth. Spoon the batter into the prepared liners and then place a whole strawberry into each. Bake until golden, about 20 minutes. Let cool completely.
Make lemonade frosting: In a large bowl using a hand mixer, beat together butter and half of the icing sugar until smooth. Beat in the lemonade and the rest of the icing sugar until light and fluffy. Stir in enough red food colouring to make pink.
Using a large star tip, pipe cooled cupcakes with lemonade frosting. Garnish with a lemon slice, a strawberry slice, and a decorative straw.