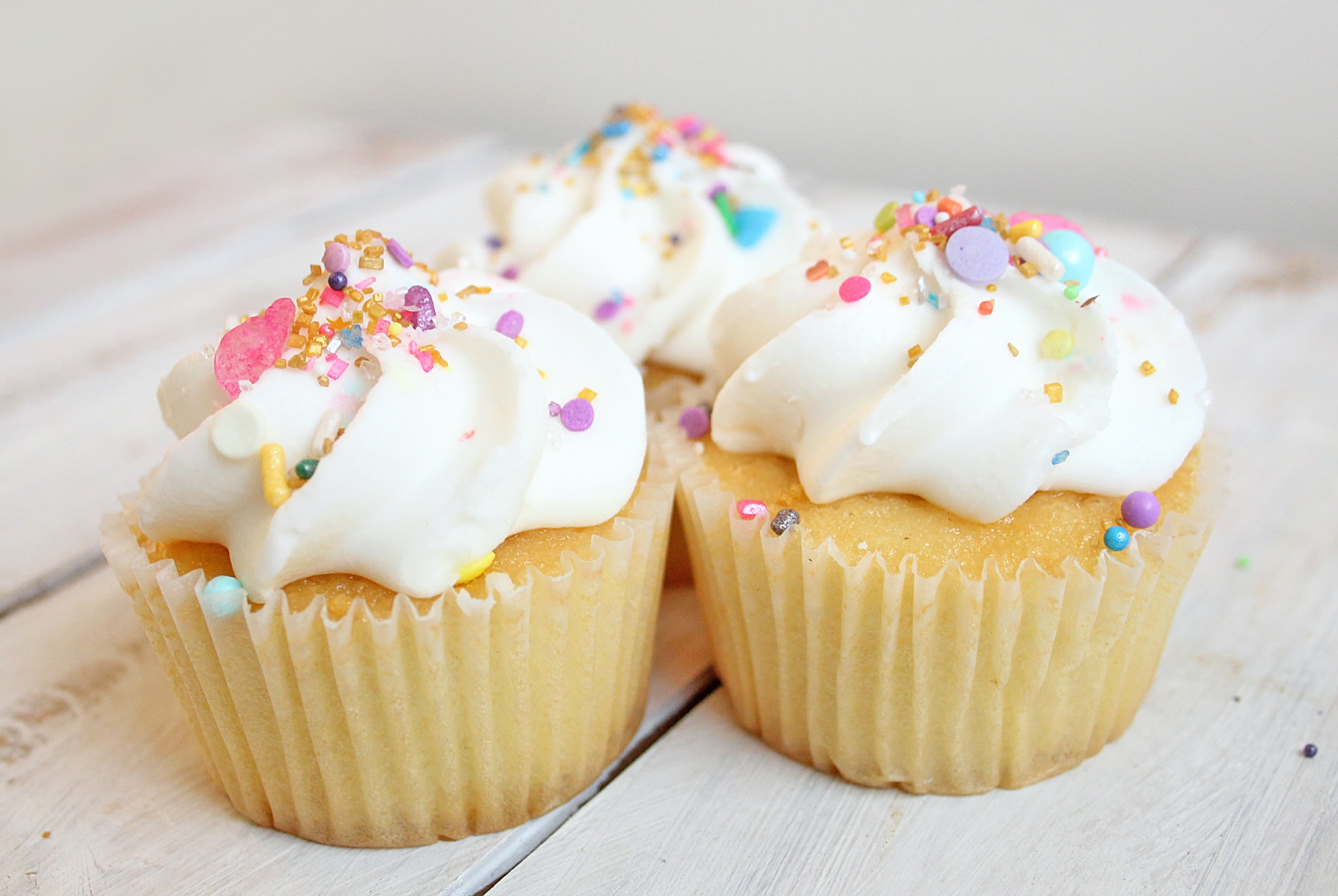 It's no wonder we have a day to celebrate cupcakes because who doesn't love them? It may be easy to grab a box of cupcakes off the supermarket shelf, but it's super simple to make them at home.
If you're a beginner at home baking, see our basic vanilla and basic chocolate cupcake recipes but if you're good with the basics, we've also got a Lemon Meringue cupcake recipe with an Italian meringue topping.
See our 6 cupcake recipes below and if you're in need of some more inspiration, head over to our Pinterest board.
Total time: 45 mins + cooling
These two basic cupcake recipes are the perfect starting point for any cupcake. Add whatever decoration or toppings or add additional flavouring to make them really special.
Source: Cupcake Jemma
For vanilla cupcakes
125g self-raising flour
125g caster sugar
1/4 tsp bicarbonate of soda
125g soft unsalted butter
2 large eggs
1 1/2 tbsp milk
1/4 tsp vanilla
For vanilla buttercream
200g very soft butter
450g sifted icing sugar
2 tbsp milk
1/2 tsp vanilla extract
For chocolate cupcakes
75g dark chocolate
175g plain flour
30g cocoa powder
185g caster sugar
1/2 tsp bicarbonate of soda
2 large eggs
120ml cooled coffee
120ml buttermilk
105ml vegetable oil
For chocolate buttercream
180g dark chocolate
300g unsalted butter, soft
540g sifted icing sugar
4 tbsp whole milk
Method
For the vanilla cupcakes
Preheat the oven to 170°C and line a cupcake/muffin tray with 12 cases.
In a sieve over the mixing bowl – add the flour, caster sugar and bicarbonate of soda and sift them. Then add the butter and the eggs. Start the mixer on a low speed until everything is just mixed and then turn up to medium to high for 1 minute. With the mixer on a low speed add the milk and vanilla extract.
Put the mixer back up to medium to high speed for one last blast (about 30 seconds). Stop the mixer, remove the paddle and get as much batter off as you can. Scrape the sides with a spatula and give a final mix with the spatula to catch anything missed by the paddle at the bottom.
Using a dessert spoon and teaspoon scoop the batter into the cupcake cases.
Bake for 22 minutes in the preheated oven. Check with a skewer – it should come out clean. Leave in tray for 5-10 minutes and then transfer to a wire cooling rack.
To make the buttercream, add the butter to a mixer and beat for 2-3 minutes on a medium speed. The butter should now look very pale (edging on white) and be fluffy. Add half the icing sugar to the bowl with the butter and start the mixer on a low speed.  Once it's incorporated turn the mixer up to medium speed and beat for 2-3 minutes. Add the last half of the icing sugar and again start on slow, then once mixed together, increase speed to medium and beat for another 2-3 minutes. Turn down to a low speed and add the milk and vanilla extract. Turn back up to a high speed for 1-2 minutes.
Then either pipe or spread over the cupcakes.
For the chocolate cupcakes
Preheat the oven to 160°C and line a 12 holed muffin tray with paper cases.
Finely chop the chocolate and add to a medium-sized bowl. Add the rest of the dry ingredients to the same bowl using a sieve. Mix with a whisk so everything is combined.
In a free-standing mixer bowl – add the eggs, cooled coffee, buttermilk and vegetable oil and beat for a minute or so until combined. With the mixer on slow – gradually add the dry ingredients to the wet ingredients. Beat for a couple of minutes until everything is combined. Transfer the mixture to a jug as it will be too runny to spoon into the cases. Fill the paper cases 2/3 full and use a spoon to catch the drips from the jug as you fill up each case.
Bake for 20 minutes or until they spring back when touched. Transfer to a wire cooling rack to cool completely.
For the buttercream, melt the chocolate in a bowl over a pan of hot, but not boiling water. Ensure the water does not touch the bottom/side of the bowl. Remove from the heat and leave to cool.
Put the butter in a bowl of a free-standing mixer and beat for about 10 minutes – the butter should be pale white and whip-like. Add half of the sifted icing sugar and beat for a further 5 minutes. Add the last of the sifted icing sugar and beat for another 5 minutes. Add the whole milk and again beat for another 5 minutes. Gradually add the chocolate and beat for another 5 minutes (ensure the chocolate is cool and not still hot as you don't want to melt the butter in the icing and end up with a sloppy mess).
Then you can pipe or dollop the icing onto the cupcakes.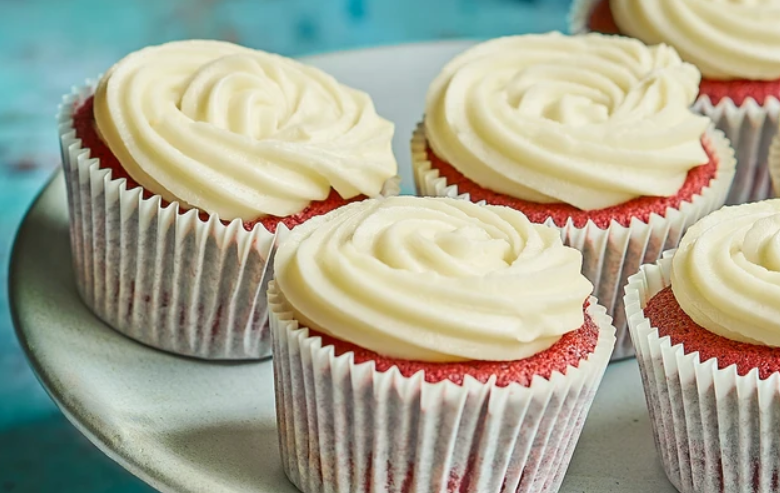 These beautifully colourful, icing-topped cupcakes make for a decadent tea-break treat. They're easy to make and take less than an hour, too.
Source: Olive
150g self-raising flour
1 tbsp cocoa powder
1 tsp bicarbonate of soda
50g unsalted butter, softened
150g caster sugar
1 egg, beaten
1 tsp vanilla paste
100ml buttermilk or kefir
50ml vegetable oil
1 tsp white wine vinegar
1 tbsp red gel food colour
For the icing
100g slightly salted butter, softened
225g icing sugar
100g full-fat cream cheese, stirred to loosen
Method
Line a cupcake tin with 12 cupcake cases. Heat the oven to 180C/fan 160C/gas 4. Sift the flour, cocoa, bicarb and a pinch of salt into a bowl and mix to combine.
Using a stand mixer or an electric hand whisk, beat together the butter and sugar until light and fluffy, then beat in the egg, vanilla, buttermilk, oil and vinegar until combined. Gradually mix the wet ingredients into the dried until smooth. Mix in the red food colouring until you have a deep red mixture – the colour may vary depending on what brand you use.
Divide the batter between the cupcake cases and bake for 20-22 minutes or until a skewer inserted into the centre of one of the cakes comes out clean.
Beat together all of the ingredients for the icing using a whisk or electric beaters, until smooth. Once the cakes are cool, use a piping bag fitted with a star nozzle to cover the cakes with the cream cheese icing, or dollop the icing on top using a spoon.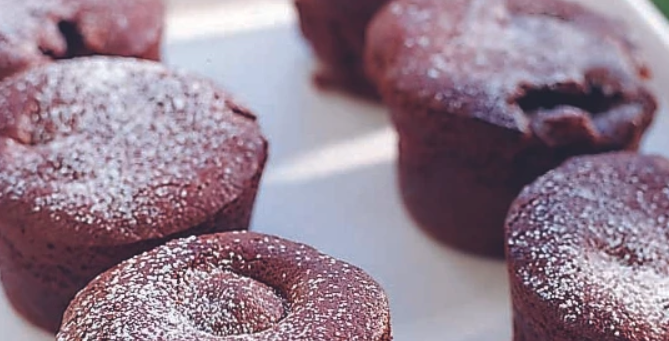 Raspberry & Chocolate Brownie Cupcakes
Gooey and indulgent, chocolate brownies don't need to be so square – you can use the mixture to make these fabulous individual cakes with added raspberries. These are quite delicate, so use a silicone 8–hole muffin tin, or line a metal tin with paper cases.
Source: Olive
100g dark chocolate
100g butter
2 eggs, beaten
230g golden caster sugar
100g self-raising flour
150g raspberries
Icing sugar, for dusting
Method
Heat the oven to 180C/160 C/gas 4. Melt the chocolate and butter in a saucepan over low heat and mix together. Remove from the heat and beat in the eggs, sugar and flour. Add the raspberries and mix gently.
Pour into the muffin cases and bake for 20 minutes. Cool slightly and then gently take the cakes out of the tin. Lightly dust the tops with icing sugar.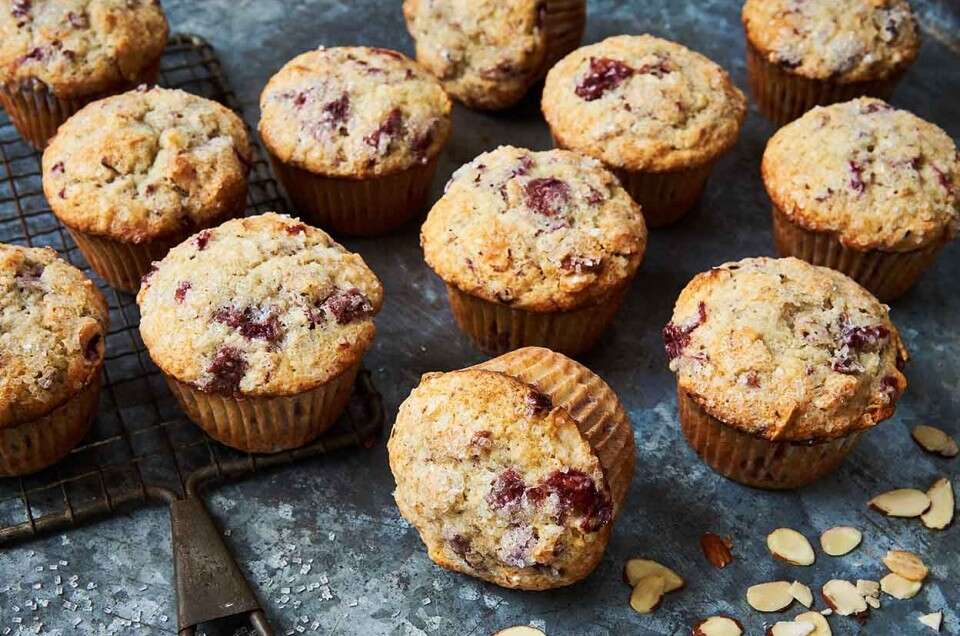 This classic fruit and nut pairing are perfect as a breakfast treat or to simply satisfy your sweet carving.
Source: King Arthur Baking
115g butter, softened
200g caster sugar
2 large eggs
1 tsp almond extract
240g plain flour
2 tsp baking powder
1/2 tsp salt
120ml milk
115g sliced almonds, lightly toasted
320g cherries, pitted & coarsely chopped
Demerara sugar, for topping the muffins
Method
Preheat the oven to 190°C. Line with paper, or lightly grease a 12 hole muffin tin.
Cream the butter and sugar until fluffy. Beat in the eggs, one at a time. Add the almond extract.
Sift together the dry ingredients and add them to the butter/sugar mixture alternately with milk. Gently fold in almonds and cherries.
Divide the muffin batter into the muffin tin. Sprinkle each muffin with a little demerara sugar, and bake for 25 to 30 minutes, or until a skewer poked in the middle comes out clean.
Store at room temperature for 3 days, or freeze for up to a month.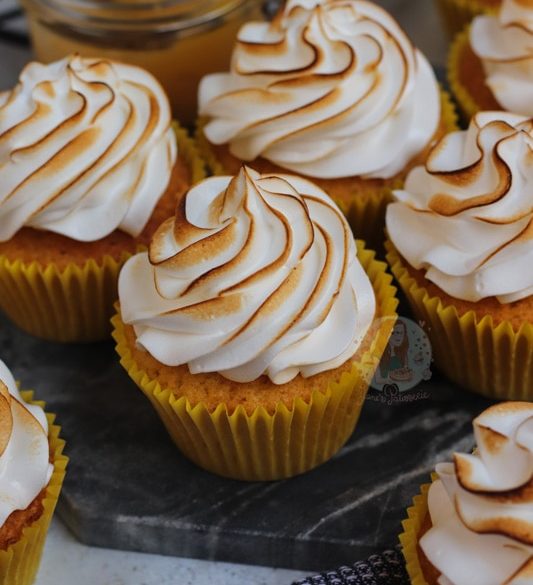 These cupcakes have a delicious lemon sponge with lemon zest in, filled with lemon curd and topped with a silky smooth and fluffy Italian meringue topping.
Source: Jane's Patisserie
150g unsalted butter
150g caster sugar
150g self-raising flour
3 medium eggs
Zest of 1-2 lemons
For the filling
For the Italian Meringue
80g egg whites, 2-3 eggs
140g sugar
65ml water
Method
Cupcakes
Preheat your oven to 180C/160C Fan/Gas Mark 4 and get 12 cupcake cases ready.
Cream together the butter and caster sugar until light, fluffy and smooth.
Add in the eggs, self-raising flour and lemon zest and beat again until smooth.
Spoon your cupcake mix into your cupcake cases and bake in the oven for 18-22 minutes or until cooked through. Leave the cupcakes to cool on a wire rack.
Filling
Core out the middle of your cupcakes.
Add in a spoonful of lemon curd per cupcake.
Italian Meringue
Pour the sugar and the water into a heavy-based saucepan and bring to a boil. Stir it occasionally with a wooden spoon.
When the mixture starts to boil monitor the temperature until it reaches 120C (Firm Ball Stage) with a sugar thermometer.
Whilst the mixture is heating up and boiling, if any sugar splashes up the side of the pan, brush the sides with a pastry brush and cold water to get rid of it.
When the mixture is starting to reach temperature whisk the egg whites in your electric stand mixer.
When the sugar syrup has reached temperature and the egg whites are at stiff peaks start to pour the sugar syrup onto the egg whites at the edge of the bowl whilst still whisking. Make sure you do this slowly so it's a constant trickle of sugar syrup so that the egg whites stay smooth.
Whisk throughout whilst the sugar syrup is pouring in, and after it's all whisked in continue to whisk the mixture at a high speed for 5-7 minutes until the mixture is smooth, and has cooled down.
Pipe the meringue onto your cupcakes, and carefully blowtorch to get the delicious tasting meringue.