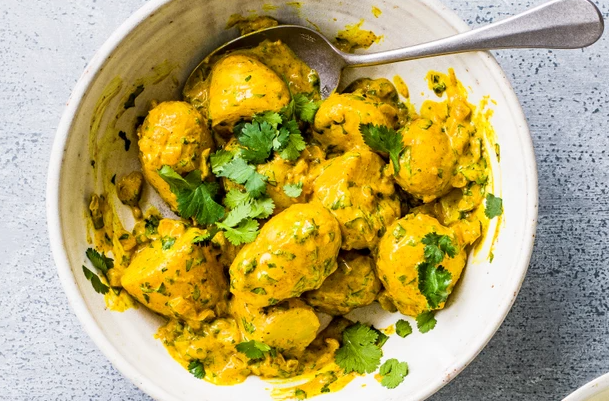 This potato salad recipe is a perfect side dish at a BBQ or a delicious addition at any picnic. Enjoy!
500g baby salad potatoes
1 tbsp vegetable oil
1 small onion, chopped
2 tsp medium curry powder
1/2 tsp ground turmeric
100ml natural yogurt
2 tbsp mango chutney
A handful of chopped coriander
Method
Boil the potatoes in salted water until tender but not too soft. Drain and cool until warm.
Heat the oil in a pan and fry the onion until really soft.
Stir in the curry powder and ground turmeric and continue stirring for 2-3 minutes.
Scrape into a large bowl and leave to cool.
Mix in the natural yogurt, mango chutney and some seasoning.
Add the cooked potatoes, toss then add a handful of chopped coriander and toss again.
Serve and sprinkle with extra coriander.