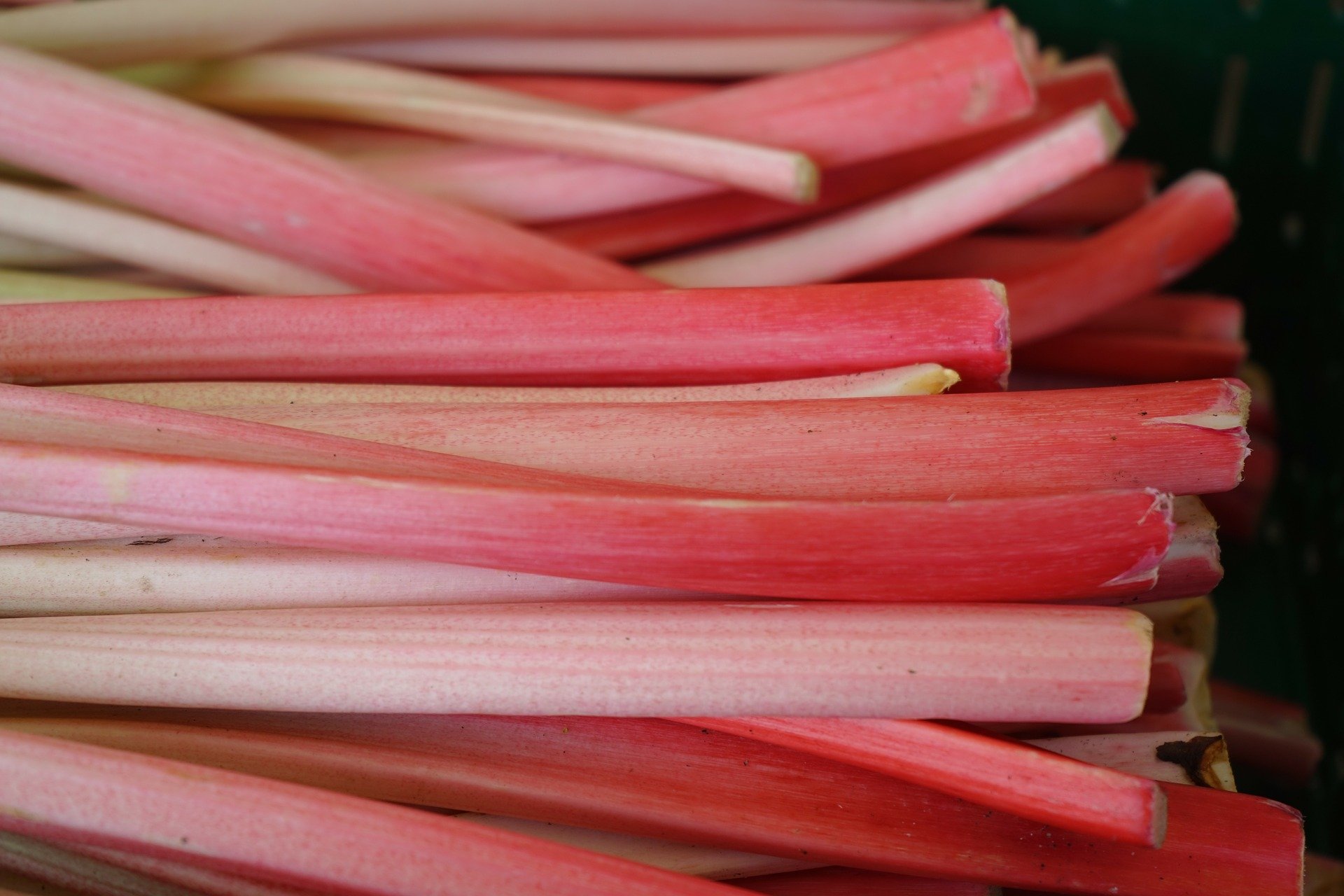 Did you know that the word rhubarb is used in slang to mean a heated argument or dispute?
Most likely to be used in pies, puddings and other tart desserts, rhubarb is also an excellent addition to preserves, sauces and jams. It's low in cholesterol and sodium, keeps the body cleansed and offers a  good source of dietary fibre, vitamins C and K, calcium, potassium and more.
In the earlier 16th centuries rhubarb was used for medicinal/healing purposes, it wasn't until the 19th century that it became popular as a food.  The redder the stalk the sweeter the flavour, all rhubarb is quite bitter in taste so a great substitute for cranberries and a good match for sweeter fruit like strawberries.  The rhubarb leaves are poisonous so they should always be discarded.
Here are our top recipe choices to use it….please share your makes with us over on Facebook.
Rhubarb & Vanilla Ice Cream
A simple no-churn ice cream that incorporates stewed rhubarb – no ice cream machine required.
Source: Faithfully Gluten Free
250g rhubarb, cut into 1/2 inch pieces
64g granulated sugar
2 tbsp lemon juice
1 tsp pure vanilla extract
1 tin (300ml) sweetened condensed milk
440ml double cream
Method
Place the rhubarb, sugar, and lemon juice in a small saucepan, stirring frequently, cook over medium-high heat until the rhubarb is tender and falling apart, about 8-10 minutes. Stir in the vanilla extract. Refrigerate the stewed rhubarb for at least 1 hour, stirring once.
When the stewed rhubarb has chilled, stir it into the sweetened condensed milk in a large bowl.
In a deep, chilled bowl, beat the double cream until stiff peaks form.
Stir about one cup of the double cream into the rhubarb mixture. This will help lighten it and make it easier to fold in the remaining double cream.
Scrape the mixture into a plastic container, cover with a lid, and freeze overnight.
Scoop and enjoy!
White Chocolate Panna Cotta with Stewed Rhubarb
Prep time: 45 mins + soaking + setting
This classic, creamy dessert is enriched with white chocolate, which provides a perfect contrast to the sharpness of the rhubarb.
Source: Olive Magazine
4 leaves, fine leaf gelatine
400ml double cream
300ml whole milk
70g caster sugar
1 vanilla pod, halved & seeds scraped out, or 1 tsp vanilla bean paste
150g white chocolate, finely chopped
Stewed rhubarb
400g rhubarb, cut into 2cm pieces
50g caster sugar
1 lemon, juiced
Method
Soak the gelatine in a bowl of ice-cold water for 10 minutes until very soft. Meanwhile, put the cream, milk, sugar, vanilla pod and seeds into a pan along with a pinch of salt, and bring to a gentle simmer.
Once simmering, take off the heat (remove the vanilla pod, if using), add the chocolate, then stir to melt. Drain the gelatine in a fine sieve, then squeeze out as much water as possible. Add the gelatine to the cream mixture and mix really well. Pour the mixture through a fine sieve into a jug. Leave for 5-10 minutes until thickened slightly, then mix really well and divide evenly between six pudding basins or moulds. Cover and chill for at least 6 hours but preferably overnight.
For the stewed rhubarb, put the rhubarb, sugar and lemon juice into a pan and simmer gently, stirring occasionally until the rhubarb has released some juice and is very tender but not collapsing. This can be made ahead and then chilled.
To serve, carefully dip the bases of the moulds in hot water for 3-4 seconds to loosen the Panna cottas, then invert onto plates. Reheat the rhubarb until just warm, then spoon around the Panna cottas to serve.
Rhubarb & Custard Cupcakes
A classic flavour combination, creamy custard buttercream and a tart rhubarb centre.
For the cupcakes
175g margarine, softened
175g caster sugar
2 tsp vanilla extract
3 eggs
175g self-raising flour
3 tbsp milk
3 tbsp custard powder
For the filling
250g rhubarb, cut into inch long pieces
1/2 juice lemon
50g caster sugar
Buttercream
140g unsalted butter, softened
280g icing sugar
1-2 tbsp milk
1 tbsp custard powder
Method
Put the rhubarb into a saucepan with lemon juice, sugar and 2 tbsp water. Bring to the boil then simmer for 8 mins until the rhubarb is cooked but still holds its shape. Set aside to cool.
Preheat the oven to 160ºC fan, 180ºC non-fan and line a cupcake tin with paper liners.
Beat the butter and sugar together for roughly 5 minutes until light and fluffy.
Add the vanilla extract and eggs and mix again.
Add the flour and custard powder and mix until it is combined. Spoon into 12 cupcake cases filling each 2/3 full.
Bake in the oven for 15-18 minutes. Check they are cooked by piercing them with a cocktail stick, if the stick comes out, clean they are cooked. Set aside to cool.
Once the cakes have cooled completely, make the buttercream. Start by beating the softened butter for a minute or two.
Add in the icing sugar and custard powder and beat until mixed.
Gradually add the milk a little at a time until you get a smooth but still quite thick consistency.
Grab a small piping bag or freezer bag and fill it with your stewed rhubarb and snip a corner. Using an apple corer or knife, carve out a hole in the centre of the cupcake. Fill with your rhubarb filling and repeat with all 12 of the cupcakes.
Fill a large piping bag fitted with a star tip with your buttercream. Pipe the buttercream onto each cupcake and decorate.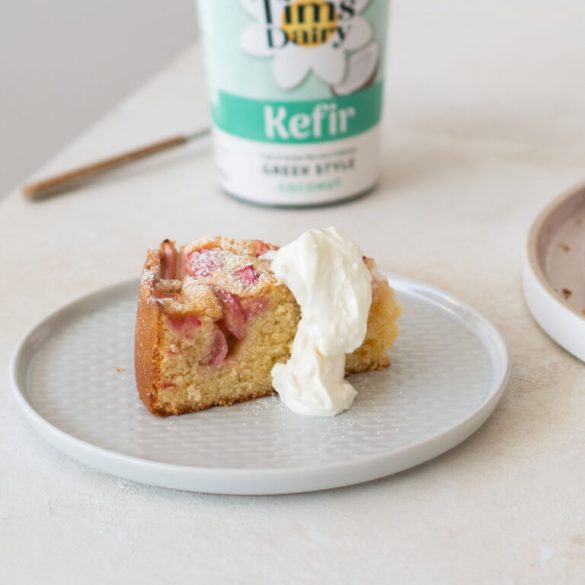 Rhubarb & Ginger Cake with Coconut Kefir
A perfect way to end an afternoon tea!
Source: Tims Dairy
140g unsalted butter
190g plain flour
1 1/2 tsp baking powder
1/2 tsp fine sea salt
1 1/2 tsp ground ginger
1/2 lemon, zest
160g golden caster sugar
2 large eggs
60ml buttermilk or 55ml milk with 1 tsp of lemon juice
225g rhubarb, cut into 1 cm dice
1 tsp ground ginger
25g light brown sugar + squeeze of lemon juice
Method
Oven 160C fan.  Grease and line the base of a 20cm cake tin.
Begin with melting the butter in a small saucepan. Remove from the heat and set to one side, cool to room temperature but not solid.
Combine the flour, baking powder, salt, lemon zest and 1 1/2 teaspoons ginger. Set to one side.
Whisk the eggs, caster sugar and cooled melted butter until light and mousse-like, this will take between 3-5 minutes.
Next fold in a third of the flour mixture, followed by half of the buttermilk or milk.  Fold in half of the remaining flour, followed by the buttermilk.  End with the flour, trying not to over mix as this will make the cake heavy.  Pour the batter into the cake tin and level.
Combine the rhubarb with the light brown sugar a squeeze of lemon juice and the ginger.  Spoon the rhubarb evenly over the cake.
Bake for 45-50 minutes or until a cocktail stick inserted into the centre comes out clean.
Cool on a wire rack. Dust with icing sugar and serve warm with Tims coconut kefir.
Rhubarb & Custard Layer Cake
This glorious rhubarb and custard layer cake is so pretty: its jaw-dropping decoration makes it perfect for special occasions. If you want to make the cake less fancy, it tastes just as good unadorned.
Source: Delicious Magazine
250g unsalted butter, softened, plus extra to grease
250g caster sugar
1 tsp vanilla extract
4 large free-range eggs
250g self-raising flour
3-4 tbsp whole milk
9-12 tbsp (about 200g) shop-bought rhubarb jam
For the custard-cream filling
300ml whole milk
1/2 tsp vanilla bean paste
3 large free-range egg yolks
60g caster sugar
45g cornflour
200ml double cream
For the roasted rhubarb
400g rhubarb, cut into 5 cm pieces
1 unwaxed orange
125g caster sugar
For the buttercream
125g unsalted butter, softened
80g icing sugar
100g full-fat cream cheese, at room temperature
Squeeze of lemon/orange juice
For the decoration
100g Lindt white chocolate, chopped
200g Lindt Lindor white chocolate truffles, chopped
Candied rhubarb (see bottom of the recipe)
You will also need:
Electric mixer
2 x 20cm cake tins, greased & lined with baking paper
Extra baking paper
Deep baking dish
Foil
Piping bag fitted with a 0.5cm nozzle
Method
Heat the oven to 180°C/160°C fan/gas 4. Beat the butter, sugar and vanilla extract in a large mixing bowl until pale and fluffy. Add the eggs, one at a time, beating well between each addition. Fold in the flour with a pinch of salt, adding 3-4 tbsp milk, as needed, to form a smooth batter.
Divide the batter between the cake tins and bake in the centre of the oven for 20-25 minutes until golden and risen and a skewer pushed into the centre comes out clean. Turn out onto a wire rack and leave to cool.
For the filling, put a small pan over low heat and heat the milk and vanilla bean paste until simmering. Whisk the egg yolks, sugar and cornflour in a bowl. Slowly whisk in the hot milk, then return the mixture to the pan. Cook over medium heat, whisking, for 2-3 minutes until thick. Cover with slightly damp compostable baking paper to prevent skin from forming, then leave to cool. Whisk the cream to firm peaks. Beat the custard to soften, whisk in a dollop of cream to loosen further, then fold in the rest of the cream.
For the roasted rhubarb, heat the oven to 110°C/90°C fan/gas 4. Arrange the rhubarb in a single layer in a deep baking dish. Pare 3 strips of orange zest, then slice the strips thinly and add to the rhubarb with the juice of the orange. Sprinkle over the sugar and mix gently. Cover with foil and bake for 50-60 minutes. Remove from the oven, uncover and carefully pour any juices into a pan. Boil the juices rapidly for 5-6 minutes until slightly reduced. Cool, then pour back over the rhubarb.
For the buttercream, whisk the butter and icing sugar in a mixing bowl until fluffy. Gradually beat in the cream cheese, bringing back to a smooth consistency before adding more. Add a squeeze of lemon/orange juice to taste.
To assemble the cake, put 1 tbsp buttercream in the centre of a serving plate. Halve each cake horizontally and set one half on the buttercream to secure it. Spread 3-4 tbsp jam over the centre of the top, then pipe or spread a quarter of the custard over this. Repeat the cake, jam and custard layers twice more, then top with the final cake half. Cover the cake in a thin layer of buttercream. Set aside or chill until ready to serve or decorate (optional).
For the decoration, put the chopped chocolate in a small heatproof bowl set over a pan of barely simmering water, making sure the bowl doesn't touch the water. Leave to melt (don't stir), then spread over the lined baking tray and leave to set. Once hard, break into large shards. Put the chopped truffle balls in the same bowl and set it back over the pan of barely simmering water to melt. Set aside for 10-15 minutes to cool slightly and thicken.
Drizzle some melted truffles over the top of the cake, encouraging a few drips down the sides. Spoon the remaining custard on top, then nestle in some of the roasted rhubarb. Add a drizzle of melted truffles, followed by candied rhubarb (see below) and chocolate shards. Slice and serve with extra roasted rhubarb and syrup on the side, if you like.
Candied Rhubarb
How to make candied rhubarb: Heat 50g caster sugar and 5 tbsp water in a pan until dissolved. Set aside to cool. With a Y-shaped peeler, peel strips from a 15-20cm stick of rhubarb, then submerge them in the cooled sugar syrup for 10 minutes. Line a baking sheet with baking paper. Shake the excess sugar syrup from the rhubarb, spread in a single layer on the paper and bake at 110°C/90°C fan/gas ¼ for 15-20 minutes or until just dry to the touch. Curl the rhubarb strips around the handle of a wooden spoon, leave to set, then carefully remove and use to decorate the cake.