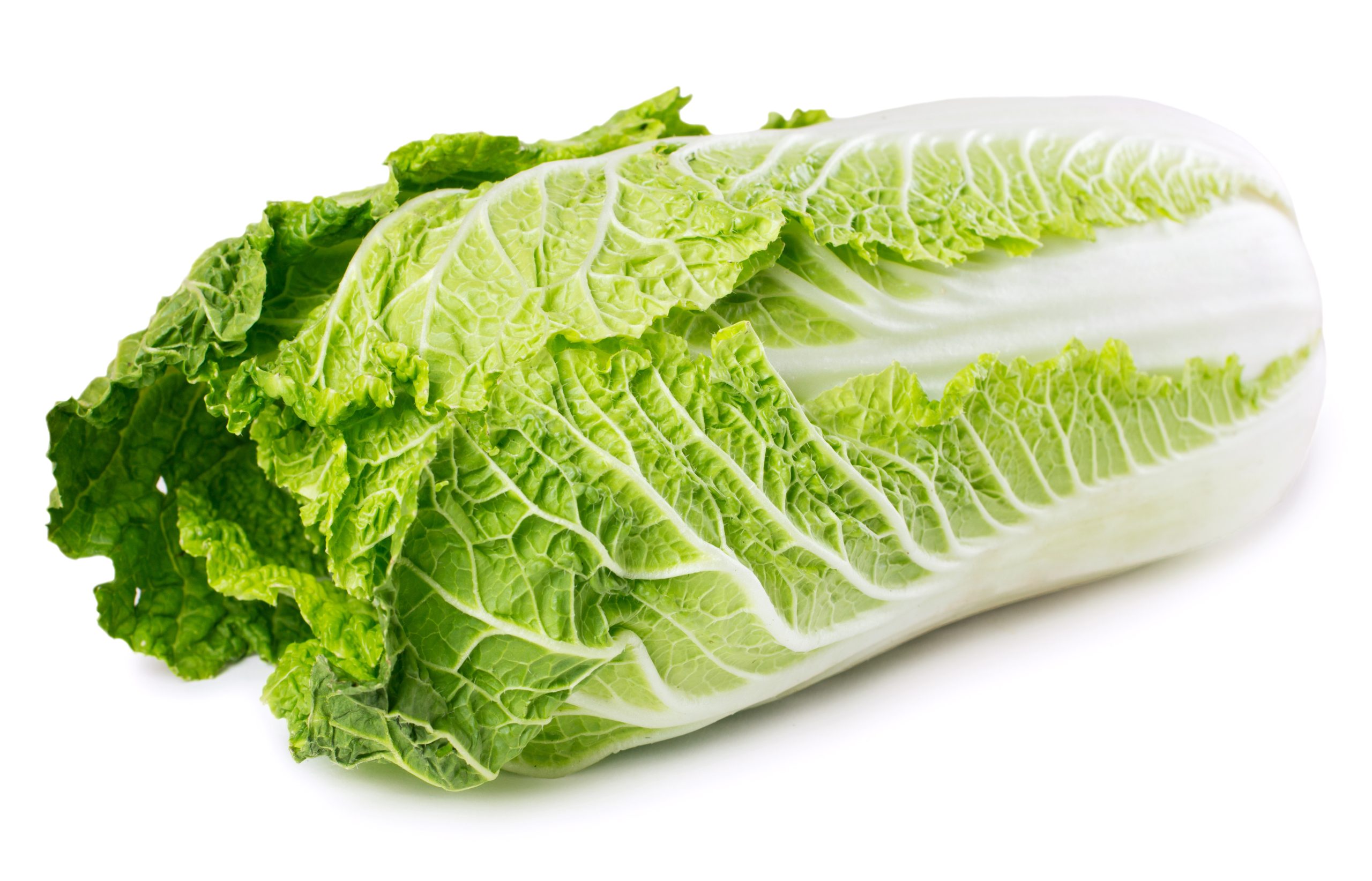 What is Chinese Leaf – is it a cabbage or a lettuce?
Chinese Leaf is a type of brassica. Its botanical name is Brassica Rapa – Pekinensis group. It's also known as Chinese, napa, or celery cabbage, or wombok. It is not a cabbage, which is part of the Brassica Oleracea family. Chinese Leaf's brothers and sisters are bok choi, tatsoi, turnip and rapini (Cima di rapa).
It doesn't have much flavour – it's raison d'être is the texture it can provide, and the fact that it can provide a vehicle for other flavours. To prepare cut the base, wash the leaves in cold water and dry them.  Shred or tear to your desired size.
You can eat it raw in a salad, stir fry briefly or add to hot food such as a pilaf.  Don't cook for more than a few minutes or it will lose its crunchy texture.
Kept in the fridge in a plastic bag it will last for up to three weeks.
More ideas to use:-
Add to a stir fry last minute
Put it in tacos
Serve alongside things coated with a sweet and sour sauce
Mix raw with radishes, carrots, spring onions, black sesame seeds and mayo to make a coleslaw
Add to pilafs last minute.
Serve with salmon dressed in soy dressing.
Use in soup.
Steam and serve as a side.
Charred hoisin chinese leaf
Simple, delicious and quick to make.
1 Chinese leaf head
A pinch of sea salt
A drizzle of hoisin sauce
A pinch of chilli flakes
Method
Put a large frying pan over a high heat. Quarter your head of Chinese leaf, giving you 4 long wedges.
Press the wedges into the smoking hot pan (no oil needed), cut-side down. Cook on the cut side till nicely charred. Sprinkle a little salt over as they cook.
Arrange on plates. Drizzle a little hoisin over. Finish with a pinch of chilli (fresh slices or dried chilli flakes). Delicious as a side to any Asian dish or simply serve with noodles or rice.
Spicy stir-fry chinese leaf
Chili paste adds heat to this stir fry with chinese leaf and green onions.
450g Chinese leaf
1 large garlic clove
2 spring onions
2 tablespoons vegetable oil, or peanut oil, for stir-frying
2 to 3 teaspoons chilli paste
1 tablespoon Chinese rice wine, or dry sherry or white wine
1/2 teaspoon salt
60ml water
1 teaspoon sugar
1 to 2 teaspoons soy sauce, optional
1 teaspoon cornflour mixed in 4 teaspoons water
Method
Rinse the chinese leaf and pat dry. Remove the leaves and cut diagonally into 1-inch pieces. Finely chop the garlic. Rinse the green onion and cut into 1-inch lengths.
Heat the wok and add 2 tablespoons oil. When the oil is hot, add the chilli paste. Stir-fry for 30 seconds, then add the garlic. Stir-fry for a few seconds until fragrant, and then add the cabbage.
Stir-fry the chinese leaf for 1 minute, splashing with the rice wine or dry sherry and stirring in the salt.
Add the water. Turn down the heat, cover, and simmer the chinese leaf for 3 minutes.
Turn the heat back to medium-high. Stir in the sugar and green onion. Stir in the soy sauce if desired.
Push the chinese leaf to the sides of the wok. Give the cornflour and water mixture a quick stir and add it in the middle, stirring quickly to thicken. Cook briefly to mix everything together. Serve hot.
Pork meatball and chinese leaf hotpot
The ginger and miso really lift the flavour of this dish
1/2 Chinese leaf head
1 Leek
4 Shiitake mushrooms
1 pack Tofu
1.5 litres Water
3 tbsp Dashi granules
Carrot for garnish as required
Meatballs:
400g Minced pork
5 Spring onions
2 thumbs Ginger
75g Miso
1 Egg
Method
Mix all the meatball ingredients in a bowl and knead by hand. Make into meatballs. Cut the tofu and vegetables into bitesize pieces.
Put the meatballs, vegetables, tofu and water into a hotpot. Sprinkle the dashi granules and put the lid on then turn the heat on.
Bring to the boil and remove any scum. It's ready when the meatballs are cooked and the vegetables are soft.
Zingy chinese leaf and apple salad
Adding the sushi vinegar makes this dish a bit milder and less sharp.
1/2 head Chinese leaf
1 Apple (red skinned)
2 tbsp Sesame oil
2 Garlic cloves
2 tbsp Sushi vinegar
Pepper (optional) as you like
Method
Chop the Chinese leaves into strips across and put in a bowl.
Cut the apple into quarters and remove the core and thinly slice. Soak in lightly salted water to stop them going brown. Then add into chinese leaf.
Add the sushi vinegar and lightly mix.
Put the sesame oil in a frying pan on low heat and add the sliced garlic.
When you can smell the garlic and it's browned slightly, add this with the oil.
Transfer to a serving dish and sprinkle salt and pepper if you like.