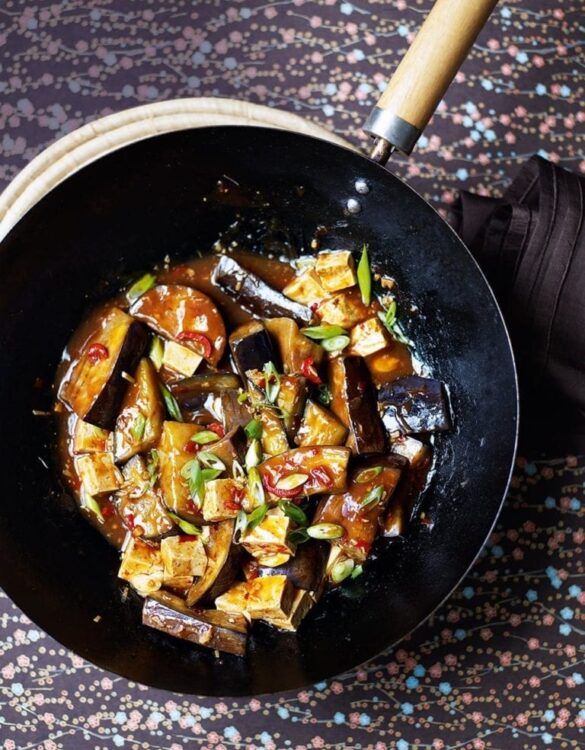 Aubergine & Tofu Stir Fry

– Eat Healthy for Less
This aubergine & tofu stir fry is a quick and easy vegan meal, taking just 30 minutes to put together. This recipe is packed full of flavour and a bit of a kick. If you want to tone down the spice, leave out half the fresh chilli. Serve this stir fry with rice or noodles. This dish costs just 90p per serving. Let us know if you have a go at this dish and tag us in a picture on Facebook and Instagram.
Source: Delicious Magazine
Nutritional Information: Calories 240kcals; Carbohydrates 30.8g; Total Fat 9.6g; Protein 9.2g; Salt 1.7g.
2 tbsp sunflower oil
1 aubergine, sliced into 2cm x 4cm batons
2 garlic cloves, finely chopped
2.5cm piece fresh ginger, finely chopped
1 small red chilli, deseeded & sliced
1 tbsp sriracha
200ml vegetable stock
200g fresh tofu, cut into 1.5cm squares
2 tbsp light soy sauce
1 tbsp cornflour, mixed with 2 tbsp water
2 spring onions, finely chopped
320g rice – cooked as per package instructions
Method
Cook the rice as per the package instructions. 
Heat a wok over high heat and add 1 tbsp oil. Add the aubergine and stir-fry for 5-6 minutes until browned and softened. Add a few splashes of water to create some steam to help the aubergine cook and cook for 1-2 minutes. Spoon the aubergine onto a plate. 
Add the remaining oil to the wok. When the oil starts to smoke, add the garlic, ginger and the red chilli and stir-fry for a few seconds. Add the sriracha and stir together. 
Add the stock and the fresh tofu squares and bring to a simmer. Add the light soy sauce and the brown sugar. Stir in the spring onions and the cornflour paste and cook to thicken for a minute. Serve with rice.