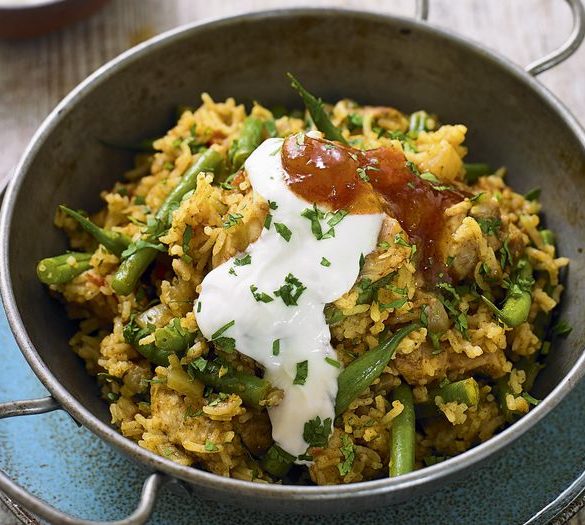 Chicken Biryani – Eat Healthy for Less
The ultimate easy one-pot meal, this Indian-inspired Chicken Biryani recipe is a healthy, cost effective alternative to a take-away. Try it for yourself tonight.
. Let us know if you have a go at this dish and tag us in a picture on Facebook and Instagram.
Each serving provides 665 kcal, 57.6g protein, 66.6g carbohydrates (of which 2.3g sugars), 16.8g fat (of which 4.5g saturates), 2.6g fibre and 1.8g salt.
Source: The Happy Foodie
1 tsp rapeseed oil
1 large onion, roughly chopped
2 garlic cloves, finely chopped
5 cm piece of fresh root ginger, peeled and finely chopped
1 red chilli, deseeded and finely chopped
2 tbsp medium curry powder
1 tsp ground cumin
1 tsp ground coriander
8 boneless, skinless chicken thighs, roughly chopped
4 large tomatoes, roughly chopped
300g basmati rice
1 x 28g chicken stock pot or 1 chicken stock cube
320g green beans, cut in half
juice of 1 lemon
small bunch of coriander, roughly chopped
Method
Heat a large sauté pan until hot, then add the rapeseed oil and onion and fry over a medium heat for 2–3 minutes until just softening.
Add the garlic, ginger, chilli, curry powder, cumin and ground coriander, stir through and fry for a further minute, then add the chicken pieces and fry for 3-4 minutes until just beginning to brown, stirring occasionally.
Add the tomatoes and stir-fry for another minute, then add the rice and stir through. Add the stock pot or crumbled stock cube and 600ml of cold water. Stir well and bring to the boil, then reduce the heat, cover with a lid and simmer for 15 minutes.
Lift the lid and stir, then scatter the green beans over the top, cover and cook for a further 3–4 minutes until the liquid has been absorbed and the rice and beans are tender.