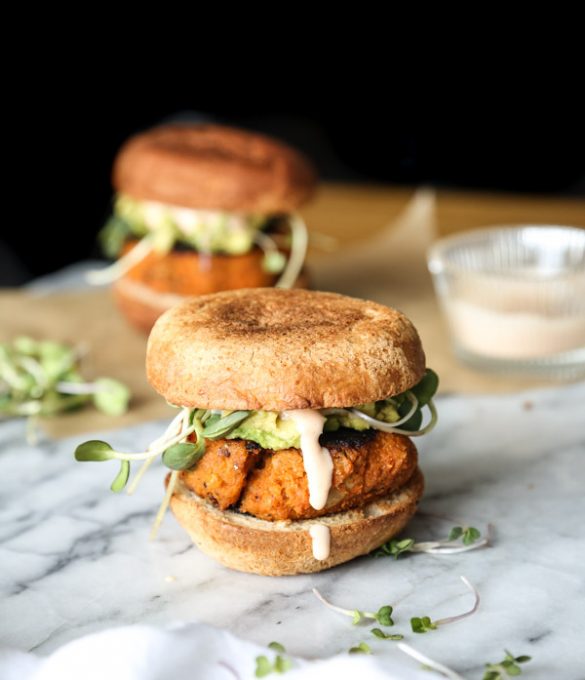 Cauliflower Sweet Potato Burgers – Eat Healthy for Less
These cauliflower sweet potato burgers are packed with roasted cauliflower, topped with avocado and sriracha aioli and makes a great veggie dinner! You can save time by making the patties in advance and chill overnight (or up to 2 days) before cooking. This delicious summer recipe can be made for just £1.15 per serving. Let us know if you have a go at this dish and tag us in a picture on Facebook and Instagram.
Source: Feed me, Phoebe
Nutritional Information: Calories 508kcals; Carbohydrates 61.3g; Total Fat 26.2g; Saturated Fat 4.6g; Protein 10g; Fibre 10.8g; Sugar 9.5g; Salt 0.21g.
1 cauliflower, cut into small florets
680g sweet potatoes, peeled and cut into 1-inch pieces
Sea salt
Olive oil
Ground cumin
45g almond flour
1 large egg, beaten
1 tsp chilli powder
1 tbsp coriander
1 lime, zested and 2 tbsp of juice
2 avocados, mashed
6 burgers buns
Method
Preheat the oven to 220C. 
On a lined baking tray, toss the cauliflower with 1 tbsp of olive oil, ½ tsp ground cumin and ½ tsp salt. On a second line baking tray, toss the sweet potatoes with 1 tbsp olive oil, ½ tsp ground cumin and ½ tsp salt. Transfer the tray to the oven and roast until they are lightly browned about 30 minutes.  
Transfer half the sweet potatoes and all the cauliflower to a food processor or blender and pulse until coarse paste forms, with a few chunks of cauliflower. Set aside in a large mixing bowl along with the remaining sweet potato, almond flour, egg, chilli powder, coriander and lime zest. Fold mixture together until well-incorporated. 
Form the mixture into 6 thick 3-inch patties and set aside on a plate. The mixture will be rather sticky. Place in the fridge for 20 minutes, uncovered until the patties are cool and firm.  
Meanwhile, make the condiments: In a small mixing bowl, mash the avocado with the lime juice and a generous pinch of salt until coarsely combined.  
Preheat the oven to 220C.  
Heat a large non-stick frying pan over medium-high heat. Add a thin layer of olive oil. Add the burgers, 3 at a time, and cook until the top has set, about 3 minutes. Flip the burgers and continue. These are going to feel very mushy at this stage, so if they're misshapen after you add them to the pan, just use a spatula to reshape them.  
Transfer to a lined baking tray with the buns, cut side up and bake in the oven for 10 minutes. 
Top each bun with a burger, followed by mashed avocado, sriracha mayo and lettuce. Serve alongside the remaining sauce.